Upcoming Superhero Movies To Keep On Your Radar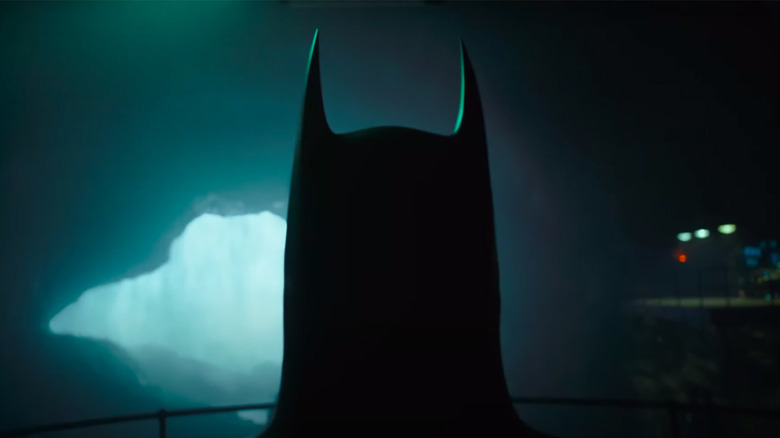 Warner Bros.
Even though 2021 might have been far from the best year of our lives, it was a great year for superhero movies. Despite the film industry being heavily impacted by the pandemic, the genre dominated the box office and streaming services, giving comic book fans many history-making films in the process. Zack Snyder's cut of "Justice League" was a dream come true thanks to the unrelenting community behind it, "Shang Chi and the Legend of the Ten Rings" put an Asian superhero under the spotlight for the first time, and "Spider-Man: No Way Home" was the epic conclusion to two decades of the webslinger's legacy.
This year, we're looking forward to plenty of prominent superhero films, with some of the most anticipated releases set to arrive on the big screen after a long wait. Let's dig into the list of upcoming superhero movies that are slated to release in 2022, as well as some exciting titles from 2023, that you should (mostly) be excited about watching on the silver screen.
The Batman (March 4, 2022)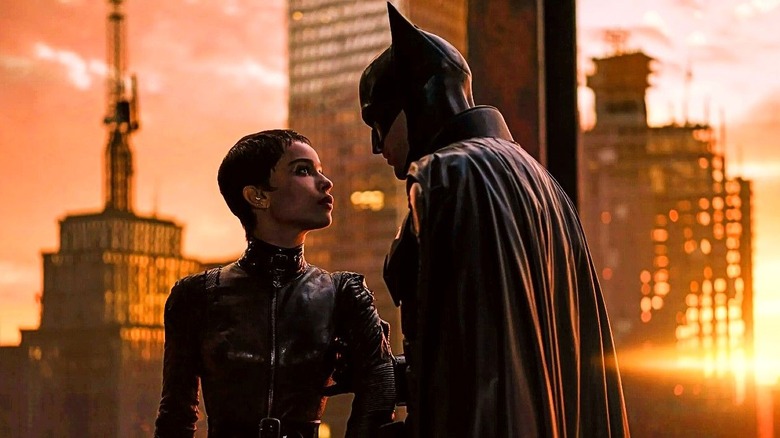 Warner Bros.
Matt Reeves' iteration of the caped crusader featuring Robert Pattinson and Zoë Kravitz as Batman/Bruce Wayne and Selina Kyle/Catwoman is easily the most anticipated movie of the year. Although Pattinson's casting initially made fans doubtful, "The Batman" trailer is evidence enough that the actor successfully represents a younger, and perhaps, a more twisted version of Bruce Wayne. Pattinson portrays the billionaire's inability to delineate from his masked vigilante personality and his reclusive persona with great competence. Unlike Ben Affleck's version of the character, this Bruce is a younger Batman, who is unable to control himself — and has ventured out to treat his rage by inflecting his kind of justice upon the many criminals in Gotham city. 
With a nearly three-hour runtime, the film will be the longest Batman movie yet, leaning into a noir-style detective story with multiple villains involved. For anyone who believes that superhero movies cannot be cinema, I really believe that "The Batman" will be another comic book inspired entry that proves otherwise. The star-stubbed cast includes also Colin Farrell as The Penguin, Paul Dano as The Riddler, Andy Serkis as Alfred, and Jeffrey Wright as James Gordon.
Morbius (April 1, 2022)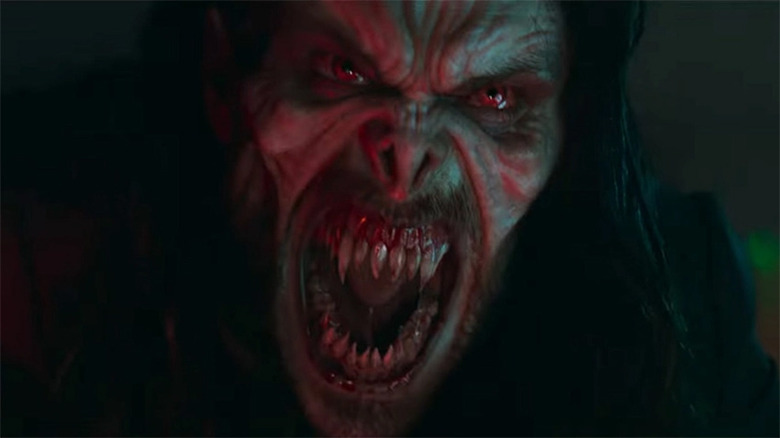 Sony Pictures Releasing
Jared Leto has switched sides after his somewhat controversial role as The Joker in the DCEU. The actor plays Dr. Michael Morbius in "Morbius," Sony Pictures' non-MCU film that introduces a character who is traditionally a comic book enemy of Spider-Man. In the movie, Leto's character is a doctor who experiments with bat DNA to cure his chronic blood disease, but he accidentally injects himself with a type of vampirism. After turning into a vampire, the former doctor gains vampiric abilities, along with super speed and strength, and finds himself torn between his humanity and a newfound thirst for blood. The film is directed by Daniel Espinosa and also stars Tyrese Gibson as Simon Stroud — an FBI agent who is assigned to track down Morbius in the comics books. Matt Smith's Loxias Crown, AKA, the vampire known as Hunger, is the big bad. 
Doctor Strange in the Multiverse of Madness (May 6, 2022)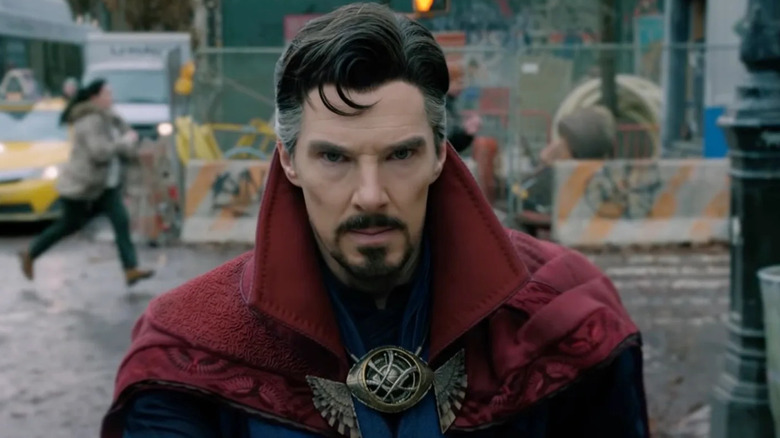 Marvel Studios
If you loved "WandaVision," "Loki," and "Spider-Man: No Way Home," it is likely that you've been waiting to watch "Doctor Strange in the Multiverse of Madness" with bated breath. The MCU's first film of the year comes from Sam Raimi, who famously helmed the original "Spider-Man" trilogy and is bringing some major Raimi-esque vibes to the lives of Wanda Maximoff and Stephen Strange. The multiverse has ripped open following the events of "Loki" and "No Way Home," forcing Doctor Strange to recruit Wanda, the newly proclaimed Scarlet Witch, for help as they deal with a new threat. The film's teaser features trippy visuals and a glimpse of an angry-looking tentacle monster as one of the film's villains. Other cast members include the return of Chiwetel Ejiofor as Karl Mordo), Benedict Wong  as Wong (how convenient!), and Rachel McAdams as Dr. Christine Palmer).
Thor: Love and Thunder (July 8, 2022)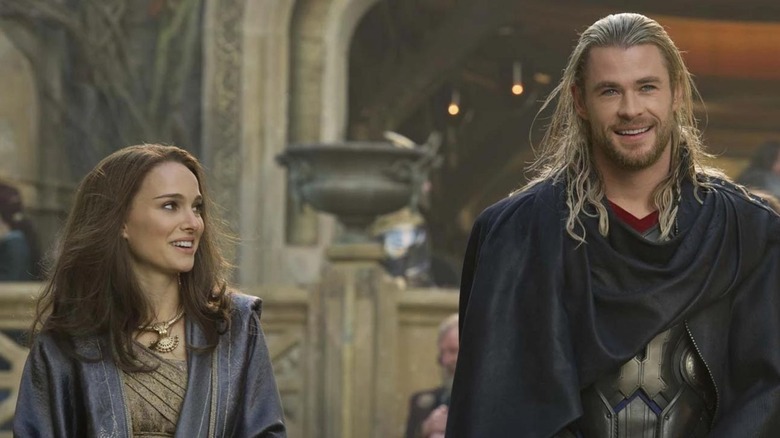 Marvel Studios
Taika Waititi's next MCU film is a sequel to "Thor: Ragnarok." It's the first time we're seeing the Mjolnir-wielding, blonde-haired hunk of a prince since "Avengers: Endgame" in 2019. Thor (Chris Hemsworth) is back in his superhero physique, putting on more muscle than we've ever seen on the superhero. He's going to need it when he takes on Christian Bale as Gorr the God Butcher, the film's villain. 
"Thor: Love and Thunder" will adapt Jason Aaron's "Mighty Thor" comic book, which sees Natalie Portman's Jane Foster take on the mantle and powers of Thor while treating her cancer. It marks the return of a plethora of other MCU characters, including Valkyrie (Tessa Thompson) and "Guardians of the Galaxy" franchise stars Peter Quill/Star-Lord (Chris Pratt), Mantis (Pom Klementieff), Groot (Vin Diesel), Nebula (Karen Gillan) Drax the Destroyer (Dave Bautista), and more.
Black Adam (July 29, 2022)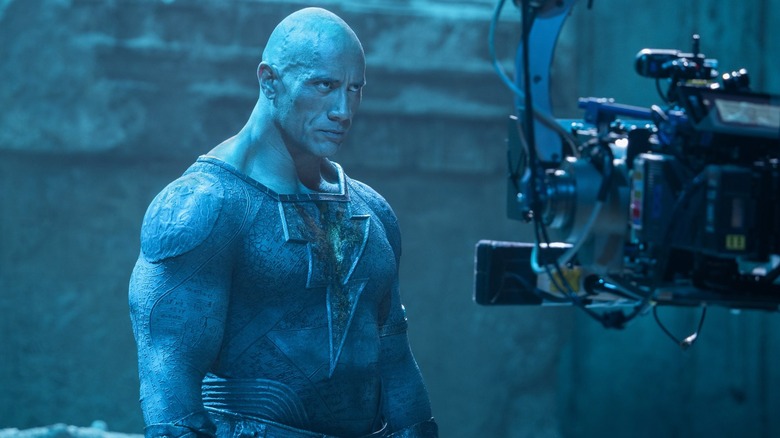 Warner Bros.
"Black Adam" has been years in the making, much more than other superhero movies. Dwayne Johnson was cast as the DC antihero in 2014, and only now is the movie finally coming to theaters. The former wrestling star plays Shazam's archenemy Teth-Adam, and his alter ego, Black Adam, who is trying to redeem himself after being imprisoned for 5,000 years. "Black Adam" will also feature the introduction of the Justice Society of America, including Aldis Hodge as Hawkman, Noah Centineo as Atom Smasher, Quintessa Swindell as Cyclone, Sarah Shahi as Isis, and Pierce Brosnan as Doctor Fate. Marwan Kenzari, who played Jafar in "Aladdin," is rumored to have been cast as Ishmael Gregor/Sabbac, the supervillain who will be going up against Johnson's superpowered character.
Spider-Man: Across the Spider-Verse (Part One) (October 7, 2022)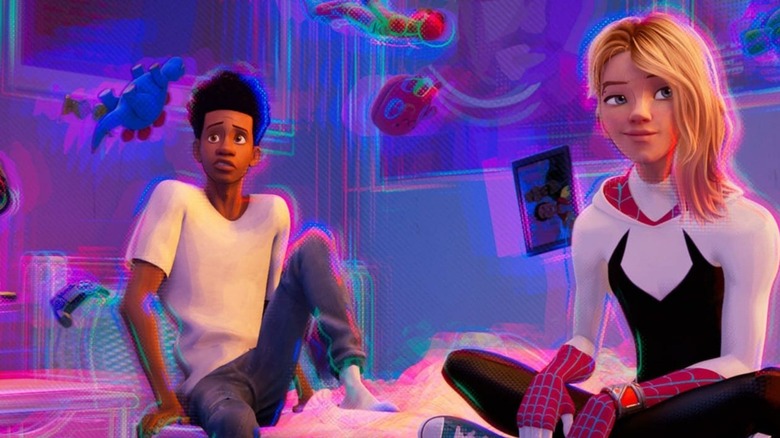 Warner Bros.
Miles Morales (Shameik Moore) will be back! The first of two sequels to the Oscar-winning animated feature "Spider-Man: Into the Spider-Verse" is another chapter into Miles' adventures as the friendly neighborhood hero. This time we'll be exploring even more of the multiverse, and there will be a variety of animation styles to show them all off.
 Also returning are Jake Johnson as Peter B. Parker and Hailee Steinfeld as Gwen Stacey. The film introduces a new Spider-Man variant, with space dad Oscar Isaac playing Miguel O'Hara, AKA Spider-Man 2099. Issa Rae also stars as Jessica Drew/Spider-Woman.
The Flash (November 4, 2022)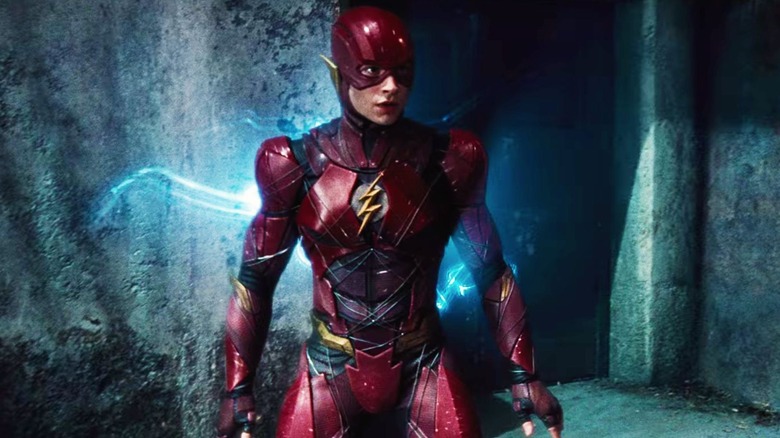 Warner Bros.
Ezra Miller will reprise his role as Barry Allen from "Justice League" in his own standalone superhero movie. Helmed by Andy Muschietti ("IT"), "The Flash" follows a storyline we've already seen in the Arrowverse television series. Inspired by the "Flashpoint" comic book arc, Barry Allen travels back in time to prevent his mother's murder — but we all know bad things happen when you mess with time. 
In the television series, which sees Grant Gustin as Barry Allen, the superhero grapples with the grief of losing his father and decides to stop the current chain of events by putting an end to the one that started it all. He runs back in time and stops Reverse Flash from killing his mom — but his actions bring unintended consequences. Instead of going back to the original timeline, The Flash creates a new one which is later named Flashpoint. In "The Flash" movie, Miller's version of the character will open a multiverse by also traveling back in time to save his mother, but he'll also run into Michael Keaton's Batman and Ben Affleck's Batman during his time travel missteps. "The Flash" will also introduce Sasha Calle as a new Supergirl.
Black Panther: Wakanda Forever (November 11, 2022)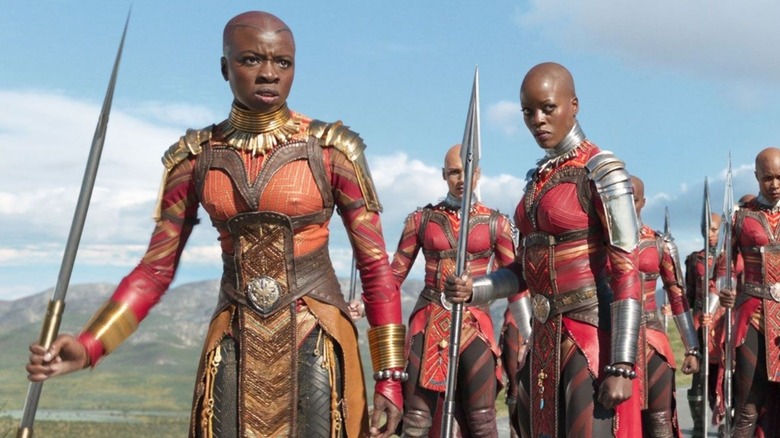 Marvel Studios
The sequel to "Black Panther" (2018) will not be the same without Chadwick Boseman, the late actor who portrayed the titular superhero with such heart and vigor that it hurts to imagine the world of Wakanda without him. But some stories need to be told, so Marvel Studios and writer-director Ryan Coogler are returning to explore the Kingdom of Wakanda through the lens of the characters that still call it home. 
The sequel will see the characters of Shuri (Letitia Wright), W'Kabi (Daniel Kaluuya), Okoye (Danai Gurira), Nakia (Lupita Nyong'o), Ramonda (Angela Bassett) in another incredible adventure, but we're not sure what will become of the mantle of Black Panther yet. The studio revealed their decision not to recast Boseman's character as a way of honoring the legacy that the actor helped to build. Also joining the film is Michaela Coel of "I May Destroy You" fame in an undisclosed role.
Aquaman and the Lost Kingdom (December 16, 2022)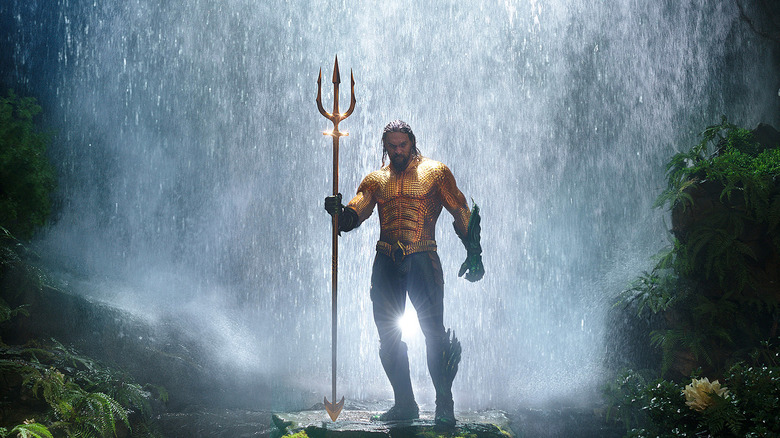 Warner Bros.
For better or worse, DC fans can will a film into existence (see: "Zack Snyder's Justice League"), but it seems they can't campaign for an actor to be fired. The "Aquaman" sequel has been mired in controversy for the past year, after Warner Bros. decided to bring back Amber Heard, despite her involvement in a highly-publicized defamation and domestic abuse trial against her ex-husband Johnny Depp. The studio previously fired Depp from his role as Gellert Grindelwald in the "Fantastic Beasts" films, which generated an outcry from fans who called the studio to also fire Heard. 
Despite the unending Twitter trolling, Heard will be seen as Mera alongside Jason Momoa's Aquaman, along with Patrick Wilson as Ocean Master, Nicole Kidman as Atlanna, Temuera Morrison as Tom Curry, and Vincent Regan as Atlan, among others. There will even be some new VFX techniques used along side them.
The Marvels (February 17, 2023)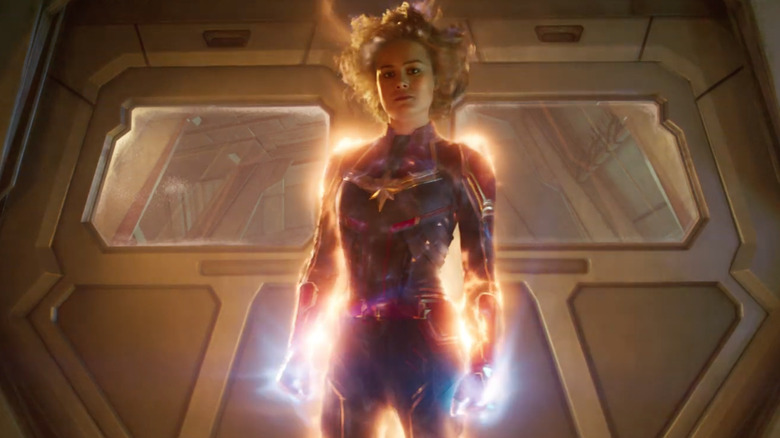 Marvel Studios
Marvel Studios is set to make history once again by introducing their first Muslim superhero in "The Marvels."  Kamala Khan, AKA Ms. Marvel, will be played by Iman Vellani in the sequel to "Captain Marvel," making fans hopeful about the future of the MCU. This is a big win for Muslim representation in a global media franchise, and she'll actually make her debut before the movie in her own Disney+ series. "The Marvels" will also see Brie Larson back as Carol Danvers/Captain Marvel, Teyonah Paris as Monica Rambeau, and South Korean actor Park Seo-Joon in an undisclosed role, with Zawe Ashton in an unknown villain role.
Guardians of the Galaxy Vol. 3 (May 23, 2023)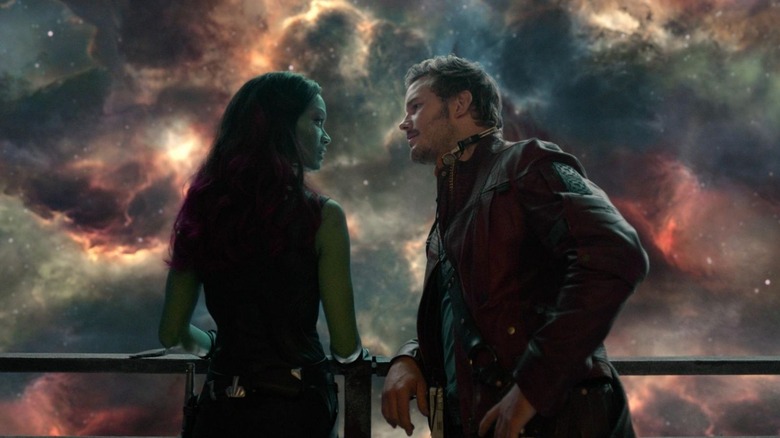 Marvel Studios
James Gunn is bringing back the "Guardians of the Galaxy" for one final round. The studio has been pretty vague about the film's plot, but most of the original members are back for this one, and this will bring an end to their story.
Zoe Saldaña is Gamora — the character was killed by Thanos in "Avengers: Infinity War" but returned as a younger version of the character after the time travel shenanigans in "Avengers: Endgame." Chris Pratt is back as Peter Quill/Star-Lord, Dave Bautista is Drax the Destroyer, and Vin Diesel and Bradley Cooper return to voice Groot and Rocket. Karen Gillan (Nebula), Pom Klementieff (Mantis), Sean Gunn (Kraglin Obfonteri) and Sylvester Stallone (Stakar Ogord/Starhawk) will also be seen in the film. But the most exciting casting yet is that of Will Poulter as Adam Warlock, a powerful being created to destroy the Guardians. Nigerian-British actor Chukwudi Iwuji ("Peacemaker") has also been cast in an undisclosed role.
Shazam! Fury of the Gods (June 2, 2023)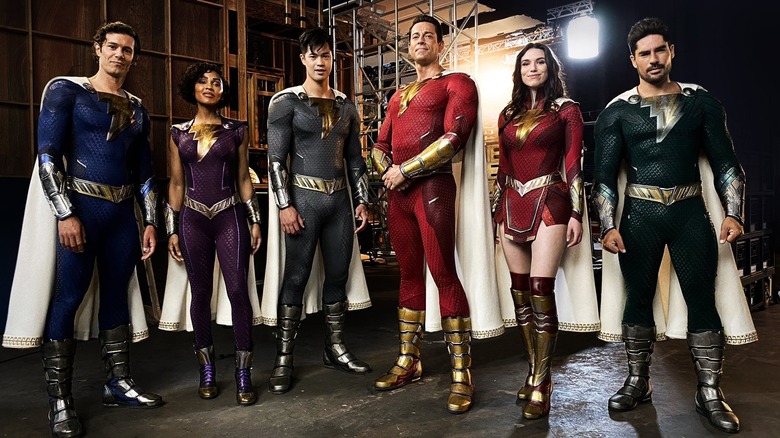 Warner Bros.
The sequel to "Shazam!" will follow up on the lives of Billy Batson and his superpowered family as they prepare to face off against new, ancient villains. Zachary Levi's superhero will take on the daughters of the Greek God Atlas in "Shazam! Fury of the Gods," as legendary actresses Helen Mirren and Lucy Liu take on the roles of antagonists and Demi-god sisters Hespera and Kalypso. Golden Globe-winning actress-singer Rachel Zegler will play the youngest daughter of Atlas, and it doesn't seem like she's on the same villainous streak as her siblings. Meanwhile, Djimon Hounsou will return as the wizard Shazam, and Jack Dylan Grazer will be back as Freddy Freeman with Adam Brody playing is adult superhero alter ego.
Ant-Man and the Wasp: Quantumania (July 28, 2023)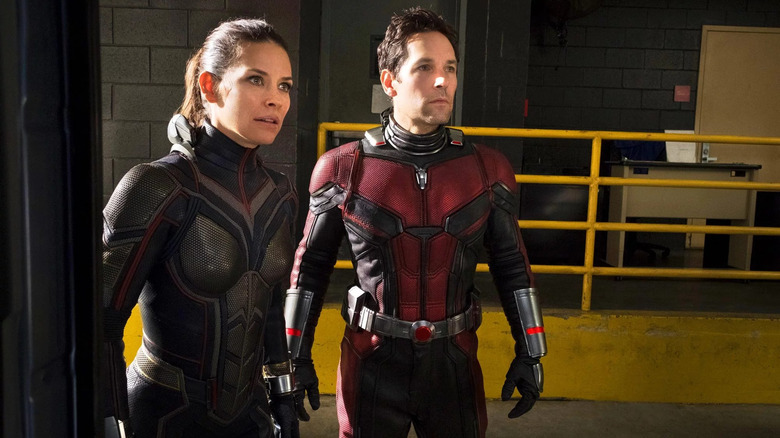 Marvel Studios
The title of Paul Rudd's latest outing as Scott Lang/Ant-Man suggests that a lot of quantum-related craziness awaits us next year. "Ant-Man and the Wasp: Quantumania" will be directed by Peyton Reed (who helmed the first two films), and will see the return of Jonathan Majors ("Loki") as Kang the Conqueror, the creator of the Time Variance Authority. The actor has admitted that Kang is different from the time-traveling, multiversal adversary we saw in "Loki" and has a shifted psychologically due to the characters around him. He's still a villain, though, so we'll have to wait and see how he fits into Ant-Man's life. The film's cast includes Michael Douglas as Hank Pym, Evangeline Lilly as Hope van Dyne/Wasp, and Kathryn Newton as a grown up Cassie Lang. Bill Murray has reportedly also been cast in a secret role.