Ms. Marvel First Look: A Marvel Fangirl Becomes A Superhero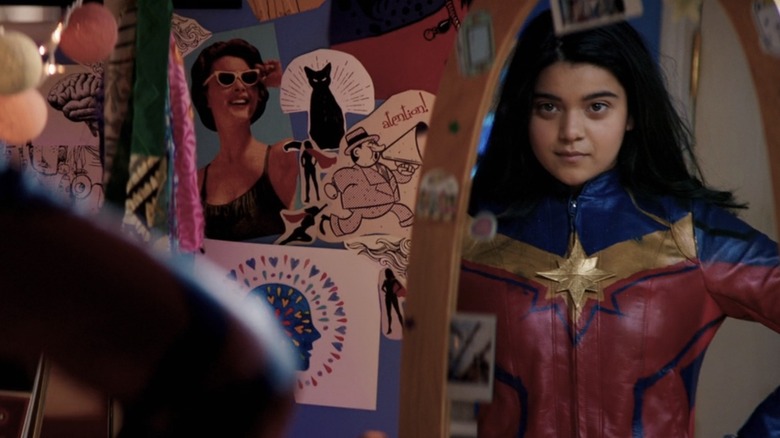 Disney+
Disney has been hyping up today's grand unveiling of Disney+ Day as the place to be for all sorts of reveals, first looks, and trailer footage for all their most highly-anticipated upcoming projects. Of course, any movie or show related to the Marvel Cinematic Universe has been at the forefront of many an eager fan's mind. After a bit of a wait to get many other Disney projects out of the way, the official Disney+ Twitter account compiling all of the day's news finally moved on to the Marvel superhero shows that will be premiering on the streaming service.
"Ms. Marvel" in particular has attracted plenty of attention and excitement, as it will serve as Kamala Khan's first introduction to the MCU at large. Fans have been waiting for the beloved comic book character to make the leap into live-action for several years now, ever since her debut in the pages of Marvel Comics. At last, Marvel Studios has released a first look at the upcoming series, which you can see below.
Kamala Khan Arrives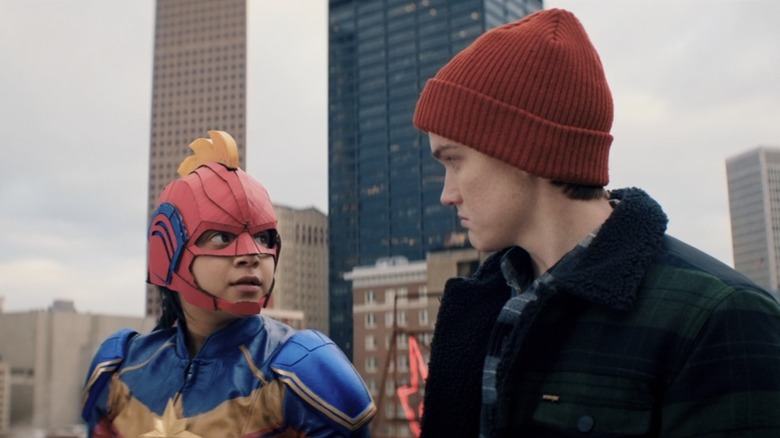 Disney+
Our first look at "Ms. Marvel" comes from an extended 14-minute video now streaming on Disney+, titled "The Marvel Studios 2021 Disney+ Day Special." In addition to new looks at "Moon Knight," "She-Hulk," "Hawkeye," and more, the new footage also shows off plenty of crucial table-setting information on "Miss Marvel." Starring Iman Vellani as Kamala Khan, the 90-second clip focused on her story shows her origins as a young Muslim Pakistani-American teen with a long-standing love for Captain Marvel, played in the films by Brie Larson. "It's not really the brown girls from New Jersey who save the world," she dejectedly remarks, doubling as a mission statement regarding the cultural infusion that this show is set to bring to the MCU. The footage emphasizes her religious upbringing and her pining for something greater — something altogether superheroic.
Cosplaying as her favorite superhero, Kamala steps out in a very rough-looking Captain Marvel Halloween costume that perfectly aligns with her enthusiasm and idolization of the superhero in the comics. The footage lays out the broad strokes of her origin story, as we see her come into contact with some sort of cosmic energy that infuses her with her very specific power-set. Importantly, we don't get to see her completed Ms. Marvel outfit just yet, so hold off on any complaints about the newest Marvel superhero not resembling her famous comic-accurate threads. At the very least, however, we get an intriguing glimpse of her powers through a reflection on a New York City skyscraper as curious bystanders look on.
The footage ends there, unfortunately, but that still gives us lots to chew on as we wait for the debut of "Ms. Marvel" sometime in 2022.