Aquaman And The Lost Kingdom Breakdown: Let's Dive Deep Into The First Look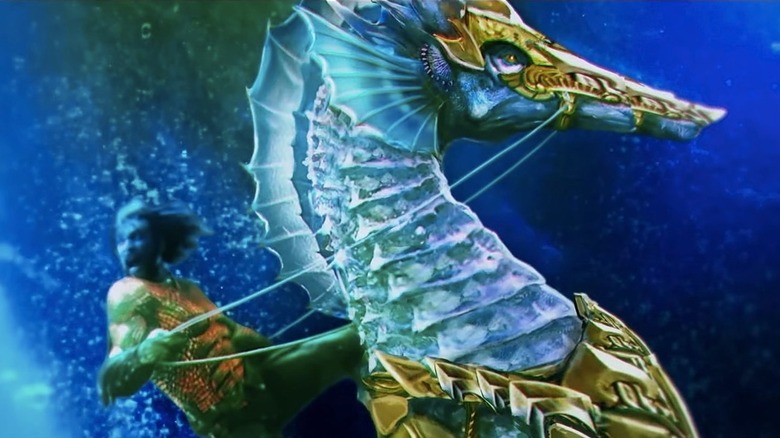 Warner Bros.
DC FanDome has not disappointed in the early hours this year, as we were treated to a first look at "Aquaman and the Lost Kingdom," the much-anticipated sequel to 2018's "Aquaman." Despite the fact that production has only been underway for mere weeks, director James Wan, star Jason Momoa, and the folks at Warner Bros. brought us a jam-packed featurette giving us a healthy taste of what's to come. And we're here to break it down in detail. Let's dive in, shall we?
A Deep Dive on Aquaman 2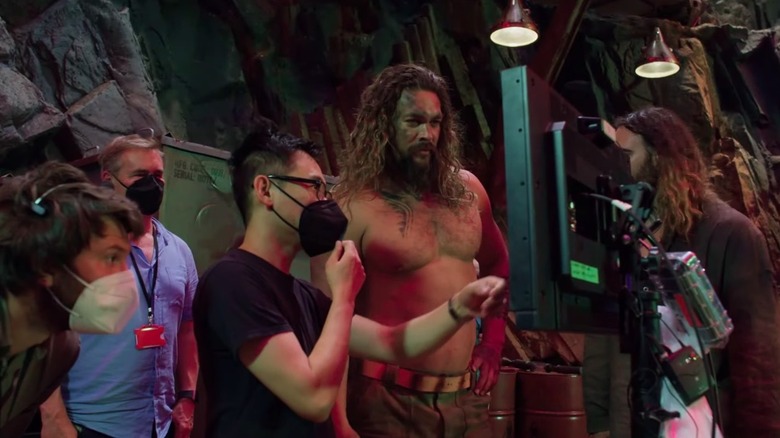 Warner Bros.
The teaser kicks off with Jason Momoa arriving back on set, excitedly greeting everyone after several years away from the character. Before any of the truly interesting concept art or action sequences kick off, Momoa says something interesting, indicating that the plot of the sequel will have to do with taking on environmental issues. 
"I'm very proud of the sequel because it's tackling a lot of issues, environmentally. The stakes are just higher."
Given how little, in terms of the plot, has been revealed, this is not an insignificant thing to learn. Though we're still largely in the dark as to what the actual "lost kingdom" is. But all in good time. Things get a bit more interesting, visually speaking, from there, as we're treated to some colorful, monster-filled concept art. 
We also get some shots of the actors behind-the-scenes during filming, seemingly having a wonderful time. Yes, this is a big, crazy superhero movie and it's nice to see people having fun with that concept. Returning director James Wan also seems to be having a blast. Why make another "Aquaman" movie unless you're going to have fun with it? 
As we can see, Patrick Wilson is returning as Orm/Ocean Master, and he is having a blast. He also appears to be working with his brother, somewhat reluctantly, which is interesting given what happened in the last movie. Are we getting some Thor and Loki vibes here?
Momoa, Monsters, and Adventure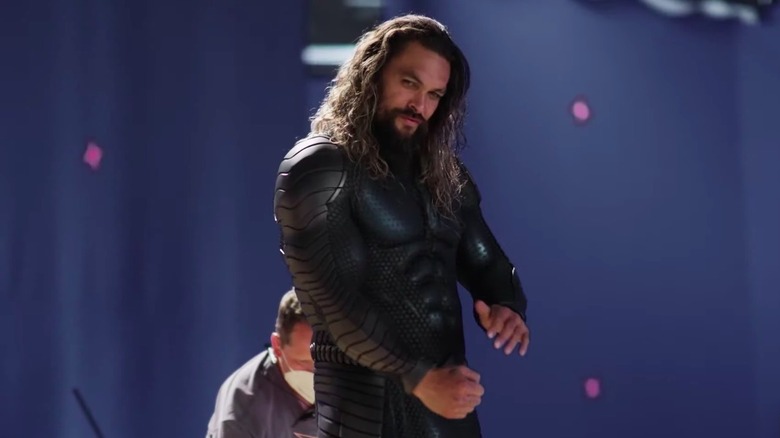 Warner Bros.
The footage also gives us a look at Momoa in his new Aquaman suit. It is quite a bit different from the ones we saw in the first movie, in that, it is blue. Wan, during the video, mentions that the sequel is "More mature but yet, will retain its fun." Additionally, produce Peter Safran adds, "We have turned the dials up to 11." So it sounds like we're going full-on "Spinal Tap" this time around. To that end, some of the concept art shown during the video speaks precisely to that. 
Much like the first movie, it seems like we're in for a globe-trotting, sea-hopping, action adventure flick. We are also getting some new landscapes and lots of creatures. Perhaps most importantly, Arthur Curry is going to ride a giant seahorse. Cinema is alive, ladies and gentleman. It is alive and very well. 
In conclusion? This looks like a whole lot of movie. One interesting thing to note is that we didn't see a ton of Amber Heard's Mera, but we will surely see plenty of her when the actual teaser trailer arrives closer to the movie's release. 
"Aquaman and the Lost Kingdom" is set to hit theaters on December 16, 2022.