Aquaman And The Lost Kingdom First Look Takes Us Back Under The Sea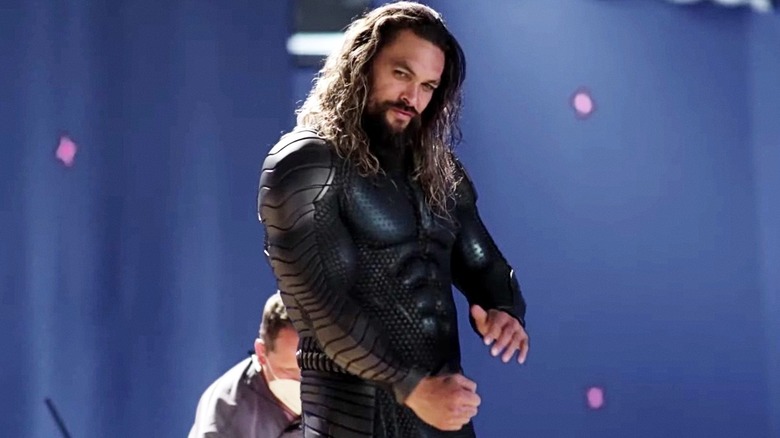 Warner Bros.
Get ready to swim to the Lost Kingdom with Aquaman! Jason Momoa is back as the title character in DC's superhero sequel, "Aquaman and the Lost Kingdom." Amid all the news coming out of DC FanDome this weekend, we got a first look at the new Aquaman movie, and it's here for your viewing pleasure.
No longer just a "Seinfeld" or "Entourage" punchline, Aquaman became the hero of the highest-grossing DC movie worldwide after his first film landed in December 2018. By the time "Aquaman and the Lost Kingdom" hits theaters, there will have been be a four-year gap between Aquaman movies. In the interim, Momoa has kept busy with his Apple TV+ show, "See," and other projects like "Dune," while director James Wan has returned to his horror roots with "Malignant."
The release of "Aquaman and the Lost Kingdom" is still over a year away, but it's never too soon to start looking forward to it. As of today, Christmas 2022 has come early. Below, we've got your first look at "Aquaman and the Lost Kingdom."
Aquaman and the Lost Kingdom First Look
The first "Aquaman" movie was filled with vibrant colors and gonzo crab armies, but it also had some horror overtones to it during the Trench scene. This is something we touched on earlier this year when we examined the legacy of Wan's first film, "Saw," the unlikely torture-porn hit that became the defining horror franchise of the 2000s even as disturbing parallels were playing out in the real world.
Wan also co-created the "Conjuring" franchise, and "Malignant" sees him flexing his horror muscles again with a new infusion of bonkers ideas. If you're like me and thought the Trench scene was the single best part of "Aquaman," then you'll be happy to hear that Wan plans on bringing some of his old "scary sauce" to "Aquaman and the Lost Kingdom." During last year's Fandome event, he confirmed that the second movie will feature a touch of his horror sensibilities, just as the first one did.
In "Aquaman and the Lost Kingdom," Pilou Asbaek, who played Euron Greyjoy on "Game of Thrones," joins other new faces like Indya Moore, Vincent Regan, and Jani Zhao. They're on board with Momoa and returning stars Amber Heard, Nicole Kidman, Patrick Wilson, Yahya Abdul-Mateen II, Dolph Lundgren, Temuera Morrison, and Randall Park. 
"Aquaman and the Lost Kingdom" is scheduled for theatrical release on December 16, 2022.