Shazam! Fury Of The Gods First Look Promises Things Are Going To Get Even Weirder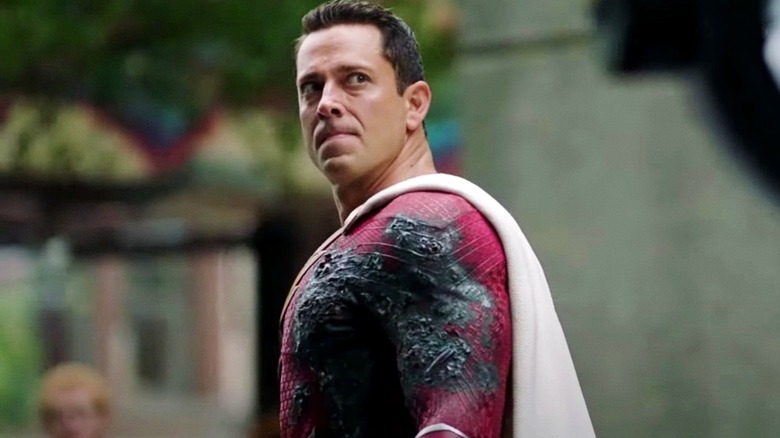 Warner Bros.
Shazam is powering up for a return to theaters in 2023, and thanks to this weekend's DC FanDome event, we've got our first look now at "Shazam! Fury of the Gods."
The movie sees Zachary Levi sliding back into his red padded tights as Shazam, but if you've seen the 2019 film then you know he won't be coming back alone. This time he's got a whole super-powered foster family ready to join him in red, blue, purple, green, and grey. 
They're the Shazam Family, but with any luck, the hashtag-ready portmanteu, #Shazamily, will soon catch on as a shorthand way of referring to them. Dame Helen Mirren and Lucy Liu are also on board "Fury of the Gods" as the villains Hespera and Kalypso.
Once upon a time, you'd need to file into Hall H at San Diego Comic-Con to have exclusive access to trailers and first looks like this before the rest of the general public. DC FanDome aims to deliver such content to fans in the comfort of their own home. You've seen the Shazam Family's new costumes; now, get ready to feast your eyes on this video, as Shazam brings the thunder in "Fury of the Gods."
Shazam: Fury of the Gods First Look
In the comics, Shazam is also known as Captain Marvel. He made his first appearance in "Whiz Comics" #2, published by Fawcett Comics in 1939, and was originally supposed to be called Captain Thunder. In the world of superhero films, however, the name Captain Marvel was already taken. "Captain Marvel," the Marvel Studios film starring Brie Larson, hit theaters the month before "Shazam!" back in 2019, just in time for the DC hero's 80th anniversary.
Forget about that other Captain Marvel and the Marvels. Don't think about Thor, Led Zeppelin, "the hammer of the gods," or Thor's upcoming sequel, "Love and Thunder," either. "Shazam! Fury of the Gods" is the only thunder and lightning you need right now. It's the sequel to a movie that ranks right up there with "Wonder Woman" as one of the best non-Batman, non-Superman films that Warner Bros. and its DC Comics adaptations have mustered so far.
Director David F. Sandberg is back at the helm of "Shazam: Fury of the Gods," and he's bringing back Asher Angel as Shazam's boyish alter ego, Billy Batson, along with Jack Dylan Grazer as Billy's foster brother, Freddy Freeman. In addition to them, Levi, Mirren, and Liu, the film stars Adam Brody, Faithe Herman, Meagan Good, Grace Fulton, Ian Chen, Ross Butler, Jovan Armand, D.J. Cotrona, Marta Milans, and Rachel Zegler.
"Shazam: Fury of the Gods" soars into theaters on the back of a lightning bolt on June 2, 2023.