The 15 Best Hot Ones Guests, Ranked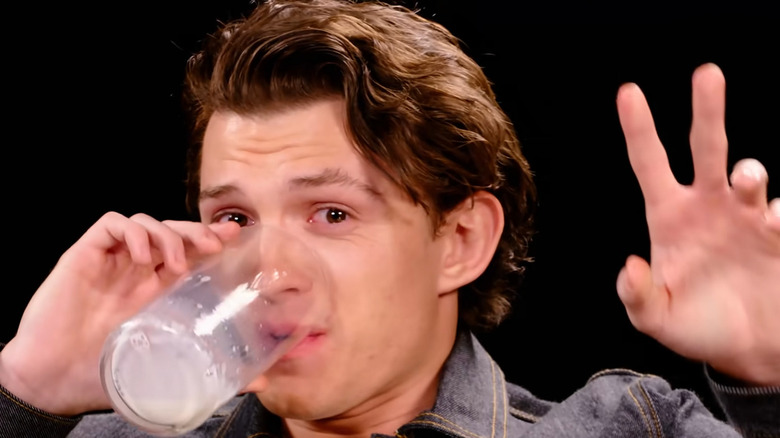 First We Feast
What makes a great "Hot Ones" episode? An unshakable serenity from its guests? Intriguing celebrity anecdotes? A healthy dose of schadenfreude? For this writer, a lot of the "Hot Ones" appeal comes from watching your faves suffer a little bit. The First We Feast phenomenon is all about watching celebrities chow down on the spiciest wings on the planet, and some of the best episodes often feature uncontrollable coughing fits, trippy revelations, or a whole lot of milk-chugging — ideally all three, but I'm not picky.
That said, it doesn't always have to be complete misery. A genuine connection with host Sean Evans is also very important: it helps the first half of the interview, over some of the milder wings, go over a lot smoother. There's a delicate balance to maintain, and the "best" episode might be different for everyone. Natalie Portman's unflappable composure won't be as fun for some as watching Gordon Ramsay mainline Pepto Bismol. But that's really the beauty of "Hot Ones": with nearly 20 seasons and over 300 episodes, there's literally something for everyone.
That said, some guests stand out more than others. Let's take a look at some of the best guests to appear on "Hot Ones" — and, of course, rank them accordingly.
15. Padma Lakshmi
Sometimes, the conceit of "Hot Ones" is three-fold. Yes, the questions are hot, as are the wings — but has anyone noticed that some of the hottest guests on the show are also the ones that handle spice the best? Padma Lakshmi is just one of many gorgeous guests that conquered the wings without batting an eye, and delivered a classy, funny interview to boot. Padma unpacks her iconic appearance on "Star Trek: Enterprise," as well as her tenure with "Top Chef." Plus Sean seems a little starstruck, which is so endearing either way.
Padma appeared on "Hot Ones" in the earlier days of the series, but she set the bar high. At a moment when rappers and athletes were actively getting schooled by the wings of death, Padma made it look like child's play. A legend if there ever was one.
14. Elizabeth Olsen
She feels brave, she feels strong ... If you're online even a little bit, there's a chance you've seen that viral clip from Elizabeth Olsen's time on "Hot Ones." It's just the cherry on top of an incredibly delightful interview: Olsen may not have been fazed by the wings of death (like, at all), but her composure, her charm, and her offbeat brand of humor make for a really enjoyable watch. Long-suffering theater kids will likely feel very seen when Olsen talks shop about Fitzmaurice Voicework, and she's got an arsenal of behind-the-scenes anecdotes for those without that niche knowledge. Overall, it's one of the most wholesome episodes to watch for the guest alone.
13. John Boyega
It's always great when "Hot Ones" hosts celebs who are genuine fans of the show, a fact that John Boyega ratified by praying to Issa Rae during his own interview. The "Star Wars" alum made it through all 10 wings without water or milk — always an impressive feat — and though he emerged more or less unscathed, his reactions to the latter half of the board make his "Hot Ones" episode one of the most fun ... and one of the most underrated.
Boyega's "Hot Ones" interview also came at a time when the vitriol towards the "Star Wars" sequels (and the actor himself) was at a decisive high. It seemed like so many wanted to pick a fight with the actor, at least on social media. Boyega manages to address and unpack some of the most ridiculous drama of the era with his signature lighthearted flair, proving exactly why he's become one of the most promising actors in Hollywood today.
12. Jon Bernthal
With over 40 credits in film and television — the edgiest of which have become his claim to fame — one wouldn't expect Jon Bernthal to be one of the kindest guests to ever grace the "Hot Ones" set. But the actor is actually the furthest thing from the characters he's best known for playing. He apologizes when he feels he's being too cocky with the wings of death, comments succinctly about masculinity in media, and uses his 30-second plug to encourage others to be kind. His conversation with Sean is enough to make this episode great, but as the wings get hotter, his reactions to the spice get even funnier. Most of us already love Bernthal as an actor, but after his time on "Hot Ones," it's impossible not to love him as a person, too.
11. Thundercat
"Hot Ones" guests come from every industry there is, but some of its highest-viewed episodes feature the biggest names in the music industry. Sean's interview with full-time bassist and part-time actor Thundercat is a majorly underrated episode: he takes down each wing without breaking much of a sweat, but his perspective on anime, music and film is so entertaining that you don't really mind. It's no wonder his is one of Dave Grohl's favorite episodes of "Hot Ones": watching Thundercat chat his way through the spice gauntlet makes his interview feel like a sitdown with an old friend.
10. Charlize Theron
Charlize Theron is pretty well-known for her effortlessly cool, tough-as-nails demeanor on the set of action films like "Atomic Blonde" and "Mad Max: Fury Road." But how does she fare against the wings of death? Theron is definitely a fan of spice in her day-to-day life (she seems to genuinely love the taste of The Last Dab, of all things) and she does have a gangster-level tolerance, but she's not entirely immune to the power of the sauces. Even when she's not actively suffering though, she and Sean have a lot of fun together. It's one of the rare occasions that Sean forgoes his typical onscreen persona, and it results in a genuinely hilarious, organic conversation with his guest.
9. Tom Holland
Listen, not everyone can get through the gauntlet unscathed. For every Charlize Theron, there's going to be a guest with a less accommodating palate. Fortunately, though, there are those like "Spider-Man" star Tom Holland, who — despite the obvious toll of the wings — powers through like an absolute champ. Holland is a truly entertaining guest on the foundation of his reactions alone: His threshold for spice is endearingly low, which means that the sauces kick in right from the jump. But he does not let the wings get the better of him. He even goes in for extra bites (whether he regrets it later is another story) and offers some interesting insight into Marvel's Cinematic Universe.
8. Keke Palmer
With the central brief of "Hot Ones" being what it is, you wouldn't expect that most guests would be lining up for seconds. But there have actually been quite a few celebs who have appeared on "Hot Ones" after their initial run with the wings of death, and Keke Palmer is one of them. Palmer first tackled the gauntlet in 2017, but her second appearance in 2021 is definitely one for the books. Her lighthearted rapport with Sean makes for such a fun interview from start to finish — and it doesn't hurt that she's one of the most underrated entertainers in the industry. If you're unfamiliar with Palmer's oeuvre, her "Hot Ones" interview is a great place to start — but this episode is a total treat for those who grew up watching her, too.
7. Keegan Michael Key and Jordan Peele
There are over 300 episodes of "Hot Ones," which means that some of the older episodes of the series can get lost in the shuffle from time to time. That said, there are still some gems, and Sean's sit-down with Keegan Michael Key and Jordan Peele is still hilarious today. "Hot Ones" crashed the "Keanu" press junket in 2016 for a truncated interview with Key and Peele. With only 15 minutes to eat five wings, things obviously heat up fast. Their taste buds may have suffered, but the spice does not kill their sense of humor by any stretch.
With Peele's meteoric rise as a horror auteur these past few years, it might be easy to forget he got his start in sketch comedy. His "Hot Ones" interview with Key is a great reminder of their effortless chemistry, and a great entry point for any "Hot Ones" novices.
6. Dave Grohl
Sean Evans' onscreen gimmick is definitely one of the selling points of "Hot Ones." But it's also great when he encounters a guest that brings his walls down, just as the wings of death do to even the most seasoned interviewees. Case in point: his interview with Dave Grohl, in which he knocks back shots of Crown Royal and Coke in between his signature hot questions and even hotter wings. The Foo Fighters frontman was one of the most requested guests in "Hot Ones" history, and his episode delivered in every possible way. By the time he and Sean hit the Last Dab, they've exchanged a few heartfelt confessions (and perhaps phone numbers, as well). Grohl has long been regarded as one of the coolest dudes in music, so it's great to see that affirmed for anyone unfamiliar with his work.
5. Lorde
It's a commonly-held theory that Lorde might not be ... of this world. Like many musicians that have preceded her, Lorde is notoriously enigmatic, and while her "Hot Ones" appearance offers a delightful peek into her inner world, there's no way she's fully human. Lorde's tolerance is honestly baffling — refreshing too, but baffling all the same. She treats each wing like an interesting mini-meal, cheerfully examining each sauce and pointing out the distinct flavor profiles in each of them. Not even Da Bomb is quite enough to trip her up, a feat that noticeably throws Sean as well. Lorde handled the wings of death with more poise than anyone before her, and her reactions are so much funnier when compared to the show's more viral guests.
4. Josh Brolin
"Hot Ones" is arguably at its best when things traipse a bit into the absurd — the kookier the guest, the better. Josh Brolin is no stranger to a goofy interview, and "Hot Ones" pulls out his sense of humor in the best possible way. He and Sean enjoy a really engaging conversation before the spice starts to kick in, and once it does, all bets are off. Brolin is genuinely hilarious: every word out of his mouth gets a laugh out of either Sean or his crew. If you don't already have a bit of a crush on the guy, wait till you see him lick the sauce off the board. No one is immune.
3. Gordon Ramsay
Gordon Ramsay's episode of "Hot Ones" is the most-viewed episode of the show, currently sitting at over 100 million views (at least at the time of this writing). It was the most requested too, and for good reason: Ramsay has doled out so much pain in his 30 years as a chef and restauranteur, it's only natural that he eventually got served in kind.
Ramsay and Sean's conversation will be very interesting for the foodies out there: He manages to share his secrets for a great burger before the wings get too spicy, among other things. And by the time he reaches the infamous eighth wing, Da Bomb, "Hot Ones" dips into its signature hilarity. Ramsay pulls out all the stops to combat the wings of death: donuts, limes, Pepto Bismol, anything. His signature commentary never falters though, and he manages to stay engaged with Sean through it all. This episode is one of the best for a reason: Most fans likely came to see Ramsay suffer, but he still has a lot of fun on the show — so much so that he returned for the "Hot Ones" Holiday special in 2021.
2. Halle Berry
For as long as "Hot Ones" is alive, the debate surrounding the "best" guest will likely never end. It's a conversation that constantly evolves as more celebrities appear on the show, and everyone's ranking is more or less subjective. But no ranking is complete without the inclusion of Halle Berry. She is, hands down, the most underrated "Hot Ones" guest: Not only does she power through without even glancing at her water or her milk, she cleans the meat off the bone each and every time. And aside from a few comments about boob sweat, she seems relatively unfazed by the progressive hotness of each wing. She even takes home an actual trophy for her efforts! The only "Hot Ones" guest to do so! It's basically a bottle of The Last Dab mounted on a pedestal, but Berry deserves some respect on her name regardless.
More than that, her conversation with Sean is enlightening and entertaining. With over 25 years in the industry, Berry's seen it all, and she tackles every topic with equal parts poise and humor.
1. Paul Rudd
If there was ever any doubt that Paul Rudd is the nicest, funniest guy in Hollywood, his "Hot Ones" episode effectively squashed that doubt for good. This episode has long been immortalized within the meme canon — "Look at us, who would have thought?" — but the entire interview is packed with one surprising, hilarious bit after the next. At a certain point, it becomes less about Rudd's reaction to the hot sauce (though they're always appropriate) and more about his jaw-dropping parlor tricks. Plus, he and Sean actually connect, which is always a plus.
Rudd's time on "Hot Ones" sets the bar high, not just for future episodes of the show, but for other chat shows like it. It's no wonder more and more outlets are trying to replicate its success, but nothing has come close just yet — and for good reason.