The 15 Best Josh Brolin Movies, Ranked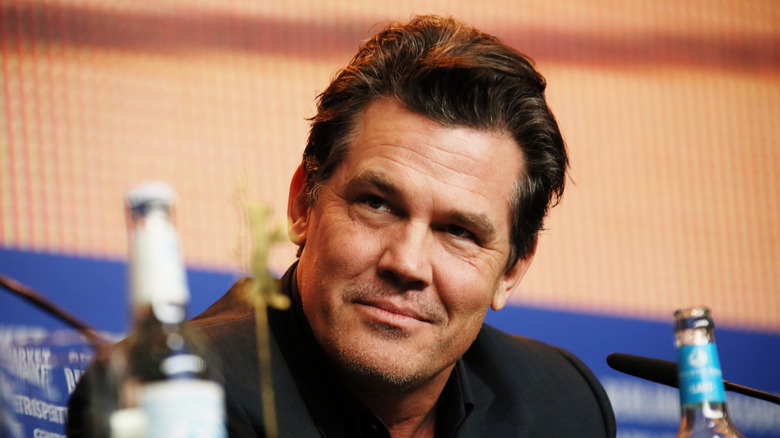 Denis Makarenko/Shutterstock
Josh Brolin is one of the most surprisingly versatile actors working today, and Brolin's history in front of the screen has been an exciting one to watch develop. Ever since his first role in 1985's "The Goonies," Brolin has helped characterize a dark and sinister side of the cinematic antihero who can also show depth and sensitivity. Although he's been in front of the camera for nearly four decades, Brolin remarkably keeps reinventing himself by picking offbeat and challenging roles.
Between westerns, genre films, historical fiction, sci-fi, comedy, and several different comic book roles, Brolin has shown a dexterity with the genres he works in. It's always exciting when it's hard to pinpoint an actor's preference, and there's no preconceived notions about what a "Josh Brolin movie" will deliver, other than that he'll probably give a great performance.
Here are the top 15 best Josh Brolin movies, ranked.
15. Wall Street: Money Never Sleeps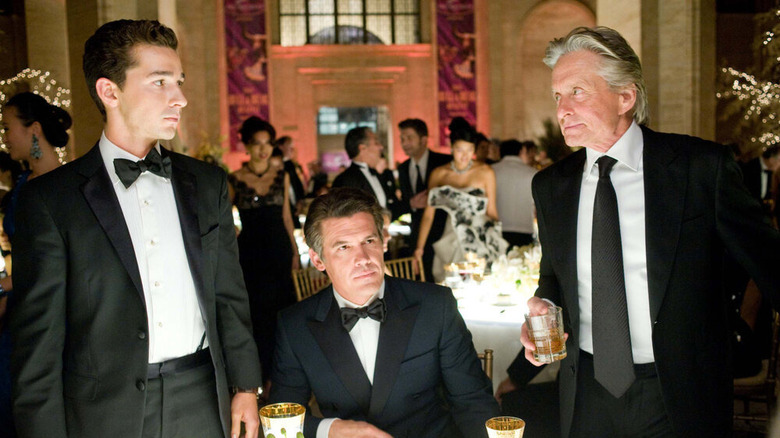 20th Century Fox
Oliver Stone has created many classics, and 1987's "Wall Street" stands as one of the most pivotal works of his career. The film is a razor sharp satire of gross excess and corporate corruption, and Michael Douglas's notorious role as the tycoon Gordon Gecko was one for the ages. It was ambitious of Stone to tackle a sequel that could live up to the original film's legacy, and 2010's "Wall Street: Money Never Sleeps" had to introduce a new generation of villainy. It's something Brolin was able to bring with his role as the villain Bretton James.
The story picks up after Gecko has been released from prison and attempts to reconnect with his daughter Winnie (Carey Mulligan), who is set to marry the young trader Nick Moore (Shia Labeouf). Gecko sees Nick as a potential protege, but Nick is already working through a deal with James. James plots to take advantage of both Nick and Geckos' ignorance, and the two are forced to work together in order to stop him.
14. Flirting With Disaster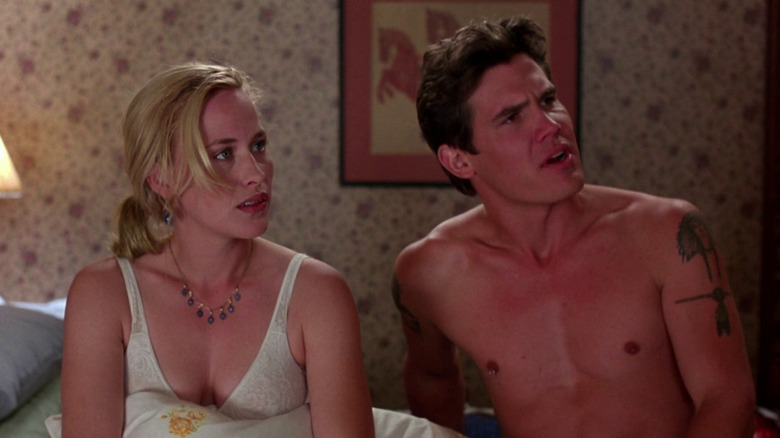 Miramax Films
David O. Russell is a filmmaker who enjoys taking on material that is potentially uncomfortable and pushes the audience's boundaries, and there are certainly few things more awkward than a chaotic family reunion. O. Russell's 1996 comedy "Flirting With Disaster" follows Mel Coplin (Ben Stiller), who decides he cannot name his recently born son until he has met his biological parents. Mel's wife Nancy (Patricia Arquette) reluctantly agrees to join him on a road trip to locate their identity.
In the course of their chaotic journey, Mel and Nancy end up attracting a wide range of eccentric characters both within and outside of their family. Their journey attracts the interest of the ATF, which dispatches the two agents Paul Harmon (Richard Jenkins) and Tony Kent (Brolin) to follow them. Paul and Tony are also dating, and they increase the couple's complications when they decide to join their trip and meet the family.
13. Gangster Squad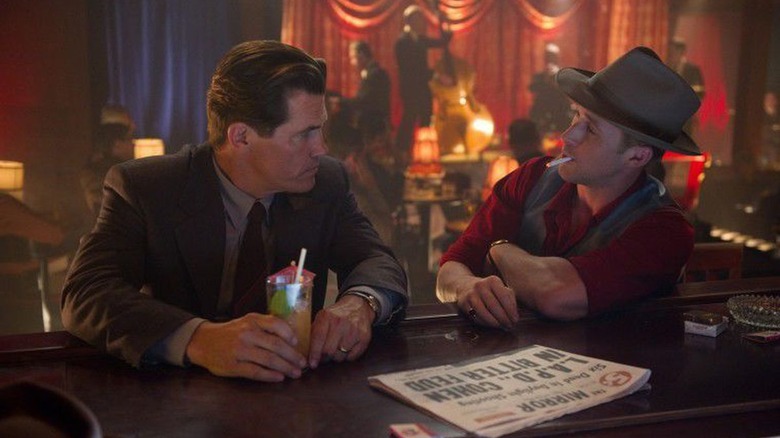 Warner Brothers
"Gangster Squad" is simply a blast, serving as an energetic tribute to old school gangster movies and reimagined with all the stylistic characteristics of that classic era of cinema. It's a film that allows its ensemble to have fun, and while the characterizations are all pretty loose, the actors each lean into their scenery-chewing personas. Brolin plays a central role as the LAPD Sergeant John O'Mara, a World War II veteran who is frustrated by the police force's inability to bring the notorious Mickey Cohen (Sean Penn) to justice.
O'Mara realizes that in order to take down someone as well connected as Cohen, he must work outside the parameters of a traditional operation. After consulting with Chief Bill Parker (Nick Nolte), O'Mara decides to form an undercover team of hand-picked cops to roam the streets as a gang. They leave their badges at home and create enough chaos to gain Cohen's attention and draw him into battle.
12. Everest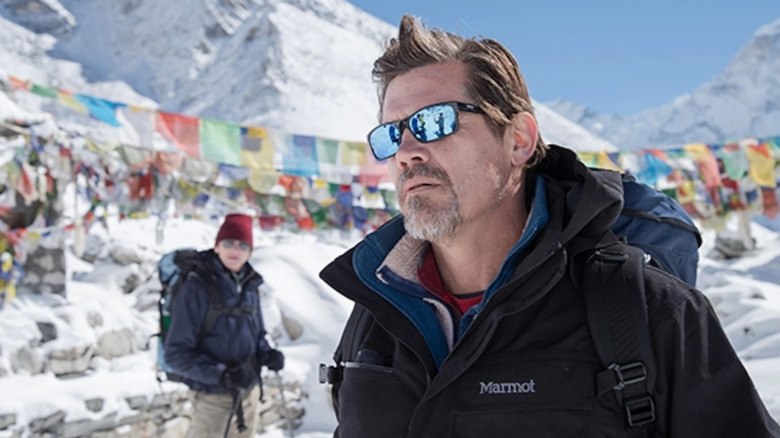 Universal Pictures
2015's "Everest" tells the gripping true story of the 1996 massacre in which two expedition groups experienced a deadly storm during their ascension of Mount Everest and many were killed. Those that survived showed incredible endurance and perseverance through indescribable physical challenges, as chronicled in Jon Krakauer's nonfiction novel "Into Thin Air." The film is epic in scope and looks incredible on an IMAX screen, and serves as a powerful tribute to these brave men and fleshes out each of their individual journeys and motivations for making the climb.
Brolin appears as Beck Weathers, an American doctor who joins a group led by the New Zealand mountaineer Rob Hall (Jason Clarke). Beck has value to Hall's team due to his medical expertise, but amidst the climb the storm impairs his vision, making the extreme weather conditions even more frightening for him. Brolin shows his immense struggle, and his reunion with his family is very moving.
11. Avengers: Infinity War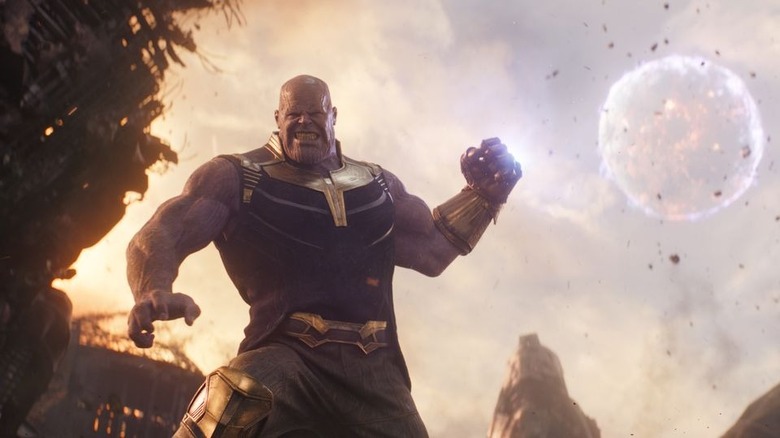 Marvel Studios/ Walt Disney
Three phases of the Marvel Cinematic Universe had been building towards the collection of the six Infinity Stones and the reveal of Thanos as a villain who would force all of the world's mightiest heroes to come together. Thanos' face wasn't first revealed until 2012's "The Avengers," but Brolin stepped in to voice him in 2014's "Guardians of the Galaxy" and 2015's "Avengers: Age of Ultron" in order to build anticipation for his central role in 2018's "Avengers: Infinity War."
Thanos was well worth the wait, and surprisingly proved to be a much more complex character than a purple space god had any right to be. Obsessed with bringing balance to a chaotic universe, Thanos is haunted by the food shortage and suffering on his home planet due to overpopulation and sees his task as honorable. Brolin does a great job at utilizing motion capture technology in his performance.
10. American Gangster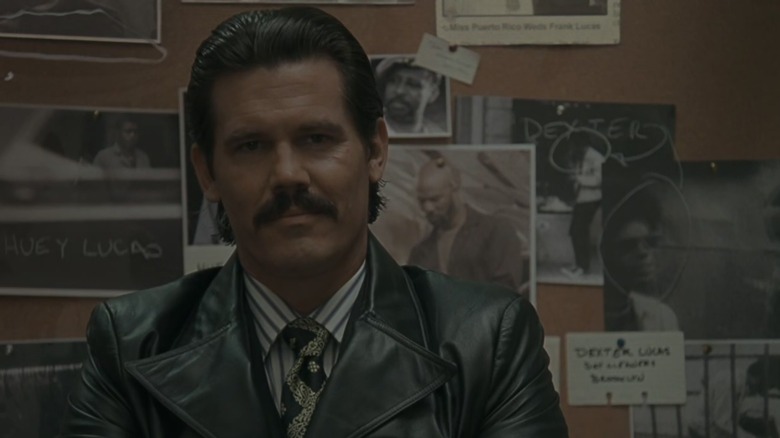 Universal Pictures
2007's "American Gangster" is a meticulous crime epic from the great Ridley Scott that hails from the classical era of '70s filmmaking with its massive scope and detailed depiction of the complex social, political, and economic state of New York City and the police department. The film follows the rise of the notorious black gangster Frank Lucas (Denzel Washington), a powerful crime lord who was seen as a monumental figure within the community. Lucas is pursued by the committed NYPD Detective Richie Roberts (Russell Crowe), who not only faces roadblocks from members of Lucas' organization, but those within the police force itself.
One of the issues he's forced to deal with is police corruption, as Lucas has paid off many members of the department who aren't as honorable as Roberts. One of those members is Brolin's character Detective Trupo, who succumbs to a quick payday and forgoes any responsibility to track Lucas down. Brolin brings his signature gruffness to the role, but shows cowardice within Trupo.
9. Inherent Vice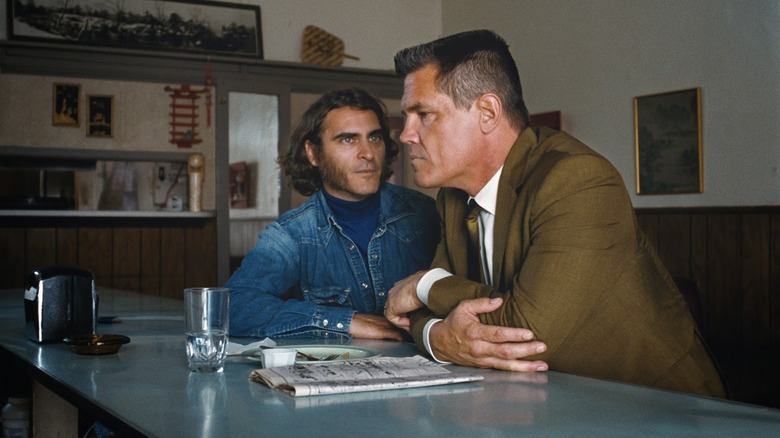 Warner Brothers
"Inherent Vice" is Paul Thomas Anderson's outrageous tribute to (and satire of) hard-boiled detective stories, as the hilarious mystery adventure introduces a plethora of quirky characters who all seem to feature into an eccentric conspiracy, even if it's not initially clear how. Joaquin Phoenix stars as the hapless private eye Doc Sportello, a wacky stoner who seems to stumble into clues more often than actually discovering them in his investigation. Brolin's character Lieutenant Christian F. Bjornsen, also known as "Bigfoot," interviews Doc early on and gives him one of his first leads.
Brolin looks like he's having a blast with the snappy dialogue, and it's hilarious to watch Bigfoot's blunt professionalism juxtaposed against Doc's wackiness. However, Bigfoot eventually proves to be a more sympathetic character: He comes to Doc's aid and helps him towards the end of the story. Bigfoot's backstory in which he mourns the death of his partner is woven throughout the film, and developed well by Brolin.
8. Dune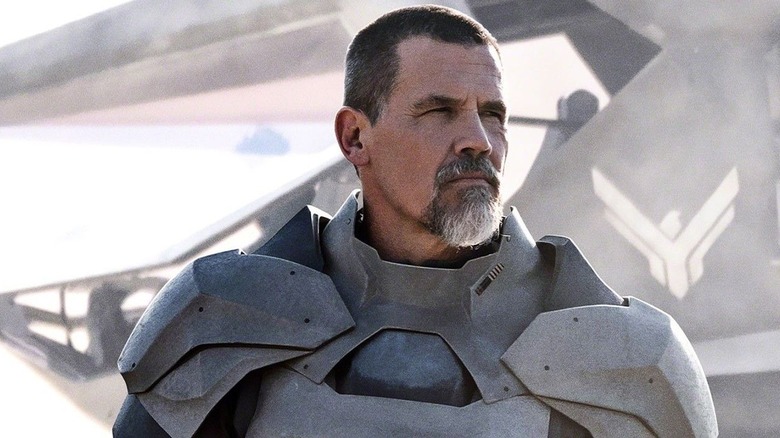 Warner Brothers
Less than a year after its release, Denis Villeneuve's adaptation of Frank Herbert's beloved science fiction novel "Dune" is already a future science fiction classic. There's a reason why "Dune" has been such a hard property to adapt, as the material is incredibly dense, the scale is epic to a shocking degree, and there are many characters with very complex relationships. Thankfully, Villeneuve's version is one of the most jaw-dropping visual achievements in recent memory, the political dynamics are made comprehensible, and the characters are all engaging on an emotional level.
"Dune" features a gigantic cast, and it's remarkable that among the many great characters in the film, Brolin is one of the standouts. He has a critical role as the House Atreides weapons master Gurney Halleck, a lifelong friend of Duke Leto (Oscar Isaac) and mentor to his son Paul (Timothee Chalamet). Halleck trains Paul in the art of combat, and is tasked with protecting the forces of House Atreides when they come under attack.
7. The Goonies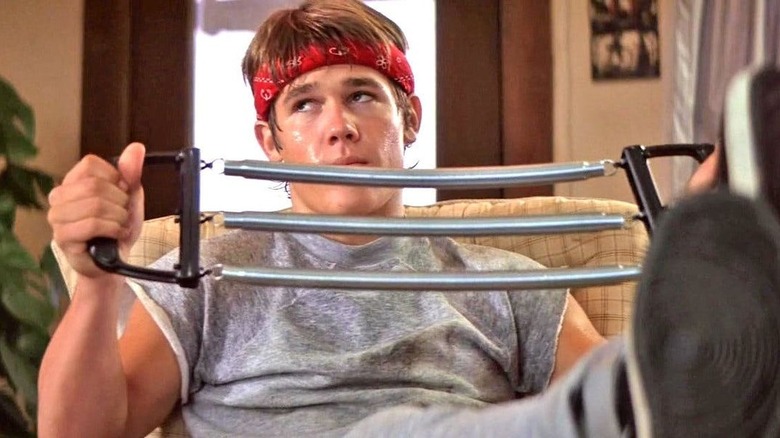 Amblin Entertainment
Brolin has excelled since the earliest days of his career, and his first film role ever in Richard Donner's 1985 family adventure film "The Goonies" was certainly a memorable one. One of the greatest things about "The Goonies" is the sense of authenticity it brings to its adolescent characters; the dialogue doesn't feel manufactured by a Hollywood script doctor, as the young characters all talk and interact in a way that feels realistic and kids could relate to. It was a great way to launch a generation of young stars, and Brolin had a slightly greater challenge as one of the older members of the cast.
Brolin appears as Brandon Walsh, the older brother to Mikey (Sean Astin). While Brandon is technically a member of the Goonies and generally enjoys spending time with Chunk (Jeff Cohen), Data (Jonathan Ke Huy Quan), and Mouth (Corey Feldman), he's also a star athlete focused on his relationship with Andrea Theresa Carmichael (Kerri Green).
6. True Grit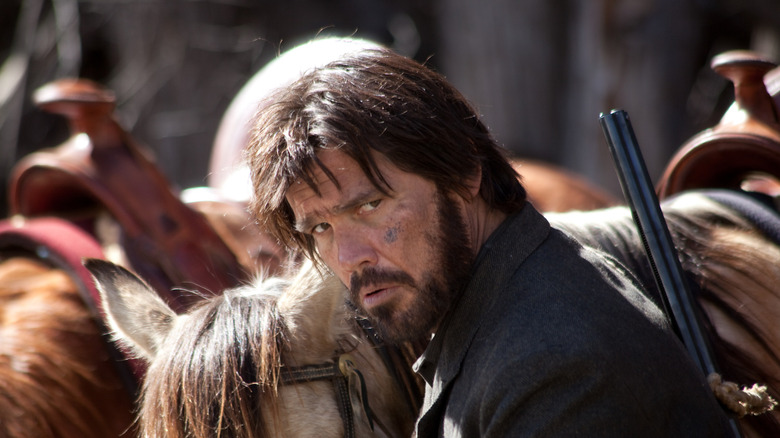 Paramount Pictures
The Coen Brothers are overwhelming forces of originality within Hollywood who have crafted some of the most memorable characters in film history, so it was perhaps a little surprising when they decided to adapt the Charles Portis novel "True Grit," which had been previously made into the iconic 1969 western starring John Wayne. Unsurprisingly, however, the Coens brought new life to the material with a reimagining that serves as a much stronger film than the original. The characters are better developed, the pacing is more fluid, and the performances, particularly Brolin, are all less of caricatures and more like actual people.
The film introduces the young girl Mattie Ross (Hailee Steinfeld), whose entire family is brutally killed by the terrifying outlaw bounty hunter Tom Chaney (Brolin). Ross seeks justice and retribution against Chaney, and hires the aging Deputy U.S. Marshal Rooster Cogburn (Jeff Bridges) to track him down. She accompanies him on the mission, and the two are accompanied by the Texas Ranger LaBeouf (Matt Damon), who also wants Chaney for his crime of murdering a Texas politician. It's fascinating to see each of these characters' different motivations, personally and professionally, for tracking down Chaney, and when Brolin appears he certainly justifies the attention. Chaney is a grotesque figure who chews the scenery with his disregard for humanity, and Brolin gives a terrifying look at a man who has forsaken all honor. It resulted in one of the best westerns of the 2010s.
5. W.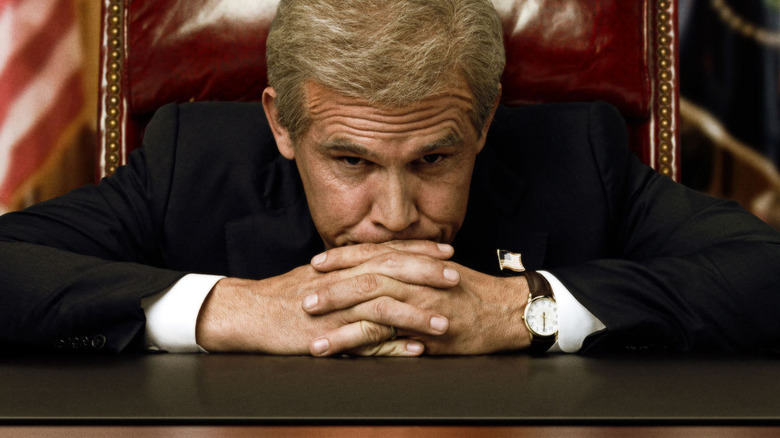 Lionsgate
Oliver Stone has never shied away from controversy and often tells stories about divisive figures within American political history, so leave it to the notorious writer/director to craft a biographical film about U.S. President George W. Bush while he was still in office. It's a film that would initiate obvious interest and widespread discussion on the intentions of Stone's story, its accuracy, and the responsibility of releasing the film when many aspects of Bush's story were still developing in real-time. It took a brave actor to wade into that controversy and step into the shoes of a man virtually everyone on the planet was familiar with. "W." is a fascinating film, but looking beyond Stone's choices, Brolin quietly delivers a nuanced performance.
Brolin certainly captures Bush's mannerisms perfectly, a challenging task given how popular parodies of the President were at the time, particularly Will Ferrell's iconic work on "Saturday Night Live." Brolin doesn't make Bush into a caricature, and the makeup work is strong as the film tracks his entire life from his fraternity days at Yale University to the latter days of his second term in the Oval Office. There's a tension between Bush and his father, President George H. W. Bush (James Cromwell), that is explored, as Stone characterizes the younger son as feeling overwhelmed by his father's expectations.
4. Milk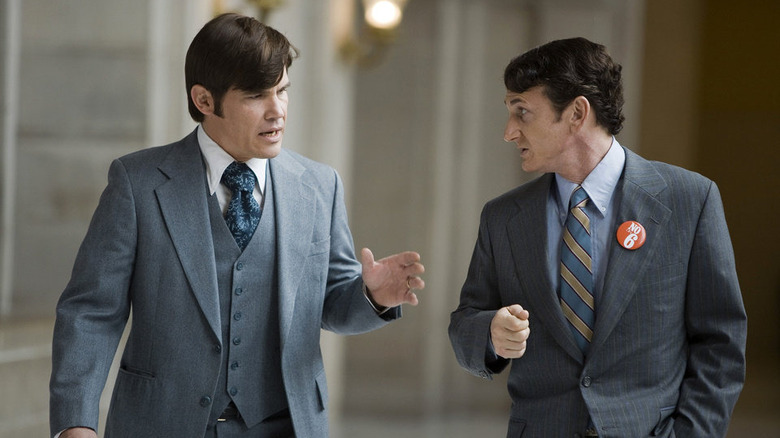 Focus Features
Brolin has frequently garnered critical acclaim for his performances, so it's surprising that over the course of his long career he's only received a single Academy Award nomination. Brolin has given many awards-worthy performances, but his single recognition for best supporting actor in Gus Van Sant's 2008 biopic "Milk" was certainly a worthy one. Within the film (in which Sean Penn took home the best actor prize for his tour de force performance as the activist and icon Harvey Milk, the first openly gay person to be elected to public office in California), Brolin plays the disturbing role of Milk's assassin, Dan White.
White is introduced as a contemporary of Milk's as they work together at the San Francisco Board of Supervisors, and although neither man is initially aggressive towards each other, it's clear that they come from completely different backgrounds. White is a highly religious veteran of the Vietnam War and a former police officer, one with strong opinions about gender roles and masculinity. He attempts to make outreaches towards Milk by inviting him to religious ceremonies, but begins to harbor anger when Milk refuses to help him prevent a psychiatric facility from being developed in the district he has jurisdiction over. The foreshadowing of the eventual assassination is painfully evident as Brolin stews in White's anger.
3. Hail, Caesar!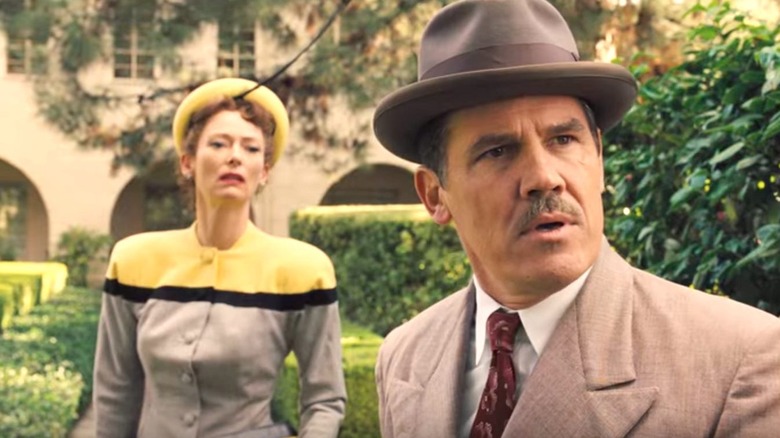 Universal Pictures
Brolin has experimented with comedic roles in between his more serious projects, and he's shown an aptitude for humor despite his generally rugged reputation. In the Coen Brothers' highly underrated 2016 satire "Hail, Caesar!," Brolin has to be the voice of reason amidst the egocentric, frantic world of Hollywood. In the Coens' outrageous vision of the behind-the-scenes wheeling and dealing within 1950s Hollywood, Brolin stars as studio fixer Eddie Mannix, who is tasked with keeping the idiosyncratic stars of Capitol Pictures out of the headlines.
Mannix tirelessly works as head of physical production while trying to keep his eye on the various self-centered actors, each of whom provides him with different challenges. Capitol Pictures' headstrong leading man Baird Whitlock (George Clooney) is generally clueless and goes missing, the singing cowboy Hobie Doyle (Alden Ehrenreich) is horribly out of place when he's cast in a period drama, the talented dancer DeeAnna Moran (Scarlett Johannsson) becomes pregnant before a shoot, the dancing star Burt Gurney (Channing Tatum) harbors secret political motivations, and the identical sisters Thora and Thessaly Thacker (Tilda Swinton) are frequently mistaken for each other. Brolin has a blunt sense of humor as he defuses each situation, and reflects to his wife (Alison Pill) how strange it is that he enjoys the chaos of his daily life.
2. Sicario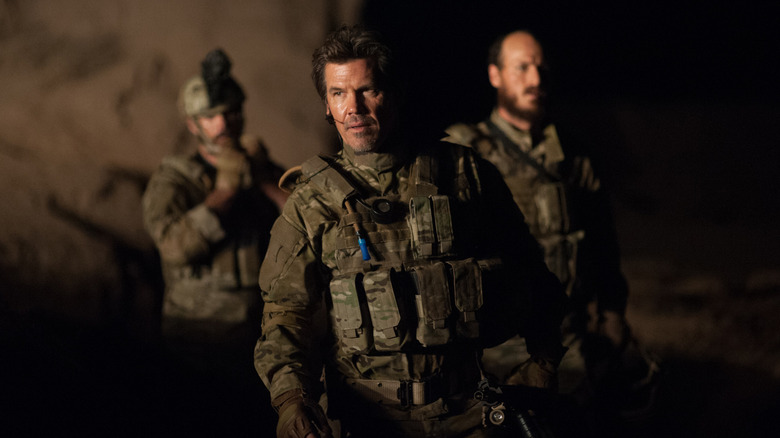 Lionsgate
Denis Villeneuve's 2015 neo-noir thriller "Sicario" is a film that excels in its patience. There's a foreboding sense of mystery that permeates the film's atmosphere, and Emily Blunt's character — Kate Macer, an FBI agent assigned to investigate a series of killings — is just a deer caught in the headlights. She has serious questions about working with the enigmatic Mexican enforcer Alejandro (Benicio del Toro), but many of her pressing concerns are left unanswered. Her only source of information is CIA officer Matt Graves (Brolin), whose austere nature is both infuriating and terrifying for Kate.
If Blunt's work is openly empathetic and del Toro's is more overtly sinister, Brolin explores the moral failure of the U.S. operation on the border with his willingness to perpetuate the conflict in order to take out temporary antagonists. Graves helps to enlist Alejandro, a former lawyer turned hitman, and uses the legitimacy of Kate's involvement in the investigation in order to allow Alejandro to continue in his warpath. Graves may be a behind-the-scenes player, but he's just as ruthless as Alejandro. Villeneuve is brilliant in what he leaves to the imagination; it's implied that Graves brutally tortures a prisoner while pressing him for information, but the most gruesome details are left off the screen.
1. No Country For Old Men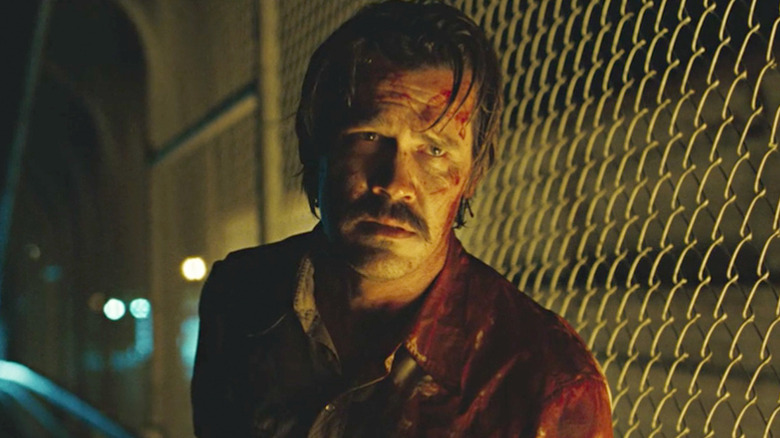 Miramax Films
The Coen Brothers' 2007 masterpiece "No Country For Old Men" is one of the greatest films of the 21st Century, a gripping deconstruction of greeting, morality, and the perpetual cycle of violence that permeates the American West and only advances with the advent of new technology. It's a film that necessitates that its actors bring emotional performances to material that is highly thematic, and generate sympathy from viewers even when some of the most critical moments are left open to interpretation. It also required the right blend of the Coen Brothers' offbeat writing style with the strict western stoicism that stems from Cormac McCarthy's source material; thankfully, Brolin is the type of ambitious actor who can handle the challenges of dealing with such weighty material.
With the exception of Javier Bardem's fearsome performance as the ruthless hitman Anton Chirgugh, the characters in "No Country For Old Men" ride a morally gray line that requires the viewers to assess whether they are justified in their actions. Brolin stars as Llewelyn Moss, a simple rancher who discovers a stash of cash in the aftermath of a deadly shootout. Moss initially takes the cash, thinking he could use it to benefit his wife, Carla Jean (Kelly MacDonald), but he realizes if it was worth killing for, then it may not be worth the risk. Although Llewelyn attempts to return the money, Chirgugh has already been dispatched to retrieve it.