'Sicario' Trailer: Emily Blunt Leads Denis Villeneuve's Brutal Thriller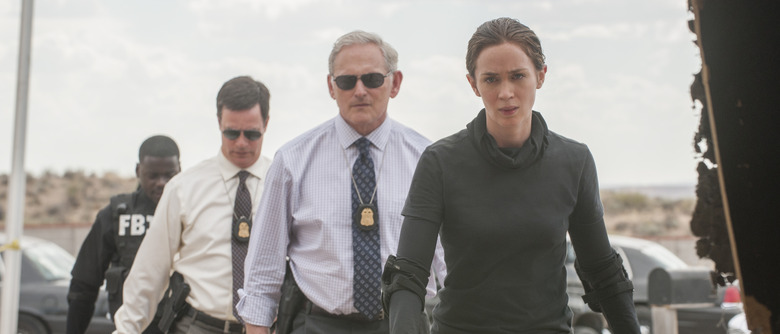 Who would have guessed, when Emily Blunt first broke through as Meryl Streep's snobby assistant in The Devil Wears Prada, that she'd go on to have a career as a badass action hero? Yet here we are with Looper and Edge of Tomorrow and now Sicario, the latter of which promises to be her darkest turn yet.
Directed by Denis Villeneuve, Sicario follows an FBI agent involved with the war on drugs. Her latest assignment takes her to the U.S.-Mexico border in the company of two men, a CIA official played by Josh Brolin and a mysterious consultant played by Benicio del Toro. Watch the first Sicario trailer after the jump.
Lionsgate unveiled the first Sicario trailer on YouTube.
Villeneuve previously directed the crime thriller Prisoners, and Sicario looks like it follows that film into similarly disturbing territory. He's aided by a Black List script from Taylor Sheridan, as well as striking cinematography by Roger Deakins.
The movie had its world premiere earlier this year at Cannes, and buzz so far has been mostly positive. A few critics were unimpressed by its "simplistic" approach to complicated topics, but many others were wowed by its "expert action and suspense," "first-rate" performances, and its "violent, bleak exploration of a bottomless moral quagmire."
Sicario arrives September 18, 2015.
In Mexico, SICARIO means hitman. In the lawless border area stretching between the U.S. and Mexico, an idealistic FBI agent [Emily Blunt] is enlisted by an elite government task force official [Josh Brolin] to aid in the escalating war against drugs. Led by an enigmatic consultant with a questionable past [Benicio Del Toro], the team sets out on a clandestine journey forcing Kate to question everything that she believes in order to survive. A Lionsgate presentation, a Black Label Media presentation, a Thunder Road production, a Denis Villeneuve film.