'Keanu' Red Band Trailer: Key And Peele Will Do Anything To Rescue A Kidnapped Kitten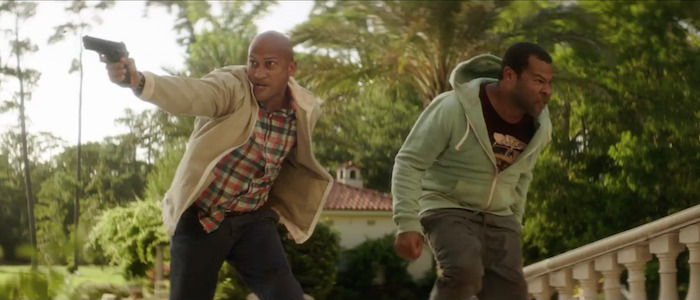 For five seasons, Key & Peele was one of the funniest shows on television, a beautifully produced sketch comedy series that was literate and lewd, silly and sly, observational and controversial. Now, Jordan Peele and Keegan-Michael Key look to continue that legacy with Keanu, which already looks like a frontrunner for one of 2016's funniest movies.
Goofy jokes? Confrontational racial comedy? Gun battles? Drugs? The cutest kitten in the history of ever? Yeah, the new Keanu red band trailer has it all.
Keanu looks like a Key & Peele sketch stretched to feature length and it's hard to find anything wrong with that. Peele plays a man who takes solace in a kitten, who he names Keanu, after going through a tough break-up. When the cat is stolen by gangsters, he teams up with his friend (Key) to get the cat back at all costs. Think of it as a strange comedic inversion of John Wick.
As you would expect from any red band trailer, this thing has enough violence and language and adorable kitten cuteness to render it NSFW. So wait until you get home or plug in your headphones and watch it on the phone in a toilet stall or something.
This may be the only movie released in 2016 where a cat runs through the middle of a furious gun battle and it's funny. How does it exist? When can we buy tickets?
Jordan Peele co-wrote the screenplay for Keanu with Alex Rubens, who is credited as a writer on 54 episodes of Key & Peele. But the connections to the duo's beloved Comedy Central series don't end there. Behind the camera is Peter Atencio, the Emmy-nominated filmmaker who directed 54 episodes of the series. In other words, this is very much a reunion for everyone involved and an extension of the work they did on the small screen. Atencio showcased a remarkable eye for genre and action throughout his work on the series, which bodes well for Keanu. Unlike so many other modern comedies, there should be a lot of style on display here. Hell, there's a ton of style on display in this trailer.
Honestly, I'd trust the guy who directed that amazing Les Miserables sketch with just about anything. Atencio bringing his chops to the big screen is good thing for anyone who likes, uh, good things.
Keanu, which also stars Gabrielle Union, Will Forte, Nia Long, Rob Huebel, and Method Man, opens on April 29, 2016.