5 Elizabeth Olsen Movies To Watch After Doctor Strange In The Multiverse Of Madness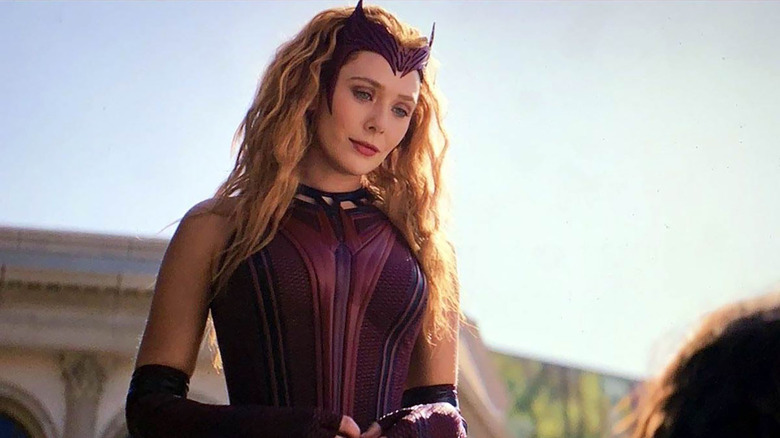 Marvel
If you would have told me in 1994 that the little sister who randomly appeared in my straight-to-VHS Mary-Kate and Ashley movies would become the bigger Hollywood star, I wouldn't have believed you. Then again, I was also four and still wearing velcro shoes because "loop, swoop, and pull" was beyond my baby brain. Elizabeth Olsen made her "non-cameo in famous siblings' movie" debut in 2011 with the horror film "Silent House," which impressed audiences with its use of "real time" shooting. The film was edited to appear as if it were one continuous shot, providing the illusion that we were watching a feature film recorded in one take. The film received mixed-to-negative reviews, but Elizabeth Olsen's performance was hailed pretty much across the board.
And so, Olsen was poised for a successful acting career, one that would lead to the role of a lifetime as Wanda Maximoff, aka Scarlet Witch, in the Marvel Cinematic Universe. Olsen quickly became a fan-favorite, but after her starring role in the smash-hit "WandaVision," superhero fans can't seem to get enough of her. Elizabeth Olsen has always been so much more than just "an Olsen sibling," and despite what diehard MCU fans may believe, she's also so much more than Wanda Maximoff. Here are five of her best non-Marvel movie roles that you should absolutely check out after seeing "Doctor Strange in the Multiverse of Madness."
Martha Marcy May Marlene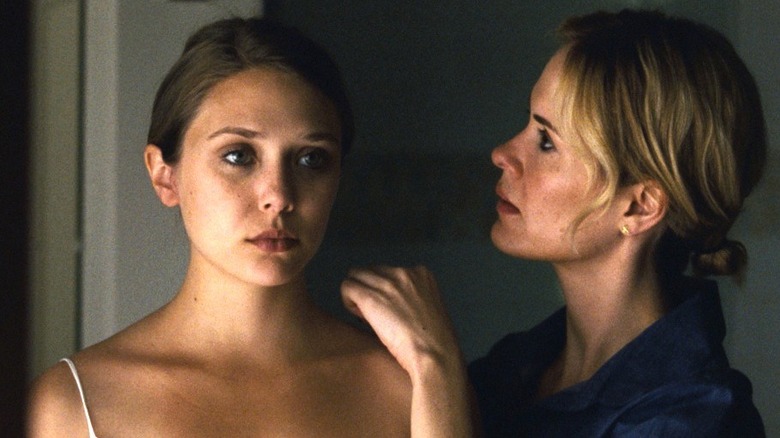 Fox Searchlight Pictures
Strap in because we're about to have a rough time. In "Martha Marcy May Marlene," Elizabeth Olsen plays a young woman named Martha who has spent the last several years trapped in a cult. After finally breaking free, she tracks down her estranged sister Lucy (Sarah Paulson) looking for help and shelter. Martha moves in with Lucy and her husband Ted (Hugh Dancy) but she is plagued with flashbacks of what she endured while living in the cult ruled by the intimidating Patrick (John Hawkes). Olsen's performance is harrowing, as we watch her struggle to re-assimilate to the world outside of the cult, and reckon with her own participation in the horrific rituals. She's trapped between the desire to prove her own independence and her clear post-traumatic stress disorder convincing her that cult members are coming for her to bring her back. It's a difficult movie to stomach due to its themes, but "Martha Marcy May Marlene" is one of the best low budget horror movies of the 2010s, and marks the beginning of what would become Olsen's impressive resume.
Very Good Girls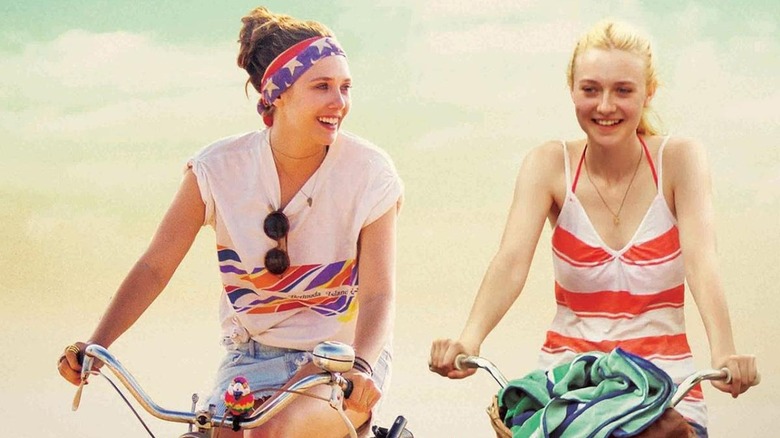 Tribeca Film
Okay, so, here's the thing: "Very Good Girls" is a nowhere near as good retelling of 1980's "Little Darlings," but injected with pretentious softboi art aesthetic. Unfortunately, writer and director Naomi Foner Gyllenhaal (mother of Jake and Maggie, FYI) couldn't fully present a successful love triangle, and the film was critically panned upon release. That said, "Very Good Girls" has some really magical moments scattered throughout, and an absolutely electric performance by Elizabeth Olsen. She stars opposite Dakota Fanning in a story about two best friends who make a pact to lose their virginities before going away for college, but things are complicated when they both develop a crush on the same, sensitive, artist boy. Olsen completely nails the complexity of teenage emotion, and the obstacles that come when sex gets involved. It's hard not to totally fall in love with Olsen as Gerri, who even at her emotional messiest, plays just like the best friend of your dreams.
I Saw The Light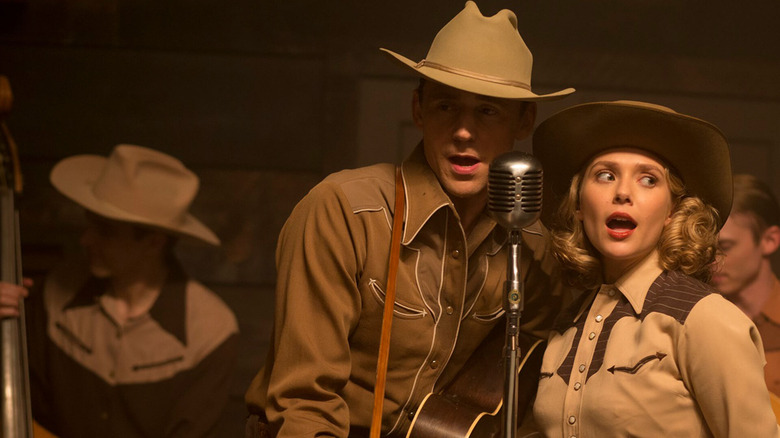 Sony Pictures Releasing
Friendly reminder: actors in Marvel movies exist outside of their Marvel characters! Loki himself, Tom Hiddleston, stars in "I Saw The Light," as country music legend Hank Williams and Elizabeth Olsen as his first wife, Audrey Williams. Based on the book "Hank Williams: The Biography," Hiddleston and Olsen are an absolute delight, and watching the two of them sing Hank Williams songs together makes it even better. The early years of Hank Williams were rough due to his history of alcohol abuse and infidelity, which makes for plenty of meaty scenes of conflict between the two that really allow them to show off their emotional ranges. One minute they're struggling to make it work, and the next they're smiling on stage. For Marvel fans, this is a whole new side of the actors you love, and well worth a watch –- even if you aren't a fan of country music.
Ingrid Goes West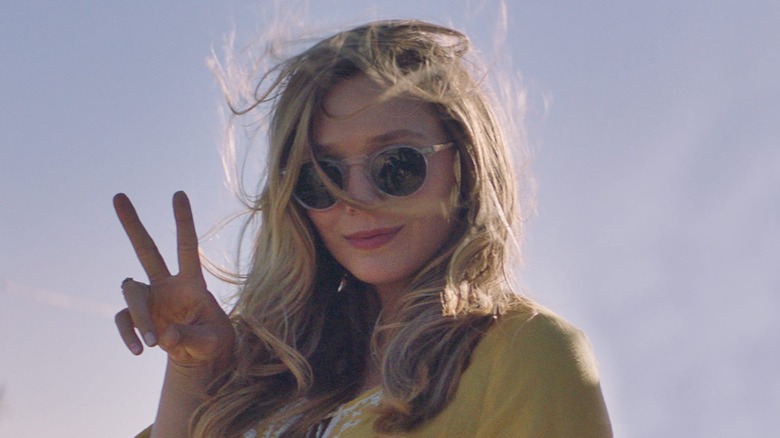 Neon
Whenever people talk about "Ingrid Goes West," the lead performance from Aubrey Plaza is rightfully highlighted. While the "Single White Female" through the lens of Instagram story is driven by Plaza's deranged performance as Ingrid, Elizabeth Olsen's portrayal of an influencer Taylor Sloane is pitch-perfect. Olsen has to be absolutely irresistible as Taylor in order for it to make sense for Ingrid to want to change her life and move to Los Angeles just to be Taylor's new friend in real life, and Olsen delivers. She expertly captures the unrelatable relatability of internet celebrities, and when Ingrid's motives are brought to the surface, Olsen's immediate shift from the insta-ready persona to Taylor's truth is absolutely brilliant. Of all of the movies on this list, this is definitely one to prioritize.
Wind River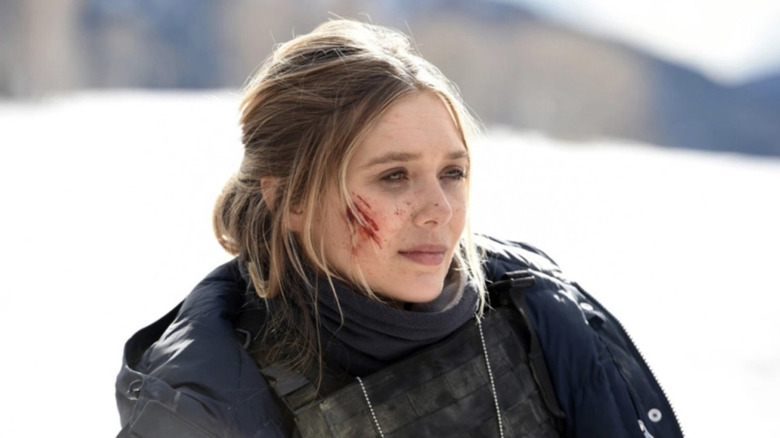 Lionsgate
Before Taylor Sheridan became the king of Paramount with "Yellowstone" and "1883," he put out a compelling thriller starring Elizabeth Olsen and Jeremy Renner called "Wind River." Renner stars as a wildlife officer who discovers the body of a teenage girl on a reservation in Wyoming. After her autopsy reveals that she had been assaulted before her death, Olsen's rookie FBI agent Jane Banner joins the case to help investigate. The two do their best to crack the case, but quickly realize that by working on solving this murder mystery, they've unknowingly put their own lives in danger. Sheridan's directorial debut is fantastic, and the film serves as the second piece in his "Modern Day American Frontier Trilogy" along with "Sicario" and "Hell or High Water." The film was originally to be distributed by The Weinstein Company but after Harvey Weinstein was finally brought to justice, Sheridan made it so that TWC would be deleted from the materials, and any money Weinstein would have made on this film was donated to charity. Not only is this a great movie to see one of Elizabeth Olsen's best performances, it's also a film you can feel good about supporting.