'I Saw The Light' Clip: Watch Tom Hiddleston Perform 'Move It On Over'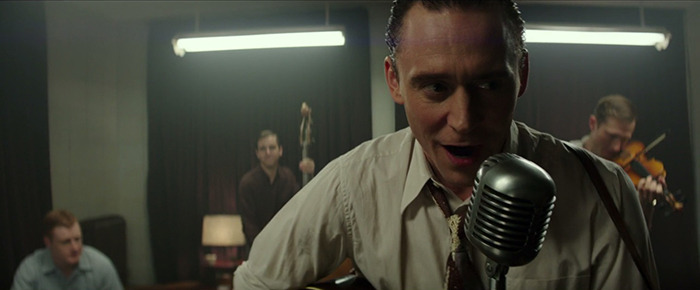 When a biopic depicts a major musical figure, one of the first orders of promotional business is to show the lead actor performing a key song. It's the way to say "see? they can do it!" So here's Tom Hiddleston as Hank Williams in the film I Saw the Light, in a clip that takes place in the studio when Williams lays down the classic track 'Move it on Over,' which was a watershed tune for the singer. (A song, by the way, about a guy literally sleeping in the doghouse after his wife locks him out.)
We don't have a trailer for the film yet, but here's the first I Saw the Light footage, complete with a little bonus glimpse of Elizabeth Olsen as Audrey Sheppard Williams.
Hiddleston tweeted the clip:
It gives me great pleasure to introduce the first clip from I SAW THE LIGHT. @TIFF_NET tomorrow! #MoveItOnOverhttps://t.co/0xC30AghNF

— Tom Hiddleston (@twhiddleston) September 10, 2015
Williams originally recorded 'Move it on Over' in Nashville in April 1947, as you see in the clip; the song was released in June of that year. The song was Williams' first true hit.
Hiddleston does a good job here. Without comparing it directly against the original recording (which you can listen to below) a lot of Williams's casual and even hardcore fans should be pleased. The actor clips his 'N's rather than riding them out long and deep the way Williams did, but it's clear that Hiddleston found his own approach for the voice and the role.
There's also the fact that the pedal steel is a lot higher in the song's original mix, but clearly in a film like this the priority is going to be given to Hiddleston/Williams, so it's no surprise to hear that changed. Here's the original recording.
I Saw the Light premieres in Toronto tomorrow, and will be in US theaters on November 27.
I SAW THE LIGHT, the story of the legendary country western singer Hank Williams, who in his brief life created one of the greatest bodies of work in American music. The film chronicles his meteoric rise to fame and its ultimately tragic effect on his health and personal life.
Written and directed by Marc Abraham, I SAW THE LIGHT is based on Colin Escott's award-winning biography and stars Tom Hiddleston, Elizabeth Olsen, Bradley Whitford, David Krumholtz and Cherry Jones. RatPac Entertainment's Brett Ratner and Bron Studios' Aaron L. Gilbert produced the film, with G. Marq Roswell and Abraham. James Packer of RatPac Entertainment and Jason Cloth of Creative Wealth Media Finance executive produced. Notable director of photography Dante Spinotti was the cinematographer for the film.