Studio 666 Review: Dave Grohl's Commitment To The Bit Makes This Horror-Comedy Scary Good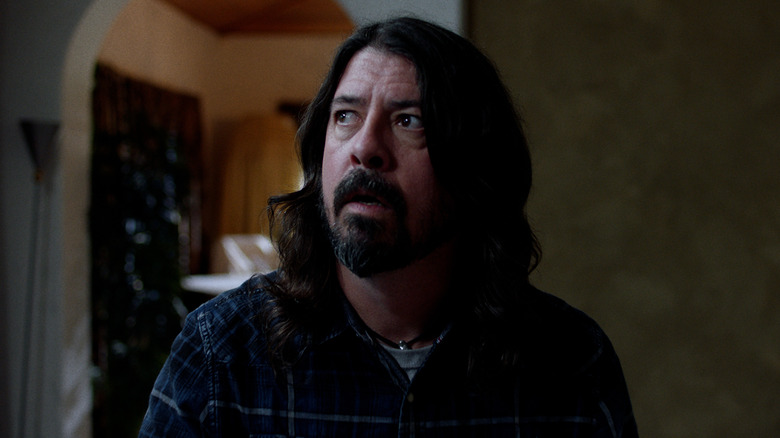 Open Road Films
I'm very picky about horror comedies. I don't typically seek out horror with an impulse to laugh, so the conventional meshing of the genres has always felt a bit foreign to me. There are definitely great movies that fit the horror-comedy subgenre bill; movies that I count as gems. But mostly, I stick to more dreadful and horrific corners. I like it there. But I was willing to abandon my cave of gloom and doom to spend nearly two hours with the hilarious, dedicated, and ridiculously musically talented Foo Fighters in their new horror-comedy "Studio 666." Thankfully, the film was worth leaving the comforts of my usual eerie dwellings and venturing into its comedic territories — It is all at once a gleefully raucous rock romp and a freaky horror story of possession and gruesome murder. 
Sounds like a good time, right?
"Studio 666" follows Dave Grohl and his band the Foo Fighters (Taylor Hawkins, Nate Mendel, Pat Smear, Chris Shiflett, and Rami Jaffee), as they shack up in a creepy California mansion (that has a grisly, murderous rock and roll past) with the intention of recording their 10th album. Once the group moves into the property for an extended stay to write and produce the highly anticipated record, Grohl quickly discovers a threatening presence that jeopardizes the completion of the project — and the band's very lives.
Ah, those wonderful guys: The Foos
Right off the bat, "Studio 666" presents itself as a tried and true straight-to-DVD-style comedy. Its comedic style is silly and ridiculous at moments, and much of what's here feels like it's comprised of inside jokes. This inside joking doesn't alienate the audience, though. Instead, it heightens the film's overall likeability, because it feels like we're actually getting a bit of a taste of what it's like to hang out with the Foos. Speaking of the Foos, the band really gives this movie their all and it's refreshing to see the group as committed (and charismatic) as Grohl. They each bring their own personal brand of humor, rock swag (yes, I mean that pretty literally), and spin on the classic horror movie victim archetypes to the table. Altogether it works, in a Beatles' "A Hard Day's Night" kind of way. You accept it for the beautifully weird hilarity that it is, and continue down the rabbit hole alongside them.
There's absolutely no denying how fun Grohl is in this picture, and I simply want to thank him for his service to the genre. He is ridiculously devoted to the bit, as well as the terror — and, with his story credit on the film, he is the mastermind of a fun original horror story. Literally, what more could we want? The musician stretches from consummate comedian to skilled artist to sarcastic a**hole throughout the movie's runtime, and it never feels trite or lacking in earnest. 
You can tell how deep Grohl's heart is buried in the soul of this project, and that he feels the film is a passionate exploration of the band's identity as a group. He takes pride in leading the charge and being the band's rock, but he doesn't shy away from being an unreliable and messy leader, either. And that's a big part of the comedic element. At one point, Grohl acts out an explanation of a song he wants the band to learn that rivals Jack Black's rendition of Dewey Finn's "Legend of the Rent" from "School of Rock." It's funny, infectiously charming, and weirdly brilliant. The movie highlights Grohl, but this isn't without justification — and knowing this was all his idea makes the film's distinctive brand of horror-comedy work nearly by default. A decent story and perseverance will clinch a lot of film deals in the long run, and Grohl's story is in front of us for a reason.
Something totally new in horror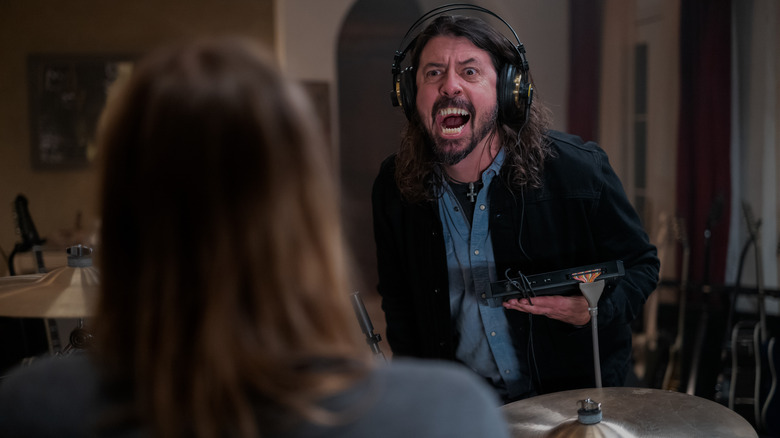 Open Road Films
The fact that "Studio 666" is wholly unique while still using popular tropes and horror concepts is what helps it ultimately succeed. It's not a prequel/sequel/legacy addition to a franchise. It's not rehashed IP that has been done to death. True, "Studio 666" features some of the same stuff we've seen time and time again in the genre, but it's being packaged here in a fresh way. To that end, the kills are extremely well-crafted and executed, including a better chainsaw kill than the entire "Texas Chain Saw Massacre" oeuvre. The movie's villains — menacing shadowy entities who threaten Grohl and the band's sanctity during their stay — are actually scary and feel genuinely intimidating. The film does a great job of establishing the comedic tone, but it doesn't skimp on the darker tonal shifts either. 
The spooky demon specters, Dave Grohl's verve, and the Foos themselves aren't the only things that stand out in this movie, though. They're graciously supported by a whole host of famous faces that really tie the entire film together, including "American Horror Story" star Leslie Goodman, horror legend John Carpenter (who also nailed the film's title score, but who's surprised?), and "The Last Man on Earth" star Will Forte. Of all the fun cameos in the film, Jenna Ortega, who recently appeared in the new "Scream" and will next be seen in Ti West's "X," stands out the most. The young actress has been having a banner year as a performer, but also as a horror starlet, and she continues to cement herself as a new age scream queen. This movie only strengthens her foundation in the genre, because her cameo in this movie exists mainly as an opportunity for her to quite literally scream for us, and she's great at it. 
"Studio 666" concludes with a bleak but perfect ending, timing out on a really satisfying final shot that cements Grohl's fun horror vision. It's so much fun, in fact, that "Studio 666" might just make me a horror-comedy convert. If for nothing else, "Studio 666" should be sought out for its originality among a vast smorgasbord of the same old, same old. We're so focused on letting our legacy final girls get one last swing that, sometimes, we miss out on entirely new horror stories to sink our teeth into. Don't let this be one of them.
/Film Rating: 7 out of 10