Studio 666 Red-Band Trailer: Foo Fighters Visit A Creepy Rock And Roll House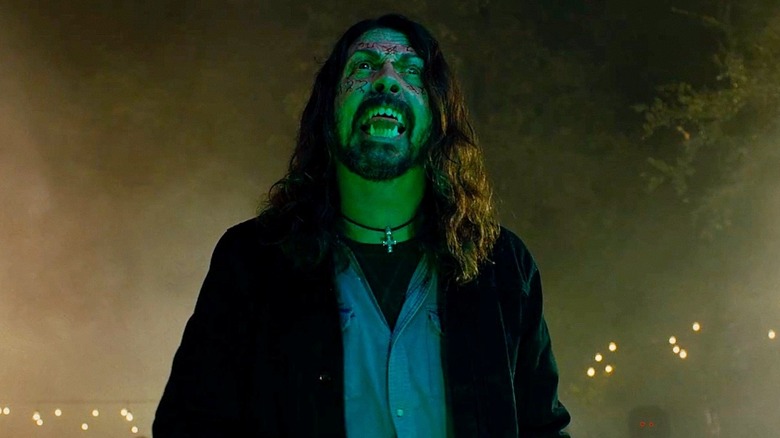 Open Road Films
Today brings a new red-band trailer for the Foo Fighters' upcoming horror film "Studio 666," and it is absolutely, positively not safe for work. The band (who are looking quite spry) introduce the red band trailer for "Studio 666" in the most Foo Fighters way possible: with lots of cursing, even in unison.
The trailer looks super campy and fun, and very, very bloody. There are heads sliced apart with a buzz saw, faces are grilled alongside hamburgers, and we have the classic horror movie shot of a main character eating a very rare steak. There are zombies pulling out guts, an ill-fated evening encounter in a bedroom, and all sorts of bloody mayhem.
Dave Grohl has been possessed and is now on a murderous rampage, we're told. He seems to be enjoying it. In fact, everyone seems to be just on the verge of laughing at every moment. Okay, maybe this won't be the most serious of horror films, but seeing how much fun they're having makes me want to watch it even more than I did before. 
Dave Grohl memorably played Satan in "Tenacious D in The Pick of Destiny," despite coming across — in my opinion — as one of the nicest musicians out there. I bet he's nice even when he's possessed by a demon.
'Check out the trailer for our f***ing movie!'
Here is the official synopsis for "Studio 666:"
In Studio 666, the legendary rock band Foo Fighters move into an Encino mansion steeped in grisly rock and roll history to record their much anticipated 10th album. Once in the house, Dave Grohl finds himself grappling with supernatural forces that threaten both the completion of the album and the lives of the band.
The cast for "Studio 666" includes Dave Grohl and his bandmates Taylor Hawkins, Nate Mendel, Chris Shiflett, Pat Smear, and Rami Jaffee who play themselves. In addition, we have Whitney Cummings, Leslie Grossman, Will Forte, Jenna Ortega, and Jeff Garlin. That's a whole lot of comedy heavy hitters. 
The film is directed by BJ McDonnell, he of "Hatchet III." The story comes from Dave Grohl, and the screenplay is from Jeff Buhler ("Pet Sematary" 2019) and Rebecca Hughes ("Cracking Up"). It's produced by Roswell Films and Therapy Studios John Ramsay & James A. Rota. Executive producers include John Silva, Kristen Welsh, John Cutcliffe, Gaby Skolnek, Grohl, Mendel, Hawkins, Smear, Shiflett, Jaffe, James Masciello, Matthew Sidari, Mitchell Zhang, and Open Road's Tom Ortenberg. 
I'm a little concerned by how close I live to this murder house. Just a warning. If you're sensitive to eyeball stuff ... maybe don't watch the end of the trailer. Shudder. 
"Studio 666" releases in theaters on February 25, 2022.