The 12 Funniest Moments Of Jordan Peele's Career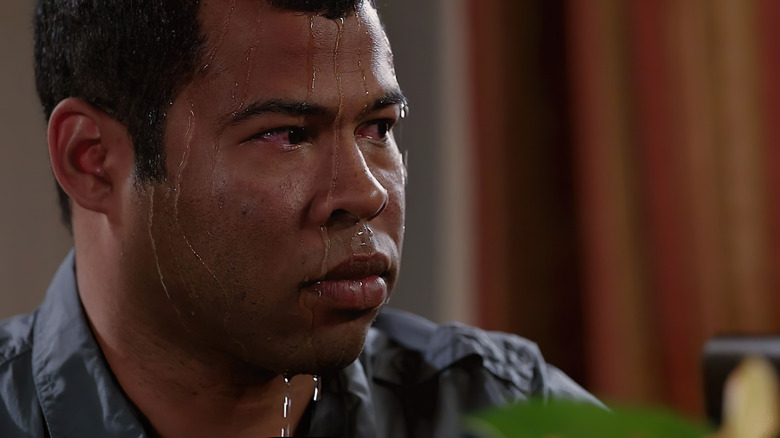 Comedy Central
It's fascinating to think that there are people in the world who only know him as a modern master of horror, and not the funnyman many of us watched for years. When it was first announced that Peele would be directing a horror film called "Get Out," there were definite naysayers and skeptics who couldn't imagine that the same guy behind the "MADtv" sad 50 Cent parody and "Donkey Teeth" from the "Key & Peele" college football player names sketch would be able to deliver on a horror film. Of course, Peele didn't just shatter preconceived notions with "Get Out," he completely changed the horror landscape.
His massive success in the genre, from directing "Get Out" and "Us" to producing "The Twilight Zone" reboot and Nia DaCosta's "Candyman," has kept him mighty busy. But he has in no way said goodbye to the comedy world that first put him on the radar of mainstream America. In honor of his third directorial feature, "Nope," hitting theaters on July 22, 2022, let's roll back the hands of time and remember 12 of the funniest moments of Jordan Peele's career ... so far.
Key & Peele on Hot Ones
Long before "Hot Ones" became the cultural phenomenon it is today, the second season showed Jordan Peele and Keegan-Michael Key in the hot seat, answering questions while scorching their mouths on sauces at the top of the Scoville index. The duo showed up to promote their action-comedy film "Keanu," and six years later their appearance is still one of the funniest in the show's history. Peele's guard is knocked down and thrown out the window, and we're seeing the raw, hilarious reactions of a man slowly succumbing to the powerful pain of hot sauce. Key is trying his damndest to joke away the pain, but not Peele, he's accepted his fate.
Fanny - Bob's Burgers
Gender is over on "Bob's Burgers," where voice actors are never limited to characters of their assigned gender at birth. In one of the best guest performances on the show, Jordan Peele lends his voice to Fanny, the psychotic, gold-digging girlfriend of Zach Galifianakis' Felix Fischoeder. Fanny plays a major role in the two-part season 4 finale, "Wharf Horse (or How Bob Saves/Destroys the Town – Part I, II)," including involvement in a murder plot to kill Calvin Fischoeder (Kevin Kline) and the entire Belcher family. Fanny is obnoxious, can't sing, and feels like an animated extension of Peele's character Meegan from "Key & Peele." It was a delight when Fanny had a minor cameo in "The Bob's Burgers Movie," if only to hear that nasally, bratty whine once again.
'Ophelia, call the police' - Us
Peele knows how to scare the life out of an audience, but he isn't afraid of injecting hilarious moments of levity into his horror features. His 2019 sophomore feature "Us" was not only one of the best horror films of the year, it contained a scene that reminded everyone watching at home that it came from the mind of a comedic genius. 
Elisabeth Moss ("The Handmaid's Tale") and Tim Heidecker's ("Tim and Eric Awesome Show, Great Job!") family come under attack from their tethered counterparts, with Heidecker's tethered, "Tex," delivering the creepiest handshake-turned-hairswipe-fakeout ever seen — but you can't help laughing when it happens. When things look their most grim, Moss' Kitty calls for "Ophelia" (the "Us" version of an Amazon Alexa) and commands, "Call the police!" Being the fickle mistress she is, Ophelia mishears Kitty's request and instead plays "F*** Tha Police" by N.W.A. as her tethered Dahlia slits her throat. It's bleak, but god is it funny.
Gremlins 2 Brainstorm - Key & Peele
If there's one thing about me you should know, it's that I'll never pass up an opportunity to talk about Star Magic Jackson Jr. – The Hollywood sequel doctor. Peele stars in one of the best "Key & Peele" sketches as a flamboyant and eccentric presence in the brainstorming room for "Gremlins 2," encouraging the most ridiculous and nonsensical ideas anyone comes up with ... which all inevitably end up in the actual movie made by Joe Dante. It's clear that the sketch was written by someone with a great love of the weirdness that is "Gremlins 2," but Peele's commitment to yes, and-ing whatever mess the writers' room can think up only adds to the fun when you remember: IT'S ALL REALLY IN THE MOVIE!!!
The Black Doctor - Children's Hospital
Jordan Peele thrives in satirical performances, and one of his best occurred on the Adult Swim series "Children's Hospital." Peele often appeared as Dr. Brian, a Black, bisexual doctor who had previously left the hospital to consult on a Marlon Wayans' show called "Black Hospital." Dr. Brian is a hilarious parody of the way Black doctors are often tokenized on medical dramas. In the episode "The Black Doctor," Dr. Brian returns from his consulting duties only to find Dr. Blake Downs (Rob Corddry) being discriminated against for his race — that race being "clown." Dr. Downs complains to Dr. Brian that he'll never understand what it's like. It's a sharp commentary on "Very Special Racism Episodes" of medical dramas, and a huge part of its success lies in Peele's perfect deliveries.
Ghost of Duke Ellington - Big Mouth
"Big Mouth" is one of those shows that is hard to believe exists, but it frequently produces some undeniably great TV moments. Peele has a recurring role as the Ghost of Duke Ellington, who is trapped on Earth and residing in Nick Birch's (Nick Kroll) attic. Peele is clearly having the time of his life playing the jazz legend, acting like an absolute weirdo while providing sometimes poignant, but usually just straight-up wack, advice. Whether he's throwing a ghost party or reminiscing about his glory days, the Ghost of Duke Ellington is an odd and wonderful addition to an already unhinged piece of animation.
Barack Obama - Key & Peele
No one did Barack Obama quite like Jordan Peele, who put every comedian trying to imitate the commander-in-chief to shame during his presidency. Every Obama segment on "Key & Peele" was an absolute gift, but the real stand-out comes in the form of "Anger Translator." With Keegan-Michael Key as Luther, Obama's anger translator, Peele has to hold an Obama-esque straight face while Key wilds out to provide the subtext of Obama's politically correct statements. I truly don't know how he holds it together, but the fact that he does is further evidence that Peele is the man.
Ray Parker Jr. - Key & Peele
Ray Parker Jr. struck gold when he wrote the theme song to "Ghostbusters," and his instantly recognizable personality made him an easy target for parody on "Key & Peele." In a similar style to those CD compilation cartoons that would play on cable during odd hours of the night, Peele stars as Ray Parker Jr. trying to sell a collection of his other movie theme songs that weren't chosen for the final film. The joke is that every song just sounds like a weird version of "Ghostbusters," even if the film is "12 Years A Slave," "The Pelican Brief," or "The Passion of the Christ." The real Ray Parker Jr. gave Peele his seal of approval on the sketch, which is perhaps the highest compliment.
James Brown - JASH
In 1987, the godfather of soul, James Brown, appeared on CNN for a television interview absolutely high as a kite. Had he been there to talk about his music or a trivial pop culture matter it would have been odd, but understandable. But Brown was on CNN to talk about recent allegations of assaulting his wife with a lead pipe and shooting a gun at her while in a car. These were some really serious allegations, and yet Brown appeared on live television high out of his mind. In a short sketch for JASH, Peele stars in a word-for-word reenactment of the interview, complete with nonsensical singing, screaming random phrases, and frequently calling the interviewer "lady." It's impossible to overstate how unbelievably spot-on Peele's reenactment is, considering the absolute madness that is the original.
Cleared History - Key & Peele
Ah, yes, the source of that gif you use all the time on Twitter when you're trying to express nervousness. In one of the most memorable sketches in the history of "Key & Peele," Peele stars as a husband who is confronted by his wife regarding why their internet search history is always cleared every time she tries to use the computer. As her questioning grows, Peele sweats harder and harder, leading to a fountain spurt coming out of the middle of his head. It's another instance where half the power of the joke comes from Peele never breaking character, despite the fact water is pouring all over him.
Rod's Phone Call - Get Out
"Get Out" is a masterpiece. Period. Peele crafted a perfect horror film, and there's a reason he went home with the Oscar for "Best Original Screenplay" at the 90th Academy Awards. The film is sheer perfection from start to finish, and opened so many doors in terms of the types of horror storytelling that studios were willing to greenlight. Much is said about the way the script tackles racism and the upholding of white supremacy in America, but the film also has moments that are laugh-out-loud funny. 
Lil Rel Howery stars as Rod, the TSA-employed best friend of leading man Chris (Daniel Kaluuya), who realizes pretty quickly that something is very, very wrong with Chris and his white girlfriend's family. In their last phone call, Rod finds out that the family hypnotized his friend the night before, and makes the only logical conclusion ... sex slaves, of course. "Get Out" is such a deep film, covering really serious topics, but the presence of Rod keeps it from becoming too bleak.
Continental Breakfast - Key & Peele
Perhaps it's because I grew up trashy and will die trashy, but I cannot fully express my love for a complimentary continental breakfast at a hotel. In what is perhaps my favorite "Key & Peele" speech ever, Jordan Peele devours mini donuts, Froot Loops cereal crunchies, fruit danishes, bananas, and English muffins with such a fever that you don't even see the slow reveal that the sketch is a send-up of "The Shining" until it's in front of your face. Peele throws himself into both physical comedy and brilliant character work, and audiences loved the character so much he'd again appear in a sketch parody showing the man enjoying himself on an airplane upgrade ... that ends up being a reference to the famous "Nightmare at 20,000 Feet" episode of "The Twilight Zone." 
We should all strive to embrace the little luxuries of life as much as continental breakfast guy does. Our world would probably be a lot more enjoyable.