Let's Revisit Gremlins 2's Wonderfully Strange Cameos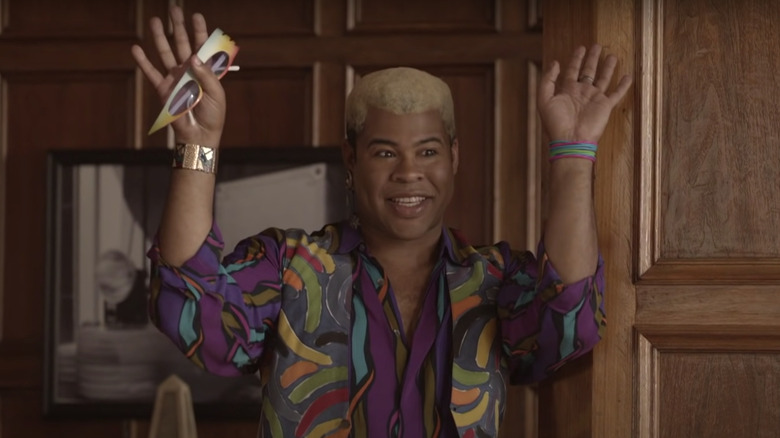 Comedy Central
Joe Dante's "Gremlins" is one of the greatest holiday horror films in history and is partially responsible for the creation of the PG-13 rating. "Gremlins 2: A New Batch" on the other hand, is a chaotic nightmare of fun and absurdity with cartoon-comedy, slapstick violence, and parodies of "Rambo," "The Wizard of Oz," "The Phantom of the Opera," "Marathon Man," "Of Mice and Men," Donald Trump, and even "Gremlins" itself. The movie is so absurd that one of the best "Key and Peele" sketches in the show's history is about the brainstorming session that led to "Gremlins 2." I'm a staunch defender of this ridiculous film, because every second of "Gremlins 2" knows that it's a ridiculous film, which makes the viewing experience all the more enjoyable.
In addition to its weird humor, nonsensical storylines, and over-the-top antics, the film is littered with cameos. Composer Jerry Goldsmith appears as a yogurt customer, the original Gomez Addams actor John Astin shows up as a janitor, cult film icon Henry Gibson pops up as an employee fired for smoking, character actor Rick Ducommun cameos as a security guard, the cast of the PBS children's show "Square One TV" appear as themselves filming an episode, and "Gremlins 2" director Joe Dante himself appears as the director of Grandpa Fred's show. Don't worry, we're not done, there's even more ridiculous cameos that we have to discuss.
Leonard Maltin Gets Eaten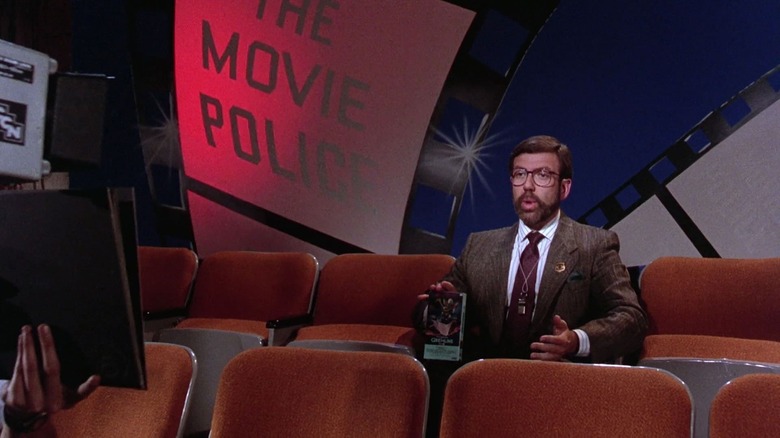 Warner Bros.
Legendary movie critic Leonard Maltin was working for "Entertainment Tonight," when he had given a negative review to the first "Gremlins" film (he was wrong, by the way). Joe Dante was originally really hurt by his negative review, but decided to work out those feelings with his art by inviting Maltin to cameo in "Gremlins 2" as himself, working as a movie critic on the fictional Clamp Cable Network show, "The Movie Police." In his scene, he discusses the video re-release of "Gremlins" and hates on the film, noting that he'd rather spend two hours getting a root canal.
However, when he begins trashing the appearance of the gremlins themselves, our favorite little creatures bombard him on set and attack him. The cable network cuts away from the scene as we hear Maltin pleading with the gremlins, "I was just kidding! It's a ten! A ten!" When Leonard Maltin eventually reviewed "Gremlins 2: The New Batch," he gave the film three out of four stars, drawing special attention to the movie parodies scattered throughout. This meta cameo allows for one of the funniest gags in Dante's career.
Gremlinmania's Running Wild, Brother!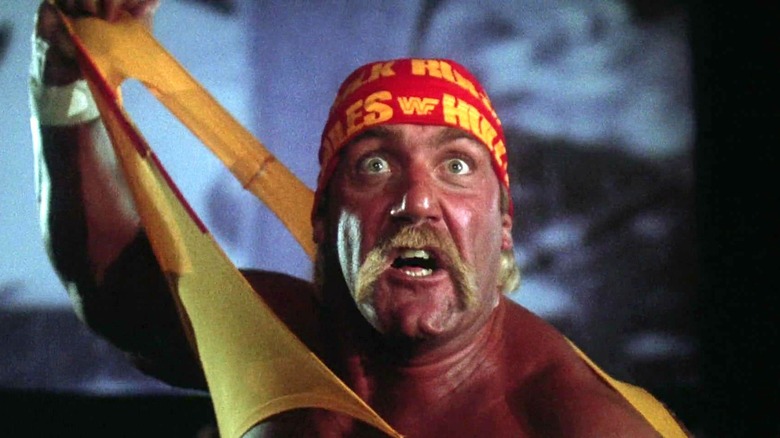 Warner Bros.
With "Gremlins 2" taking place in a New York City skyscraper, there's plenty of opportunities for celebrity cameos. Celebrated former professional football player, sports commentator, and actor Dick Butkus and football player turned actor Bubba Smith both have a cameo during a scene where "The Vegetable Gremlin" attacks them while they wait in line at a salad bar. Apparently the two had lines at some point, but they were cut from the final film, which makes their cameos last long enough for you to look at your friend and ask, "Wait, was that Dick Butkus?"
More prominently, however, is an intermission scene from the theatrical release where Hulk Hogan is asked by the theater staff to cut a promo on the gremlins for messing around in the projection booth and ruining the movie for everyone. Of course, the Hulkster has to go off on them, complete with ripping his shirt off. After cutting his promo, he breaks the fourth wall and apologizes to the audience, promising that it won't happen again. In Dante's original script, this scene was going to start with the projectionist consulting with Steven Spielberg (who appears in the first film briefly) about the gremlins, replying with "Damn! I knew I should've directed this one myself," before calling on Hulk Hogan. it's such a delightfully bizarre cameo and one that only feels right in a movie as absurd as "Gremlins 2: The New Batch."