Candyman Review: A Smart, Scary Sequel That Adds Interesting New Dimensions To The Original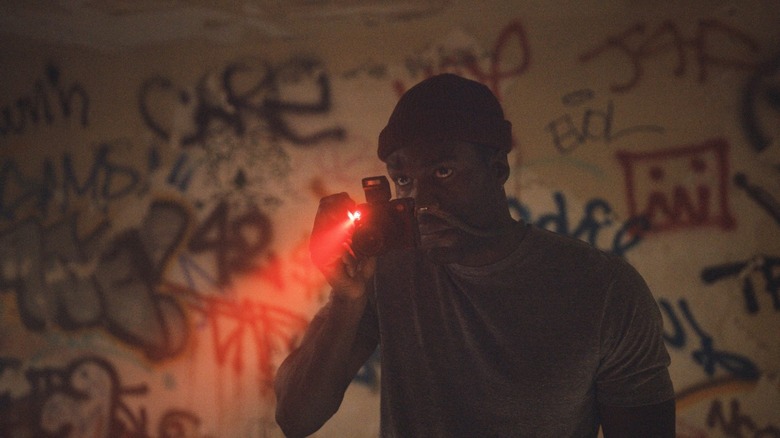 Universal Pictures
The line between generational trauma and urban legend blurs in "Candyman," Nia DaCosta's smart, scary update/continuation of Bernard Rose's 1992 horror classic. Don't let the title fool you: this is no remake, it's a direct sequel, and it's the best kind of sequel – one that takes ideas introduced in the original film and reshapes them into something fresh and new. To put it more simply: this is how you do it, folks. While some of the film's logic doesn't quite hold up to scrutiny, and while some of the character motivations can occasionally be murky, DaCosta has summoned up something special here; a haunting, gorgeous, bloody phantasmagoria unafraid to lean into weighty real-world issues. That's not to say this "Candyman" doesn't know how to thrill and chill – this is first and foremost a piece of pop entertainment, but it's a piece of pop entertainment that's damn intelligent. 
Anthony McCoy (Yahya Abdul-Mateen II) is a struggling artist looking for inspiration. He finds it in Cabrini-Green, a neighborhood in Chicago that was once the sight of housing projects but is now gentrified with pricey condos and high-rises. "White people built the ghetto then erased the ghetto," as Anthony's girlfriend Brianna (Teyonah Parris) wryly notes at one point. Anthony's quest for an artistic revelation leads him to William (certified scene-stealer Colman Domingo), who grew up in the old, pre-gentrification Cabrini. William tells Anthony a series of disturbing stories surrounding the area. He talks about Sherman (Michael Hargrove), a Black man who was murdered by the police in the 1970s for a crime he didn't actually commit. And he talks about Helen Lyle, the grad student who was the main character of the 1992 film.
These scary stories swirl about the history of Cabrini-Green, and they almost all involve tragedies that befall Black people who butt up against systematic and cultural discrimination, effectively turning such racism into a curse that follows people across generations. And the star of these stories is always the same: Candyman. Say his name five times in front of a mirror and he'll appear and dispatch you with his rusty hook hand.
One of the most interesting ideas DaCosta and co-writers Win Rosenfeld and Jordan Peele have come up with here is to turn Candyman into an ever-changing, always-present figure with many different names and backstories. While Tony Todd's familiar Daniel Robitaille was the original Candyman, the name and legend are passed down from era to era. Anytime a local Black person is murdered as the result of bigotry and prejudice, that person effectively becomes the new Candyman; an urban legend with the power to reach out from behind a mirror into the real world. The truly unsettling result of this is that Candyman could be anyone, provided they befall such an injustice.
Anthony's investigation into the legend of Candyman begins to have detrimental effects. A bee sting on his hand mutates into a gruesome skin disease, to the point where his skin begins to look like some kind of deformed honeycomb. On top of this, Anthony's mental state deteriorates rapidly, and he grows distant with bursts of sudden, panicked violence. This shift understandably disturbs Brianna, who flees rather than subject herself to Anthony's mania.
"Say His Name."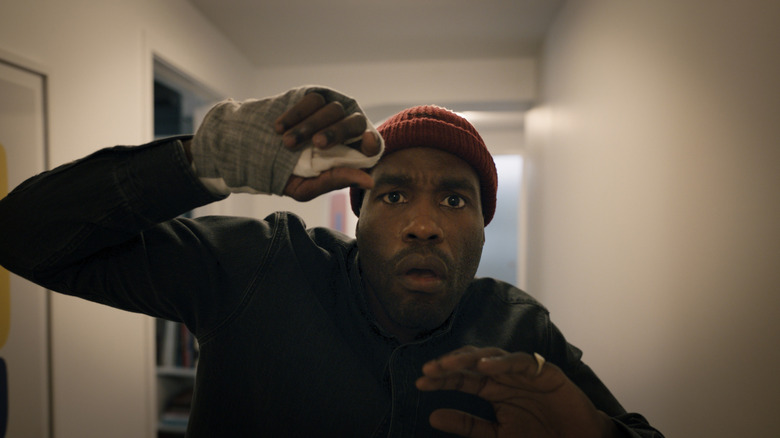 Universal Pictures
It's here where "Candyman" hits one of its few speed bumps. DaCosta keeps her film moving at a breakneck pace, so much so that these early moments setting things up all feel a touch rushed. Anthony, in particular, is too much of a blank slate; we barely get to know him before he's gone off the deep end, which makes it harder for us to fully engage with him as a character and with his plight. Abdul-Mateen II has a mighty screen presence, and he's charismatic as hell, so that helps alleviate things. But I wanted some more of those early moments with Anthony just to get to know him before everything starts falling apart. 
In the midst of all this, a series of gruesome killings begin to unfold as one foolish person after another learns of Candyman and dares to summon him. "Candyman" doesn't get explicit with its gore, but each kill is presented in its own uniquely gruesome manner. A scene in which a gaggle of mean high school girls meets a nasty comeuppance is cleverly staged, and one of the most memorable moments arrives when the camera cuts to the outside of a high-rise apartment, pointed in through a window as someone is butchered by an unseen presence. The camera slowly pulls back into the night sky, the murder victim growing smaller and smaller before our eyes. DaCosta's directional style is loaded with these brilliant little touches that give "Candyman" a spooky, palpable atmosphere. The opening credits alone, which present flipped images of Chicago skyscrapers shrouded in ghostly mist, are enough to leave you unsettled. 
At times, "Candyman" gives off the air of something classic and old school; a movie cut from a different cloth than modern horror. Elegant; deliberate – much like the 1992 original. And then there are times where distracting modernity comes crashing in. This conjures up a feeling of uncertainty, and it's particularly galling in the last act of the film, which introduced a rather big character twist that ultimately doesn't feel right. It's too messy; too needless. The original "Candyman" was particularly haunting in its mystery; it never felt the need to over-explain why its ghostly slasher was suddenly gutting his way through Chicago. 
Still, this flaw is not enough to sink "Candyman." It's too strongly built for that. The script has a cynical hopelessness that's particularly sharp – after the murders start and it's discovered they're connected to his art, Anthony, once on the verge of being a completely unknown artist, is suddenly hot, hot, hot. Everyone wants a piece of him, to the point where art gallery owners are even offering Brianna flashy jobs in order to get close to her boyfriend. These little macabrely funny touches give "Candyman" a personality all its own, and elevate things to a whole new level. 
Bees buzz, blood flows, and the past returns again and again, sometimes via gorgeous shadow puppetry. A dark, ominous undercurrent runs through "Candyman," signaling Nia DaCosta as a filmmaker with a firm, unique grasp on the genre. The original "Candyman" already had a few sequels, but none of them are as clever, as interesting, as effective as this. Go ahead. Dare to say his name five times in the mirror. "Candyman" will live on. 
/Film Rating: 8 out of 10