One Stunt On The Set Of Aeon Flux Almost Paralyzed Charlize Theron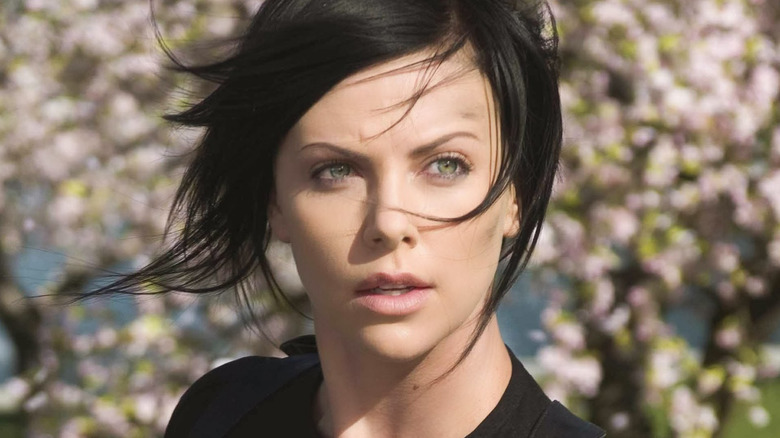 Paramount Pictures
Every year it feels like film buffs call for the Academy of Motion Picture Arts and Sciences to create an Oscar for stunt work, and every year it doesn't come to pass. But just because the Academy fails to heed those calls, it doesn't make stunt performers any less deserving of the credit they're long overdue for risking life and limb in the pursuit of movie magic. That's to say nothing of the need for studios to provide their employees with better medical insurance coverage in the event a stunt goes terribly wrong.
It's not just full-time stunt performers who put their lives on the line to entertain the masses. Going back to the early days of cinema, silent film legend Buster Keaton would very literally place himself in harm's way in the service of a physical comedy bit. Thankfully, stunt work and safety regulations have come a long way since then, preventing actors from performing the kind of overtly dangerous tasks that Keaton would for his movies. Well, unless they're Tom Cruise, in which case all bets are off.
Of course, no matter how safely a set is run, there's always the risk of an accident taking place. Such was the case with director Karyn Kusama's "Æon Flux," the live-action 2005 sci-fi action movie based on the animated TV series that aired on MTV in the 1990s. Charlize Theron starred as the titular warrior and performed many of the film's fight scenes herself. However, when it came to one particular stunt, there was a mishap that very nearly left the Oscar winner paralyzed
Theron's accident was 'nobody's fault'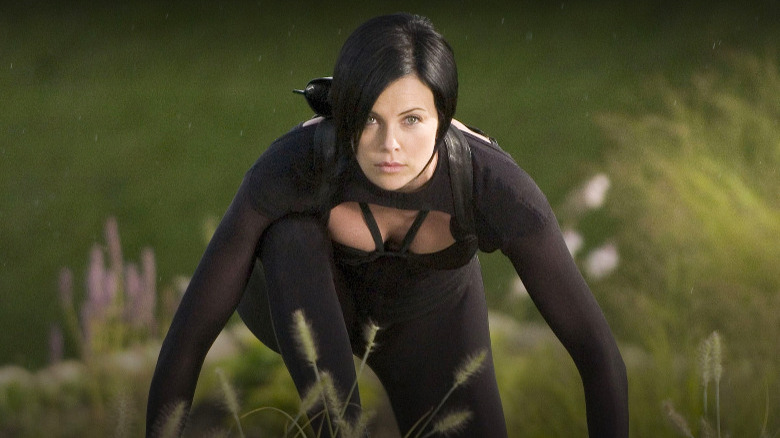 Paramount Pictures
Speaking with news.com.au in 2017, Charlize Theron talked about what she called a "very unfortunate accident" on the set of "Æon Flux." As she described it, she was "a centimeter away from being completely paralyzed for the rest of my life" when she accidentally fell on her neck performing a stunt for the movie. To quote Theron directly:
"It was nobody's fault, but it was just a freak accident where I landed on my neck. I had eight years of pain management, where I just couldn't get rid of the spasms and the nerve damage. I ended up having a (neck) fusion four years ago, and it was the best thing I ever did. Now my body's functioning perfectly again, and I obviously didn't want to mess that up."
Far from shying away from the genre, Theron has continued to kick butt and take names in many an action film since "Æon Flux," from "Mad Max: Fury Road" to "The Old Guard." Her 2017 spy thriller "Atomic Blonde" even saw the actor perform some of her most physically-grueling stunts to date, including several quite literally teeth-cracking close-quarter brawls involving stairs, kitchen utensils, and very unfortunate hench-people. But at the same time, Theron said she's mindful of the risks she takes in her movies, adding:
"[I] love storytelling through the physical; I think it's the ballerina in me, the fact that I started as a dancer. I'm not interested in doing stupid things, but I am interested in learning new things. It's different to getting on a motorcycle and doing something stupid — it's precise."
Stunts and responsibility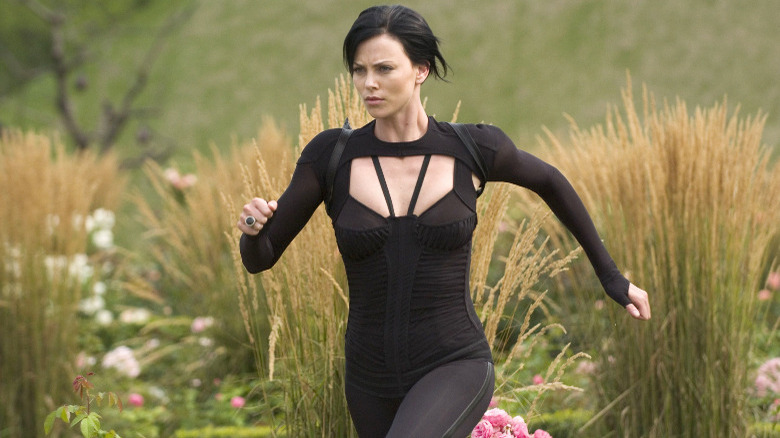 Paramount Pictures
It goes without saying, but Charlize Theron is far from the first actor to suffer injuries while performing stunts on a movie or TV show set. In some cases, they're the result of accidents, much like the one that befell her on "Æon Flux." Examples include the live-action "Cowboy Bebop" series, in which John Cho had to undergo knee surgery to repair an injury he suffered due to what reports described as "a freak accident" while filming a pre-rehearsed action scene.
In other cases, however, actors have suffered serious injuries due to the reckless behavior of their directors. This infamously happened during shooting on the "Kill Bill" films, in which Quentin Tarantino pressured Uma Thurman into carrying out a dangerous driving stunt herself. As was brought to light in 2018, Thurman wound up losing control of the vehicle and crashing. This led to her suffering what she described to The New York Times as permanent physical damage, on top of all the mental stress and trauma.
Then there are the messier situations, like when Ruby Rose left "Batwoman" after one season. Prior to departing, Rose revealed they had suffered a stunt-related injury that nearly left them paralyzed (much like Theron). They would later accuse the show's creatives of running an unsafe set that had led to other crew members suffering severe stunt-related injuries, including extreme burns and paralysis. Warner Bros. denied this, claiming Rose had really been fired due to "multiple complaints" about their conduct.
The common denominator? All these cases prove movie and TV sets could and should be safer when it comes to their stunts. Accidents happen, but the least producers can do is go all-out to prevent them — that and treating stunt performers better and giving them their own dang Oscar already.