The Musician Cameo In The Book Of Boba Fett Episode 4 You Might Have Missed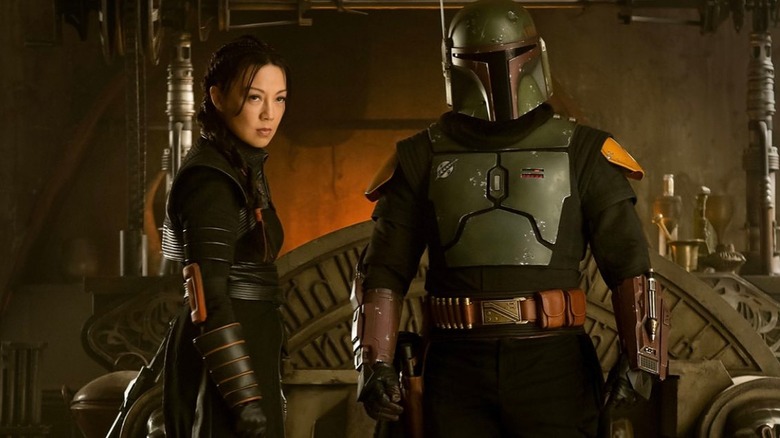 Lucasfilm
Warning: spoilers ahead for "The Book of Boba Fett." Proceed with caution.
"The Book of Boba Fett" is back with a brand new episode this week and it was arguably the most consequential episode of the show to date. Chapter 4 of the "Star Wars" series helps fill in some of the final gaps in the backstory for Temuera Morrison's Boba, with the series now crossing over with the timeline of "The Mandalorian." We see what happened after Boba found Fennec when she was left for dead in the desert. What's more, we see how her body was ultimately repaired.
What some fans may not have realized, though, is the sequence that follows featured a pretty famous and accomplished musician. It also marked the acting debut for this particularly Grammy-winning artist, which is no small thing. So, let's dive into who that was and how they fit into the larger scope of things at this point in time.
A Grammy Winner Makes Their Acting Debut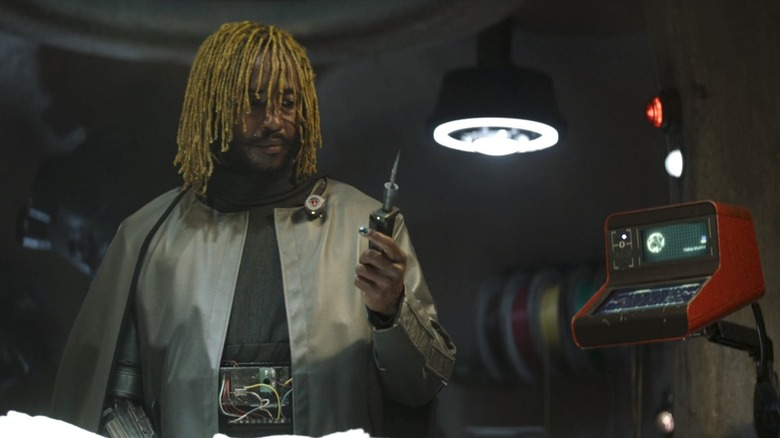 Lucasfilm
Boba, having limited options, takes Fennec to the workshop of a body modification artist who works in Mos Espa, and he is played by none other than Thundercat. The artist is known for songs such as "Funny Thing" and "Them Changes." While we don't get a name for the man, Boba ultimately pays him a pretty healthy amount of money to set aside his appointment-only policy to save Fennec's life.
No way! One of the greatest bass players, Thundercat is in #TheBookOfBobaFett pic.twitter.com/q3qTZBouol

— Connor (@connoruline) January 19, 2022
We then see him go to work, using his multi-tool, droid-enhanced arm to repair Ming-Na Wen's life-threatening injuries with various bits of machinery. All the while, lots of techno music blasts in the background, which is something we're not at all accustomed to hearing in the "Star Wars" franchise. At moments, it felt more like it belonged in "The Matrix" universe as opposed to a galaxy far, far away. But I digress.
While Thundercat is an incredibly accomplished musician, both in his own right and working alongside the likes of Kendrick Lamar and Silk Sonic, this actually marks the first time he has acted outside of a music video. Whether or not we see more of him in the show remains to be seen, though the speeder gang that Boba employed in the previous episode used these body mods as well, so the door is certainly open. Either way, getting to start off an acting career in "Star Wars" is one hell of a thing.
"The Book of Boba Fett" returns with new episodes Wednesdays on Disney+.