The Best And Worst Moments Of The 2022 Oscars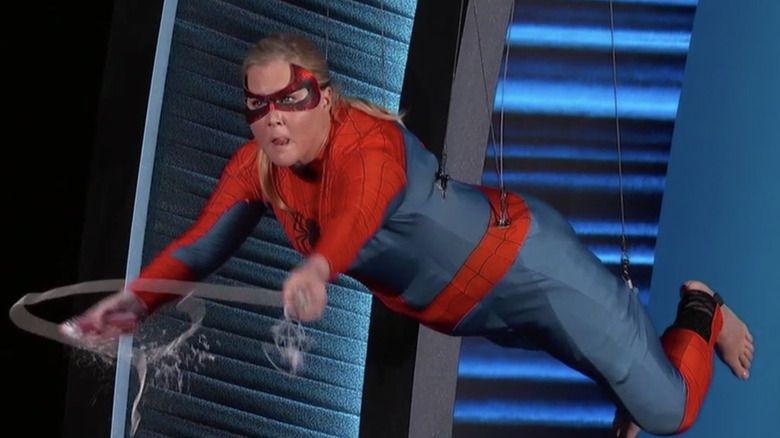 The Academy
Well, y'all, we did it. We finally made it through another awards season. It may have felt like 84 years, but it actually has not even been a full 365 days since the last Oscars telecast. Did something happen in the world to delay that? Anyway, we can finally close the book on a year in film that actually closed itself three months ago. "CODA" took home the big award of the night, becoming the first streaming film to ever win Best Picture. Not only that, it is the first ever Sundance premiere to take home the gold as well. It's a sweet film, and everyone involved looked so happy to win.
As for the ceremony overall ... oh, boy. While it had some bright moments and a few terrific speeches, this was mostly an achingly dull ceremony with a lot of unfunny bits and very predictable winners. Obviously, one major event happened during the ceremony that is noteworthy, which we will get to later, but most everything else just made me remember why I have not watched the Oscars for the last five years. Regina Hall, Amy Schumer, and Wanda Sykes as hosts did little to inspire chuckles, and the ceremony as a whole wanted to put forth a theme of "Movie Lovers Unite," which they utterly failed at achieving.
Let's dig into some of the highlights and lowlights of the ceremony.
Worst: Bumping so many winners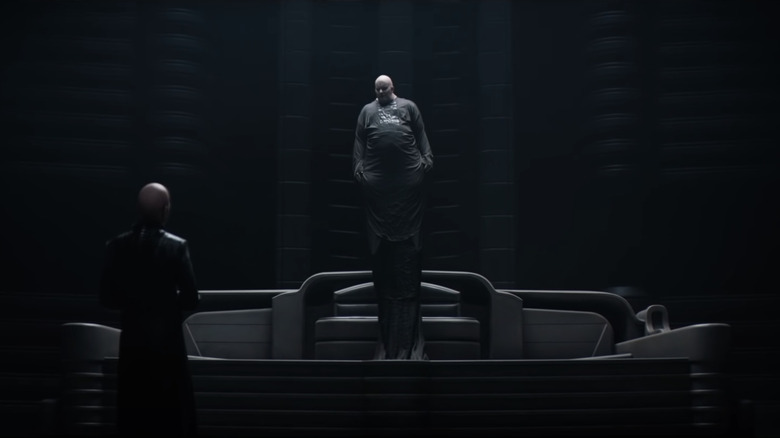 Warner Bros.
When the Academy announced that eight of the categories this year would be awarded off-air, there was rightfully a lot of grousing. Every person nominated in these categories put in just as much work to create the final product as anyone else. Nobody has ever thought, "Finally. They cut Best Sound from the ceremony. Now, I can actually watch the Oscars." All this does is tell millions of people who care about movies that "below the line" just means "not important," but they are actually anything but that. Film editing, original score, production design, sound, and makeup/hairstyling are essential elements to moviemaking, and find one director, actor, or writer (the "important" people in the eyes of the Oscars) to tell you otherwise. We could have seen Hans Zimmer win his first Oscar since "The Lion King," but who cares? Not a crucial cinematic figure in the slightest, I guess. "Dune" ended up taking home most of these awards, which is a big movie that a lot of people saw.
The biggest impact this shunting hits is on the short film categories, which already felt like an under-appreciated segment of the regular ceremony. Now, they might as well not even exist. The Academy cut these awards for time reasons, yet all eight awards were awarded, and acceptance speeches were given. It only took 35 minutes for all of that to happen. Perhaps it isn't the awards taking up all that time ...
Also, the lifetime achievement awards have been absent from the main telecast for a number of years now, which has been and continues to be dumb. This year, though, the Oscars really screwed up. You want more people to tune into your show right, but you don't want people to see true cinema legends Danny Glover, Elaine May, Liv Ullman, or Samuel L. motherf**kin' Jackson on the screen?! These were your honorary Oscar winners this year, a powerhouse quartet if there ever was one. Samuel L. Jackson is one of the most beloved movie stars of all time, and Elaine May is one of the funniest people to ever live. Put them in your awards show! Cutting awards only hurts your show. It doesn't help.
Worst: DJ Khaled does a lot of screaming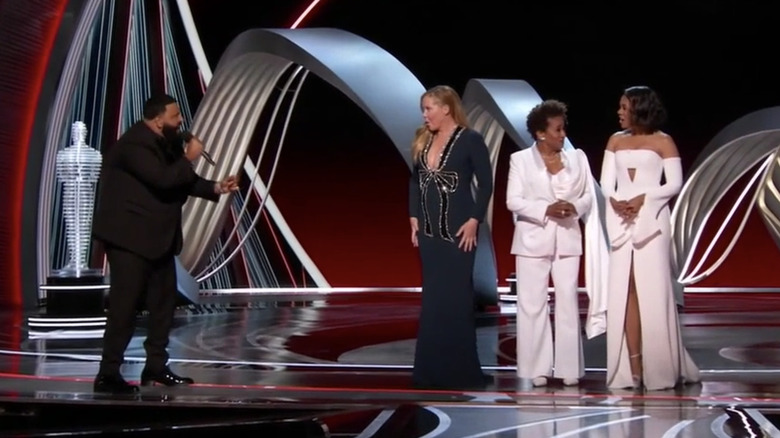 The Academy
After the strange decision to shoot the Beyoncé highlighter performance in broad daylight, we sink to a new low with should have been just a simple introduction to our three hosts for the evening: Regina Hall, Amy Schumer, and Wanda Sykes. Instead, we have to endure this galloot coming on stage, screaming over these three women. Why? To be their hype man? Look, I think a prerequisite to be a hype man to a group of women is that you have to go down on women. But, hey, that's the humanist in me.
Anyway, it's the start of the show. Not an ideal way to bring in the audience. To be fair, the opening trialogue with the hosts wasn't that much better.
Best: Ariana DeBose winning an Oscar in front of Rita Moreno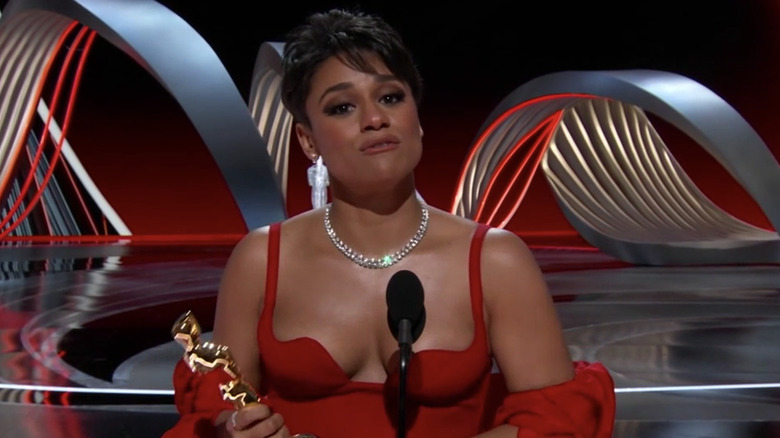 The Academy
It was basically a foregone conclusion that Ariana DeBose was going to win Best Supporting Actress for her performance in "West Side Story," as she had cleaned up just every single prize you could leading up to this event. Her speech was tremendous. Heartfelt, succinct, and lovely, speaking about how she is openly queer woman of color finding her place in art. What made the moment even more special, however, was seeing Rita Moreno, who won an Oscar 60 years ago for playing the same role, in total elation as DeBose gave her speech. There was so much love in that look, and you could tell that DeBose felt every inch of it. A wonderful rebound from the rocky start of the evening.
Worst: Objectifying and groping is funny, if it is done to a man, I guess?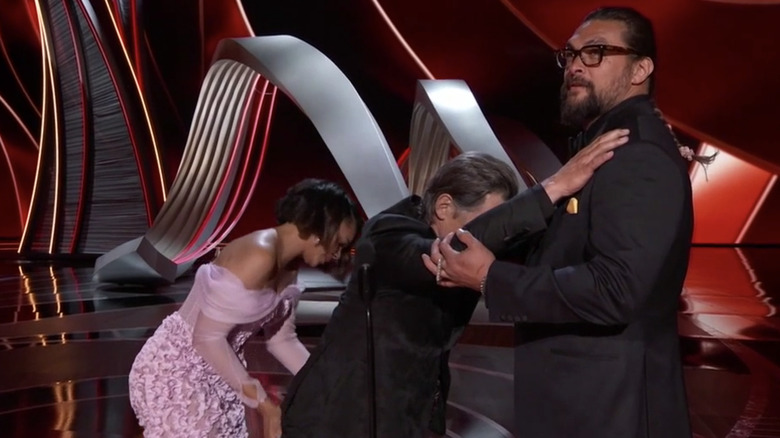 AMPAS
Look, we have spent an awfully long time trying to not trivialize or make light of objectification of women, as it can so often turn horrible very quickly. The same effort has not been made in regards to men. While the power structures are different, it still ... is not a great look. So, when Regina Hall comes on for a bit listing off people she needs to take backstage for an emergency COVID test and brings up a parade of men she is drooling over (Bradley Cooper, Timothée Chalamet, Tyler Perry, Simu Liu), it plays really wrong. Then, she even goes so far as to completely grope Josh Brolin. Also, I don't want you to just think it was me, a man, who was deeply uncomfortable with the bit. The whole team over here wanted to crawl out of our skins. The comedy tonight ... not great, Bob.
Best: Rachel Zegler made it to the Oscars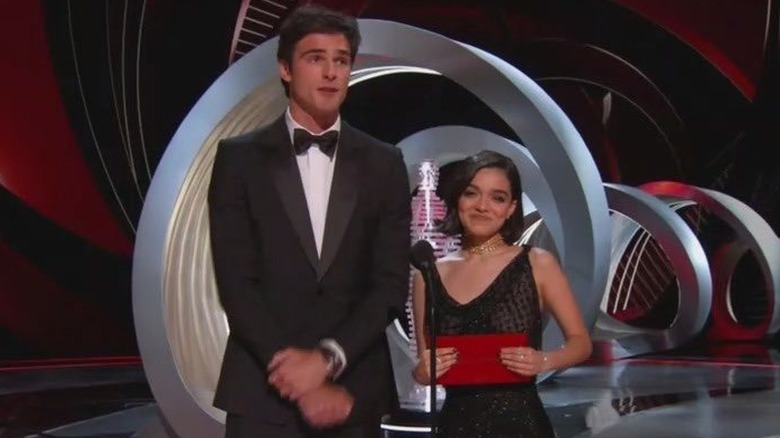 AMPAS
After the news that Rachel Zegler, star of the Best Picture nominated "West Side Story" had not received an invitation to attend the Academy Awards, the Internet shame machine came to her side, and they remedied the situation. She, along with "Euphoria" star Jacob Elordi, presented the award for Best Visual Effects, which went to "Dune." Her joke saying, "And I never thought I'd be here six days ago," in response to Elordi's line about ever coming to the Oscars in his life, was a best laugh line of the evening so far. The visual discrepancy between the two was also a hilarious sight, comparable only to Arnold Schwarzenegger and Danny DeVito on the poster for "Twins."
Best: 'Dos Oruguitas' performance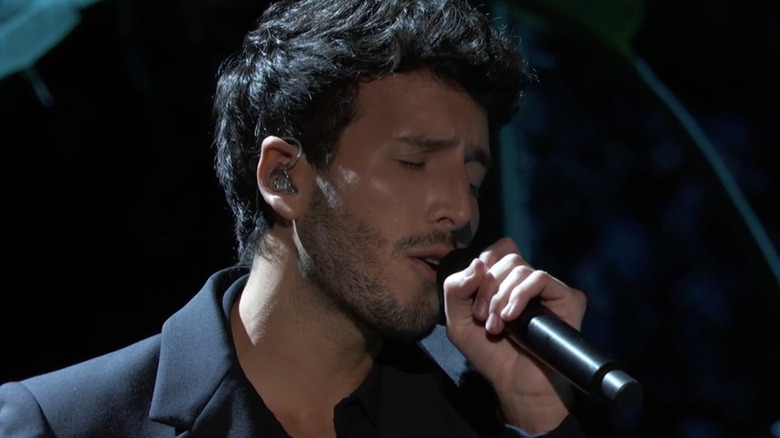 AMPAS
"We Don't Talk About Bruno" may be the big hit song from "Encanto," but for me, the highlight of the score since I saw the film opening day has been the heart-wrenching ballad "Dos Oruguitas." It's the moment in the film where everything about the story clicked for me, and I was bawling my eyes out. Sebastián Yatra's performance on the telecast was easily one of the night's highlights. The simple, floral platform with his suit covered in butterflies created the perfect atmosphere for the song. He and the band were accompanied by two terrific dancers, swirling all around the stage. While the Beyoncé performance was all about extravagance and bigness, this was small and intimate, making it even more beautiful for the camera. Tremendous.
Best: Troy Kotsur's beautiful speech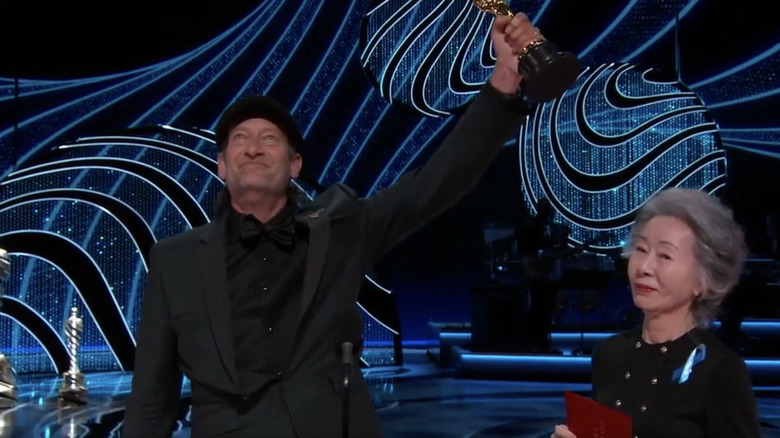 AMPAS
Like Ariana DeBose, Troy Kotsur winning Best Supporting Actor for his performance in "CODA" was all but given at this point. I have no doubt part of the reason he keeps winning is because he is an incredibly charming, captivating individual who has been giving terrific speeches. This one was probably the best of all. He was bursting at the seams with emotion to the point that the sign language interpreter was even breaking up translating the speech for the hearing audience. Tributing everyone from his director Sian Heder, to President Joe Biden, and his parents who are no longer with us. It's one of those perfect Oscar speeches you hope every person gives when they step on that stage. Plus he got in some jokes about dirty sign language, which is always good. I also weirdly found it lovely that last year's winner for Best Supporting Actress, Youn Yuh-jung, just stood right next to him the whole time, looking at him absolutely lovingly.
Worst: The useless Oscar fan favorites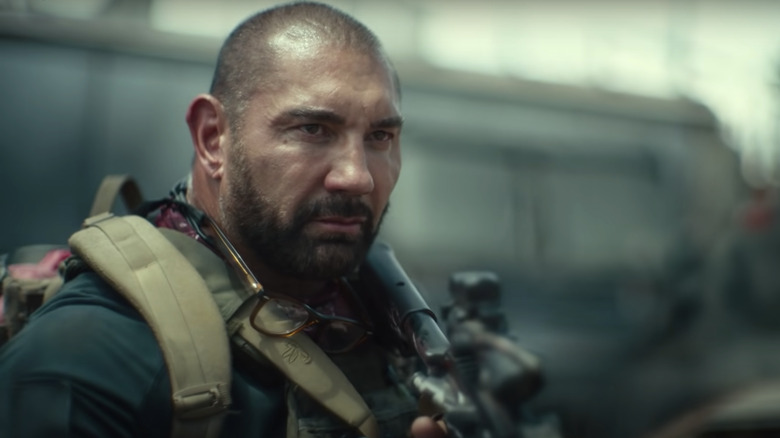 Netflix
Having people on Twitter vote for what their favorite movies and movie moments was always going to end in a disaster. Who emerged victorious? Well, the Zack Snyder bros who have been unbelievably irritating for half a decade now. "Army of the Dead" took home the fan favorite film of the year, and The Flash tapping into the Speed Force in "Zack Snyder's Justice League" won fan favorite moment. This whole enterprise has been a joke since it first was announced, and the results only added to that joke. They did not even make a big deal about these prizes during the ceremony, just showing quick montages of the top five for each before cutting to commercial breaks. "Cinderella" and "Minamata" came in second and third, respectively. Just dumb.
Best: Billie Eilish performs and wins for 'No Time to Die'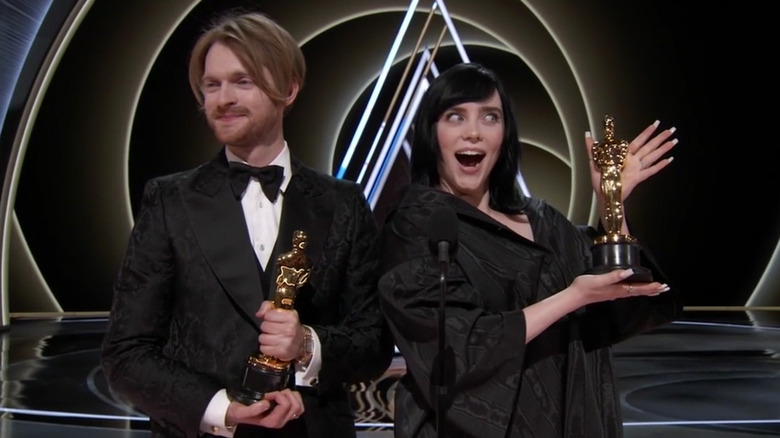 AMPAS
"No Time to Die" has been in the world for two years now thanks to the many delays of the film the song gets its title from. That being said, the song is still great and ended up winning Best Original Song. Billie Eilish is one our absolute best young talents, in collaboration with her brother and producer FINNEAS. Their performance of "No Time to Die" was simple, no frills, but exceptionally effective. Eilish really got to let a lot of different colors of her voice shine. Then ... they won! Along with being great musical talents, they are also just incredibly engaging, charming individuals. Her giddiness and surprise at winning was undeniably lovable. Just a couple of nice, talented people winning an award. You love to see it. Who knows? Maybe they will win next year for their song in this year's "Turning Red."
Also, this marks the third straight win for a James Bond theme song in the Best Original Song category.
Also, also, go watch the terrific documentary "Billie Eilish: The World's a Little Blurry" from last year.
Worst: The Will Smith/Chris Rock debacle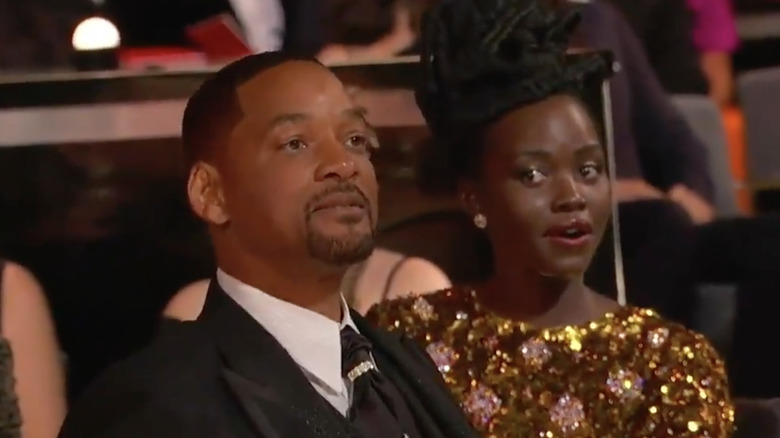 AMPAS
Oh, boy. Where to start here. Chris Rock comes out to present Best Documentary Feature, and he starts with what he thinks is some light ribbing, as he is prone to do when he presents at the Oscars. Unfortunately, he picked the very wrong target for that ribbing. Rock said he looked forward to seeing Jada Pinkett Smith in "G.I. Jane 2," as she appeared with a shaved head at the ceremony. Jada has been open about her hair loss, which I am guessing Chris Rock was not privy to. Clearly, Jada and Will Smith were both very upset by this comment, as one would be for being mocked for their appearance. Will Smith went up on stage and slapped Rock across the face, and the audio feed had to be cut for quite awhile after a lot of yelling and cussing. Just a bad situation all around.
Diddy came on a little bit later to play peacemaker and said, "Will and Chris, we're gonna solve that like family at the gold party, but right now we're moving on with love," during his introduction to commemorate the 50th anniversary of "The Godfather." It was a much needed moment of lightness.
Best: Jane Campion wins Best Director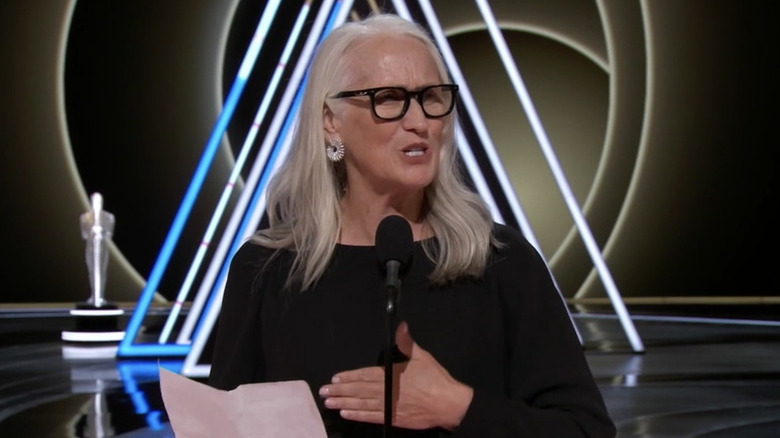 AMPAS
"The Power of the Dog" was the perceived frontrunner for most of this awards season. But by the time the actual Oscars came around, the only award  it won out of its 12 nominations was for its director, Jane Campion. Apparently, she directed the film so well that they didn't feel the need to award even a single collaborator from her film (completely outrageous). She gave a perfectly lovely speech. Thankfully, nothing she would have to apologize for the next day like she did at the Critics' Choice Awards. She is still only the third woman to ever win Best Director at the Oscars, and this is the first time women won in back to back years, after Chloé Zhao won last year for "Nomadland." Frankly, I wish "The Power of the Dog" retained its frontrunner status and won much more, but Campion finally winning an Oscar in this category will have to do.
Best: Will Smith's call for love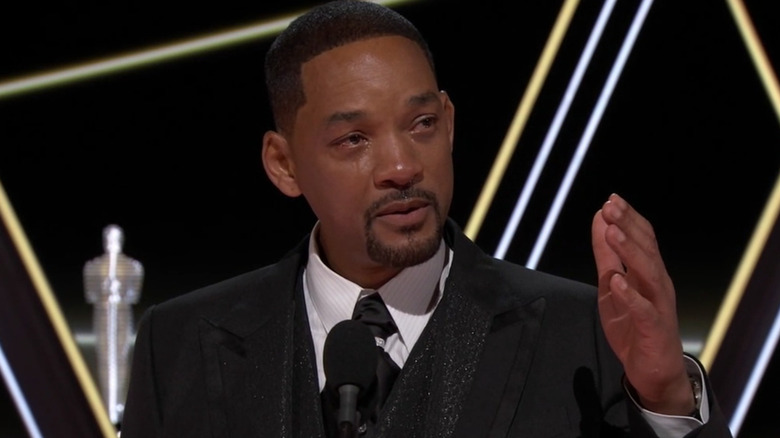 AMPAS
After what had happened earlier in the night with Will Smith, the anticipation for what he would say when he won Best Actor for "King Richard" was quite strong. Obviously, everything he planned to say was probably thrown out the window. He gave a rambly yet intensely emotional speech about protection and love for family and those closest to you. He apologized for what had transpired earlier, jokingly hoping that he would be invited back. That all being said ... Will Smith has been one of the best movie stars and actors of the last 30 years, and he should have an Oscar. Do I wish it was for a different movie? Yes. Does it really matter in the end? No.
Worst: Every comedy bit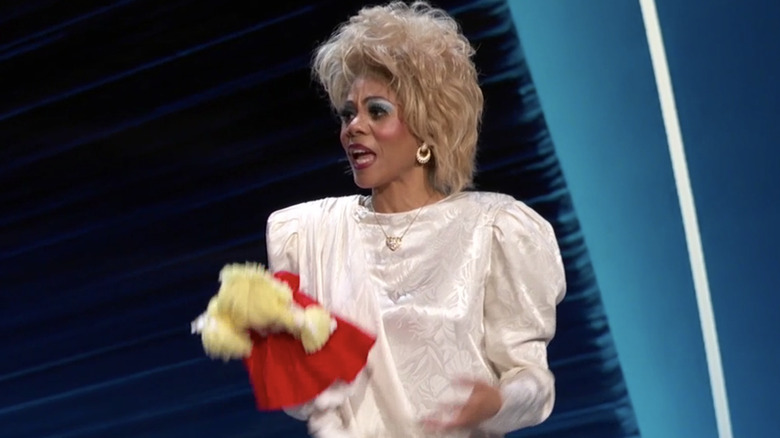 AMPAS
So much for wanting a shorter show. It went 40 minutes over. Maybe it's the terrible bits that need to get cut, not the awards. There was not a good one in the bunch. I'm so tired.