What Happened Between Chris Rock And Will Smith During The Oscars?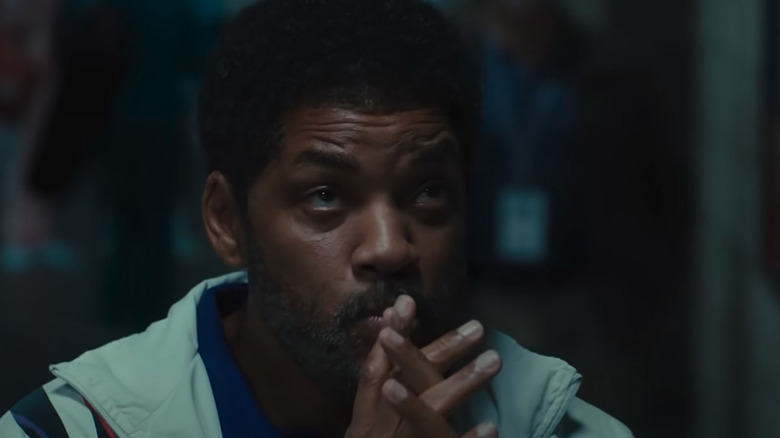 Warner Bros.
The Academy Awards is a night about celebrating cinematic greats, brilliant artistry, and the talent of those who transform themselves into completely different people and bring characters to life. Between the cringe-worthy skits, the spectacle of musical performances, and the clunky one-liners written for presenters, it may be difficult to remember that despite their wealth and fame, Hollywood stars are still people, just like us. During the 94th Academy Awards presentation, a very real, unscripted moment occurred, with Best Actor nominee Will Smith taking to the stage, and slapping presenter and comedian Chris Rock.
Rock was on stage to present the award for Best Documentary Feature, and during his comedic bit before announcing the winner, made a few jokes on stage about the attendees in the audience. He joked about Javier Bardem and Penélope Cruz both being up for Best Actor/Actress and how weird it would be if one of them won while the other didn't, joking that Bardem would be praying for Will Smith to take home the win. He used the moment to transition to a joke about Smith's wife, Jada Pinkett Smith, and her newly shaved head. He compared her to "G.I. Jane," and while Will Smith let out an uncomfortable chuckle, Jada immediately and visibly expressed her discomfort. What followed was Will Smith walking directly up to Chris Rock and slapping him in the face, and shouting "Keep my wife's name out of your f****** mouth!" The American broadcast cut the sound during this exchange, but the cameras showed Will Smith, and the mouthing of the words were unmistakable.
Serious lines were crossed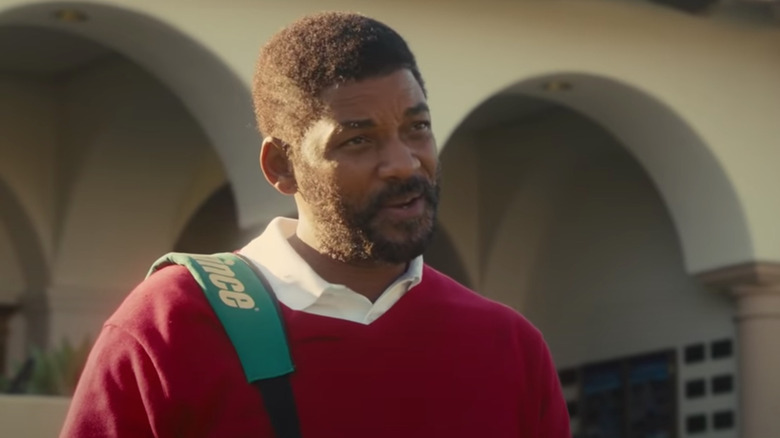 Warner Bros.
Back in 2018, Jada Pinkett Smith was diagnosed with alopecia, a condition that causes hair loss. She has been very vocal and open about her diagnosis on social media and even dedicated an entire episode of her show "Red Table Talk" to talk about her struggles with the condition and her eventual decision to shave her head. While it's unknown whether or not Chris Rock knew of her condition before making his ableist joke, this moment was a perfect example as to why making fun of someone's appearance is never okay. This was the second time Rock mocked Jada on the Oscars' stage, joking that "you can't protest something you weren't invited to" when Pinkett was protesting the ceremony during 2016's #OscarsSoWhite era. What seemed like a harmless joke clearly struck a nerve, and Will Smith clearly felt it necessary to defend his wife. That said, walking up to a person and slapping them in the face on live television, regardless of whether or not the slap was "deserved," is still assault. Period. Both men crossed very serious lines tonight, and watching it unfold in front of millions across the globe only exacerbated the situation.
The moment also ruined the Best Documentary Feature win for Ahmir Khalib Thompson aka Questlove for his film "Summer of Soul (...Or, When the Revolution Could Not Be Televised)." What should have been a celebratory moment for his incredible win was overshadowed by an unnecessarily cruel joke, and an act of retaliatory violence. The next presenter, Diddy, who addressed the incident by saying "Will and Chris, we're going to solve that like family–right now, we're moving on with love. Everybody make some noise." Will Smith was later awarded the Best Actor Oscar for his role in "King Richard," delivering an extremely long-winded speech that is only the beginning of a bigger and more necessary conversation. This moment is more than Oscar fodder, and in the coming days, some very serious conversations are going to need to happen to make sense of it all.