Nearly 30% Said This Is Their Most Anticipated Animated Movie Of 2022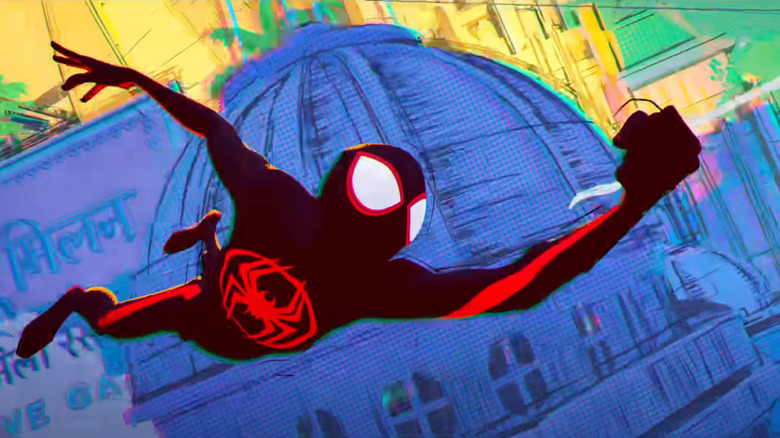 Sony Pictures
We asked you which animated films you were most looking forward to in 2022, and the results are in! There are some wonderful treats coming out this year for animation fans, so the competition was rich. However, one title in particular played a little dirty simply by being tied to one of the most audience-friendly franchises of all time. 
Coming in at #1, the most anticipated animated movie of 2022 is (of course) "Spider-Man: Across the Spider-Verse (Part One)." It topped the list with nearly 30% of the vote. Considering how popular the first Spider-Verse film was, we're not surprised at all with this outcome. The film was hugely popular with critics, and landed the award for Best Animated Feature at the Oscars. Some have even wondered if it should have been nominated for Best Picture. Beyond that, "Spider-Man: Into the Spider-Verse" did major numbers at the box office. If it's attached to Spider-Man, it's going to be a popular choice, as the webslinger is almost universally beloved at this point. 
Debuting October 7, 2022, "Across the Spider-Verse" looks to continue the story set up in its predecessor, "Into the Spider-Verse," picking up where we left off with Miles Morales (voiced by Shameik Moore) as his universe's Spider-Man. But, plot twist, this will be the first part of a two-part story!  Fans can look forward to seeing Gwen Stacy again, as well as learn more about the futuristic Spider-Man 2099, voiced by Oscar Isaac. Producers Phil Lord and Chris Miller hinted to Entertainment Weekly there are definitely more Spidey characters that will pop up as Miles explores the multiverse. 
"Miles will reunite with some old friends and meet... a lot of new ones."
Considering the success of the live action "Spider-Man: No Way Home," we wouldn't be too surprised if some of those big screen Spider-Folk make cameos in either part one or two of "Across the Spider-Verse." Tom Holland and Zendaya have already expressed their interest in the idea, so it's not out of left field.
Check out our breakdown of the trailer for "Spider-Man: Across the Spider-Verse Part One" for a great analysis of what we might expect from the film in terms of style and story. While we wait for more Spider-Man multiverse action, what other animated movies are people excited about? 
Burgers and Bowsers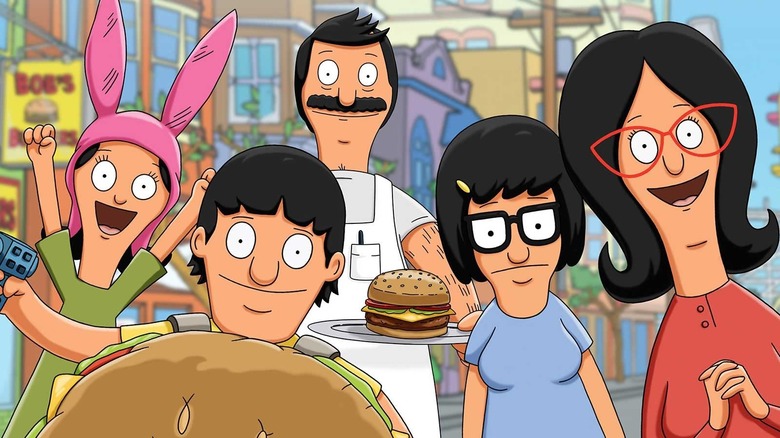 Fox
Coming in second and third in the survey are two other animated films with established fanbases. Second place went to "The Bob's Burgers Movie," with just over 16% of the vote. Fans of the Belcher family and their burger joint misadventures have been waiting since 2017 for the film's release, as that's when news first dropped that a film was on the distant, distant horizon. The wait will be over by the end of May. 
In an interview with Looper, John Roberts (the voice of Linda Belcher) gave some great hints at what "The Bob's Burger Movie" has in store.
"I can tell you that I've seen parts of that, and it's beautiful. The artwork is gorgeous, and there's a lot for the fans, and there are great songs and great moments for the characters. And it's big. It's big and it's beautiful. (Linda voice) And it's Bob's."
"Super Mario" was a close third with over 14%. Chris Pratt will be taking on the role of Mario, and even though the reactions to that news were mostly negative mixed, the rest of the cast is pretty stellar. Anya-Taylor Joy, Charlie Day, Jack Black and many other top notch talents are playing the familiar Nintendo characters Peach, Luigi, and Bowser respectively. 
The first Nintendo movie in forever looks to be hitting theaters just before Christmas, a surefire way to remind folks that the reason for the season is more Nintendo stuff under the tree. There aren't a lot of clues as to what the plot will be, but the IMDb page for the film does have a one sentence synopsis that will sound familiar for anyone who has ever picked up a "Super Mario" game. 
A plumber named Mario travels through an underground labyrinth with his brother, Luigi, trying to save a captured princess.
A groundbreaking and earth-shattering description, for sure! Best of luck to the film, as video game movies are notorious for being hard to get right. 
Other Favorites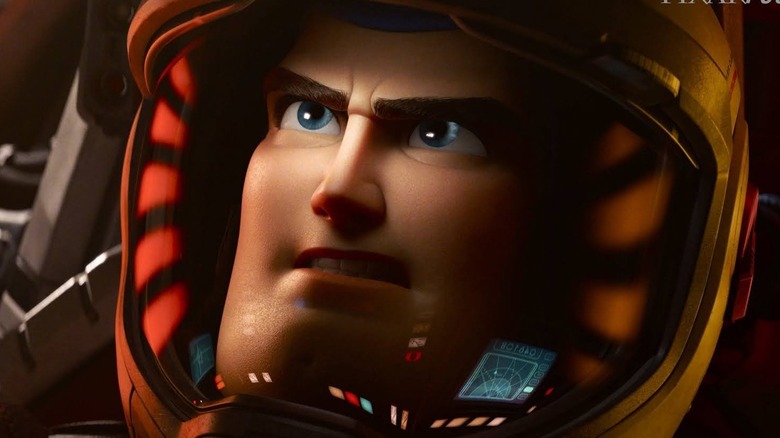 Disney
The next batch of results all had a similar level of enthusiasm. "DC League of Super-Pets" received under 10% of the vote. It has a voice cast packed with stars, including Dwayne Johnson, Kevin Hart, and Keanu Reeves. The story follows animals with superpowers, including Krypto the Super-Dog (voiced by Johnson), who has similar powers to Superman. Considering how stressful the last few years have been, I for one am ready to give dogs the chance to fix the world's problems. "DC League of Super-Pets" comes out May 20, 2022. 
Pixar's "Toy Story" spin-off, Lightyear," received just over 9% of the vote. The movie tells the story of the "real" Buzz Lightyear that the popular toy is based off of within the world of "Toy Story," with Chris Evans voicing the titular character. According to an interview for Collider with director Angus MacLane, Evans was the top choice for a character like Buzz Lightyear. 
It was very clear from the get-go. It was like, "If you were gonna make a legitimate sci-fi film about Buzz Lightyear, who would you get? Well, Chris Evans." You need someone that has that star power. If it had to be live-action, who would do it? He can do both.
Looking at our breakdown of the trailer, the art style, settings, and characters in "Lightyear" look to be heavily inspired by other films that take place in space. It looks fun, but no word so far on whether it will be a tearjerker like the other "Toy Story" films. 
Coming in sixth on our survey is "The Bad Guys" with just over 9%. This is a heist film with the added twist that all the expert thieves are animals. If you've been needing more Sam Rockwell in your life (who doesn't?), he's leading the voice cast of "The Bad Guys" as Mr. Wolf. Other members of the heist team have similarly Tarantino-sounding names, including Akwafina as Ms. Tarantula, Anthony Ramosas as Mr. Piranha, and Marc Maron as Mr. Snake. Sounds like these criminal masterminds would be a good match for a showdown with the "Super-Pets." 
Rounding out the bottom of the survey in seventh and eighth place are "Strange World" (with just over 7% of the vote) and "Turning Red" (under 5%). Disney's "Strange World" follows a family through a fantasy adventure, and is heavily inspired by the old school stories of the pulp sci-fi era. Debuting on Disney+, "Turning Red" will star Sandra Oh and Rosalie Chiang as a mother and daughter duo in a coming of age story that features Chiang's character, Mei Lee, trying to navigate the troubles of turning into a red panda whenever she's upset. Hey, sometimes puberty is harder on some of us than others.
There's definitely an interesting mix of animated stories on the way. Disney will be putting out the most films, but that's to be expected. Sony will still have a hit on their hands with "Spider-Man: Across the Spider-Verse." However, some of these other titles have unique appeal for all kinds of animation fans. If there's one common trend, for better or worse, it's that all of these films have major star power. It's a little sad, to be honest, because it feels like animated films with budgets like these don't stand a chance without big names attached. As voice acting is a complicated art form that not even the most A-list of Hollywood talent can pull off, their attachment to a project doesn't always translate to a hit. Time will tell which films on this survey will leave audiences the most pleased, but we can't wait to see them all.