The Super Mario Bros. Movie: Release Date, Cast, And More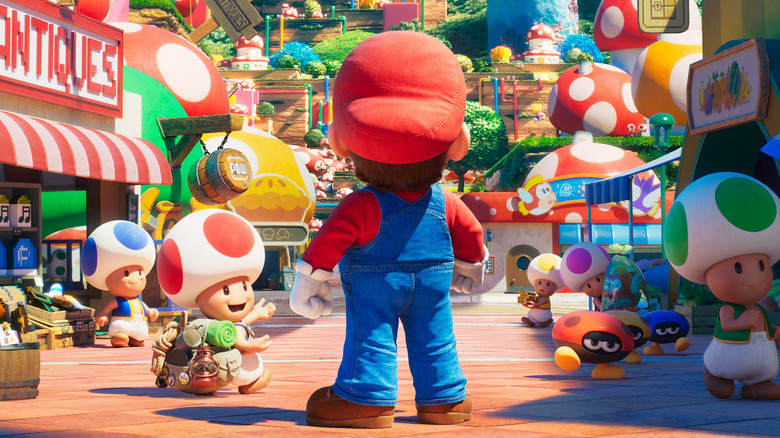 Illumination Entertainment
(Welcome to ...And More, our no-frills, zero B.S. guide to when and where you can watch upcoming movies and shows, and everything else you could possibly stand to know.)
It feels like it was just yesterday — as opposed to well over a year ago, which is a lifetime in internet-years — when we all collectively came to a standstill to gawk like rubberneckers on a highway at the news that Nintendo, Illumination, and Universal Pictures were all teaming up for an animated "The Super Mario Bros." movie. For the most part, the voice cast stuffed full of A-listers and recognizable names seized the attention of the social media masses, leading to a fevered and frenzied rush of jokes, viral memes, and sheer astonishment that this project would actually become a reality someday. That day isn't here quite yet, but it's closer than ever before and fans and interested bystanders alike have only become even more curious about how this will all shape up. Read on for everything you need to know about "The Super Mario Bros. Movie."
Super Mario Bros. Release Date and Where You Can Watch It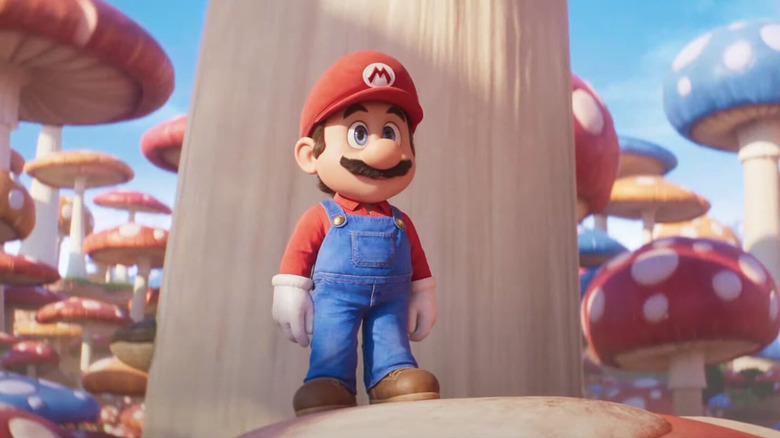 Illumination Entertainment
Goombas, koopa troopas, and piranha plants, oh my! "The Super Mario Bros. Movie" was originally scheduled for a theatrical release on the (almost) very numerically-satisfying date of December 21, 2022. To the nation's (and, indeed, the world's) dismay, the animated film has since been pushed back to April 7, 2023, as we reported here. First announced during the Nintendo Direct event back in late September of 2021, the official Nintendo Twitter account subsequently broke the news (along with the internet, at large) with its post about the upcoming movie and its buzzy cast of voice actors. Mark this down in your calendars for next year, folks. While it will no longer drop during the holiday season, allowing you to forgo your usual family celebrations and spend that crucial time with our favorite Italian plumber instead, we can now look forward to ringing in the warm of Spring with Mario, Princess Peach, and the rest of their Mushroom Kingdom friends.
What Is Super Mario Bros. Movie?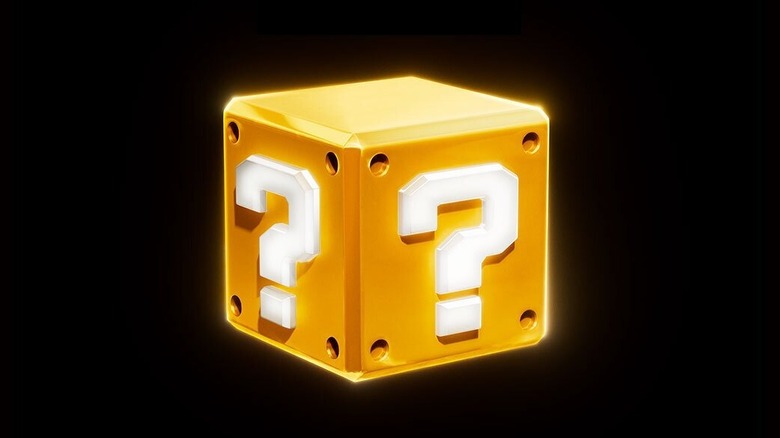 Illumination Entertainment
There hasn't been a video game movie like this before and, in all likelihood, there won't be another one like it afterwards. There is only before "The Super Mario Bros. Movie," and after. Overwrought proclamations aside, "The Super Mario Bros. Movie" has finally received its official title after leaving the world in suspense for so long. (Although, really, what else was it ever going to be?) Based on the wildly successful franchise of Nintendo video games, this animated movie will attempt to recapture the magic of our childhoods while spending countless hours mindlessly playing games like "Super Smash," "Brawl," and even "Strikers" with groups of friends. Of course, the video game series is still going strong today, making it only a matter of time before Hollywood decided to try its hand at capitalizing on the ongoing pop culture fervor and cash in with a mega-blockbuster movie with a cast made up entirely of stars.
What is the plot of The Super Mario Bros. Movie?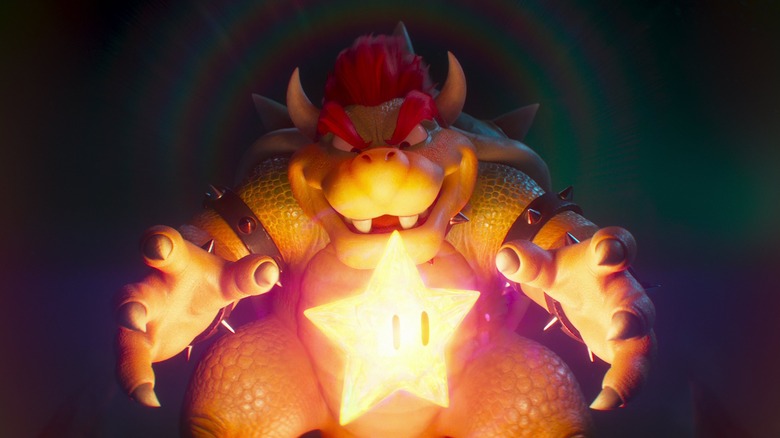 Illumination Entertainment
Interestingly enough, the story for this latest "Super Mario Bros." adaptation has remained firmly under wraps. In official channels, the buzzy project only been described as "a new animated film based on the world of Super Mario Bros." It's unknown if the film will closely follow the story and structure of one of the many, many games, whether it'll borrow a little from here and a little from there as the filmmakers see fit, or otherwise will do its own thing entirely.
What we do know is that it will feature all the beloved characters and locations fans have come to know over the years, from Mario and Princess Peach and Bowser to all the various sites and vistas that the Mushroom Kingdom has to offer. In the brief amount of footage for the film that we've seen so far, it's been revealed that Bowser has been set up as the primary antagonist (of course) on a quest to find the Power Star, while Mario's storyline will involve meeting his traditional sidekick Toad for the very first time before embarking on what's sure to be a much larger adventure.
What is The Super Mario Bros. Movie rated?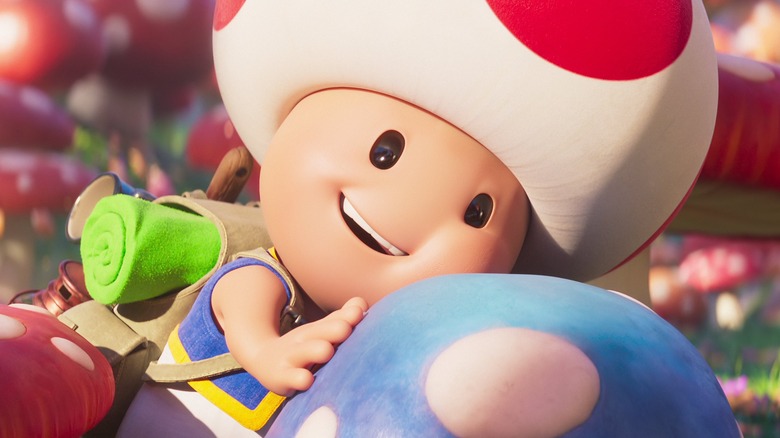 Illumination Entertainment
In a shocking and unprecedented twist that caught every single person on earth by surprise, it was revealed that "The Super Mario Bros. Movie" will be given a hard R-rating by the MPA for disturbing adult themes, sequences of epic fantasy violence, and brief nudity. Okay, okay, you got me. That is not true at all. "The Super Mario Bros. Movie" will receive a PG rating (as listed on Film Ratings) for "action and mild violence." For comparison's sake, that lines up with the recently released "Sonic the Hedgehog" movies, which are also based on cartoon video game characters popular with kids of all ages. Illumination and Universal Studios are no doubt intending the film to appeal to audiences in all four-quadrant demographics ... including the many Millennial young adults of my generation who have become utterly obsessed with the movie's marketing online. And speaking of which...
What about that The Super Mario Bros. Movie trailer?
Ah, yes, we've finally arrived at the Chris Pratt-voiced elephant in the room. None could ever forget the day when the trailer for "The Super Mario Bros. Movie" finally arrived to much fanfare and, subsequently, a whole range of divisive reactions across social media at large. Responses ranged from incredibly analytical and serious-minded concerns about Mario's character design to appreciation for Jack Black's remarkable transformation as the voice of Bowser to, well, Chris Pratt's remarkable non-transformation in voicing Mario. As far as the rest of the footage was concerned, however, fans all over expressed a surprising amount of confidence in the visuals of the film, the faithfulness and love for the original games that pervades every second of the trailer, and even praise for some of the more underrated members of that star-studded voice cast. Though the creative team clearly held back on many of the surprises that the film will contain, fans can look forward to seeing more of the film carefully doled out to the masses in the months ahead.
The Super Mario Bros. Movie cast and crew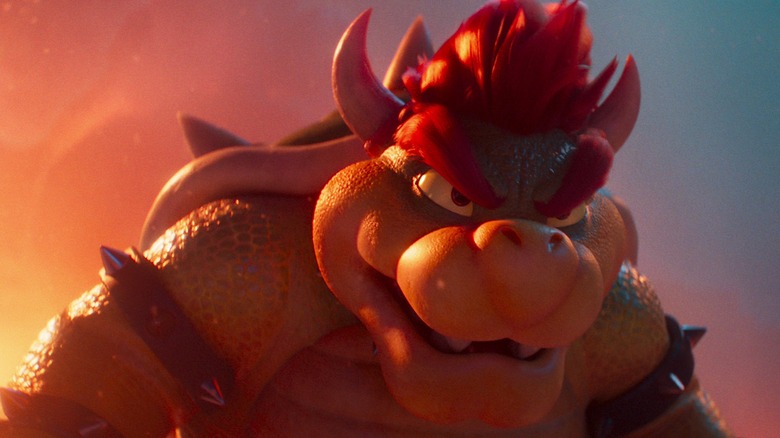 Illumination Entertainment
You know some of the big names already, so let's meet the rest of the shockingly packed ensemble of name-brand voice actors. Chris Pratt, of course, will soon add the responsibility of voicing Mario himself to an impressive résumé that already includes "Parks and Recreation," "The Guardians of the Galaxy," the "Jurassic World" franchise, and more. Mario needs his Princess Peach, naturally, who will be voiced by Anya Taylor-Joy ("The Witch," "Split," "The Queen's Gambit," "Last Night in Soho"). They'll both be joined by a cast that includes Charlie Day as Luigi, Jack Black as Bowser, Keegan-Michael Key as Toad, Seth Rogen as Donkey Kong, Fred Armisen as Cranky Kong, Kevin Michael Richardson as Kamek, Sebastian Maniscalco as Spike, and a special cameo from Charles Martinet (though not as Mario, inexplicably).
Helming this animated blockbuster will be both Aaron Horvath and Michael Jelenic, known for their work on "Teen Titans Go!" The script will be written by Matthew Fogel ("The Lego Movie 2," "Minions: The Rise of Gru") and the film will be produced by Chris Meledandri and Shigeru Miyamoto, the legendary Japanese video game designer behind Nintendo and creator of several of the best-selling video game franchises of all time.