Jack Black's Bowser Voice In The Super Mario Bros. Trailer Is Not What We Expected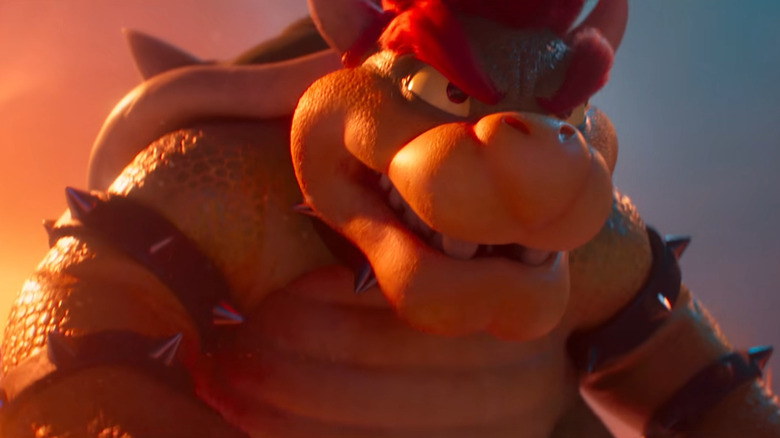 Universal Pictures
The animation studio Illumination has made a feature film based on the 1985 Nintendo game "Super Mario Bros." and every decision they have made has been baffling. Making the film at all seemed like a dodgy proposition from the start, as the last attempt to make a Mario movie — a strange dinosaur-themed dystopian movie with Dennis Hopper, Bob Hoskins, and John Leguizamo — resulted in critical panning and box office losses. This author feels that 1993's "Super Mario Bros." was a perfectly entertaining, delightfully weird, high-octane version of the game, but few agree. Now, 29 years later, attempt number two has arrived. 
A second strange choice for Aaron Horvath's and Michael Jelenic's "The Super Mario Bros. Movie" was its all-star American voice cast. For many years, in the video games, Mario had been voiced by Charles Martinet, who also voiced series staples Luigi, Wario, and Waluigi. Martinet gave Mario a high-pitched, playful voice, imitating — perhaps less than sensitively — a comedic owner of a New York pizzeria. In the new movie, Martinet has been replaced by Chris Pratt, star of "Movie 43" and "Jem and the Holograms." 
The setup of "Super Mario Bros." is the stuff of fairy tales. The princess of the fantasy Mushroom Kingdom, once called Princess Toadstool, now called Princess Peach, has been kidnapped by an evil, fire-breathing dragon named Bowser. It will be up to Mario and Luigi — plumbers from Brooklyn — to traverse the bizarre Mushroom Kingdom and best Bowser in combat to rescue her. 
In the new film, Jack Black plays Bowser and his performance is ... unexpectedly appropriate.
Bowsers of the past
"Super Mario Bros." has been subjected to numerous adaptations in the past. In addition to the 1993 film, wherein Dennis Hopper played King Koopa, the interchangeable name of Bowser, there was also the 1989 TV series "The Super Mario Bros. Super Show!" That program featured live-action segments hosted by Mario and Luigi, played by famed wrestler Captain Lou Albano and actor Danny Wells. The two of them, from their Brooklyn basement apartment, would talk to that week's visiting celebrity guest before introducing a Mario Bros. animated segment set in the Mushroom Kingdom. Albano and Wells also appeared in the animated portions, with veteran Canadian voice actor Harvey Atkin as King Koopa. Atkin's voice was gruff and villainous — very "I'll get those plumbers!" 
Practically lost to history was the live-action 1989 show "King Koopa's Kool Kartoons," an old-fashioned "kiddie host" program wherein an actor in a Bowser costume would address a live audience of youngsters before introducing a public domain cartoon short. His dog was dressed as a rat. In early episodes, Chris Latta played Bowser. He was replaced by Pat Pinney. The children who appeared on "King Koopa's Kool Kartoons" have all mysteriously disappeared. That last sentence is not true.
Bowser typically only uttered grunts in most video games and didn't have any real spoken dialogue. Since "Super Mario Strikers" in 2005, Bowser has been voiced by actor Kenny James.
The Bowser approach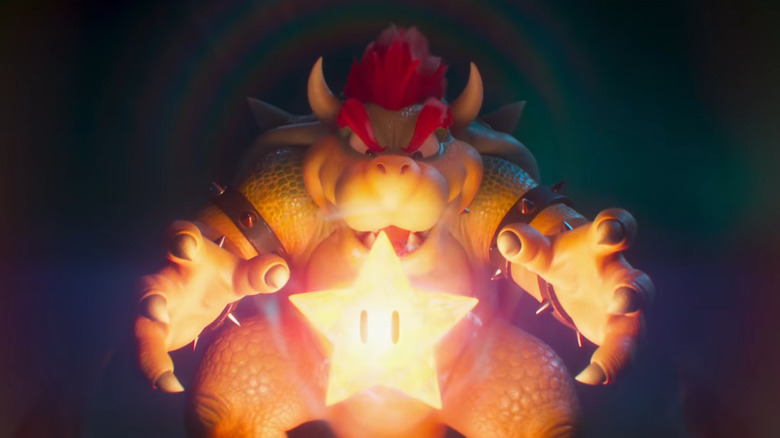 Universal Pictures
One might assume inventing a voice for a fantasy dragon should come easy, and most Bowser actors have taken similar approaches, giving the character a gruff, growling, monstrous voice. One might expect Black, a comedic actor, to simply bring his own personal patois to Bowser, making the character flip and comedic. There was no reason to believe that "The Super Mario Bros. Movie" wasn't going to be a slapstick farce. Indeed, the first preview features a moment of ill-equipped penguins trying to fend off a fire breathing dragon with snowballs. The trite "wisdom" of Hollywood would dictate that Black, in his ordinary voice, make some sort of glib, snarfing joke about their ineffectiveness. It's startling not to have heard Black simply burp out an uninspired "really?" at the assault. 
Surprisingly, Black appears to be playing it completely straight. Almost unrecognizable, Black is actually playing Bowser like a fantasy dragon, growing and cackling like a villain, gazing with villainous lust at a glowing magical star. How odd to feel relief that one of the voice actors in "The Super Mario Bros. Movie" should be ... not horrible. The entire teaser only runs two minutes and 26 seconds, but finding Black to be the least irritating part of it was a delight. If Kenny James will not be hired for the role, at least find someone who will bother to act the part. 
Whether or not the rest of the film's celebrity cast — including Anya Taylor-Joy, Charlie Day, Seth Rogen, and Fred Armisen, among others — also bother to fully embody their characters over any attempts at "comedy" remains to be seen. (Martinet will also appear in the movie, although his character has not been revealed.)