'Movie 43' Red-Band Trailer: Daring Stars To Be Dirty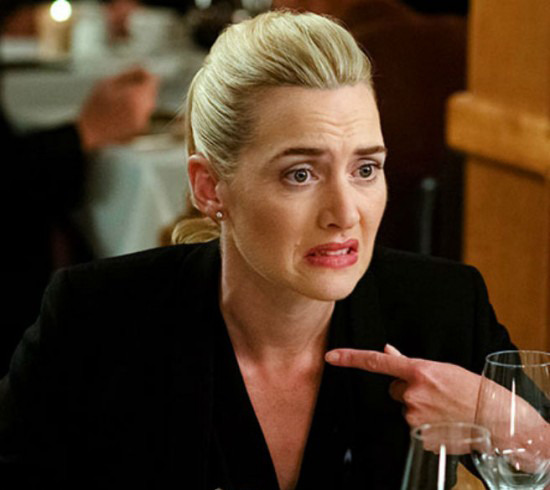 Do you want to see a couple generations of today's stars — Hugh Jackman, Kate Winslet, Halle Berry, Emma Stone, and many more — spouting dirty jokes? Then Movie 43, masterminded by Peter "One Half of the Farrelly Brothers" Farrelly, probably has something for you. The red-band trailer has turned into an essential component in marketing the R-rated comedy, and when the comedy is promised as a collection of particularly dirty, foul-mouthed sketches, nothing but the red-band will do.
So here's a first look at Movie 43, which features over 20 comedy sketches from nearly a dozen directors, and a cavalcade of stars. Some of the stuff is so in line with people's previous work that it doesn't even seem transgressive; I think one of the Scary Movies pooped on me, so seeing Anna Faris ask for the same thing is just turnabout/fair play. But seeing Halle Berry in wild mode might be great, and it's always fun to see Kate Winslet go blue. (Check out Romance & Cigarettes if you've never seen it — not a great movie, but lord, does Winslet let go there.)
Be ready for some dirty, but not off-puttingly filthy jokes in the not safe for work trailer below.
Comedy Central has the trailer. Movie 43 opens on January 25.
Warning: This movie is not for the weak-stomached, faint of heart, or easily offended. In Movie 43, comedy is served steaming hot by director Peter Farrelly of The Farrelly Brothers (Something About Mary, Dumb & Dumber) in one of the most original comedies ever made. Starring Elizabeth Banks, Kristen Bell, Halle Berry, Leslie Bibb, Kate Bosworth, Gerard Butler, Bobby Cannavale, Kieran Culkin, Josh Duhamel, Anna Faris, Richard Gere, John Hodgman, Terrence Howard, Hugh Jackman, Johnny Knoxville, Justin Long, Stephen Merchant, Christopher Mintz-Plasse, Chloë Grace Moretz, Chris Pratt, Liev Schreiber, Seann William Scott, Emma Stone, Jason Sudeikis, Uma Thurman, Naomi Watts, and Kate Winslet, Movie 43 is jaw-dropping, uproarious, outrageous fun.