Spider-Man: Across The Spider-Verse (Part One) Trailer Breakdown: Miles In 2099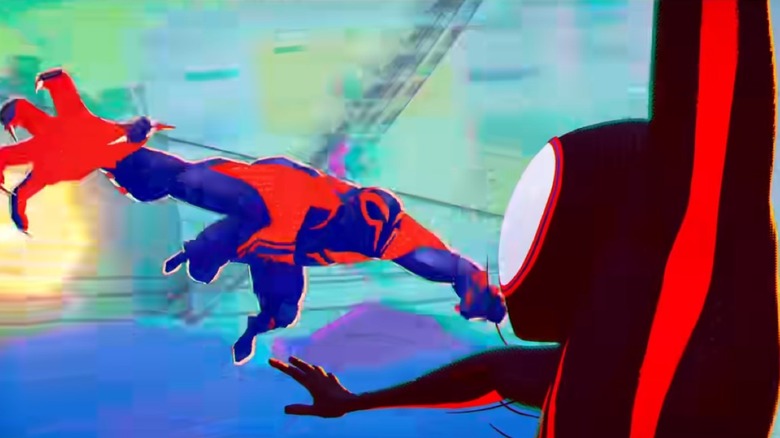 Sony Pictures
There are so many big sequels coming our way in 2022 that it can be a little tough to keep track of them all. But Sony and Marvel made a big splash recently in revealing the first teaser trailer for "Spider-Man: Across the Spider-Verse (Part One)," aka "Spider-Man: Into the Spider-Verse 2," which belongs at the top of any list of our most anticipated upcoming movies. And yes, the official title alone offers a lot of information, as it confirms we're exploring the multiverse across more than one movie. And as is tradition here on /Film, that means it is time to dive deeper into the teaser trailer and take a closer look at anything and everything. Let's dig in, shall we?
Hello Again, Gwen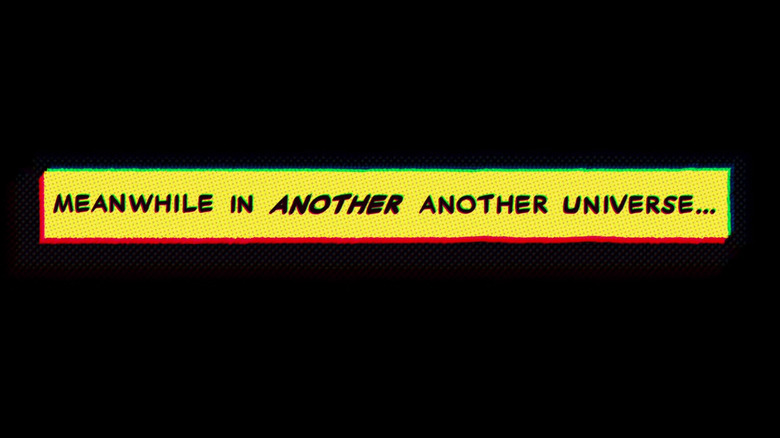 Sony Pictures
Billed by the studio as a "first look," it's not awfully surprising that this footage keeps an awful lot under wraps. The majority of it takes place in Miles Morales' bedroom. Here, the new Spidey is once again visited by his pal/multiversal crush Gwen Stacy, aka Spider-Gwen, who has used some form of multiverse travel to visit Miles for mysterious reasons. Miles is peacefully listening to "Sunflower" (a nice nod to the first movie) when Gwen unexpectedly crashes the party.
Miles still clearly has an adorably bad crush on Gwen and is woefully embarrassed and unprepared when she wanders into his bedroom from her universe. Miles tries desperately to hide some of these embarrassing things, while Gwen proceeds to snoop around a bit.
As we can see, Gwen ends up discovering his sketchbook, and she conveniently (or inconveniently) flips to a sketch of her that Miles had cooked up. Interestingly enough, this mirrors how she looked when they first met in the original movie, again serving as a nice little callback.
Miles is embarrassed, but they don't have time for such nonsense. Or at least Gwen doesn't as she needs Miles to join her for a minute on pressing matters, though the specifics of those matters are not addressed. Miles proceeds to, in another moment of embarrassment, mention that he is grounded. Gwen then flips herself out of his window (quite stylishly I might add), only to reveal herself in full Spider-Gwen mode on the side of the building. 
Not for nothing, but that shot of Miles looking out the window with Gwen standing on the side of the building is pretty dang neat, in my humble opinion. She then asks if Spider-Man is grounded in a recklessly flirtatious fashion. Miles has no choice but to suit up. That's when we get to the real meat and potatoes craziness of this whole thing. As charming as this opening scene is, the rest of the teaser is downright wild as hell. 
Welcome to 2099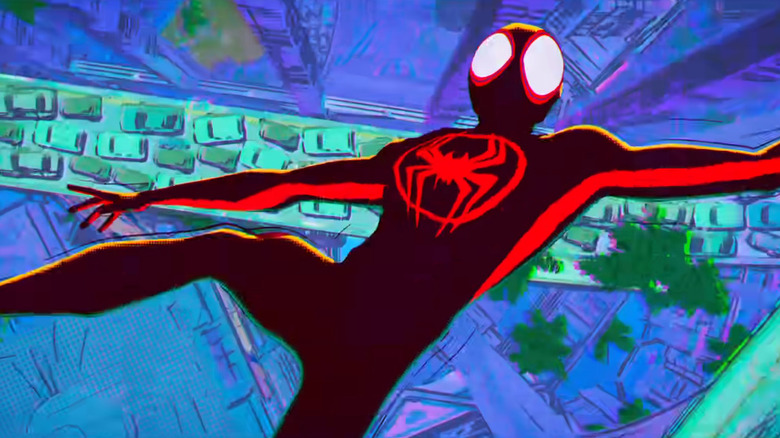 Sony Pictures
Now, this is what I'm talking about. We then transition to Miles falling wildly through an interdimensional portal, with lots of colorful and wild animation swirling around him. It's pretty clear that returning writers/producers Phil Lord and Chris Miller, as well as directing trio Joaquim Dos Santos, Kemp Powers, and Justin K. Thompson, are not going to slow down by any stretch of the imagination in the stunning and unique animation department.
Things then get really interesting, as none other than Miguel O'Hara, aka Spider-Man 2099, busts out of the multiverse and into a pretty violent scrape with Miles. Also of note, the universe they are in looks radically different than the one Miles comes from, with a more hand-drawn look and feel to the whole thing. Speaking with Entertainment Weekly, Lord and Miller explained, "Every dimension looks and feels radically different from all the others. They all look like they were drawn by a different artist."
We first met Miguel in the "Spider-Man: Into the Spider-Verse" post-credits scene, with Oscar Isaac providing the character's voice. Isaac will indeed be returning to the role this time around, clearly in a far more significant capacity. Though we don't hear anything from him, it appears Miles is getting his ass kicked pretty good. Also, as we can see in the below shot, Spider-Man 2099 has some claws.
That is some real Black Panther stuff, Miguel. As for why Miles and Miguel are fighting? The teaser doesn't shed any light on that matter, but it appears the young superhero is going to have his hands full this time around. And presumably for a full two movies worth of multiverse-traversing craziness.
Part One, You Say?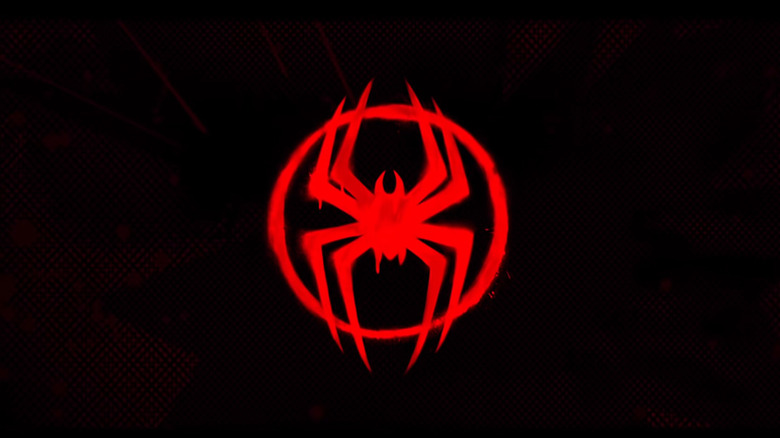 Sony Pictures
And that's about it for actual footage. However, the title card portion of the trailer is more important than usual. For one, we get a look at the rad Spider artwork (seen above), which is in keeping with the graffiti style art from the first movie, inspired by Miles' own creative undertakings.
Then we get a glimpse at the actual title card for the movie, which confirms that the sequel will be titled "Spider-Man: Across the Spider-Verse." The title implies that we will be moving well beyond Miles' version of Earth and traversing various iterations of the Spider-Verse. Lord and Miller, in that same EW interview, said that "Miles will reunite with some old friends and meet... a lot of new ones." So we can probably expect to see other returning characters besides Spider-Gwen (here's hoping for more Nic Cage as Noir Spidey). But wait, there's more!
That's right, ladies and gentlemen. This is, indeed, going to be the first part in a two-part follow-up to the Oscar-winning 2018 flick, making for a full Miles Morales trilogy. So, why the two-parter? Lord and Miller told EW, "We wrote what we thought the story needed to be, and to our surprise we realized it was two movies instead of one. We're working on them both as we speak." That means we're getting "Spider-Man: Across the Spider-Verse (Part One)" in 2022, with "Part Two" set to follow in 2023. Buckle up, Marvel fans, it's going to be a wild ride.
"Spider-Man: Across the Spider-Verse (Part One)" is currently set to hit theaters on October 7, 2022.