Lightyear Trailer: Chris Evans Stars In Pixar's Buzz Lightyear Origin Movie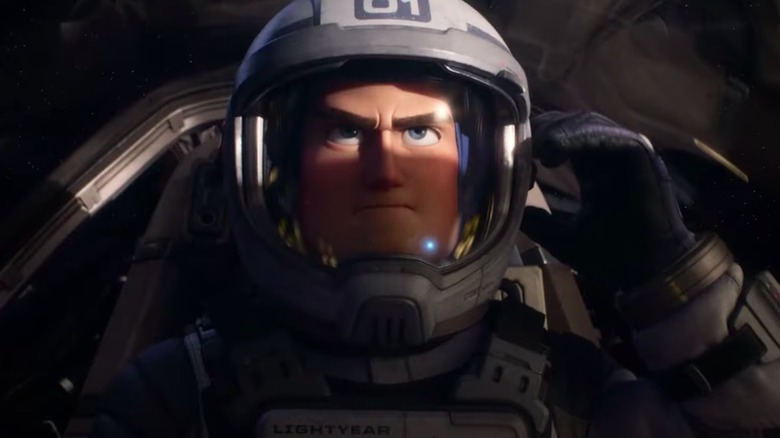 Pixar
It's here, the moment all of us millennials have been waiting for: the "Lightyear" trailer has arrived. The one-and-a-half-minute teaser visual dropped on October 27, and it gives lead Chris Evans a lovely spotlight to settle into the iconic character of Buzz.
The visual plays like an epic live-action sci-fi epic and begins with Buzz blasting off into space in his ship. Underscored by David Bowie's pitch-perfect song "Starman," the trailer shows off hypercuts of different exciting action scenes, funny one-offs with a cute cat that somehow makes it onto Buzz's ship, and your classic cool gadget scenes. There are also several cuts to Buzz looking somber, staring over the horizon of whatever planet he's on in wistful longing. Very sci-fi.
We also get a great glimpse of Buzz's iconic suit in the trailer's final moments, as well as a first look at a friendship with another Star Command teammate. "To infinity?" the woman asks Buzz as they bring their pointer fingers together. "And..." he responds as the trailer cuts to the release information.
All in all, this trailer is a feast for the eyes — and definitely nostalgia bait for anyone who loves the "Toy Story" franchise (which should be all of us). I know I will be an opening night gal for this movie, and I can't wait to see how the prolific Pixar animators will bring this story to life in a way we never expected. Yes, I get stoked when a cinematic universe I like is expanded — even "Toy Story." So sue me.
Lightyear Trailer
According to Disney, the animated film is "the definitive origin story of Buzz Lightyear — the hero who inspired the toy — introducing the legendary Space Ranger who would win generations of fans." If this reminds you of Evans' iconic tweet from last year, you're on my wavelength. Yes, I mean this one:
And just to be clear, this isn't Buzz Lightyear the toy. This is the origin story of the human Buzz Lightyear that the toy is based on

— Chris Evans (@ChrisEvans) December 11, 2020
The "Captain America" actor has previously opened up about the thrill of playing a character with such generational impact:
"The phrase 'a dream come true' gets thrown around a lot, but I've never meant it more in my life. Anyone who knows me knows that my love for animated films runs deep. I can't believe that I get to be a part of the Pixar family and work with these truly brilliant artists who tell stories unlike anyone else. Watching them work is nothing short of magic. I pinch myself every day."
Veteran Pixar animator Angus MacLane, an Annie Award-winning filmmaker who co-directed 2016's "Finding Dory," directs "Lightyear" while Galyn Susman produces. The movie is set to be released in theaters on June 17, 2022.