Matt Damon Saw The Martian As More Than Just An Acting Gig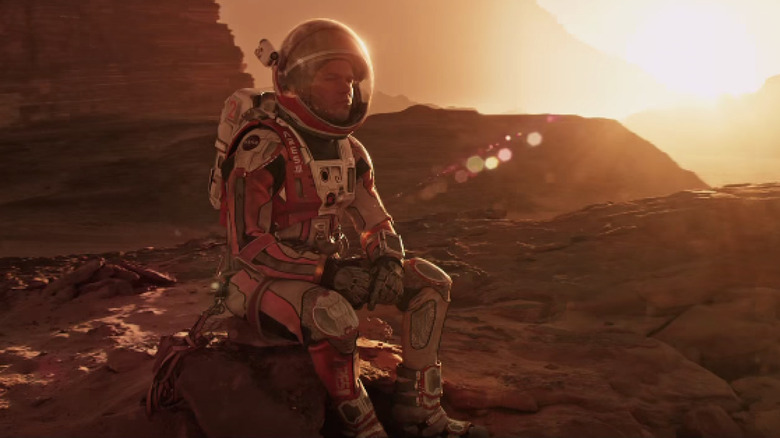 Twentieth Century Fox
Matt Damon showed Hollywood he was more than another handsome face in 1997 when "Good Will Hunting" was released. In addition to an Oscar nomination for Best Actor, Damon co-wrote the film with longtime friend Ben Affleck. The movie was Damon's breakout performance, putting him on the map as a major player in Hollywood.
Since then, Damon has been busy acting, writing, and producing. His filmography is as diverse as you'll find, both in front of and behind the camera. He's been the face of the Jason Bourne action franchise beginning with "The Bourne Identity," produced a reality documentary series that fosters aspiring filmmakers with HBO's "Project Greenlight," and penned some complex personal stories such as "Promised Land."
But unlike his fellow "Good Will Hunting" breakout partner Ben Affleck, Damon has remained absent from the director's chair, at least for now. His role in Ridley Scott's film "The Martian" might offer clues to Damon's future plans in Hollywood. Damon saw the role as more than just an acting gig but an opportunity to shadow one of the great directors of our time.
He played essentially the same character in back-to-back movies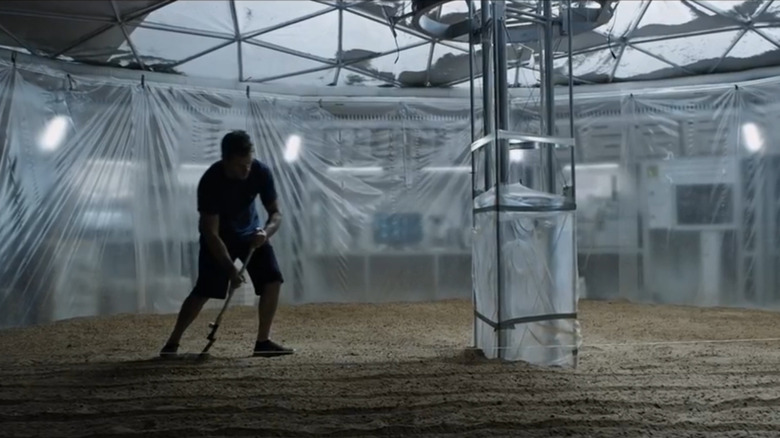 Twentieth Century Fox
In 2014 Matt Damon played an astronaut stranded while in search of a hospitable planet in Christopher Nolan's "Interstellar." So, it might seem odd that one year later he would be drawn to such a similar role – albeit a much more involved one. The following year in Ridley Scott's "The Martian" Damon plays astronaut Mark Watney, mistakenly left for dead on Mars.
In the movie, Damon carries the load as the sole character on Mars. Scott keeps things interesting with creative use of stationary "base" camera footage and video diary logs as Watney attempts to stay alive for four years waiting for help to arrive with the next mission to the planet.
Why the sudden urge to play the same character twice? The answer seems to lie in the film's director. In an interview with the L.A. Times, Damon admitted that he wanted to study Ridley Scott's technique and spent the majority of "The Martian" soaking in what he could from the veteran director. Damon said:
"I was looking at a shot we'd done, and the camera was three-quarters over the shoulder and I looked at it and said, 'Why do I know that's a Ridley Scott frame?' and he said, 'I am just trying to set this shot as simply and as truthfully as I could.'"
Damon, who has done almost everything in Hollywood – even credited as an editor on the 2002 Gus Van Sant film "Gerry" that he co-wrote with Van Sant and Casey Affleck - has yet to direct a film. It appears as if he's waiting for the right project that he can put his own stamp on. And it sounds like Ridley Scott might be the key to predicting Damon's future plans.
'You want to do this, don't you?'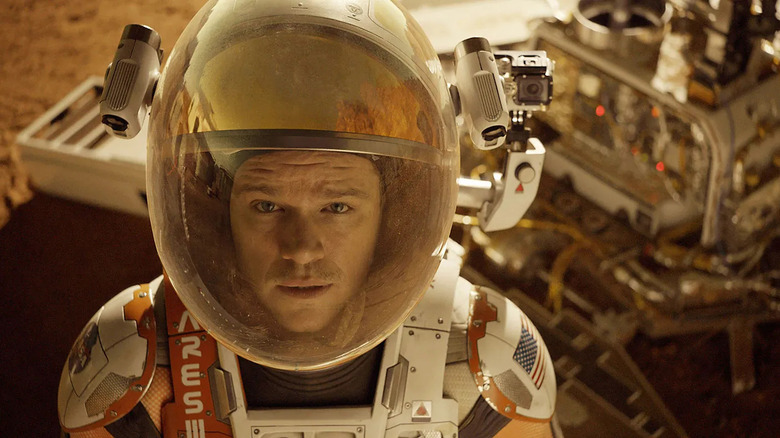 Twentieth Century Fox
When it comes to directing, Ridley Scott is a bit of a muse for Damon. Damon co-wrote and produced the 2021 period piece "The Last Duel." The film's director? Ridley Scott. In fact, Damon went as far as to admit to Scott that he aspires to direct. Recalling a conversation with Damon on the set of "The Martian," Scott said he asked Damon point-blank:
"I said, 'You want to do this, don't you?' and he said, 'Yeah.'"
Damon has watched his collaborators Ben Affleck and George Clooney go on to become accomplished directors. Damon's filmography has paired him with some of this generation's most talented directors including Scott, Nolan, Martin Scorsese, Steven Soderbergh, Clint Eastwood, and Steven Spielberg. If his motivation for taking "The Martian" tells us anything, it's that Damon has been watching the masters while they work.
A look at Damon's upcoming projects reveals a lot of acting and producing in his future. Deadline recently reported that Damon and Affleck are launching a production company likely involved in their latest project, an unnamed Nike biopic. While there are no definitive plans for Damon to step into a directing role any time soon, if he does, there's a good chance his signature style will look similar to Ridley Scott's.