Casey Affleck Breaks Academy Tradition, Won't Present Best Actress Oscar At This Year's Ceremony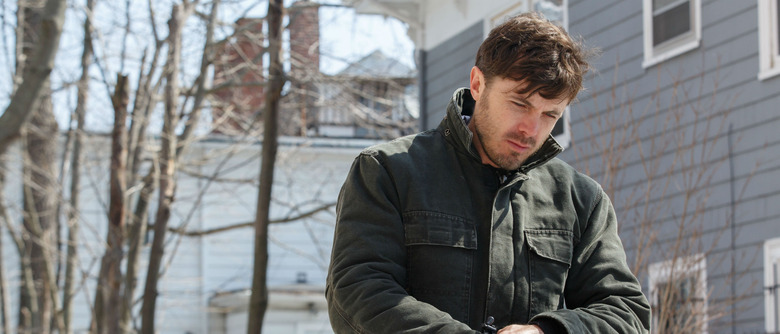 Almost a year ago, Casey Affleck won an Academy Award for Best Actor for his work in Kenneth Lonergan's drama Manchester By The Sea. But years before that, he was sued for sexual harassment by two female crew members of I'm Still Here, the Joaquin Phoenix-starring fake documentary he made back in 2010.
At the Oscars, the tradition is that previous year's Best Actor award winner presents that year's Best Actress winner with her trophy. That means Affleck would have been involved in a pivotal moment of the female winner's life...which, considering his past, is not exactly a great situation. So, breaking a long-standing tradition, Affleck has stepped down from his presenter position at the upcoming Academy Awards. Read more about the Casey Affleck Oscar controversy below.
Affleck denied both allegations against him, and both lawsuits were settled out of court. Since then, the actor has been quiet about the incidents, saying the specifics of the settlement don't allow him to comment on it, but he did speak about it briefly to the Boston Globe last year:
"I believe that any kind of mistreatment of anyone for any reason is unacceptable and abhorrent, and everyone deserves to be treated with respect in the workplace and anywhere else.
"There's really nothing I can do about it," Affleck added wearily. "Other than live my life the way I know I live it and to speak to what my own values are and how I try to live by them all the time."
When he was presented with the Best Actor trophy last year, previous Oscar winner Brie Larson made her feelings clear by refusing to clap for him.
According to Deadline, the decision not to present the award this year came from Affleck himself, who reportedly withdrew his participation in the upcoming ceremony. The outlet's sources tell them Affleck "did not want to become a distraction from the focus that should be on the performances of the actresses in the category." I'm sure Best Actress nominees Sally Hawkins, Frances McDormand, Margot Robbie, Saoirse Ronan, and Meryl Streep appreciate not having to deal with a separate level of controversy amid the outing of horrific sexual behavior from those in Hollywood and beyond over the past few months. And I guess it's a good thing that Affleck at least has the self-awareness to remove himself from a potentially bad situation – if I'm being generous, maybe he's being proactive because he's legitimately trying to do the right thing. Then again, he could just be trying to avoid looking like an ass on national television.
The 90th annual Academy Awards ceremony will be held on March 4, 2018.