15 Best Matt Damon Movies Ranked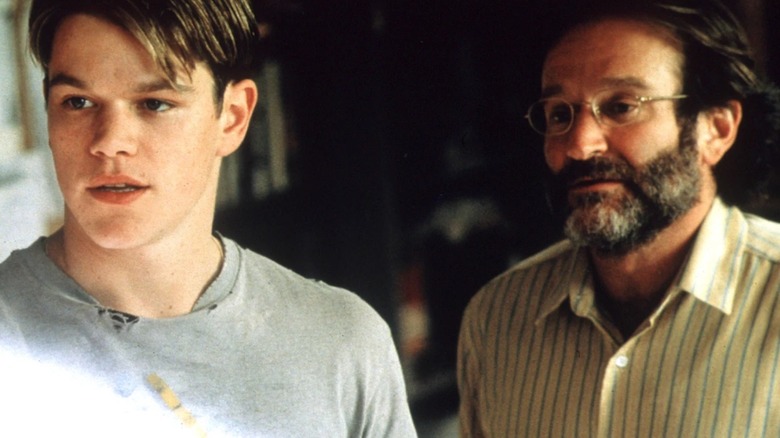 Miramax Films
Matt Damon is one of the most popular actors of our time, regularly collaborating with directors like Steven Soderbergh, Paul Greengrass, and Ridley Scott. Damon's rise to fame is a fascinating one. He essentially created his own success out of thin air — well, not so much thin air as a fantastic screenplay he co-wrote with his buddy Ben Affleck. That script went on to become "Good Will Hunting," which earned both actors an Oscar for best screenplay and sent their careers into the stratosphere.
Damon's career has featured a ton of successes, both critically and financially, with his films raking in an incredible cumulative total of over $3 billion. With such an impressive range of movies, that made us wonder, what are Matt Damon's greatest films? We've done the difficult work of breaking down all of Damon's work, and we have the answers, so sit back, and read on as we dive into the 15 best Matt Damon movies, ranked.
15. The Informant!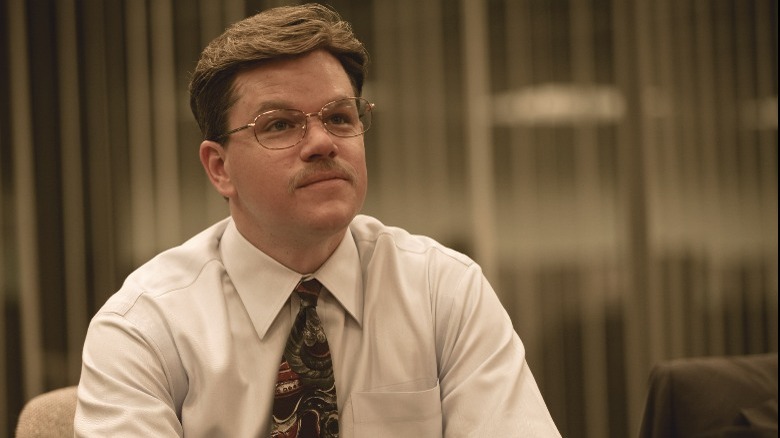 Warner Bros.
The act of whistleblowing is a serious business that takes a serious risk and incredible courage. The idea of going public against your corporate overlords to expose malpractice has been explored in cinema before like in the Rachel Weisz vehicle "The Whistleblower." Incredibly versatile filmmaker Steven Soderbergh took a very different approach to whistleblowing in the satirical comedy-drama "The Informant!"
The film stars Matt Damon as Mark Whitacre, an executive for a large agricultural business. Whitacre finds himself embroiled in an effort by the American government based on a price-fixing claim, in which he gets pressured into working for them as an informant for the FBI. While initially rather terrified of the idea, Whiatcare becomes more comfortable with it, eventually becoming fully absorbed into the role. Unfortunately for Whitacre, he becomes a little too committed to the thrill of being a spy and can't help himself from lying. This labyrinthine web of fiction threatens to destroy his once stable life.
Okay, that may make the film sound a lot heavier than it is. "The Informant!" is rife with terrific narration from Damon, and the film pokes a lot of fun at the ridiculous nature of a random executive becoming an informant for the FBI. Whitacre calls himself "0014" because he's "twice as smart as 007." "The Informant!" is a quirky, off-beat hidden gem that more than earns the exclamation point in its title.
14. Rounders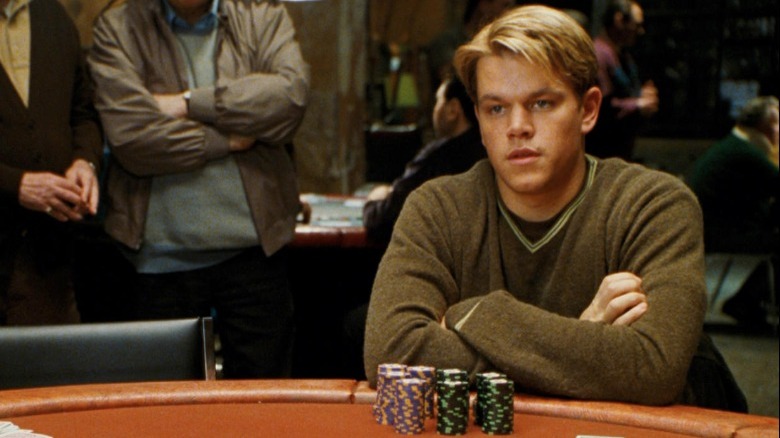 Miramax
After the resounding success of "Good Will Hunting," Matt Damon had quite the year in 1998, turning in great performances in "Saving Private Ryan," and the next film on this list, "Rounders." Damon stars as Mike McDermott, whose passion for gambling, especially poker, leads to a devastating loss when he loses every penny he has after getting overconfident in a game of cards. McDermott swears off gambling for good, turning his focus to law school. Several months pass, and McDermott is approached by his friend from childhood, Worm (it's a nickname, don't worry), played by Edward Norton, who needs his help in paying off his enormous debts. To do so, McDermott will have to come back to the world of high-stakes poker. The problem is, while McDermott is an honest player, Worm is anything but, and he'll use any underhanded tactic he can to win, which isn't exactly appreciated by the mobsters they play against.
"Rounders" has become something of a cult favorite over time. The film is so effective in the way that it understands not only the game of poker but also the harsh realities of addiction, particularly in relation to gambling. Damon is really good as a man struggling to stave off his addiction while trying to support his friend while John Malkovich delivers a completely and totally unhinged performance, supported by one of the most cartoonish Russian accents you'll ever hear.
13. Behind the Candelabra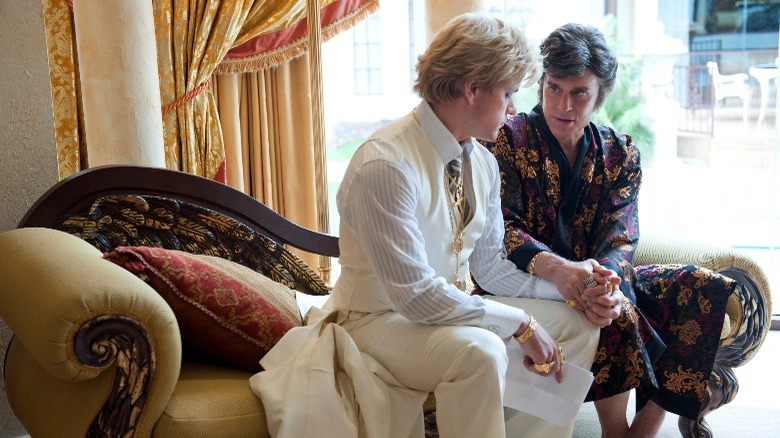 HBO
Known for his flamboyant style and staggering musical talents, Liberace (full name Władizu Valentino Liberace) was one of the world's most dazzling entertainers. One of the biggest draws in Las Vegas history is brought to life by Michael Douglas in Steven Soderbergh's "Behind the Candelabra." The film explores Liberace's personal life at the height of his success during his Vegas residency and his relationship with Scott Thorson (Matt Damon). Thorson meets Liberace through a Hollywood producer, becoming his assistant before transitioning to be his live-in boyfriend.
Thorson is drawn to Liberace's magnetic persona and undeniable star quality, and it's clear that Liberace values Thorson for his youth and muscular physique. Things get really weird when Liberace wants to recreate Thorson in his own image, opting for him to get plastic surgery in a terrifically awkward scene with a completely unrecognizable Rob Lowe. As Thorson, Damon is transformative, playing a man torn between his intense love and his desire to maintain his own sense of self. Soderbergh's film is a compelling look at a spectacular entertainer and an intriguing portrait of a man forced to hide who he is due to enormous societal pressure. There's practically nothing Soderbergh can't do, and he manages to craft a biopic free from the typical trappings of the genre. "Behind the Candelabra" is lifted even higher thanks to incredible performances from Douglas and Damon.
12. Ford v Ferrari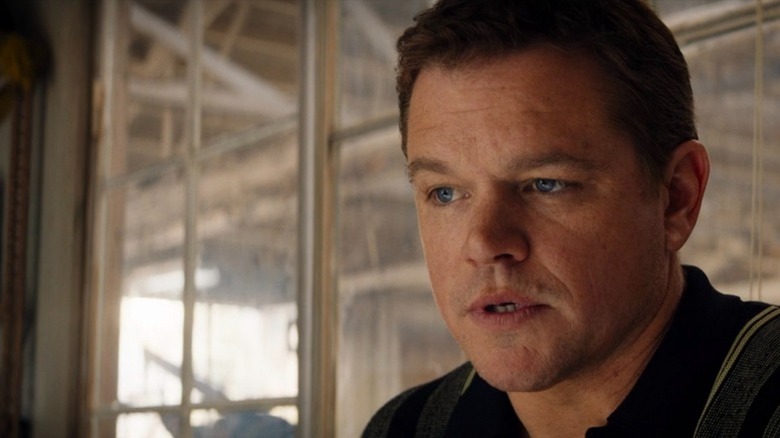 20th Century Fox
I have something of an aversion to racing movies. As someone who doesn't drive, the thrills associated with cars moving at a breakneck pace don't often translate. I was pleasantly surprised by James Mangold's "Ford vs. Ferrari," which marries visceral and thrilling racing sequences with a fascinating story of overcoming serious adversity to beat the odds. Matt Damon stars as Carroll Shelby, a racecar driver turned automotive designer working with Ford to design the perfect vehicle to compete in a particularly grueling race. The race in question is the 1966 Le Mans race, an epic 24-hour race that required extraordinary endurance and an incredible driver to match, Ken Miles, played by Christian Bale. Tired of constantly losing to competitor Ferrari, the combination of Miles and Shelby may bring Ford what they've been longing for.
Mangold's film is an expertly paced study of the power of competitive sport as well as a compelling study of masculinity. Damon is his typically excellent self in "Ford v Ferrari," imbibing Shelby with a relaxed yet gritty determination. Shelby faces a series of conflicts throughout the film, but one of his greatest comes from his relationship with Miles. The two don't particularly like one another, but they come to respect each other thanks to their passion and commitment to the world of racing. The film is incredibly beautiful, and Mangold films the racing sequences with an urgency that brings them to life. The film is especially impressive on a technical level, and "Ford v Ferrari" brought home two well-deserved Oscars for best film editing and sound editing.
11. True Grit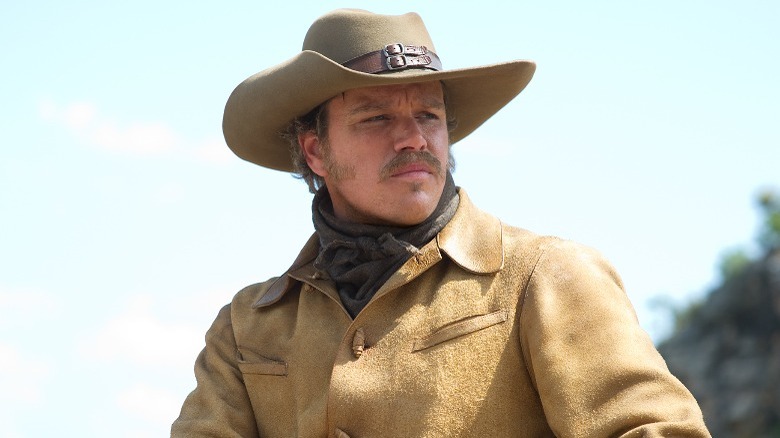 Paramount Pictures
The Coen Brothers have made an incredibly diverse slate of films throughout their career, tackling a myriad of genres and stories. Outlandish comedies, crime dramas, and films about religion and identity all fit perfectly within the brothers' remit. Their decision to remake the classic western, "True Grit," was seen as a surprising one, but the directors are no strangers to remakes, having taken a crack at "The Ladykillers" back in 2004. Thankfully for the directing duo, their 2010 remake of "True Grit" was a great success, earning a truly impressive $250 million at the box office.
The film follows 14-year-old Hattie Ross (a star-making turn from Hailee Steinfeld), who is dealing with her father's murder. The tough-as-nails kid makes the bold decision to hire a U.S. Marshall, Rooster Cogburn (Jeff Bridges), a man with a rather savage reputation, to help capture her father's killer to enact sweet justice. Along the way, they meet LaBoeuf (inexplicably pronounced "la-beef"), played by Matt Damon. Questionable pronunciation aside, LaBeouf is also after the same outlaw for a different crime. Both Bridges and Damon are excellent in "True Grit," but the real star here is without a doubt the young Hailee Steinfeld, who should have walked away with an Oscar for her extraordinarily tough performance. "True Grit" manages to improve on the impressive original thanks to some truly fantastic dialogue and great performances that leave a lasting impression.
10. Ocean's Eleven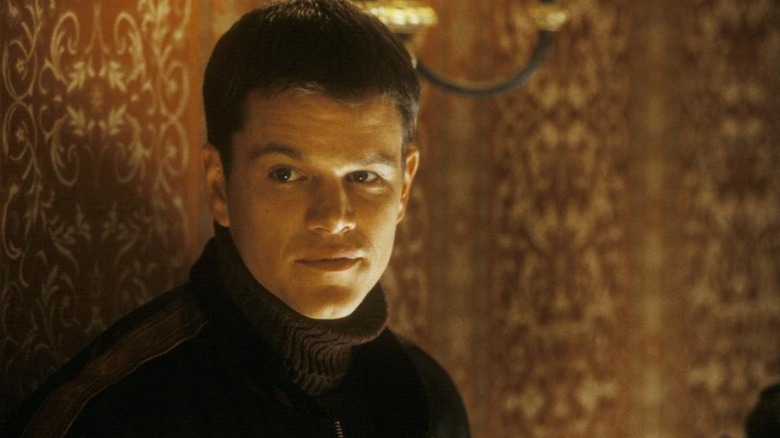 Warner Bros.
The third collaboration with Steven Soderbergh on the list, "Ocean's Eleven" sees Matt Damon excel in a large ensemble in this hugely satisfying heist movie. Danny Ocean (George Clooney) is fresh out of jail and on probation, but that's not going to stop him from attempting to pull off his biggest job yet: robbing a massive vault that connects three major Las Vegas casinos. It's not something he's going to be able to pull off on his own, and alongside his dear friend Rusty (Brad Pitt), they assemble a group of nine other experts to make it all happen. One of those experts is skilled pickpocket Linus (Matt Damon), who yearns to be in Ocean's shoes as the leader of the pack.
Soderbergh is such an immensely talented and versatile filmmaker, and the "Ocean's" trilogy is one of his crowning achievements. Of the three films, "Ocean's Eleven" is the finest, though both sequels are well worth checking out. The director has an innate ability to make complicated structures look effortless, and when the heist finally comes around, it all unfolds with remarkably satisfying ease. While Damon is so often the leading man, "Ocean's Eleven" shows he's game for an ensemble piece, and the entire trilogy offers him plenty of moments to shine.
9. The Last Duel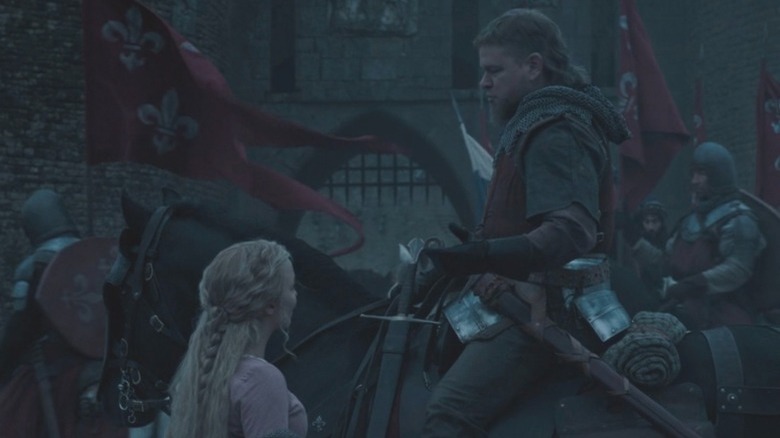 20th Century Studios
After breaking into screenwriting with "Good Will Hunting" in 1997, Ben Affleck and Matt Damon worked together on a number of films but only returned to writing together over two decades later. Alongside uber-talented Nicole Holofcener, the pair wrote their second screenplay, the Ridley Scott-directed historical epic "The Last Duel." Inspired by films with multiple perspectives like Akira Kurosawa's legendary "Rashomon," the film looks at a particular event through the eyes of three people: Sir Jean de Carrouges (Damon), Jacques Le Gris (Adam Driver), and Carrouges' wife Marguerite (Jodie Comer). The event in question is a sexual assault, and Carrouges returns home to his wife Marguerite accusing his closest friend Le Gris of raping her.
Damon regularly plays characters with a strong sense of morals, and Carrouges is no different, though his moral code is certainly more complex than many of his other characters. His perspective and that of his wife (labeled "The Truth") offer two very different sides to his personality. It's a film that doesn't just showcase Damon's impressive acting talents, but his gifts as a writer, as the film ingenuously shows different perspectives to reveal how different people can be to others. It's a real shame that a film this complex and powerful performed so poorly at the box office, but it's one of Damon's best films and absolutely worth checking out.
8. The Martian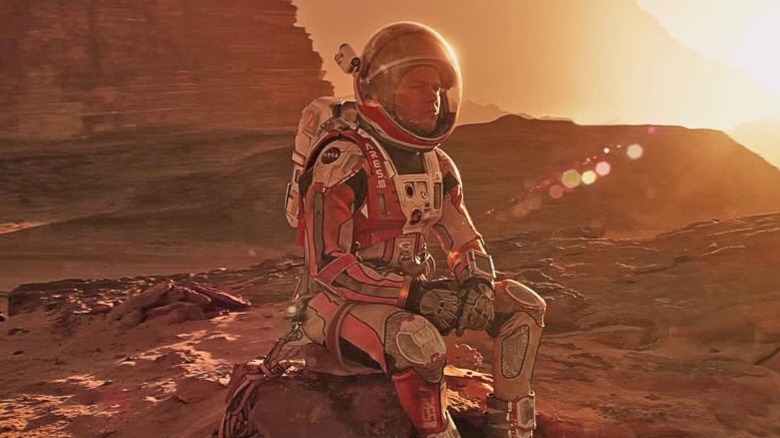 20th Century Fox
Matt Damon is wonderful in Ridley Scott's sci-fi epic, "The Martian." In the distant (well, 2035, so not too distant) future, astronaut Mark Watney and his crew are on an expedition to Mars. In the wake of a brutal dust storm, the crew evacuates, but because of circumstances beyond the crew's control, Watney is left behind. There's simply nothing that could have been done, and Watney is presumed dead. However, Watney survived the storm. Watney must rely on his immense knowledge and quick thinking to survive on Mars, all while a team of the world's leading scientists is working together to complete a nearly impossible mission to bring him home before it's too late. Damon has had plenty of starring roles, but he gets an enormous amount of screen time in "The Martian," which should come as no surprise. He's all alone on Mars, after all! Damon shines with a charismatic performance chock-full of surprising humor.
There's something about Damon and films over two hours. A number of the films on this list are well over two hours, but all of them, like "The Martian," feel a lot shorter. Maybe directors are just extra-inspired to pace things better when Damon's involved? Regardless, "The Martian" is a fantastic feel-good story about a man facing off against seemingly insurmountable odds.
7. The Bourne Identity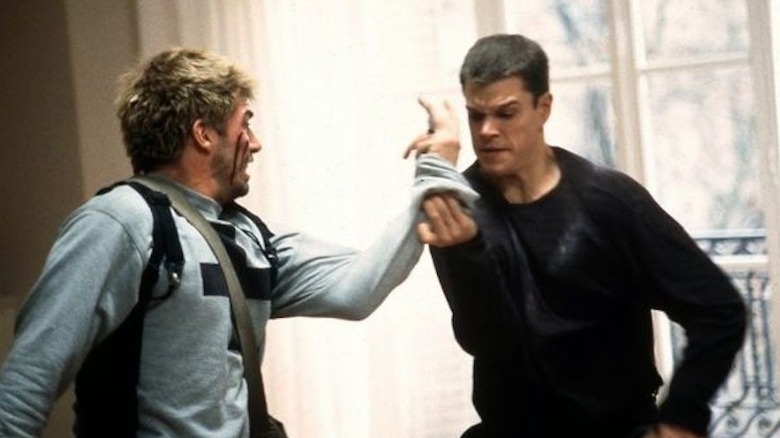 Universal Pictures
While Matt Damon had starred in quite a few movies by the time "The Bourne Identity" opened in 2002, the film proved that he has what it takes to be a legitimate action star. Damon possesses the muscularity and haircut of an overgrown high-school bully, though his character is far more complex than that. Doug Liman's film, based on the Robert Ludlum novels, finds Damon's character adrift and unconscious in the Mediterranean sea. When he comes to, he has no idea who or where he is, and his only clue is a code for a bank location found in his hip pocket. He seems to have incredible physical prowess and embarks on a pulse-pounding journey to discover who he is (or, you know, his "identity").
When it comes down to it, "The Bourne Identity" is a whole lot of fun. It's an intriguing premise with thrilling car chases paired with muscular direction from Liman and outstanding fight scenes. So many modern action films focus on big explosions and crazy large-scale fights, yet "The Bourne Identity" delivers some epic action in one-on-one hand-to-hand combat scenes. The fight in Bourne's apartment is especially intense, with bone-crunching sound design and creative choreography. As a bonus, for those that love the Bourne trilogy and video games, there's a seriously underrated video game called "The Bourne Conspiracy" that's well worth your time.
6. The Departed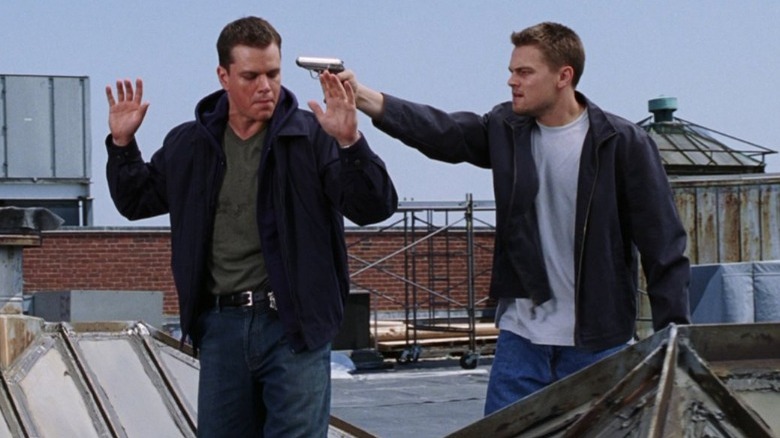 Warner Bros.
Martin Scorsese is widely considered one of the world's greatest directors. His filmography is vast and varied, though he's best known for his contributions to the gangster genre thanks to such films as "Mean Streets," "Goodfellas," "Casino" and "The Irishman." Strangely, despite plenty of critical acclaim and financially successful films, Scorsese has never had much awards success — until his 2006 film "The Departed" came out. The film earned Scorsese Oscar glory, finally getting him his first (and to date, only) Oscar win for best director.
Scorsese's best picture winner explores the gloriously seedy underground of Boston's Irish Mafia. Mafia boss Frank Costello (Jack Nicholson) sends in one of his best, Colin Sullivan (Matt Damon), to infiltrate the police. What they don't know, is that the police are doing the exact same, having officer Billy Costigan (Leonardo DiCaprio) make his way into the Mafia. Hell breaks loose when both organizations discover that there's a mole amongst them, and both Sullivan and Costigan are desperate to discover each other's identities to ensure their survival.
There's so much to love about "The Departed," from its endless thrills with plenty of well-thought-out plot twists to tension you could cut with a knife to sensational performances (particularly from Damon, DiCaprio, and Mark Wahlberg). "The Departed" is also surprisingly yet wickedly funny, and it's a fantastic example that proves that nobody does it quite like Scorsese.
5. Good Will Hunting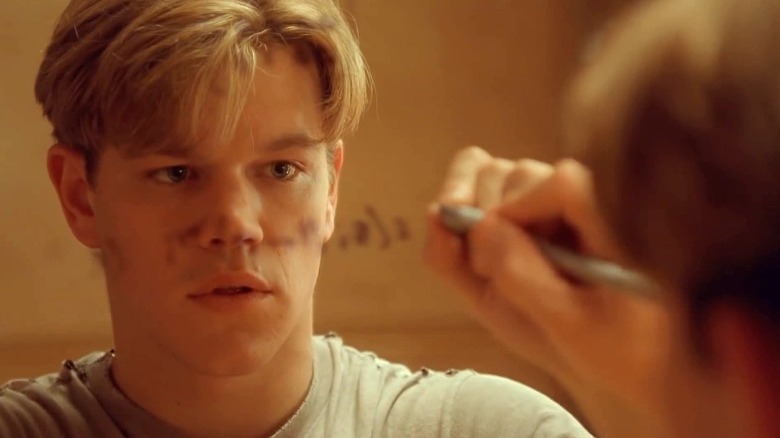 Miramax
It's hard to imagine that there was a time when Matt Damon was an unknown actor, but in the early 1990s, Damon began his career with small roles in films like "School Ties" and "Courage Under Fire." A seismic shift occurred in 1997 as "Good Will Hunting" turned Damon from an up-and-coming actor into a bonafide superstar overnight. Damon wrote the script with his best friend, Ben Affleck, and the two struck gold when Robin Williams joined the project.
This heartwarming and inspirational movie follows Will (Damon) who works as a janitor at the prestigious Massachusetts Institute of Technology. He's not just a janitor, though. He's a once-in-a-generation math prodigy. When he sees a complex math problem on a chalkboard, he can't help but solve it, which attracts the attention of a professor (Stellan Skarsgard). Life doesn't come easy for Will, who's prone to furious bouts of anger, but his salvation may lie in the hands of his therapist, Sean (Robin Williams in an Oscar-winning performance). "Good Will Hunting" doesn't have any big surprises. Not only does it not need them, but it isn't interested in them. "Good Will Hunting" is interested solely in telling an emotional, thoughtful story, and it does that with remarkable grace and ease thanks to a pitch-perfect Oscar-winning screenplay.
4. The Bourne Ultimatum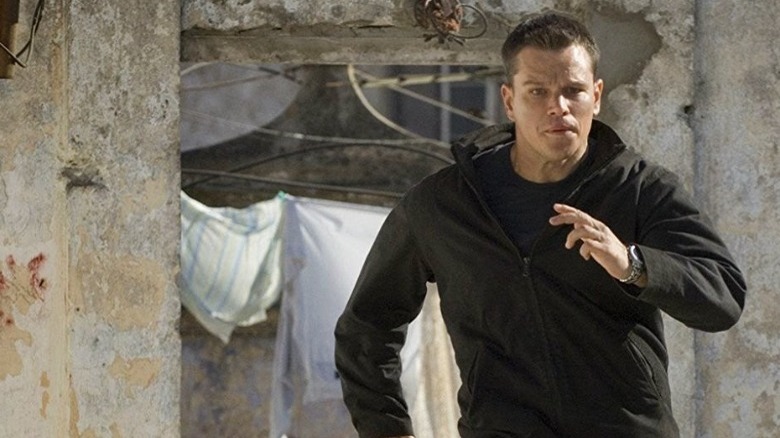 Universal Pictures
One of the greatest action trilogies ended on a sensational high with "The Bourne Ultimatum." Set shortly after the events of "The Bourne Supremacy," "Ultimatum" finds Matt Damon back as the eponymous Jason Bourne. This time, he's finally ready to uncover the secrets of Project Treadstone and unearth exactly who he is and how he became the world's most wanted man. Bourne's memories have been awakened, and he's ready for revenge. You can bet on him getting it.
While "Identity" did a fantastic job of world-building, "The Bourne Supremacy" excelled in continuing the story. "Ultimatum" brings everything together in a spellbinding, action-packed spectacle. Shots whizz by in the blink of an eye, but its brilliant editing, courtesy of Christopher Rouse, keeps things impressively coherent. Doug Liman was replaced by Paul Greengrass as director, and he helps kick things up a notch (or twenty). Damon makes for an incredibly convincing action star, and "Ultimatum" provides an awesome opportunity for the actor to dive into his character. The "Bourne" trilogy eventually became a full-on franchise with "The Bourne Legacy," starring Jeremy Renner instead of Damon, and Damon's return in 2016's "Jason Bourne." While both those films are serviceable, none reach the dizzying, electrifying heights of "Ultimatum."
3. Margaret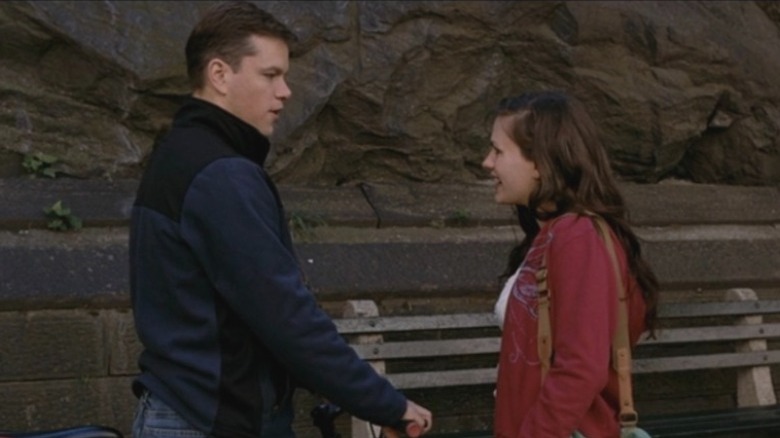 Fox Searchlight
Kenneth Lonergan has only directed three films, all of which are incredibly powerful dramas. His towering masterpiece is also his longest film, the sensational "Margaret," clocking in at a robust 150 minutes. That said, it never once lags, and its highly intelligent script moves things along with ease. It almost feels like a relic of a bygone era, though the subject matter is as relevant as ever, as films like this hardly ever get made anymore. The film follows Lisa (Anna Paquin), a high school student who unwittingly ends up playing a key role in an accident involving a bus driver running over a woman crossing the street. Much of the film focuses on the aftermath and how it affects Lisa's life.
Matt Damon plays a small but essential role as Lisa's math teacher, Mr. Aaron. It's great to see one of Hollywood's most reliable leading men take a small part in an epic yet intimate film. It's clear that Damon knew the film was onto something great, and he just wanted to be a part of it. There are many excellent actors in the film's robust ensemble, including Alison Janney, Kieran Culkin, Matthew Broderick, and Mark Ruffalo. "Margaret" is a sophisticated and uncompromising film about the endless conflict between a person's ideas and the cold, harsh reality of the real world.
2. The Talented Mr. Ripley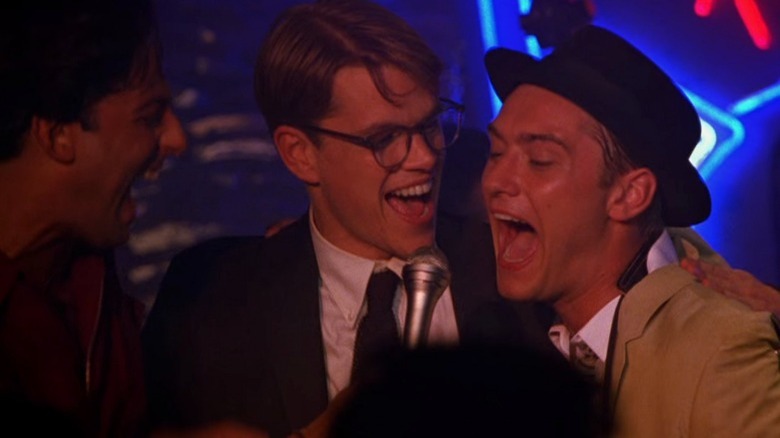 Paramount Pictures
Based on the Patricia Highsmith novel, "The Talented Mr. Ripley" provides what may just be Matt Damon's single best performance. In a case of confused identities, Tom Ripley (Damon) is approached by wealthy magnate Herbert Greenleaf (James Rebhorn), who believes that Ripley is an old friend of his son Dickie (Jude Law). Greenleaf offers Ripley $1,000 to go to Italy and track down his son. Ripley happily accepts the opportunity, even though he's never met Dickie before. What follows is a highly addictive mystery about a man, his unrequited love, and his ferocious desire to be someone else. The film is also an awe-inspiring travelogue that represents Italy with such love and tenderness that you'll find yourself dreaming of a trip to the Mediterranean.
Minghella's film turns Ripley's detestable sociopath into a much more nuanced character, and while it makes for a significant departure from the source material, it's a choice that works perfectly for the film. Damon manages to play through so many complicated emotions: a powerful desire to fit in, a need to not be caught, sexual desires that are not reciprocated, and never being able to shake being an outcast. Sure, Ripley is evil and awful, but he's also charismatic, charming, and desperate to be loved. Of all the fascinating characters Damon has played, Tom Ripley is his most layered and complicated portrayal.
1. Saving Private Ryan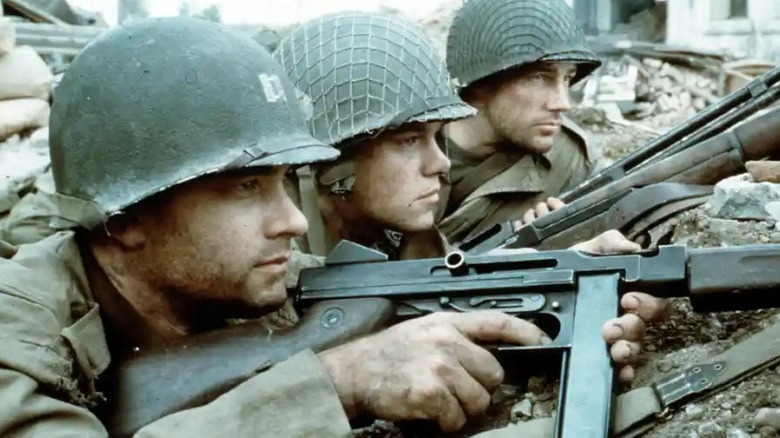 DreamWorks Pictures
Many films have been made about World War II, but none have opened with a scene as emotionally devastating, physically reviling, and technically exquisite as the Omaha Beach landing in Steven Spielberg's epic, "Saving Private Ryan." The sequence is nearly half an hour long, and it's one of the most harrowing moments in cinema history. It is a staggering showcase for Spielberg's incredibly wide-ranging talents as a master filmmaker.
"Saving Private Ryan" clocks in at just under three hours, and it's quite a long time before Matt Damon even appears. The film follows Captain John Miller (Tom Hanks) whose squad is sent on a challenging mission into enemy territory to find Private James Ryan (Damon) and bring him home. All three of Ryan's brothers were killed in action, and the military has a "sole-survivor" policy in which no family should have to suffer the loss of all their sons. Things are made even more complicated for Miller's squadron when they finally meet up with Ryan, who has no interest in returning home and instead is steadfast in completing his duty. Spielberg combines his masterful ability to evoke emotion with the craft of a world-class filmmaker to incredible effect to make "Saving Private Ryan" one of the most unforgettable, impactful, and altogether epic films in cinema history.