Jack Nicholson's 15 Most Iconic Roles Ranked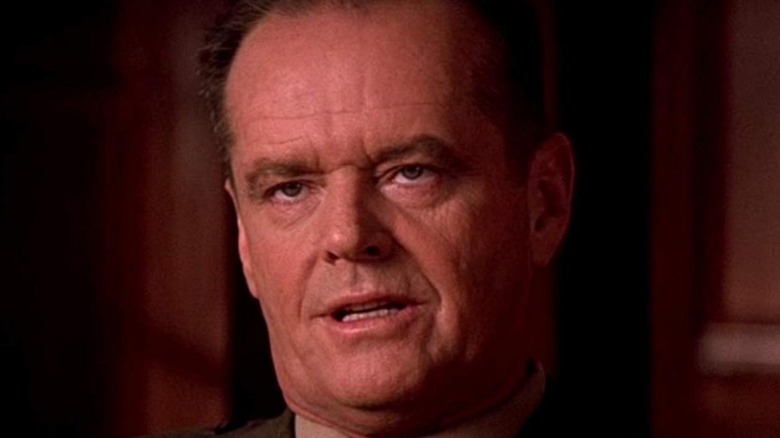 Columbia Pictures
Joseph John Nicholson, or Jack Nicholson as he's better known, is one of the most recognizable and prolific actors in the history of American cinema. Boasting a career that spans 50 years, the three-time Oscar-winner holds the honor of being the male actor with the most nominations in the Academy's history (12), and, with Michael Caine, shares the distinction of having been nominated at least once every decade since the '60s. 
Born in 1937 in Neptune City, New Jersey, Jack moved to California in the '50s, making his film debut in the low-budget Roger Corman noir, "The Cry Baby Killer." The rest, as they say, is Hollywood history. Though now retired from acting, Nicholson has left us with a large and eclectic body of work — we don't use the word iconic lightly, but there's no other way to describe some of Nicholson's characters. Here are Jack Nicholson's 15 best roles.
15. Charley Partanna, Prizzi's Honor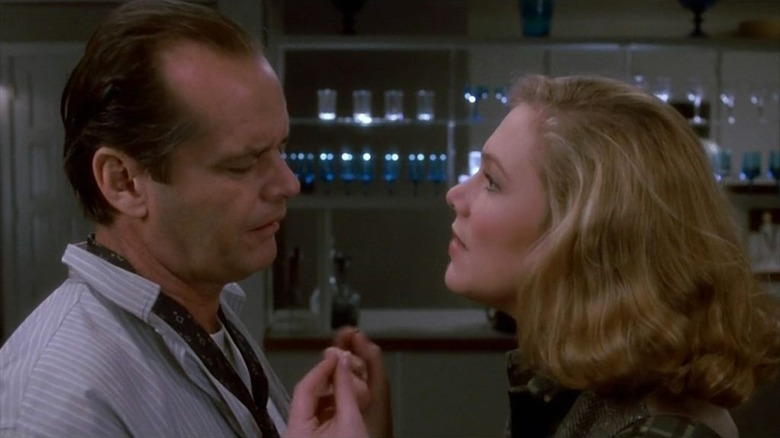 20th Century Fox/YouTube
The dark comedy "Prizzi's Honor" is notable for a few different reasons, including the fact that it stars Kathleen Turner and Jack Nicholson as two hitmen who fall in love, only to discover that they've each been hired to kill the other. 
Jack Nicholson's character, Charley Partanna, works for a wealthy mob family, the Prizzis, and has recently broken up with the boss' daughter Maerose (Anjelica Huston) under orders from the don. Huston and Nicholson were dating in real life at the time of filming, having been in a relationship since 1973. Anjelica Huston is also the real life daughter of "Prizzi's Honor" director John Huston, who infused the film with a dark humor that was elevated by the incredible cast. Nicholson's straightforward and simple everyday mob guy, Charley, anchors the cynically funny and darkly delightful film, which landed him one of his many Oscar nominations; Anjelica Huston won Best Supporting Actress for her role.
14. President James Dale, Mars Attacks!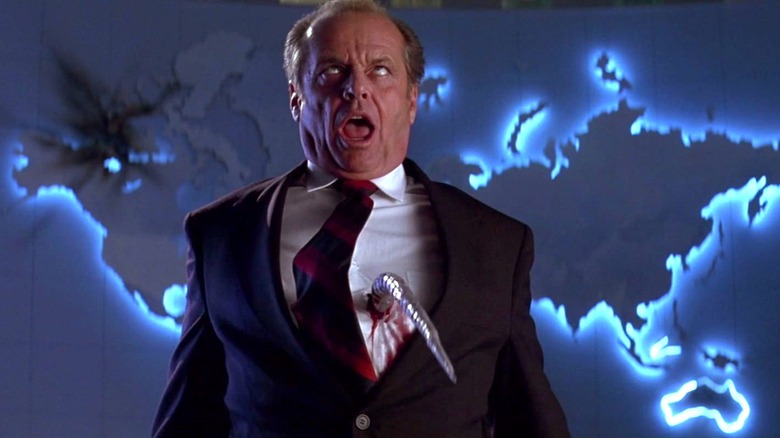 Warner Bros.
Tim Burton and Jack Nicholson are two talented men who teamed up twice in their careers, first in 1989 on "Batman," and once again in 1996 for the darkly satirical star-studded sci-fi comedy "Mars Attacks!," in which Nicholson plays dual roles: President James Dale, and sleazy casino developer Art Land. 
As the film's title would suggest, the events of the movie center around a fleet of Martians who arrive on Earth claiming to "come in peace," only to immediately begin killing people. The ensemble cast also includes Glenn Close as the First Lady, Annette Benning as Art Land's wife, Martin Short as the President's right-hand man, Pierce Brosnan as a science advisor, Sarah Jessica Parker as a reporter, and Danny DeVito as a casino patron. But Jack Nicholson steals the show as the President, who must try to figure out a way to stop the Martians from destroying the planet in this underrated homage to the sci-fi films of the '50s and '60s.
13. Warren Schmidt, About Schmidt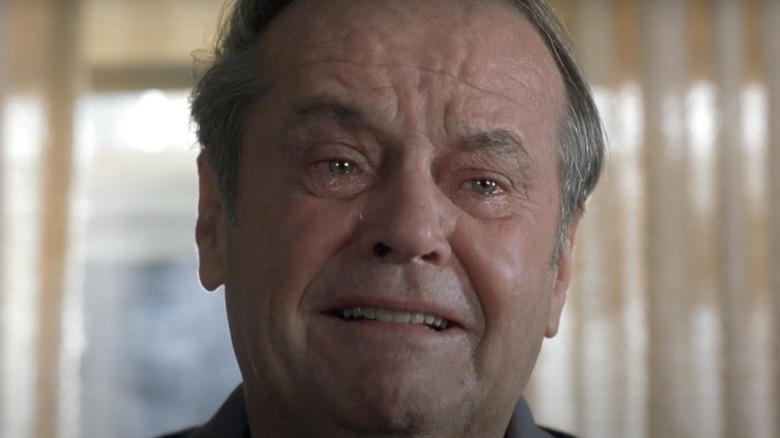 New Line Cinema
"About Schmidt" is a film in which Jack Nicholson delivers one of his finest performances, playing a recent insurance company retiree, Warren Schmidt, who struggles to find purpose in his post-work life. After the unexpected death of his wife Helen (June Squibb), Schmidt decides to set off in a Winnebago, driving from Nebraska to Denver to see that his daughter, Jeannie (Hope Davis), doesn't marry the wrong man. 
"About Schmidt" was directed by Alexander Payne ("Sideways," "The Descendants," "Nebraska"), and also stars Kathy Bates as Jeannie's fiancé's spunky mother. Both Bates and Nicholson were nominated for their performances in "About Schmidt" at the 75th Academy Awards, she for Best Supporting Actress and he for Best Actor. While neither of them won an Oscar that year, Nicholson did receive a Golden Globe for his understated and nuanced against-type performance. Payne also won for Best Screenplay along with his frequent collaborator Jim Taylor.
12. Daryl Van Horne, The Witches of Eastwick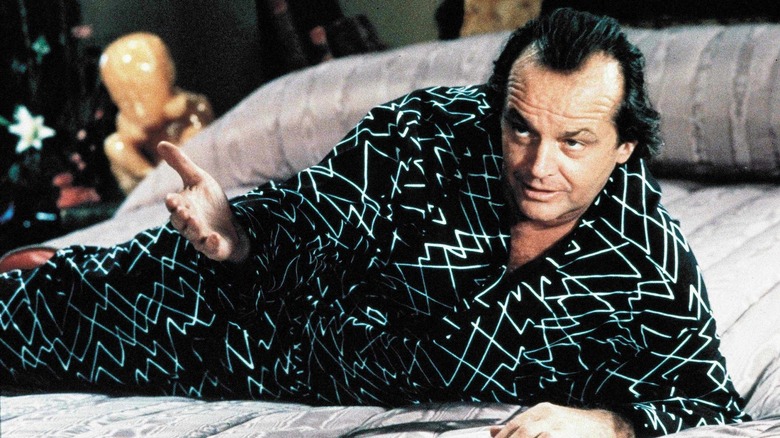 Warner Bros.
It's not everyday that one gets to embody the Devil himself, but it's a role that Jack Nicholson was seemingly born to play, as evidenced in 1987's "The Witches of Eastwick." The dark comedic fantasy pairs Nicholson with three of cinema's most iconic actresses — Cher, Michelle Pfeiffer, and Susan Sarandon — who play newly-single friends in the sleepy town of Eastwick, Rhode Island. Their lives are shaken up when a mysterious stranger, Daryl Van Horne (Nicholson), arrives in town and begins courting each of them. 
The women eventually discover that they are witches, and as their newly-discovered powers grow, they begin to suspect that Daryl isn't who — or what — he appears to be. Directed by George Miller, "The Witches of Eastwick" is a wickedly fun film that culminates in a battle of the sexes between the trio of underdog witches and Jack Nicholson, who's "just your average horny little devil."
11. Harry Sanborn, Something's Gotta Give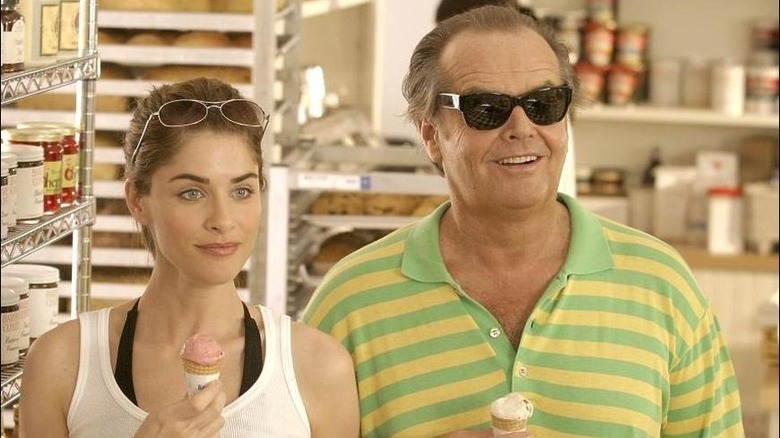 Sony Pictures Releasing
When it comes to Jack Nicholson and romantic comedies, "Something's Gotta Give" stands out as one of his most iconic. In the film, Nicholson really seems to be enjoying playing the aging playboy Harry Sanborn, who only dates much younger women, including his latest girlfriend, Marin (Amanda Peet). That is, until he meets Marin's mother, Erica (Diane Keaton), who develops feelings for Harry, but who also begins dating Harry's young doctor, Julian (Keanu Reeves). What a tangled web! 
In any case, "Something's Gotta Give" was a box office success thanks largely to the charming performances of its cast. Keaton was nominated for an Academy Award, and both she and Nicholson were nominated for Golden Globes. Keaton won and Nicholson did not, but his performance is nonetheless one for the record books. In fact, he's so convincing in the role that one might think he's simply playing himself!
10. George Hanson, Easy Rider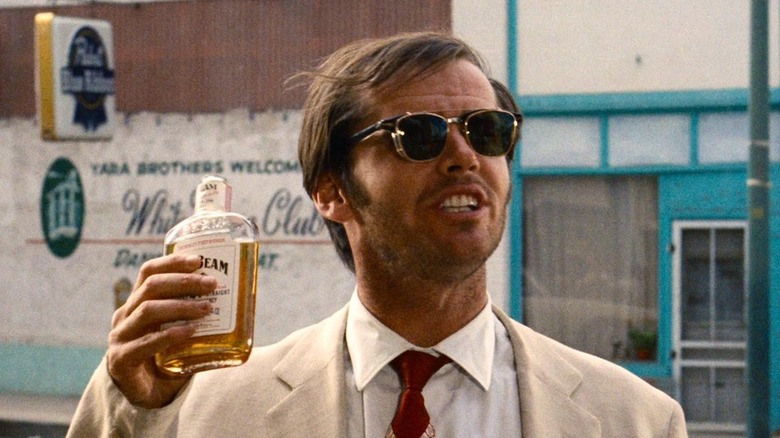 Columbia Pictures
In many ways, "Easy Rider" is Dennis Hopper and Peter Fonda's movie. They wrote the script along with their friend Terry Southern. Hopper directed it. Fonda produced it. Both Hopper and Fonda starred in it, playing Billy and Wyatt, two free-wheeling hippie bikers riding from LA to Mardi Gras using money they got in a drug deal. 
However, Jack Nicholson's appearance in the film, while only a supporting role, helped solidify his movie star status and earned him a Best Supporting Actor nomination. Nicholson plays George Hanson, a lawyer who Wyatt and Billy befriend after being thrown in jail in New Mexico. After George helps get them out of the clink, he rides with them on the way to New Orleans, and smokes marijuana with them for the first time. A celebration of both motorcycle and hippie culture, "Easy Rider" superbly captured the zeitgeist, the counterculture, and overall vibes of the time it was made, and yet holds up just fine today.
9. Buddy Rydell, Anger Management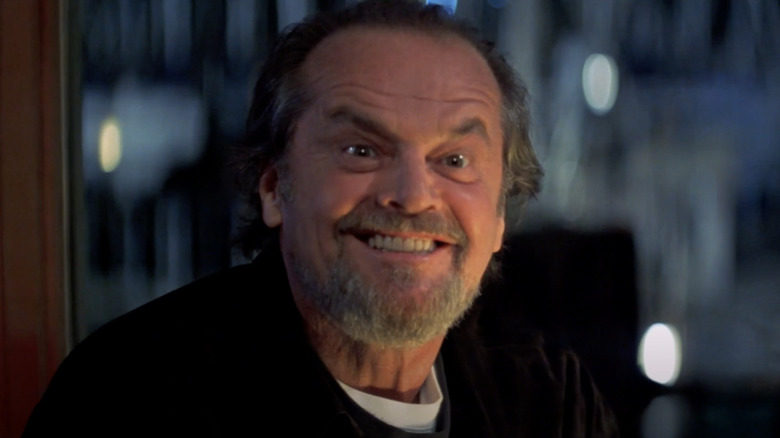 Sony Pictures Releasing
"Anger Management" paired Jack Nicholson with Adam Sandler, with downright hilarious results. Peter Segal ("Tommy Boy," "Fifty First Dates") directed the hit comedy about a meek and mild-mannered man, Dave Buznik (Sandler), who, after a misunderstanding on a flight, ends up being sentenced to undergo anger management therapy with a renowned specialist, Dr. Buddy Rydell (Nicholson). However, Dave soon learns that Rydell has an unconventional treatment program — and just might be a psychopath. 
"Anger Management" opened at number one at the box office, and went on to generate $195 million in revenue. While Nicholson wasn't nominated for his gleefully sinister performance as the crazed therapist, the role is so well-known that one of his moments in "Anger Management," in which Nicholson smiles and nods enthusiastically, has become a popular GIF in recent years, highlighting the enduring legacy that both Nicholson and the film enjoy.
8. Frank Costello, The Departed
It's hard to believe, but the 2006 crime-thriller "The Departed" is the first and only film Martin Scorsese and Jack Nicholson made together. A loose remake of the Hong Kong film "Infernal Affairs," "The Departed" centers around Boston mob boss Frank Costello (Nicholson) and a young police cadet, Billy Costigan (Leonardo DiCaprio) who's been sent by Boston PD to infiltrate Costello's gang. In the meantime, Costello has his own mole, Colin Sullivan (Matt Damon), in the police department. 
As time passes, the lines begin to blur for both Sullivan and Costigan as they become drawn into each other's worlds. The film's driving force, however, is the tension between Costello and Costigan — the nervous officer struggles not to be caught, while the highly intimating mob boss does everything he can to sniff him out. "The Departed" would go on to win Best Picture at the Academy Awards and also nabbed Scorsese his first Best Director win, thanks in no small part to Nicholson's intense lead performance.
7. Garrett Breedlove, Terms of Endearment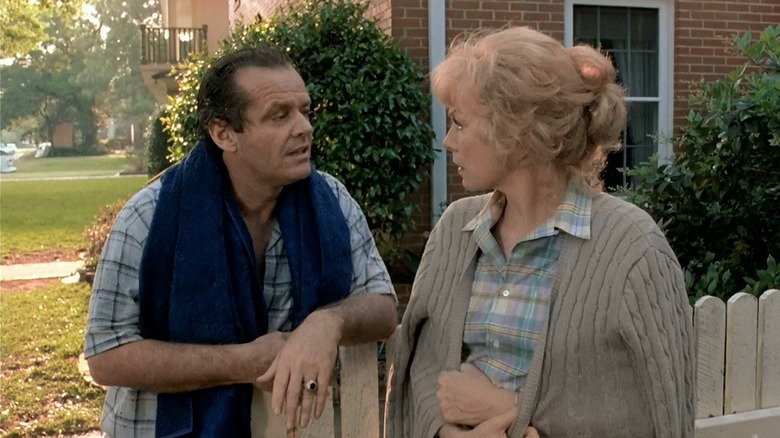 Paramount Pictures
When it comes to the biggest "tearjerker" movies of all time, it's hard not to think of the poignant, life-affirming, and emotionally devastating "Terms of Endearment," which wrings every possible emotion out of life's joys and heartaches with its fantastic screenplay, brilliant directing and talented cast. The story follows the ups and downs of Aurora Greenway (Shirley MacLaine), a widow whose close bond with her daughter Emma (Debra Winger) comes under pressure when, against Aurora's wishes, Emma marries college professor Flap Horten (Jeff Daniels). 
Meanwhile, Nicholson plays the mischievously charming playboy next door, Garrett Breedlove, a former astronaut who becomes Aurora's on-again, off-again love interest. "Terms of Endearment" was nominated for nine Academy Awards, winning five of them, including Best Picture, Best Screenplay, Best Actress for MacLaine, Best Actor for Nicholson, and Best Director for James L. Brooks, who would later direct Nicholson in "Something's Gotta Give."
6. Melvin Udall, As Good as It Gets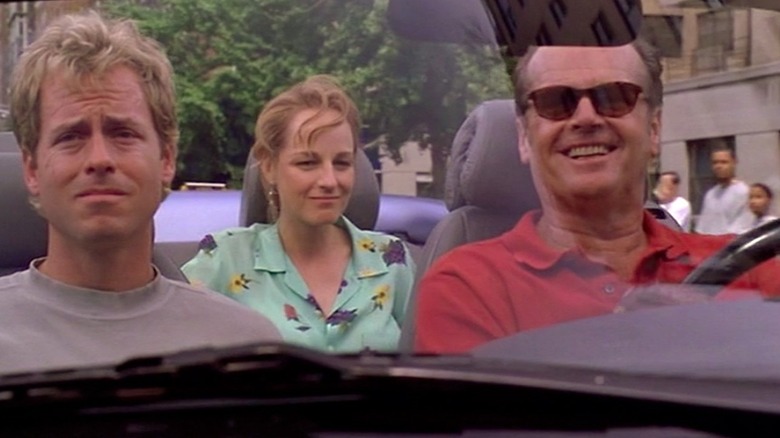 Sony Pictures Releasing
As far as iconic Jack Nicholson performances go, his turn as the curmudgeonly Melvin Udall in 1997's "As Good as it Gets" really is as good as it gets. The poignant rom-com centers around the misanthropic Melvin, who has obsessive compulsive disorder and is excessively rude to everyone he meets, including his gay artist neighbor, Simon (Greg Kinnear), and his favorite waitress, Carol (Helen Hunt). The three form an unlikely friendship when Simon winds up in the hospital after being assaulted, and Melvin ends up watching Simon's dog. When Helen explains that she needs to move away for her son's medical care, Melvin offers to foot the bill if she'll stay. Maybe he has a soft side after all. 
"As Good as it Gets" grossed over $300 million, making it one of Nicholson's biggest hits, and was nominated for seven Oscars, including for best performances from all three leads; Nicholson and Hunt won for Best Actor and Best Actress, respectively.
5. Jake Gittes, Chinatown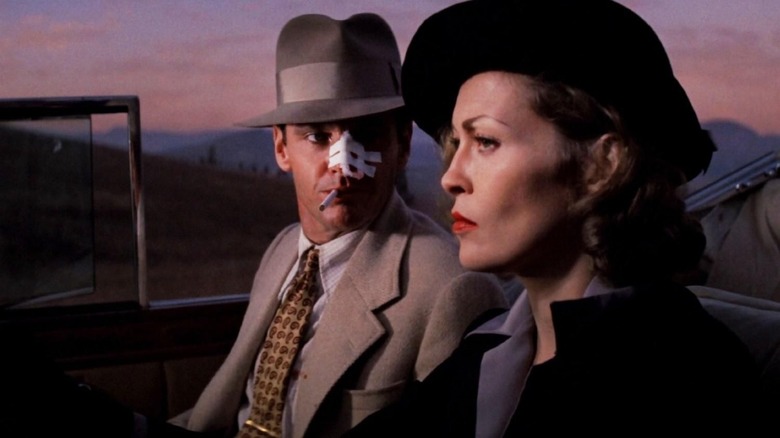 Paramount Pictures
"Forget it Jake, it's Chinatown." So goes the iconic last line of "Chinatown" (1974), Roman Polanski's classic LA-based, neo noir starring Jack Nicholson and Faye Dunaway. Nicholson plays the aforementioned Jake, private eye J.J. "Jake" Gittes, who is hired by a woman named Evelyn Mulwray to look into her cheating husband. But Jake's investigation soon leads to the discovery of Mr. Mulwray's body and to the real Evelyn Mulwray (Dunaway), with whom he begins a relationship while also becoming embroiled in a larger mystery involving the corruption surrounding the city's water department. 
Nicholson's performance as the world-weary yet sensitive Jake, who spends most of the movie with a bandage over his nose, cemented Nicholson's star status, earning him his fourth Oscar nomination. "Chinatown" was nominated for a whopping eleven Oscars overall, winning for Best Original Screenplay. It remains one of the great Los Angeles films; in 2010, The Guardian called it "the best film of all time."
4. Colonel Nathan Jessup, A Few Good Men
There are plenty of courtroom dramas, but there's only one where Aaron Sorkin wrote the script, Rob Reiner directed, and Jack Nicholson starred alongside Tom Cruise and Demi Moore. That movie is "A Few Good Men." In it, Cruise plays Lieutenant Daniel Kafee, a lawyer assigned to defend two Marines suspected of murdering a fellow soldier while stationed at Cuba's Guantanamo Bay. Moore plays Lieutenant Commander Joann Galloway, also a lawyer, who believes the Marines may have been acting on orders, possibly from the base commander Colonel Nathan Jessup (Nicholson).
"A Few Good Men" is a taut drama that hinges on its strong performances all around — Nicholson's iconic turn as Jessup earned him a Best Supporting Actor nomination — and culminates in a memorable and tense courtroom battle, during which Nicholson yells his infamous and oft-quoted line, "You can't handle the truth!"
3. The Joker, Batman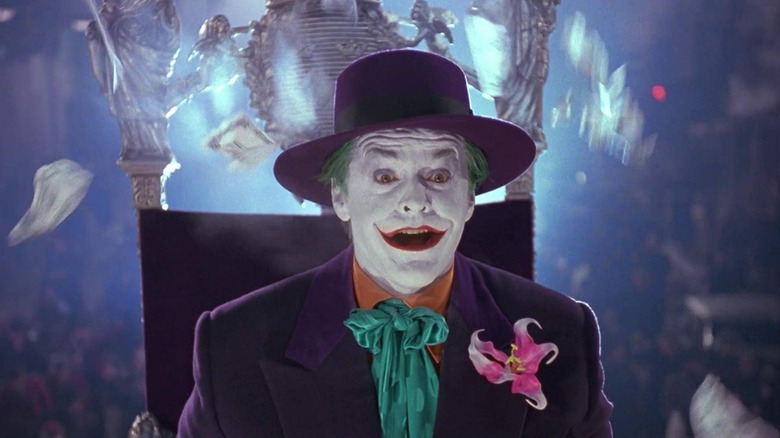 Warner Bros.
Tim Burton's "Batman" (1989) boasts many things, including a dark, gothic aesthetic, Michael Keaton as one of the best Batmen that has ever Batmanned, and Kim Basinger as Vicki Vale. But the most iconic aspect of the movie is, without a doubt, Jack Nicholson's performance as the Joker, which is still one of the best interpretations of the character ever. He begins as an underling mobster named Jack Napier who ends up in a vat of chemicals after his boss tries to have him killed. This leads Napier to undergo plastic surgery, but leaves him with a wide permanent grin, at which point he begins calling himself the Joker. 
Nicholson participated directly in creating the Joker's look, which is meant to capture the style of the comics. The character's wide grin fits eerily well with Nicholson's own, and his delightfully sadistic Joker radiates Nicholson's trademark flair as he playfully delivers memorable lines like, "You ever dance with the devil in the pale moonlight?" and "Wait'll they get a load of me."
2. Randal McMurphy, One Flew Over The Cuckoo's Nest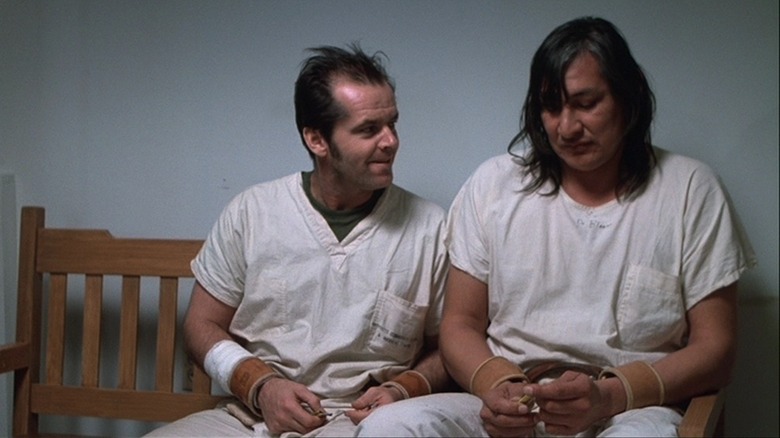 United Artists
Miloš Forman was one of the greatest filmmakers who ever lived, and one of his biggest achievements was directing "One Flew Over the Cuckoo's Nest," which stars Jack Nicholson in one of his most iconic roles. Nicholson plays Randle Patrick McMurphy, a free-spirited convict who gets himself transferred to a mental institution in order to escape hard labor, only to find that he's under the control of the iron-fisted Nurse Ratched (Louise Fletcher). While trapped, the rebellious McMurphy befriends an eclectic group of patients played by the likes of Will Sampson, Brad Dourif, Danny DeVito, and Christopher Lloyd. 
As Randle continues to test Nurse Ratched's authority — and encourages the other patients to do the same — she becomes determined to make sure that Randle knows who's in charge. "One Flew Over the Cuckoo's Nest" went on to become one of only three films in history to win Oscars in all five major categories: Best Picture, Best Director, Best Actress, Best Screenplay, and Best Actor. It was Nicholson's first win, and his fifth nomination.
1. Jack Torrance, The Shining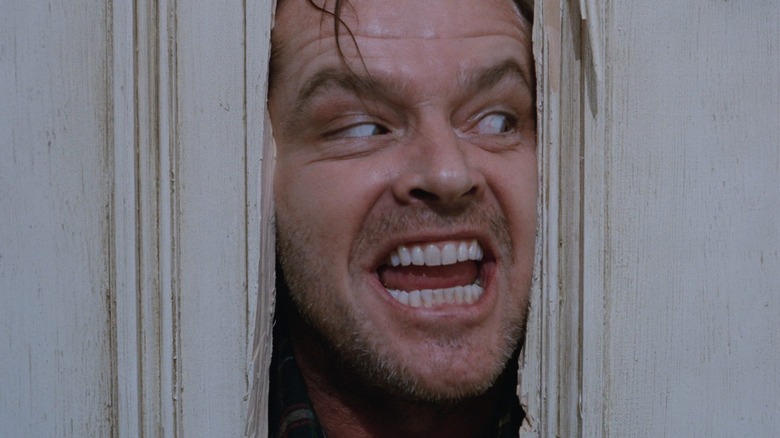 Warner Bros.
"Here's Johnny!" 
It should come as no surprise that Jack Nicholson's turn as the alcoholic writer Jack Torrance in Stanley Kubrick's "The Shining" tops our list of his most iconic roles. Adapted from Stephen King's novel of the same name, "The Shining" follows Jack, his wife Wendy (Shelley Duvall), and their son Danny (Danny Lloyd) as they move into the Overlook Hotel for the winter, thanks to Jack's new gig as the live-in caretaker. Jack believes that this will be a great place to get a little writing done — and to a certain extent, it is, although not quite in the way Jack imagined (you know, all work and no play makes Jack a dull boy). 
Things soon take a turn as the haunted hotel begins to influence Jack's behavior, leading him on a memorably terrifying descent into madness. Nicholson fully committed to the role of the menacing father and husband, leading to many an iconic moment, including when he hacks through the bathroom door with an axe while screaming lines like, "Wendy, I'm home!"