'Promised Land' Trailer: Gus Van Sant Sets Matt Damon Against John Krasinski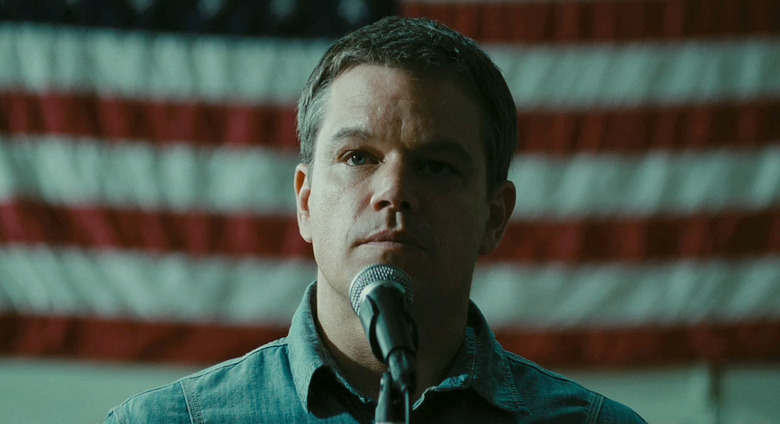 Gus Van Sant's Promised Land became a surprise awards contender when Focus Features decided relatively late in the game to give it an Oscar-qualifying limited run, but this first trailer suggests it's more than worthy of the competition. Matt Damon stars as Steve, a likeable corporate salesman who arrives in a small rural town to pick up drilling rights. The locals, struggling to recover from the economic recession, initially appear more than eager to oblige — until a grassroots campaign against the purchase, led by Dustin (John Krsasinski) and local teacher Frank (Hal Holbrooks) starts picking up steam.
OK, I'll admit that the synopsis sounds pretty dry when described that way. But between Van Sant's steady direction and Damon and Krasinski's engaging performances, Promised Land looks like a powerful, thought-provoking piece. Frances McDormand and Rosemarie DeWitt round out the excellent supporting cast. Check out the trailer after the jump.
Head to iTunes for HD.
Promised Land has been described as an anti-fracking movie, but Van Sant's smart enough not to let the underlying message get in the way of the storytelling. There are no clear-cut heroes or villains here, just a bunch of well-meaning people and a complicated situation. I could probably do without the romantic subplot, which seems to put DeWitt in the Vera Farmiga's thankless role from The Departed, but that seems like a minor quibble in the grand scheme of things. Perhaps it plays better in the actual movie.Promised Land opens in New York and Los Angeles December 28, and rolls out to additional markets starting in January.
Synopsis:
Promised Land is the new contemporary drama directed by Gus Van Sant (Good Will Hunting, Milk). Matt Damon plays Steve Butler, an ace corporate salesman who is sent along with his partner, Sue Thomason (Frances McDormand), to close a key rural town in his company's expansion plans. With the town having been hit hard by the economic decline of recent years, the two outsiders see the local citizens as likely to accept their company's offer, for drilling rights to their properties, as much-needed relief. What seems like an easy job for the duo becomes complicated by the objection of a respected schoolteacher (Hal Holbrook) with support from a grassroots campaign led by another man (John Krasinski), as well as the interest of a local woman (Rosemarie DeWitt). Promised Land explores America at the crossroads where big business and the strength of small-town community converge.