Thelma & Louise Marked The Beginning Of One Ridley Scott's Calling Cards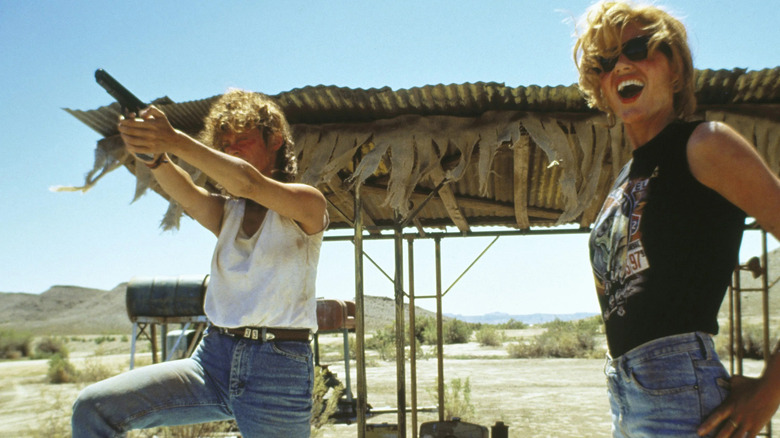 Metro-Goldwyn-Mayer
The story behind the 1991 Ridley Scott film "Thelma & Louise" is as intriguing as the film itself. The movie was revolutionary for its time, reworking the male-male buddy formula with female protagonists. There are some feminist aspects, but the film is also a take on the road film with Thelma (Geena Davis) and Louise (Susan Sarandon) finding themselves and strengthening their friendship along the way.
"Thelma & Louise" was nominated for six Oscars and screenwriter Callie Khouri made history by becoming the first solo woman to win an Academy Award for Best Original Screenplay.
But when Khouri shopped her screenplay around Hollywood, only one producer would touch it: Ridley Scott. The producer/director told Vanity Fair, "I saw what was unique about it immediately. It had substance, it had a voice, and it had a great outcome, which you could never change. Their decision was courageous, to carry on the journey and not give in."
But here's the thing — Scott never planned on directing the film. His production company was set to produce the film, but Scott couldn't find a single director interested in the project, with one unnamed director even telling Scott, "Listen, dude, it's two b****es in a car."
And with that, Scott agreed to direct the film himself. The move from his signature action films also prompted Scott to utilize a new production style, something he would continue to use throughout his career.
Scott found a new way to shoot a film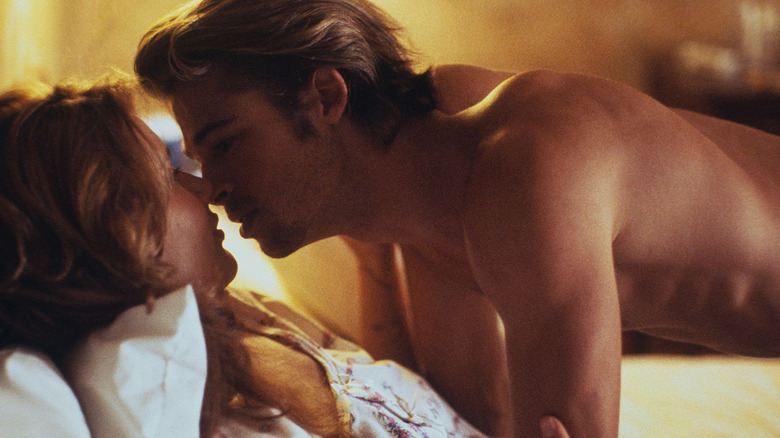 Metro-Goldwyn-Mayer
Ridley Scott's film production style is heavily influenced by his beginnings in commercials. According to The Hollywood Reporter, Scott relied on storyboards to help convey his vision to commercial clients, and he continued using storyboards in Hollywood. But when considering the sensitive material of "Thelma & Louise," Scott needed to add a new production element to his repertoire.
At this point in his career, Scott was primarily an action director, with films like "Alien" and "Blade Runner" under his belt. Approaching the love scenes like the one between Geena Davis and Brad Pitt in "Thelma & Louise" proved to be a different species altogether. Scott decided to shoot the scenes with multiple cameras so the actors wouldn't have to perform such intimate scenes multiple times. It was an epiphany for Scott. The director explained, "I thought, my God, this is efficient."
The "Thelma & Louise" role would become a launchpad for Pitt's career, but the movie would also become the start of a completely new production style for Scott. After the movie, using multiple cameras in his productions would become his calling card.
Scott has used as many as 11 cameras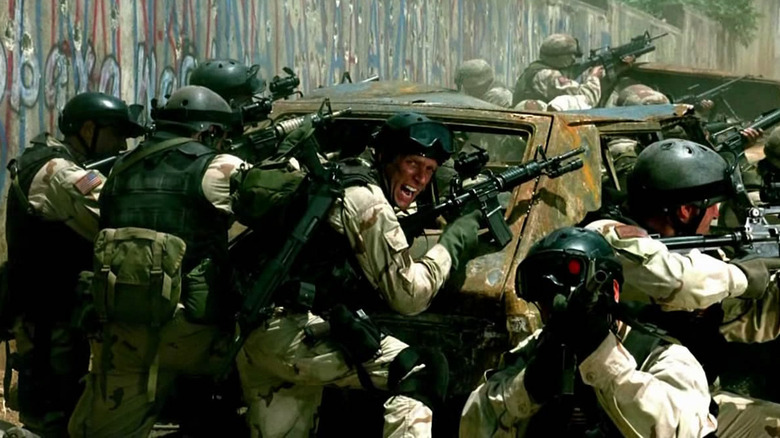 Columbia Pictures
After discovering its efficiency in "Thelma & Louise" Scott began to master the production style. For the 2001 war film "Black Hawk Down" Scott used 11 cameras. Producer Peter Chernin describes a Ridley Scott film set as a "video village." Chernin said:
"He knows the name of every cameraman, and he's got a headphone and he'll go, 'Tommy, up in the upper left-hand corner, move down, move down. I don't want to see that over there. Billy, pull back, pull back.'"
Scott's ability to manage so many cameras also dates back to his commercial production days and the use of storyboards. Scott said, "Boarding, for me, is filming on paper. As I'm reading, I'm seeing the scene, the geometry, the physical movement. I'll imagine the room, the location."
It's the old adage: Most of Hollywood is playing checkers while Ridley Scott is playing chess. His ability to visualize a scene and multiple edits in real-time through multiple vantage points all at once during production is a skill set that is quite frankly alien to most people. Taking a chance on a film no one in Hollywood wanted to touch led to an entirely new production style for one of the most acclaimed directors of our time.