The 15 Best Brad Pitt Movies Ranked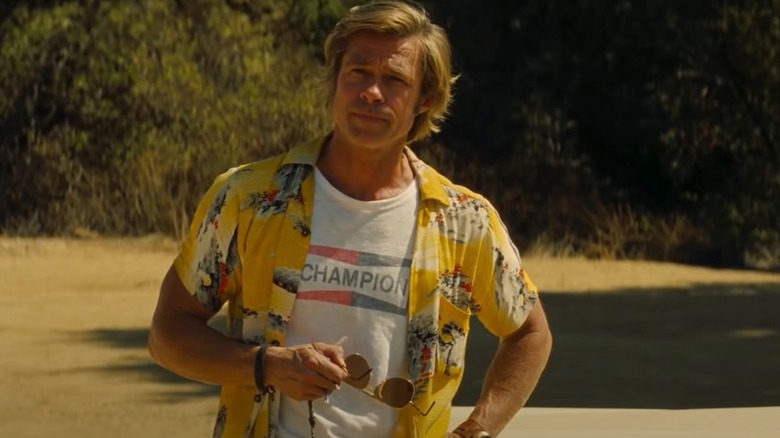 Sony Pictures Releasing
Brad Pitt is one of the most famous celebrities in Hollywood. His name has appeared in tabloid headlines for almost 30 years. Not every actor can be as reclusive as Daniel Day-Lewis. Even though Pitt is incredibly popular, he is one of the best actors of his generation. It's rare for a mainstream star to be so versatile. Pitt often chooses to work with interesting filmmakers and plays many different types of characters.
Pitt has used his influence in the industry to help spotlight great auteurs, including many filmmakers of color. Pitt's production company, Plan B Entertainment, has produced highly acclaimed films such as "Moonlight," "12 Years a Slave," and "The Departed." When Pitt accepted the Academy Award for best picture for producing "12 Years a Slave," he gave a heartfelt speech thanking director Steven McQueen for his work. Pitt later received the award for best supporting actor for his performance in 2019's "Once Upon a Time in Hollywood."
Here are the 15 best Brad Pitt movies, ranked.
15. The Curious Case of Benjamin Button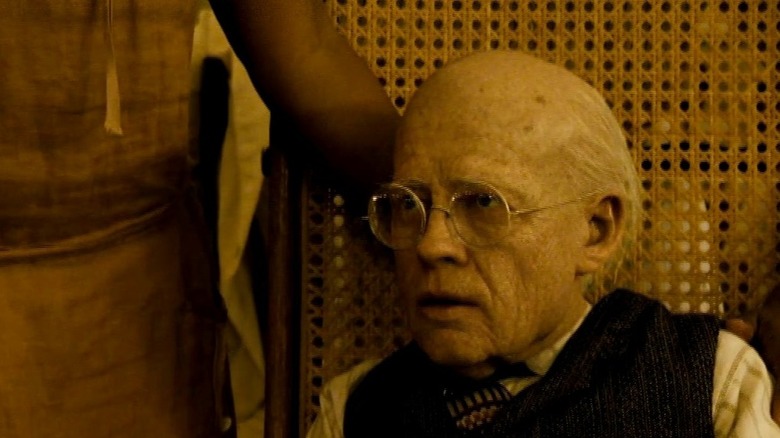 Paramount Pictures
David Fincher's 2008 adaptation of the classic short story, "The Curious Case of Benjamin Button" featured game-changing achievements in digital aging. The film's amazing computer-generated imagery earned it three Academy Awards for best visual effects, best makeup, and best art direction. Brad Pitt also received a nomination for best actor. Despite the spectacle, Pitt brought out the inherent tragedy in the beloved story.
Pitt stars as the titular Benjamin Button, a child who is born with the face of an elderly man. As Benjamin grows older, his body seemingly becomes younger. This reverse aging makes it difficult for Benjamin to connect with other people in social situations. He is an outcast in society. During his childhood, Benjamin falls in love with his classmate, Daisy Fuller (Elle Fanning). After serving in World War II, Benjamin reconnects with an older Daisy (Cate Blanchett). Their doomed romance is chronicled over the subsequent decades.
14. Legends of the Fall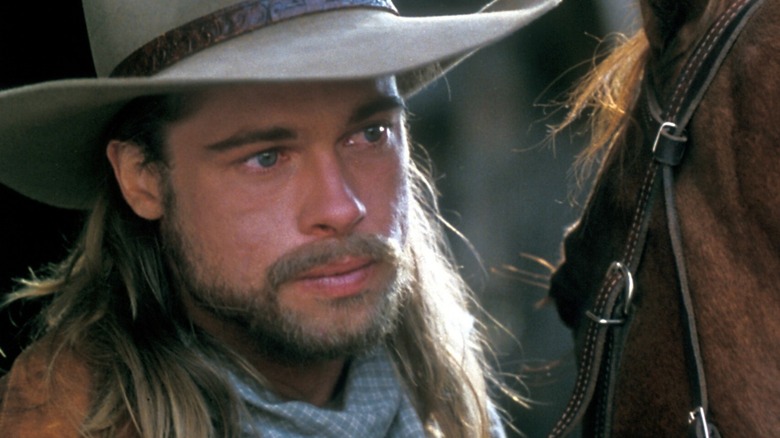 Sony Pictures
It is admirable for such a renowned actor to rarely "phone it in." Brad Pitt is always committed to the material that he's given, regardless of the film's overall quality. The 1994 historical epic, "Legends of the Fall," is a bit of a mixed bag. Although the film boasts some incredible production design and visuals, it is also occasionally dull. While it was important to approach the important subject matter with seriousness, "Legends of the Fall" is so sincere that it sometimes feels melodramatic.
Despite the faults with the film, Pitt gives a powerful performance. The dramatic weight he brings to his character makes the film's anti-war message more impactful. "Legends of the Fall" takes place in a small Montana community during World War I and the prohibition era. It follows the life of the former U.S. Army Colonel William Ludlow (Anthony Hopkins), who struggles to raise his sons Tristan (Pitt), Alfred (Aidan Quinn), and Samuel (Henry Thomas).
13. The Big Short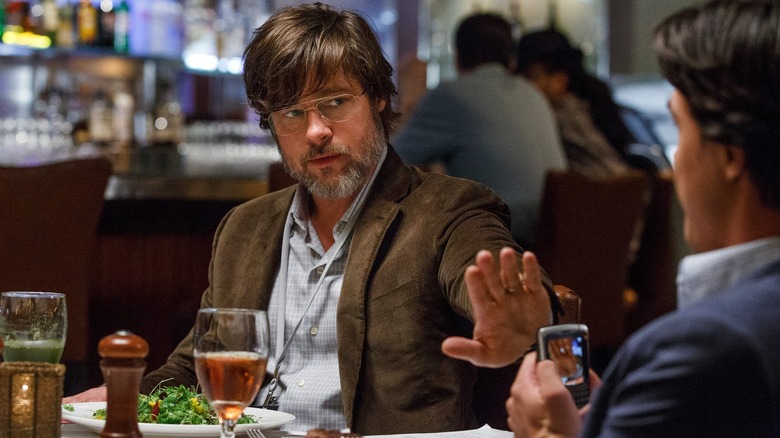 Annapurna Pictures
Brad Pitt often attaches himself to films that deal with political causes that he believes in. Pitt both produced and co-starred in Adam McKay's 2015 biographical dark comedy, "The Big Short." The film is based on Michael Lewis' novel of the same name, and examines the events that lead to the 2008 financial crisis. Pitt delivers an offbeat yet endearing performance. He makes the most of his brief screen time.
Pitt co-stars as Ben Rickert, a former financial trader. Ben is secluded from society. He lives alone and follows a strict routine and diet. Ben reluctantly agrees to give advice to two young investors, Charlie Geller (John Magaro) and Jamie Shipley (Finn Wittrock). Although he does not want to get involved in another risky economic scheme, Ben is intrigued by the information that Charlie and Jamie give him. They tell Ben that several investment banks may be committing fraud.
12. Twelve Monkeys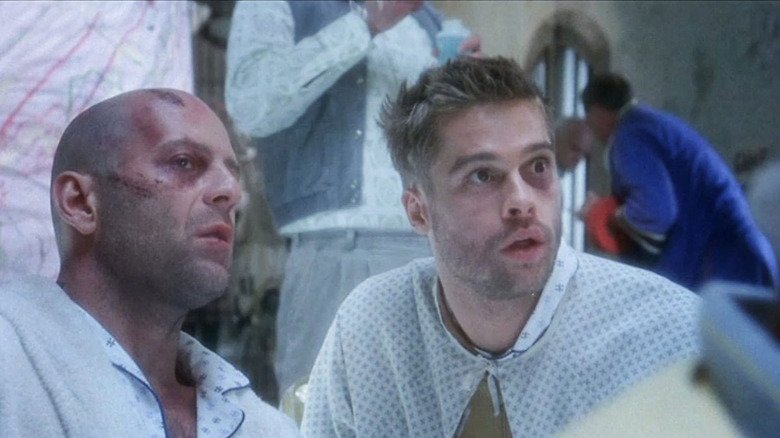 Universal Pictures
Brad Pitt has certainly played many eccentric roles. However, none of his characters have been quite as bizarre as Jeffrey Goines in "Twelve Monkeys." Terry Gilliam's 1995 science fiction mystery explores concepts of time travel, determinism, environmental collapse, and terrorism. Even though the film deals with these complex issues, it has a satirical sense of humor. Pitt's performance fits this unique tone. He received an Academy Award nomination for best supporting actor.
The film follows convicted criminal James Cole (Bruce Willis), who is sent back in time to 1990. Cole is tasked with tracking down the source of a deadly virus. In the future, this pandemic has nearly wiped out all human life. Goines is an insane environmentalist and anti-capitalist. He founds a rebel group called the Army of the Twelve Monkeys that is believed to have unleashed the virus. Goines plans to get revenge on his virologist father, Leland (Christopher Plummer). As Cole travels through time, he unravels the mystery of his role in the future and the past.
11. Ocean's Eleven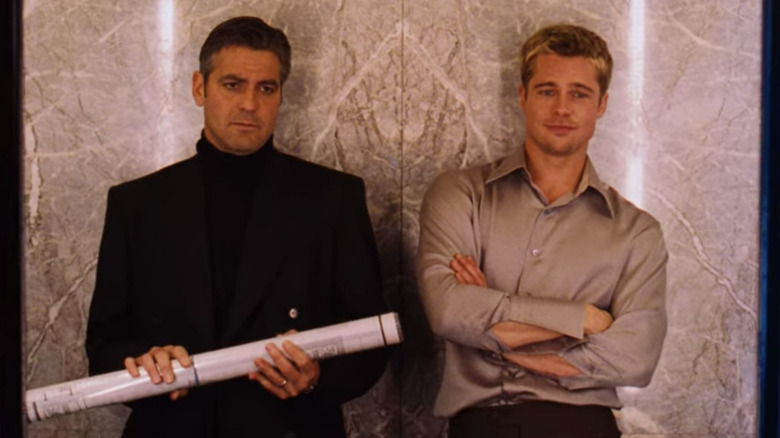 Warner Brothers
Steven Soderbergh's 2001 crime caper, "Ocean's Eleven," is one of the rare remakes that is better than the original. While the 1960 film, "Ocean's Eleven" was a disposable cash grab from the Rat Pack, Soderbergh's version is exciting and accessible. "Ocean's Eleven" celebrates movie stardom. The amazing cast brings the endearing characters to life. All of the actors deliver impressive performances. However, Brad Pitt's character, Rusty Ryan, is one of the standouts.
At the beginning of the film, Danny Ocean (George Clooney) is released from prison. He plans to rob a chain of casinos, which are owned by wealthy magnate Terry Benedict (Andy Garcia). Benedict is dating Danny's ex-wife, Tess (Julia Roberts). Danny and his best friend, Rusty, begin to recruit a team of experts so they can pull off the dangerous heist. Clooney and Pitt have hilarious chemistry. While Danny wants to win back Tess' affections, Rusty is just there to have fun.
10. The Tree of Life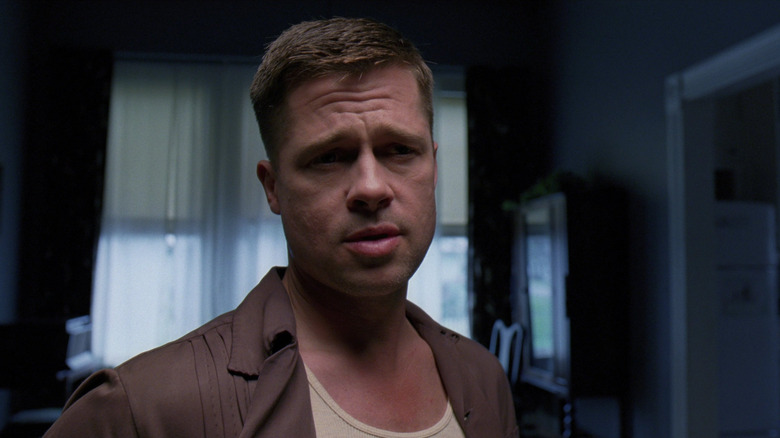 Fox Searchlight
Terrence Malick's 2011 coming-of-age arthouse epic, "The Tree of Life," is one of the most acclaimed films in recent memory. The renowned film critic Roger Ebert named it one of the top 10 greatest films ever made in his submission to the Sight & Sound list. In a poll that compiled many critics' picks, the BBC ranked "The Tree of Life" as the seventh-best film of the 21st century. It is a thoughtful meditation on the nature of good and evil. Pitt gives a performance that characterizes both strength and paternal love.
"The Tree of Life" explores the entirety of human existence. However, the majority of the film is set in a small Texas town during the 1960s. A young boy named Jack O'Brien (Hunter McCracken) deals with the dueling perspectives of his parents. His father (Brad Pitt) encourages him to be aggressive while his mother (Jessica Chastain) begs him to stay innocent.
9. Babel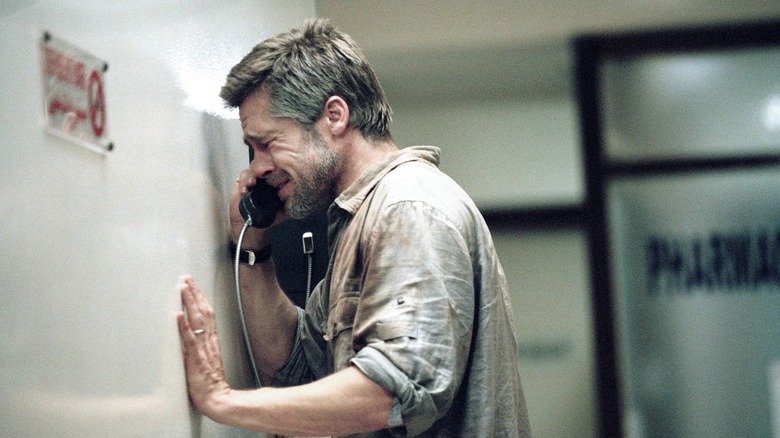 Paramount Pictures
One of Brad Pitt's best qualities is that he can shed his movie star persona and play empathetic characters. Pitt is a father himself. He brought sensitivity to the role of a struggling family man in Alejandro G. Iñárritu's 2006 disaster drama, "Babel." The film explores how characters on three continents are affected by a series of traumatic circumstances. It is an emotionally grueling film. While the disturbing content makes "Babel" challenging to watch, Pitt treats the grave subject matter with sensitivity.
The most impactful storyline in "Babel" concerns events that take place in Morocco. Richard (Pitt) and Susan Jones (Cate Blanchett), a rich American couple, are on vacation. During a bus tour, Susan is shot. Richard tries to convince the other passengers to stay with him. Even though he is very wealthy, Richard struggles to communicate with those who do not speak English. The entire situation is very intense.
8. Killing Them Softly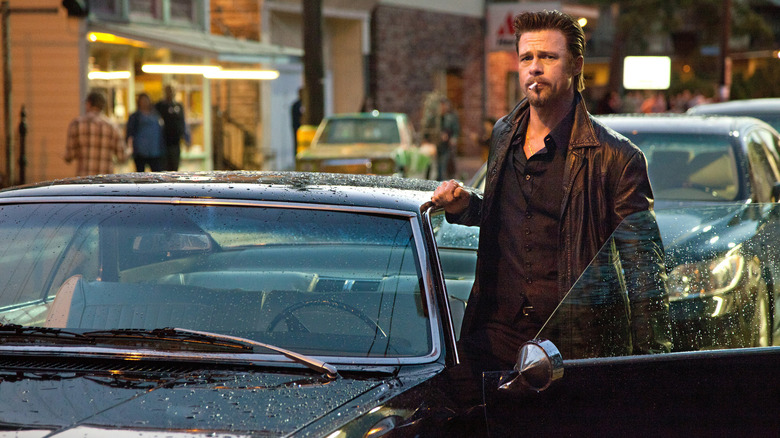 The Weinstein Company
Andrew Dominik's 2012 crime thriller, "Killing Them Softly," is one of the most underrated films in Brad Pitt's filmography. It was not popular with audiences when it was first released. In fact, "Killing Them Softly" is one of the few films that has earned an "F" CinemaScore in audience polls. Perhaps viewers were expecting to see a more action-packed heist thriller. However, "Killing Them Softly" is a nuanced deconstruction of the financial crisis. Pitt delivers one of his most subtly terrifying performances.
"Killing Them Softly" is set during the 2008 financial crisis and the United States presidential election. In a small town, Mafia associate Markie Trattman (Ray Liotta) runs an underground card game. Markie had previously staged a robbery at one of his games and stolen the money. Two robbers, Frankie (Scoot McNairy) and Russell (Ben Mendelsohn), decide to rob Markie's new game. The Mob thinks that Markie is pulling another con. They send ruthless assassins Jackie (Pitt) and Mickey (James Gandolfini) to deal with Markie, Frankie, and Russell.
7. Se7en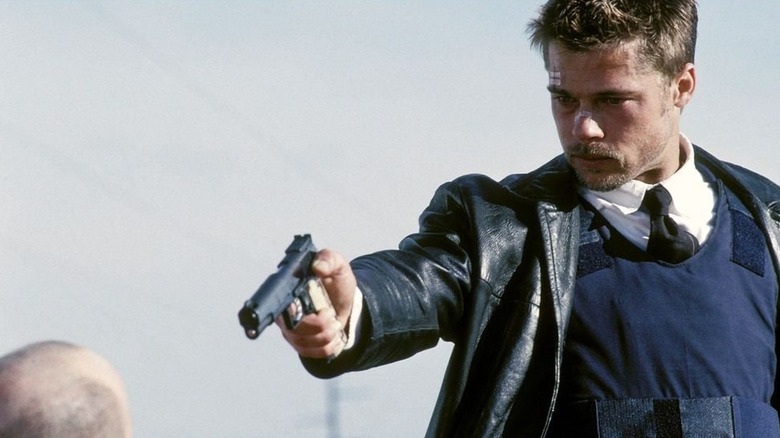 New Line Cinema
Brad Pitt has worked with many accomplished filmmakers throughout his career. However, he has frequently returned to working with David Fincher. Pitt and Fincher both had something to prove during the 1990s. Fincher was developing his craft as a director, and Pitt was proving his merit as a serious actor. They first collaborated on the 1995 mystery crime thriller "Se7en." Pitt gives one of his most emotionally devastating performances.
"Se7en" follows a police investigation into a series of gruesome murders. A mysterious serial killer has been torturing victims. This unknown assailant is inspired by the seven deadly sins. Veteran police officer Detective Lieutenant William Somerset (Morgan Freeman) is assigned to lead the case, even though he had planned to retire. Somerset is paired with a rookie cop, Detective Dave Mills (Pitt). Initially, Mills' overconfidence rubs Somerset the wrong way. However, he opens up after meeting Mills' wife, Tracy (Gwyneth Paltrow). Tracy tells Somerset that she is pregnant. Mills has no idea.
Pitt and Freeman do a great job at showing the professionalism of these investigators, even though they are at two completely different stages in their careers. Pitt's grounded performance makes the film's shocking conclusion even more impactful.
6. Fight Club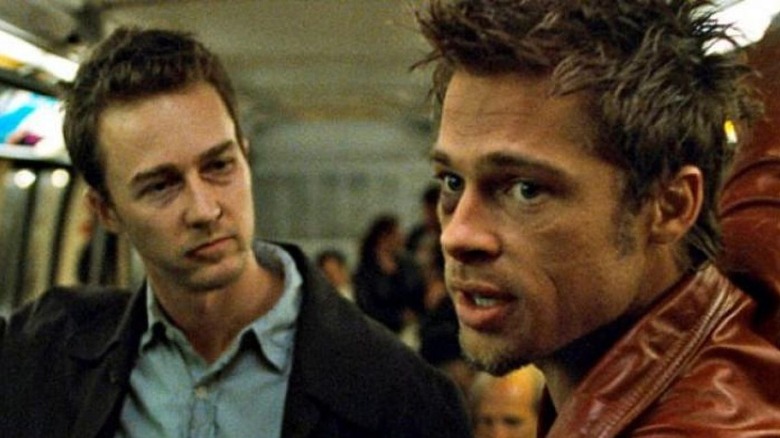 20th Century Fox
David Fincher's 1999 masterpiece, "Fight Club," is one of the most influential films of its generation, but it's also one of the most widely misinterpreted. When the film was first released, it received a very mixed response. Some critics felt that "Fight Club" was lionizing, and even promoting violent behavior. However, "Fight Club" is much more nuanced than these initial skeptics may have thought. The film is an eerily prophetic study of why violence permeates society. The film's protagonists aren't intended to be empathetic. Fincher satirizes aggressive masculinity. These themes are just as relevant today as they were at the end of the 20th century.
Pitt gives a career-defining performance as Tyler Durden, the leader of an underground fight club. Durden encourages men to brawl in violent fights. He forces them to keep it a secret. Durden criticizes consumerism. He inspires his followers to start a resistance movement. His mission attracts the interest of an unnamed narrator (Edward Norton).
"Fight Club" ends with one of the most shocking twists of all time. It is revealed that Tyler Durden is the narrator's alternate personality. Pitt and Norton do a great job at making their characters feel like polar opposites. Norton is very reserved while Pitt is very aggressive.
5. Inglorious Basterds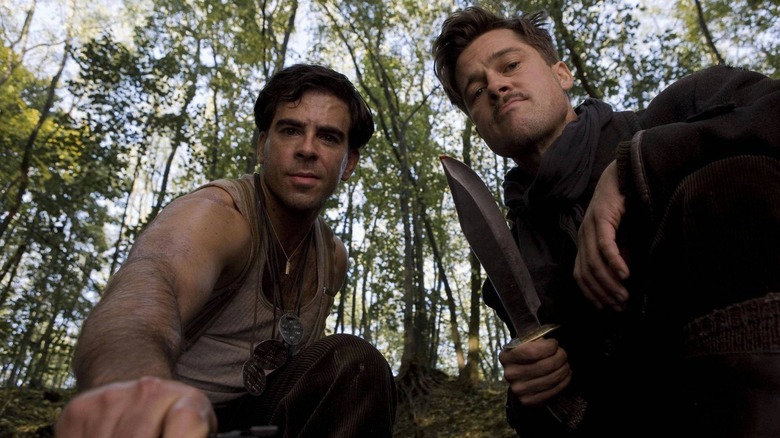 The Weinstein Company
Quentin Tarantino's 2009 historical epic, "Inglourious Basterds," was a slightly different type of project for the renowned filmmaker. While it retains the dark humor and idiosyncratic dialogue that made Tarantino's early work so iconic, the film deals with serious historical issues. Tarantino explores the horror of the Holocaust. He highlights the strengths of the anti-fascist characters, showing their heroism in the face of oppression.
Brad Pitt stars as Lieutenant Aldo Raine, an American military commando from Tennessee. Raine earned his reputation by fighting against the Klu Klux Klan. He recruits a special task force of Jewish-American soldiers and nicknames them "the Basterds." The Basterds are tasked with instilling fear into the hearts of their enemies. They learn that Adolf Hitler himself will be attending the premiere of a German propaganda film. After meeting with the Allies' spy, the German film star Bridget von Hammersmark (Diane Kruger), Raine decides to infiltrate the premiere with the Basterds.
Tarantino does a great job at appropriately utilizing the dark humor. Pitt delivers one of his funniest performances. Raine's exaggerated accent makes him more eccentric. When the Basterds infiltrate the premiere, they must disguise themselves. Raine has trouble masking his Tennessee drawl. This adds a lot of humor and tension to the sequence. It is rewarding to see Raine finally get his vengeance on the wicked Nazi officer Hans Landa (Christoph Waltz) at the very end.
4. Ad Astra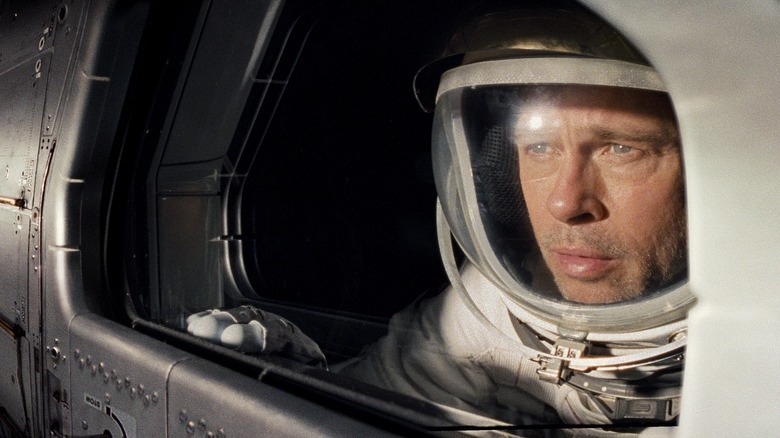 20th Century Fox
James Gray's film "Ad Astra" is one of the best science fiction films of the 21st century. Despite its epic scope, the film tells an intimate story about a paternal bond. "Ad Astra" is distinct among today's sci-fi films. It is thoughtful, meditative, and very emotional.
"Ad Astra" takes place at the end of the 21st century, when space travel has become very advanced. A mysterious series of power surges emerges at the edge of the Solar System. Major Roy McBride (Brad Pitt) is called in by U.S. Space Command to investigate the anomaly's origins. SpaceCom explains to Roy why he was selected: They think the surges are linked to the Project Lima mission, which began 30 years earlier. Roy's father, H. Clifford McBride (Tommy Lee Jones), was in charge of a mission to search the solar system for intelligent life. However, Clifford and his team disappeared on Neptune.
Roy's emotions are fragile. He had always struggled to connect with his father. However, Roy always considered Clifford to be his inspiration for becoming an astronaut. Roy is also recovering from a traumatic incident in which he nearly perished above the Earth's atmosphere. He has fallen out of touch with his estranged wife, Eve (Liv Tyler). Roy does not feel like he is in a stable condition during the mission. Ironically, it takes an epic space journey for Roy to start healing. His final conversation with his father is heartbreaking.
3. Moneyball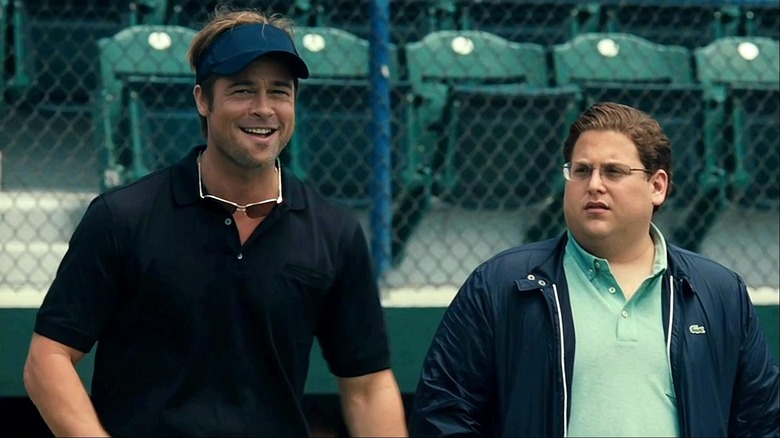 Sony Pictures
Despite his popularity, Brad Pitt is still able to play an underdog. He delivered one of the most understated performances of his career as the legendary sports manager Billy Beane, who changed the way baseball strategies were developed. Bennett Miller's 2011 biographical film "Moneyball" explores Beane's life during the Oakland Athletics baseball team's 2002 season.
Before he became well-known, Beane was considered a failed talent. When he was in high school, Beane was offered a full-ride scholarship to Stanford University. However, he decided to pursue his baseball career instead. In the 1980 Major League Baseball draft, Beane was a first-round pick by the New York Mets. Unfortunately, he never fulfilled their high expectations. After a disappointing career on the field, Beane began using his statistical analysis skills to develop a cutting-edge strategy for selecting players. He conceived of a system in which undervalued players could be combined to create the ideal winning team.
Pitt explores Beane's intelligence and sensitivity. He is empathetic to the players that he's managing, as he knows what professional embarrassment looks like. Beane remains committed to his strategy, even when the industry professionals look at him with skepticism. He has an entertaining relationship with his assistant manager, Peter Brand (Jonah Hill). Pitt and Hills' chemistry gives the film a great sense of humor.
2. The Assassination of Jesse James by the Coward Robert Ford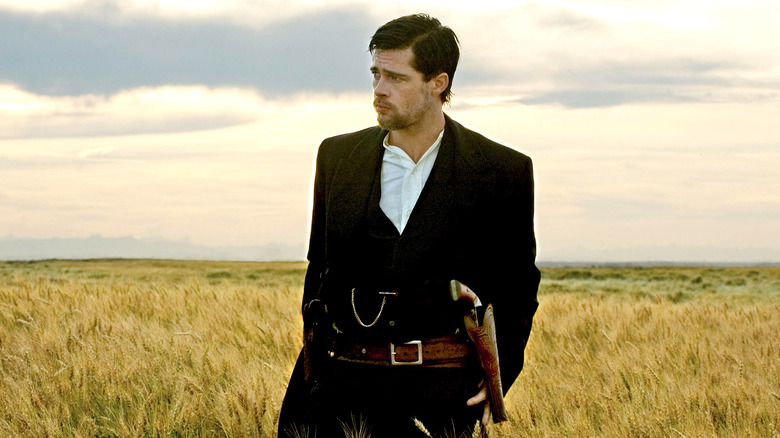 Warner Brothers
Andrew Dominik's epic Western, "The Assassination of Jesse James by the Coward Robert Ford," explores the nature of celebrity culture and fixation. Even though it is set during the 1880s, the theme of fan obsession is as relevant as it is today. In many ways, a famous outlaw like Jesse James is similar to contemporary movie stars. There are so many rumors, stories, and legends told about James that it is hard to know what he is really like. Who do you get to play one of the most notorious icons of the era? Brad Pitt, of course.
"The Assassination of Jesse James by the Coward Robert Ford" explores the life of Robert Ford (Casey Affleck), a spineless young outlaw who dreams of fame and fortune. James (Pitt) is Robert's idol. Robert's older brother, Charley (Sam Rockwell), is already associated with James. After several botched attempts, Robert finally gets to meet his hero. James is reclusive. He agrees to bring Robert on to his team but does not talk to him very often.
Dominik explores Robert's growing frustration. He tries to convince James that he's worthy but never seems to get the approval he is looking for. Robert begins to question James' decisions. Pitt does a great job at showing the famous outlaw's austere qualities and why they alienate Robert.
1. Once Upon a Time... In Hollywood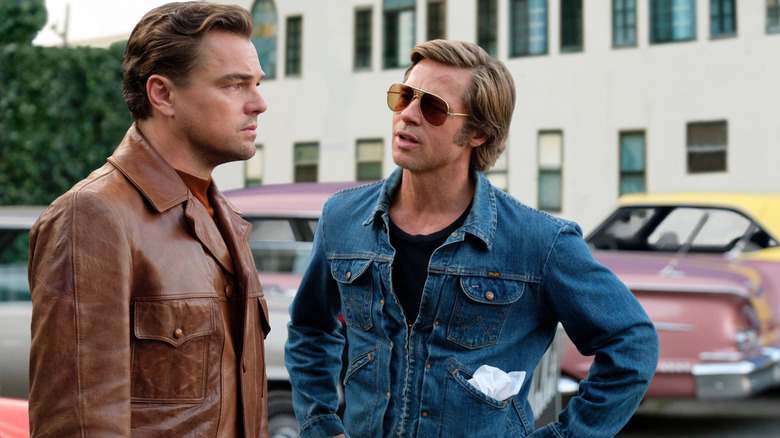 Sony Pictures
It's fitting that Brad Pitt's best performance sees him playing a dedicated actor. He didn't have to stretch his personality all that much to capture Cliff Booth's rugged charisma. However, Cliff is much more than just a pretty face. He is the heart of Quentin Tarantino's "Once Upon a Time... In Hollywood." Tarantino explores the last days of the supposed golden age of Hollywood. He reflects on how movie stars have begun to fade. At nearly three hours long, "Once Upon a Time... In Hollywood" is a giant love letter to this era.
The film takes place during the summer of 1969. History remembers that on August 8, movie star Sharon Tate, famed hairstylist Jay Sebring, coffee heiress Abigail Folger, Folger's boyfriend Voytek Frykowski, and Steven Parent were killed by members of Charles Manson's "Family." "Once Upon a Time... In Hollywood" explores the ways that the film industry was changing in the months that preceded the murders. Western television star Rick Dalton (Leonardo DiCaprio) fears that his career is going downhill. He is terrified that he will be forgotten. Rick relies on his best friend and stunt double, Cliff Booth (Pitt), to support him.
Pitt makes Cliff's dedication to Rick both hilarious and heartwarming. Even though Rick is ill-tempered, Cliff's compassion feels sincere. However, Pitt also shows the darker aspects of Cliff's personality.