Oscar-Winning Actor Daniel Day-Lewis Is Retiring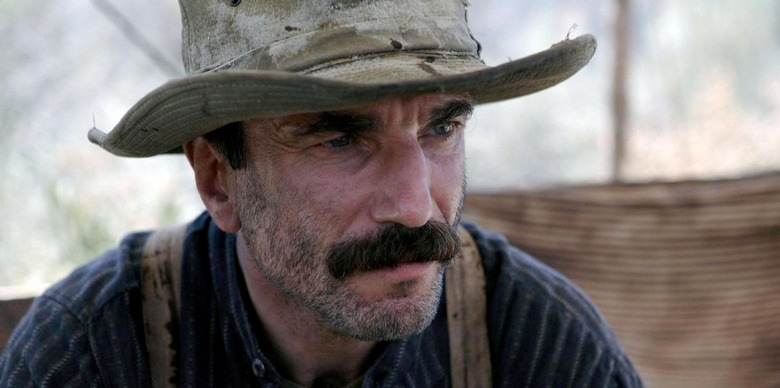 After winning three Oscars for his performances in My Left Foot in 1989, There Will Be Blood in 2007 and Lincoln in 2012, not to mention landing nominations for Gangs Of New York in 2002 and In the Name Of The Father in 1993, acclaimed actor Daniel Day-Lewis is retiring from acting, as indicated in an official statement released by one of his representatives.
Find out more about Daniel Day-Lewis retiring after the jump.
Daniel Day-Lewis once previously went into what he referred to as "semi-retirement" during the late 90s so he could get back to his passion of woodworking, as well as shoemaking in Florence, Italy. But this time it sounds like he's truly done with acting as a spokesperson for the actor released this statement today (via THR):
"Daniel Day-Lewis will no longer be working as an actor. He is immensely grateful to all of his collaborators and audiences over the many years. This is a private decision and neither he nor his representatives will make any further comment on this subject."
That's quick and to the point, and it makes me wonder if there's some kind of health issue that Daniel Day-Lewis doesn't want to have in the public spotlight. That's just speculation though. After all, the actor has always liked his privacy, doing very little in the way of press and promotion for the movies that he has starred in over the years. In a rare interview with The Guardian back in 2002 to promote Gangs of New York, he was asked if he enjoyed the promotional part of the filmmaking process, and he said:
"Not really, no. I know this is part of what we have to do. But I really have to be forced. I just want people to go and see the film. And I hope that they like it. I have done my part. And once I'm finished, I always feel a little empty inside. 'Is that all there was to it?' I always think. So, to be honest, I'm not sure it's something I'd like to do again in the near future. I certainly have no plans to work in a film at any point soon. I've managed to avoid it for the past five years."
He followed through on that promise since his next movie wasn't until The Ballad of Jack and Rose in 2005. Before Gangs of New York it had been five years since he starred in The Boxer. Daniel Day-Lewis always took long stints between movies, often using that time to prepare for roles in his intense, method way. As The Independent once recalled:
"When he was playing the womanizing brain surgeon in the Milan Kundera adaptation, The Unbearable Lightness Of Being, he taught himself Czech (even though the film was in English). As part of his preparation for playing the frontiersman in The Last Of The Mohicans, he learned how to build canoes. Most famously, in his first Oscar-winning role, as the Irish artist Christy Brown who had cerebral palsy in Jim Sheridan's My Left Foot, he spent almost the entire shoot in a wheelchair."
Surely that process has to be exhausting and has likely taken a toll on him over the years.
Daniel Day-Lewis' final film will be the fashion industry drama Phantom Thread, the next film from Paul Thomas Anderson, who last worked with the actor on There Will Be Blood. The film has a prime awards season release date on December 25, and if all goes well it could result in one final Oscar nomination. But even if that's the case, it doesn't sound like we'll hear anything further from the actor about his retirement.