How The Long Kiss Goodnight Changed Geena Davis' Career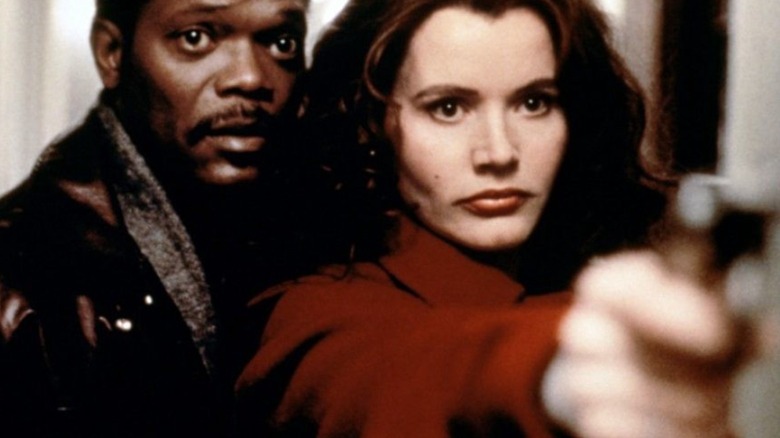 Warner Bros.
Without Geena Davis, "The Long Kiss Goodnight" could have been lost in its own excess. The intensity, the explosions, and the ridiculous conspiracy-amnesia plot all reflect a kind of big-budget action movie that no longer exists. And Davis, in the lead role(s), sells the story with heart and wit, a perfect fit for writer Shane Black's layers of irony. So why was it her last role as a Hollywood leading lady?
Davis' rise through Hollywood was swift. Comedies like "Tootsie" led to more three-dimensional roles in movies like "The Fly," which led to an Oscar win for 1988's "The Accidental Tourist" — all in less than a decade. With the assistance of then-husband Renny Harlin, Finnish action maestro, she pursued lead roles in action movies. Harlin cast her in his 1995 swashbuckler flop "Cutthroat Island" and as the suburban mom whose forgotten assassin past reemerges in 1996's "The Long Kiss Goodnight."
Davis would eventually come to note the unspoken Hollywood rule: once an actress hits 40, they're no longer offered the same variety of roles. It's classic sexism; the kind that casts women as objects and refuses to acknowledge their total humanity. In your 30s, you can still be an action star, a romantic lead, a woman on the run (or all three, as in Davis' Oscar-nominated turn "Thelma and Louise"), but afterwards, you can only be a mom. After "Long Kiss Goodnight," Davis' only film role in her 40s was in "Stuart Little" as (you guessed it) the mom.
From Mom to Assassin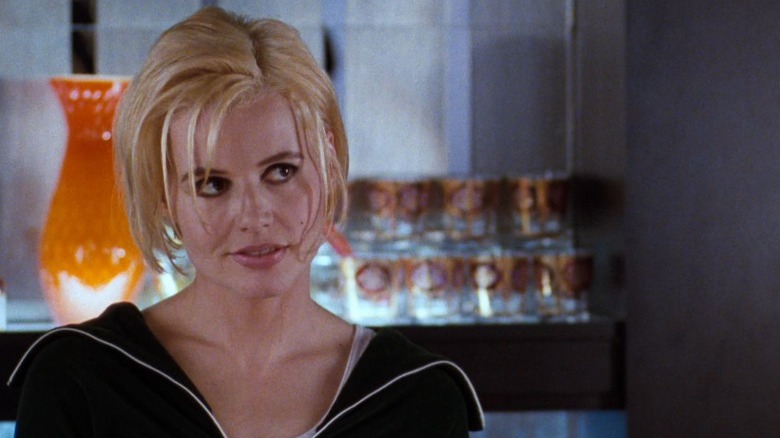 Warner Bros.
The injustice of that rings harder when you actually watch "The Long Kiss Goodnight." Besides its top-shelf Shane Black screenplay (yes, it's an odd couple buddy cop movie set at Christmas), it casts Davis in a way that services multiple dimensions of her screen personality. There's the warm-hearted mom Samantha (Davis), who woke up pregnant on a beach 8 years earlier, remembering nothing. And there's Charly (Davis), her past self, the hard-edged CIA assassin out to prevent a false flag terrorist attack on Niagara Falls.
When Charly's personality is awoken halfway through the film, you see the degree to which Davis has crafted two fundamentally different characters, each brought to life by her vivid performance. By the end of the movie, with her daughter Caitlin (Yvonne Zima) in life-threatening peril, the two personalities synthesize: the soccer mom becoming the violent action hero and vice versa. And the relationship between Samantha/Charly and Mitch (Samuel L. Jackson), a private detective she'd hired to find info on her past, develops in interesting and thoughtful ways as well. The sleazy local P.I. ends up way over his head when caught up in international intelligence disputes, and he needs Charly to keep him alive, but he still misses the kind woman who hired him, now lost forever.
Diverse Roles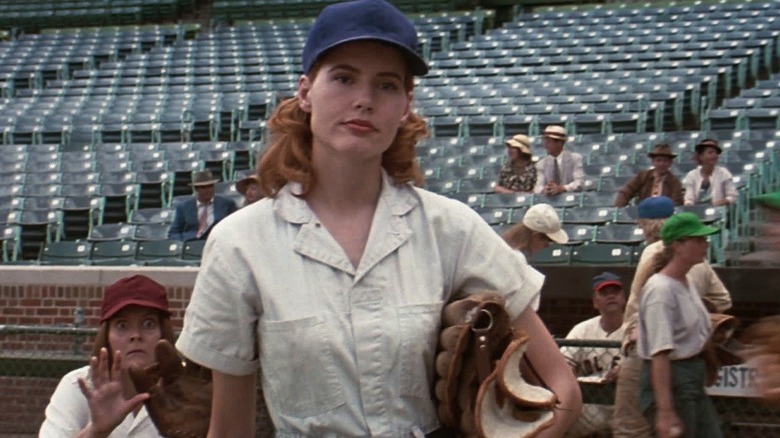 Sony Pictures
The action hero whose maternal instinct is her greatest strength followed a trend, of a piece with Ripley (Sigourney Weaver) in "Aliens" or Sarah Connor (Linda Hamilton) in the "Terminator" series. In 1984, Davis had auditioned for the role of Sarah Connor, and 12 years later she was playing a new iteration of the type.
While Davis hadn't consciously been seeking out complex female roles throughout the '80s and '90s, it's undeniable that those are what she got. Even as a love interest in "The Fly" or the Bill Murray-directed "Quick Change," she brought weight, nuance, and humor to the parts. But with "Thelma and Louise" and "A League of Their Own," the movies themselves became oriented around the female experience, made more special by their rarity. She had hoped they would become more common. As Davis explained in 2016, "everyone thought tons of female buddy pictures and road movies would somehow materialize and they didn't."
With that string of already-beloved classics behind her, she had a sturdy foundation for future work, something that could withstand a flop. But "Cutthroat Island" was more than a flop. Saddled with an expensive international production, Harlin had begged not to make it and it cast a lasting pall over his wife's career prospects. "Long Kiss Goodnight" fared better at the box office, but still left less of an impression than its current cult classic status would have you believe.
Changing Goals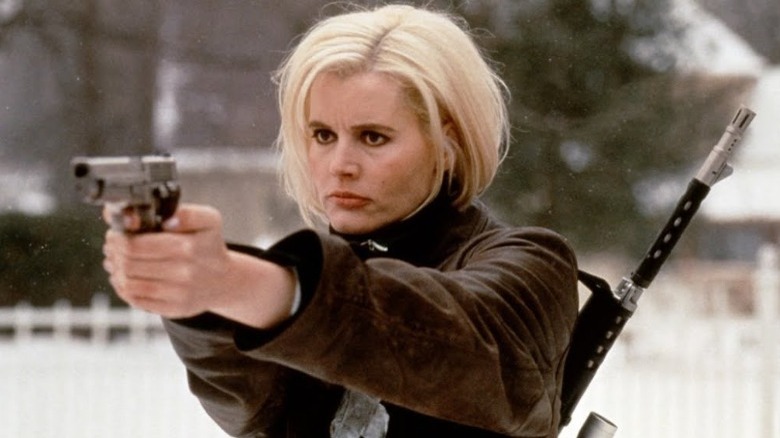 Warner Bros.
The damage of failed box office returns and her divorce with Harlin (coupled with gossip columnists' writing on his affair with an assistant) led to years on hiatus for Davis, broken up only by "Stuart Little." Well-received roles on television followed, with one that was particularly significant for Davis being "Commander in Chief," where she played the first female President of the United States.
Behind the scenes, however, Davis was beginning to focus on how to build significant industry change. Her years as a bankable movie star behind her, she put together a committee to examine various statistics for women on the screen. The impulse didn't really start until Davis was watching preschool-targeted shows with her young daughter, and realized that even young children's media excluded significant representation of female characters. Her activism also led to the creation of Arkansas' Bentonville Film Festival, where "A League of Their Own" played.
Geena Davis had hoped that her successes and leading film roles could build new opportunities for actresses. Those movies are still beloved, and represent a remarkably diverse group of genres, from inspirational sports movies to thrillers. And even after the modest success of "Long Kiss Goodnight," it's hard not to see the seeds of it in modern female-fronted action movies that play on the same dynamics.