POTD: Geena Davis Made 'A League Of Their Own' Mini-Reunion Happen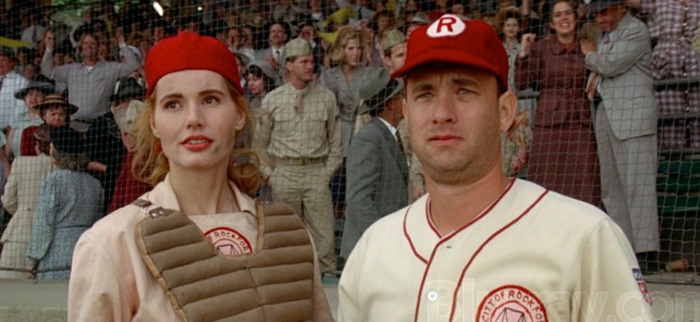 There are an abundance of great baseball movies out there, from Field of Dreams to The Sandlot. But more often than not, ladies who play baseball don't get the spotlight on the big screen. That's what makes A League of Their Own so special, and that's why it was previously selected for preservation  in the National Film Registry at the Library of Congress in 2012.
This past weekend, fans of A League of Their Own who happened to be attending the Bentonville Film Festival, which was co-founded by star Geena Davis, received a special treat by seeing a mini-reunion featuring some of the key players from the movie, along with a real member of the AAGPBL who played for the Rockford Peaches, the team portrayed in the film. See the A League of Their Own reunion photo after the jump.
Here's the photo from the Bentonville Film Festival's official Instagram:
Cast members from In A League of Their Own with Gina Casey, an original Peaches player kicking off the 2016 Reunion Game!
For those who don't know, the film directed by television icon Penny Marshall (who is also the sister of filmmaker Garry Marshall) tells a fictionalized account of the formation of the All-American Girls Professional Baseball League, created when World War II threatened to put Major League Baseball on hold. Specifically, we follow two sisters (Geena Davis and Lori Petty) who join the league and end up on the Rockford Peaches team.
Cast members in attendance included Ms. Davis along with Megan Cavanagh (Marla Hooch), Anne Ramsey (Helen Haley), Tracy Reiner (Betty Spaghetti), Ann Cusack (Shirley Baker), Freddie Simpson (Ellen Sue Gotlander), and Patti Pelton (Marbleann Wilkenson). The older woman in the front is Gina Casey, the real Rockford Peaches player, who threw out the first pitch at a softball game put together at the festival. Sadly Tom Hanks wasn't there to stop anyone from crying, and Lori Petty, Madonna and Rosie O'Donnell didn't make it either. Still, this is pretty great.
Now is there any chance we could get a Mighty Ducks reunion to happen sometime soon? Next year is the 25th anniversary, so keep your fingers crossed.