The 15 Best George Clooney Movies, Ranked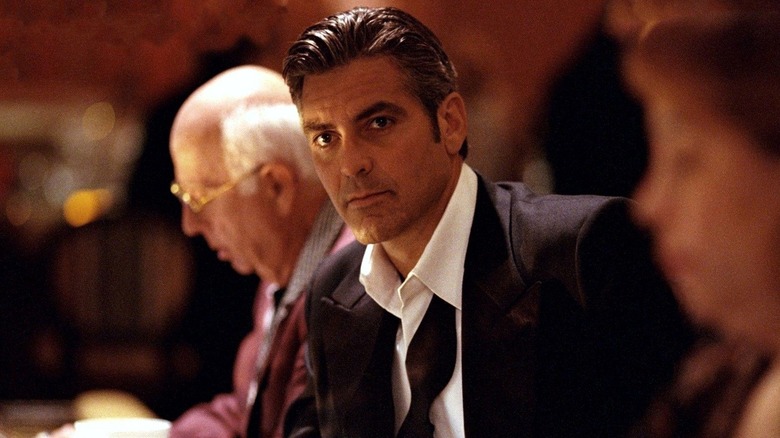 Warner Bros.
George Clooney is one of the most charismatic actors on the planet, but Clooney's inherent likeability shouldn't disguise what a great actor he is. While Clooney has a classical "movie star" sensibility reminiscent of Old Hollywood stars like Cary Grant, he's shown that he has incredible range and can deliver in all sorts of projects. Whether it's science fiction, biopics, comedies, thrillers, dramas, or even family films, Clooney brings the same level of commitment.
He frequently subverts his persona, and he's not too proud to take critical supporting roles alongside his famous leading roles. Clooney first broke out on television with an acclaimed role on "ER," and he's one of the rare television stars of the era who successfully transitioned into a film career. Clooney survived the embarrassment of playing Bruce Wayne in "Batman & Robin" in a performance he has often apologized for, and instead worked on many awards contenders.
Clooney has worked with many of the greatest filmmakers working today, and has courted frequent collaborations with directors like Steven Soderbergh and the Coen Brothers. However, Clooney has also developed into a fantastic director in his own right.
Here are the 15 greatest George Clooney movies of all time, ranked.
15. Confessions of a Dangerous Mind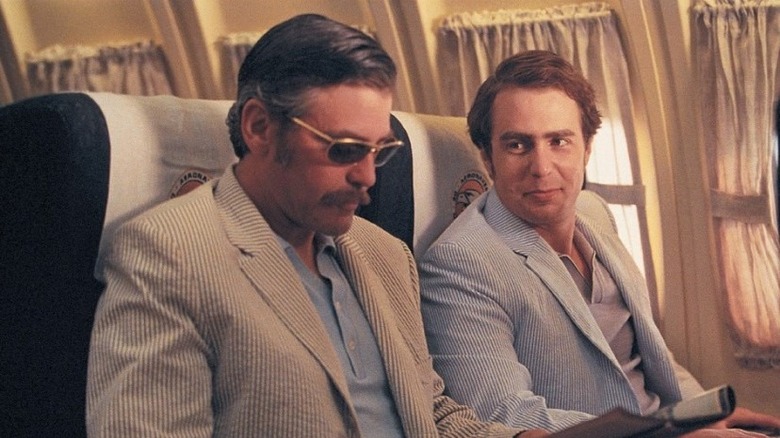 Miramax Films
Clooney's 2002 directorial debut "Confessions of a Dangerous Mind" was an immediate blast of originality thanks to the idiosyncratic tone and mix of comedy, crime, and nonlinear narrative structure. It's hard for a first-time director to announce themselves in such a prominent way, but Clooney had learned from working with first-rate filmmakers and proved he had a unique voice of his own behind the camera. Clooney gets one of the best performances out of Sam Rockwell's career and also plays a pivotal role in the story.
Aspiring television writer Chuck Barris (Rockwell) travels to Manhattan after a heartbreak and gains a job working as a page at NBC. As he rises through the ranks of the television industry, Barris is recruited by the CIA handler Jim Byrd (Clooney), who finds him brawling in a bar. Byrd hires him to be an assassin, but Barris doesn't give up his dreams of a television career.
14. Burn After Reading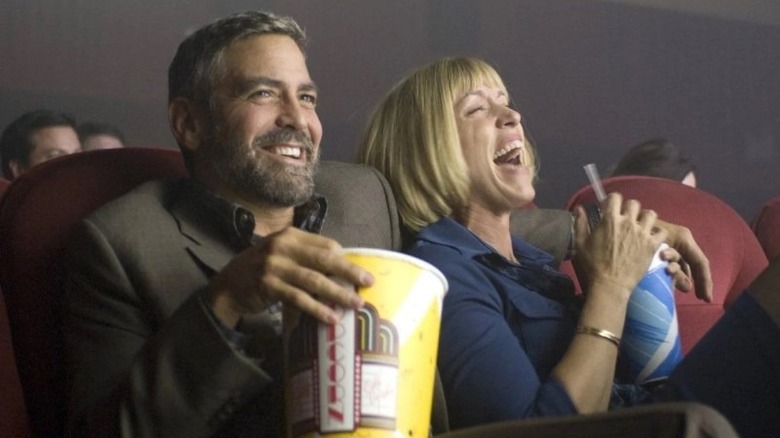 Focus Features
Although it is not always ranked among the Coen Brothers' best films, the initial, middling responses for 2008's "Burn After Reading" got it wrong. Time has been kind to the outrageous satire, which responds to the ever-connected world of the 21st Century through eccentric flawed characters who are caught amidst a ridiculous conspiracy. It's a film that reflects on the pointless nature of trying to make sense of things; in a world that's seemingly more intelligent and informed than ever, the world of espionage and crime is rather pointless.
Clooney stars as the paranoid U.S. Marshal Harry Pfarrer (Clooney), who is secretly having an affair with Katie Cox (Tilda Swinton), the wife of the eccentric secret agent Osbourne (John Malkovich). Osbourne is retiring soon and records the details of his career in an audio cassette that he intends to use as the basis for his autobiography, but the classified information goes missing.
13. Solaris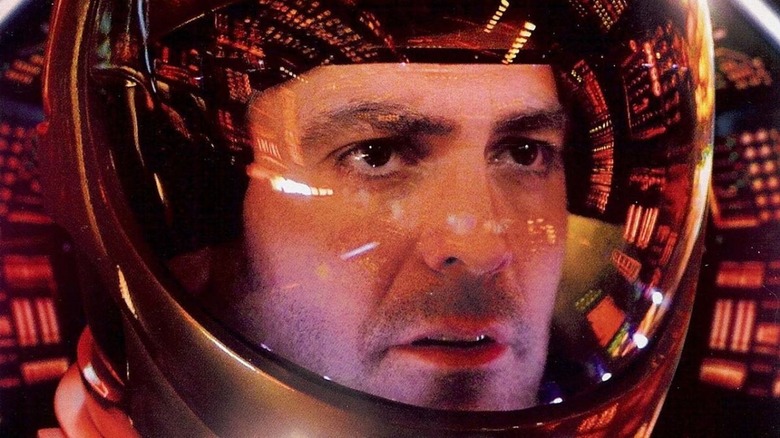 20th Century Fox
There's always a danger with remaking a beloved classic, as it can be hard for a remake to stand alongside an iconic original film. Steven Soderbergh boldly remade the Russian science fiction classic "Solaris" from director Andrei Tarkovsky, one of the most influential arthouse sci-fi films of the '70s. Thankfully, Soderbergh's 2002 film is unique while still possessing a meditative quality and reflects on human existence. Clooney delivers a strong performance as the clinical psychologist Dr. Chris Kelvin.
Kelvin is recruited for a mission to a remote space station orbiting the Solaris solar system in order to look into a mysterious phenomenon that DBA scientists can't understand. The details of the mission are secretive, and as Kelvin and the small crew venture further into space their memories begin to be affected. Kelvin sees visions of the enigmatic Rhea (Natascha McElhone), and he's unable to recognize what is real and what is part of his imagination.
12. Gravity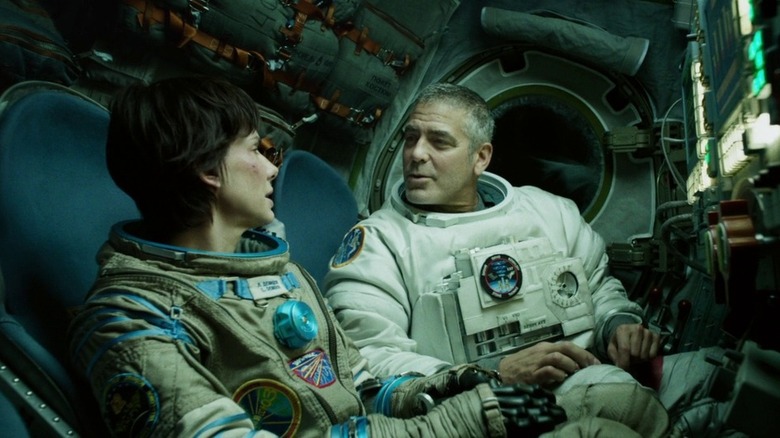 Warner Brothers
Clooney has the unique ability to seem in command amidst stressful scenarios, and during thrilling films he can deliver nurturing and comforting performances. Alfonso Cuaron's 2013 space epic "Gravity" is one of the most visually stunning films of the 21st Century, featuring groundbreaking computer-generated imagery and an immersive use of 3D. It follows the astronauts Dr. Ryan Stone (Sandra Bullock) and Lieutenant Matt Kowalski (Clooney) after their NASA vessel goes through a damaging storm and they're left stranded.
Stone has become obsessed with traveling to space in order to escape a tragedy within her family history that she's coping with. Kowalski is able to provide her with comfort and support as she reflects on her memories, and once the crash begins he helps her navigate the dangerous situation. Although he's only in the film for a brief amount of time, Clooney's emotional performance sticks with Stone throughout the story.
11. Hail, Caesar!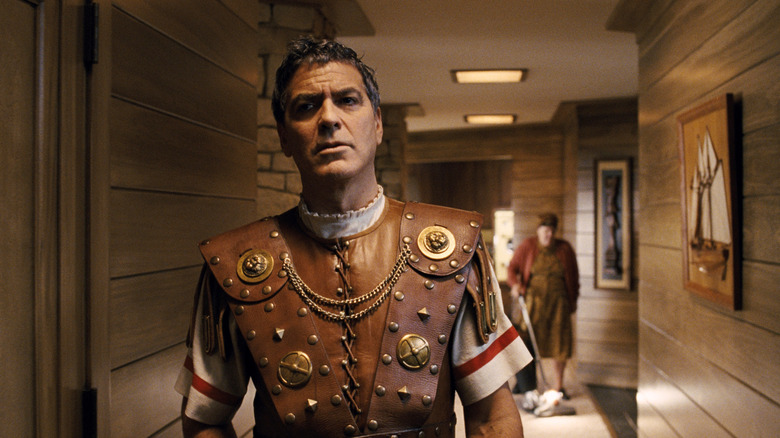 Universal Pictures
Clooney is more than comfortable lampooning himself and giving self-aware performances, and the Coen Brothers have gotten some of the funniest work out of Clooney's entire filmography. "Hail, Caesar!" is a hilarious satire of the Golden Age of Hollywood with over-the-top depictions of famous figures within the film industry. It's an insightful look at the era that features a great ensemble of stars as wonderfully ridiculous characters.
Clooney has a critical role as Baird Whitlock, a famous star of biblical epics similar to Robert Taylor or Charlton Heston, but he's winking at the bloat and ego of movie stars because Baird is completely clueless. He's managed by the Hollywood fixer Eddie Mannix (Josh Brolin), and when Baird goes missing during the filming of his new historical epic Eddie has to find him. Although Baird is the central driving point of the plot, he seems to never know what's actually going on or why he's been abducted.
10. From Dusk Till Dawn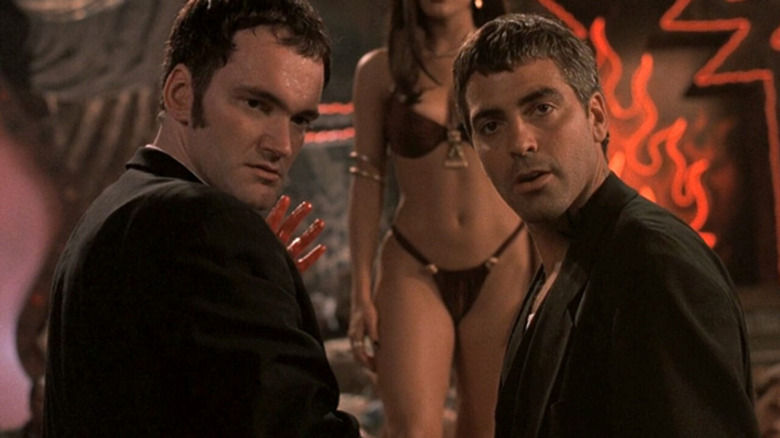 Miramax Films
"From Dusk Till Dawn" came early within Clooney's career straight after his success on television with "ER," and he immediately established his movie star presence with a challenging performance. "From Dusk Till Dawn" mixes elements of dark comedy, thrillers, horror, and satire, and it takes a talented actor to handle the drastic tonal shifts. Clooney was up to the challenge with a charismatic performance that acknowledges the dark nature of the story.
The bank-robbing brothers Seth (Clooney) and Richie Gecko (Quentin Tarantino) rob a series of banks across Texas and aim for the Mexican border to escape authorities. They kidnap the preacher Jacob Fuller (Harvey Keitel) and his daughter Katherine (Juliette Lewis). They try to remain undercover by camping out at a very boisterous border cantina, but the film takes a horror twist when the bar's residents are revealed to be vampires. Clooney is uncharacteristically cast as a violent character.
9. Out of Sight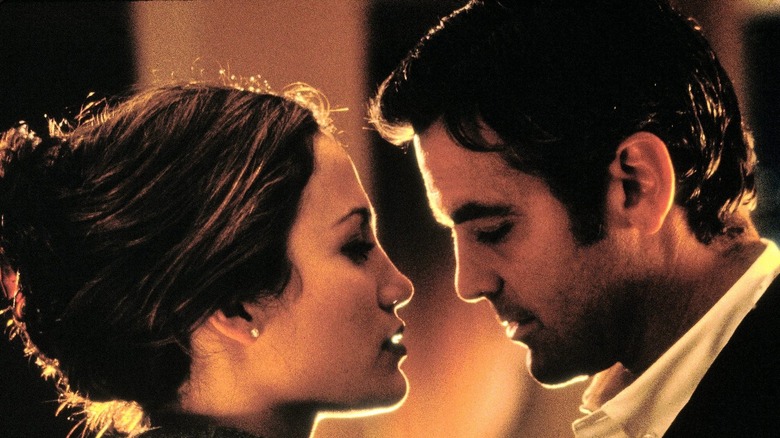 Universal Pictures
Clooney's inherent charm makes him perfect to star in caper films, and he's starred in many heist films throughout his career such as "Fantastic Mr. Fox," "Three Kings," and the "Ocean's" trilogy, and "Out of Sight" is another fun classic that stands alongside those great films. It began one of the most significant partnerships of Clooney's career, as it was his first collaboration with the brilliant Steven Soderbergh. 
Based on the acclaimed Elmore Leonard novel, "Out of Sight" follows bank robber Jack Foley (Clooney), who is pitted against U.S Marshal Karen Sisco (Jennifer Lopez). Jack manages a heist team with Buddy Bragg (Ving Rhames) and Glenn Michaels (Steve Zahn) that Sisco is pursuing, but against their better judgment, Karen and Jack begin to work together and form a romance. The film tracks their relationship in a nonlinear fashion, and Clooney and Lopez have terrific chemistry.
8. Fantastic Mr. Fox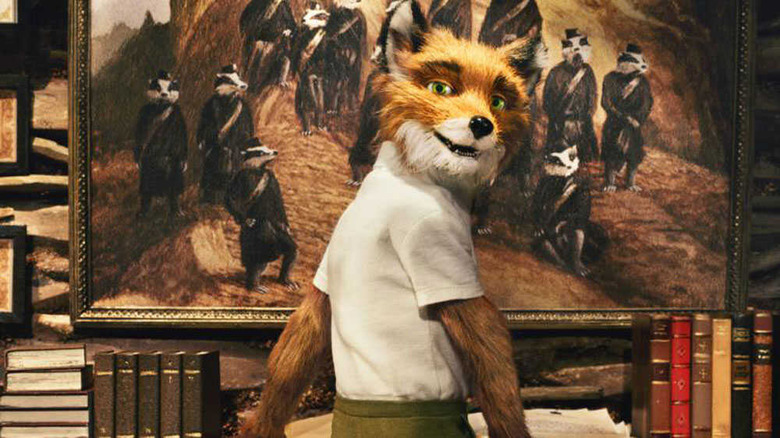 20th Century Fox
The idea of a famous movie star voicing an animated character in a children's film is often deployed as a gimmick, and Clooney would seemingly have an easy time giving a vocal performance considering his naturally soothing voice. However, he shows real skill with Wes Anderson's 2009 adaptation of the Rohl Dahl book "Fantastic Mr. Fox." It's a hilarious adventure film that ranks among Anderon's best work, and Clooney is perfect as a slick heist operator not dissimilar from Danny Ocean.
Mr. Fox gives up his life of crime in order to keep his promise to get clean to his wife, Felicity (Meryl Streep). However, Mr. Fox can never pass on a lucrative heist prospect, and he decides to rob three evil farmers with the help of his best friend, Clive Badger (Bill Murray). He recruits his nephew, Kristofferson Silverfox (Eric Anderson), which causes feelings of jealousy within his son, Ash (Jason Schwartzman). Anderson doesn't subvert his style in any way for a family audience, and amusingly the characters say "curse" instead of actually swearing.
7. The Ides of March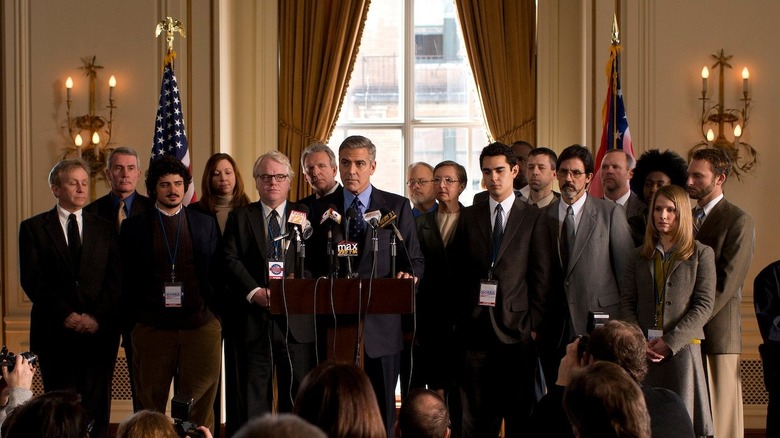 Sony Pictures
Clooney's gripping 2011 political drama "The Ides of March" is one of the most painfully realistic depictions of the modern American election cycle in modern film history, and Clooney once again proves himself as a filmmaker with his incredible direction and screenplay. He co-stars as the Democratic Governor of Pennsylvania Mike Morris, who is in serious contention to win the primary nomination to be elected President of the United States.
Morris's campaign manager Paul Zara (Philip Seymour Hoffman) manages a difficult press cycle with the help of his junior manager Stephen Meyers (Ryan Gosling), a highly intelligent young analyst who believes in Morris' cause. Morris is optimistic about Meyers's abilities and their chance of victory, but Meyers learns that Morris has secretly been having an affair with the intern Molly Stearns (Evan Rachel Wood), with who he is also romantically involved. After Molly is shockingly killed in a car accident, Meyers is forced to reassess his perspective of Morris and considers joining the rival campaign manager Tom Duffy (Paul Giamatti).
6. Good Night, and Good Luck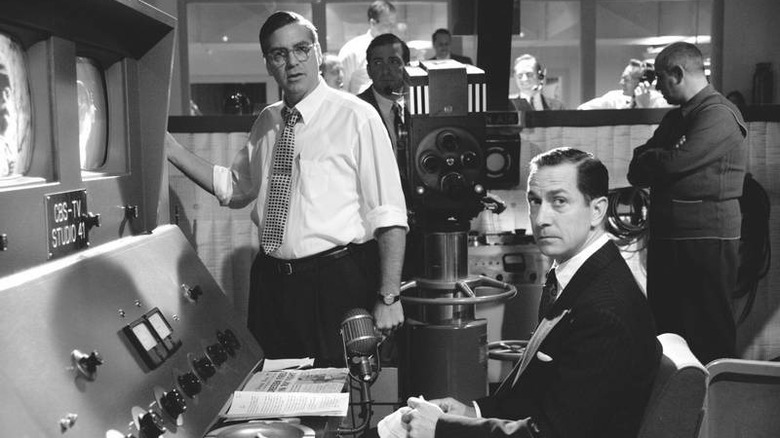 Warner Independent Pictures
Clooney has proven to be a very talented director, and he often spotlights critical issues and moments from history that he feels are important. If crafting a meticulous drama about a controversial period of American history is challenging enough, Clooney appears in the film in a powerful supporting performance. While some directors may be so egocentric that they feel the need to star in their films as well, Clooney is comfortable handling an ensemble and gets a career best performance out of David Strathairn.
Set in the 1950s amidst the "red scare" over the rise of communism, "Good Night, and Good Luck" follows the CBS journalist and anchor of the CBS news program "See it Now," Edward Murrow (Strathairn). Murrow and his staff struggle to continue their nightly broadcast amidst the efforts by Senator Joseph McCarthy to accuse prominent media figures of secretly being communists. Clooney has a critical supporting performance as the show's producer Fred Friendly, who takes on the difficult task of protecting the crew. Clooney uses this incredible true story as a means to spotlight the importance of journalism, and criticize the censorship of controversial statements.
5. O Brother, Where Art Thou?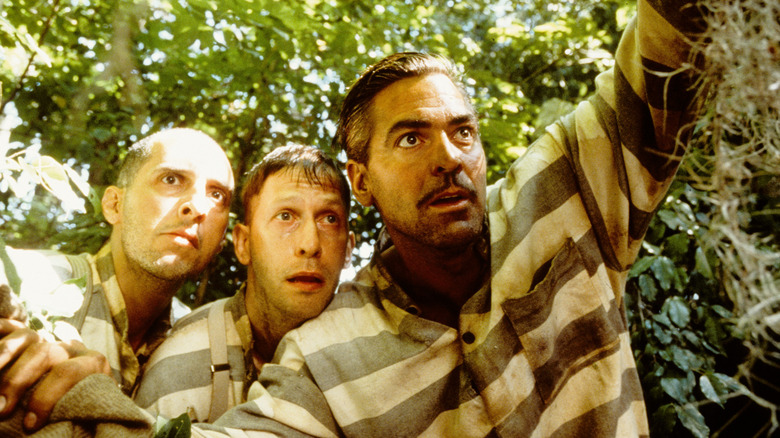 Buena Vista Pictures
Clooney certainly has taken bold swings with his performances, particularly in his comedic roles. He's unafraid to take on roles that make him look foolish or silly, and the Coen Brothers' unique brand of humor has often given him the chance to do so. Clooney sings and does challenging physical gags in the Coens' uproarious 2000 comedy "O Brother, Where Art Thou?" A loose retelling of the story of the Odyssey and figures from Greek mythology, "O Brother, Where Art Thou?" reimagines the narrative within the American South during the Great Depression.
Ulysses Everett McGill is a serial robber who recruits fellow criminals Pete (John Turturro) and Delmar (Tim Blake Nelson) to form a gang in search of a mysterious treasure. They are betrayed by Everett's cousin, Washington Bartholomew Hogwallop (Frank Collision), who turns them into local law enforcement. In order to escape and disguise their identities from authorities, the trio meets the talented blues musician Tommy Johnson (Chris Thomas King) and forms the band the Soggy Bottom Boys. Although the musician personas are only meant to be a disguise, their records surprisingly become hits. Clooney makes the musical numbers hilarious while also showing genuine talent, which is not an easy task. John Goodman has a hilarious performance as Big Dan Teague, a traveling one-eyed Bible salesman who secretly is a swindler.
4. Up in the Air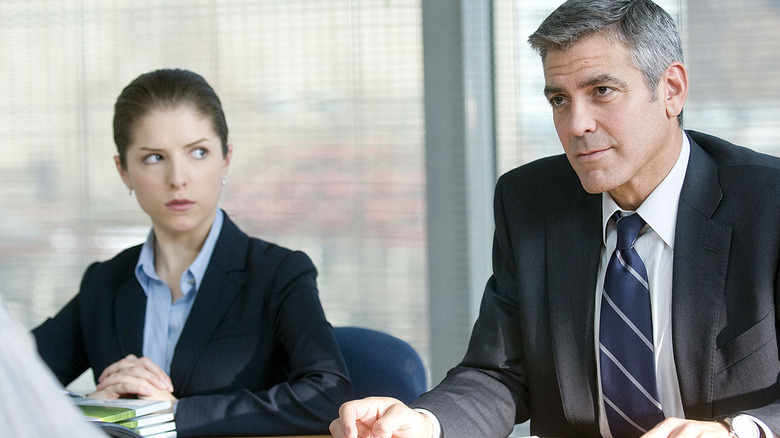 Dreamworks Pictures
Despite being someone who is seemingly well connected and affluent, Clooney has a remarkable ability to depict characters who are desperately seeking a true bond. Jason Reitman's powerful 2009 drama "Up in the Air" explores a man whose life is passing him by, and he's unable to assess his personal progress. He stars as Ryan Bigham, a corporate "downsizer" whose sole job is to travel between destinations and inform employees that they've been terminated. It's not a desirable position, but Ryan has grown into an expert at telling people the news that they've been dreading. He witnesses many breakdowns, outbursts, and moments of pure heartbreak as he works.
Ryan is assigned to mentor a young new hire by the name of Natalie Keener (Anna Kendrick) and travel with her as he operates. Ryan is skeptical of Natalie's abilities; she proved her value to the company by terminating many people via a video conference, but Ryan thinks delivering the news virtually is not as personal and challenging as doing it in person. He doesn't think she is emotionally ready to handle his challenging conversations. The two form a bond as they travel — although Ryan is cynical about Natalie's ambitious attitude, he realizes he's cut himself off from emotions. 
3. The Descendants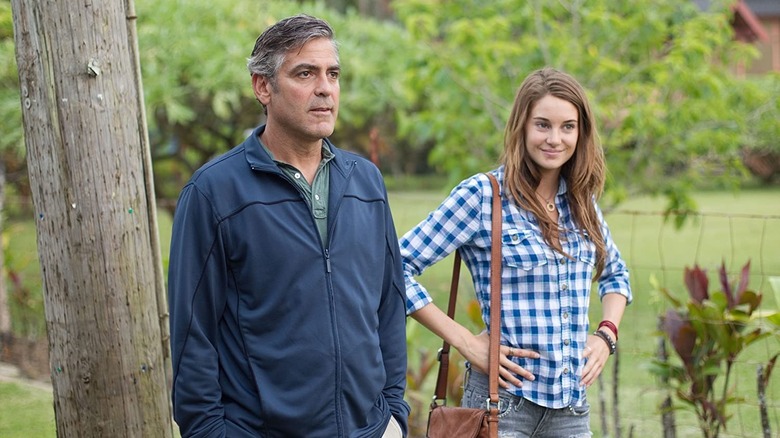 Fox Searchlight
Clooney has never been quite as vulnerable on screen as he is in Alexander Payne's emotional 2011 drama "The Descendants." Clooney stars as Matthew King, a highly successful attorney who owns an expensive house in Honolulu, Hawaii. King's life is changed by two major occurrences: His wife Elizabeth (Patricia Hastie) gets into a dangerous motorboat accident and is put into a medically induced coma, and he discovers that she's been secretly having an affair.
In order to deal with Elizabeth's state, King has to reconnect with his teenage daughter, Alex (Shailene Woodley), and adolescent daughter, Scottie (Amara Miller). Both girls are distant from their father and view him as unconnected, pretentious, and spoiled. He tries to form a bond with them while also preparing for the eventuality that Elizabeth's state could worsen. He reluctantly takes along Alex's boyfriend, Sid (Nick Krause), and the four search for Brian Speer (Matthew Lillard), the man Elizabeth was having an affair with.
At the same time, King is considering the future of his family trust which grants his extended relatives a large batch of land. The land would be highly lucrative if the Kings were to sell it, but it's also a place that has belonged to their family for generations.
2. Michael Clayton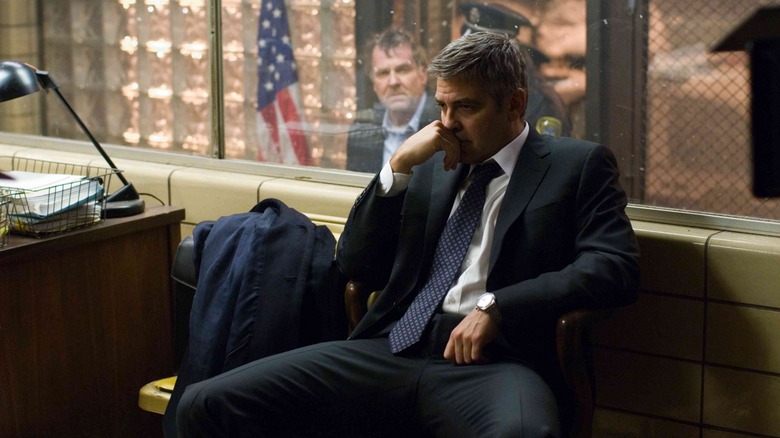 Warner Brothers
There's a darkness within Clooney that comes out in some of his best films, and he's proven that he can be vulnerable, terrifying, and empathetic all at once. Tony Gilroy's 2007 legal thriller "Michael Clayton" is one of the most disturbing films within Clooney's filmography, as it explores the illicit world of legal fixing and shady law practices with a gripping intensity. The role of a charismatic lawyer who can fix challenging scenarios is something that Clooney would seemingly be perfect for, but the film is about as different from a romp like "Intolerable Cruelty" as you can get.
Michael Clayton (Clooney) is a legal "fixer" who does the dirty work for a New York law firm by coercing clients and passing along secret information to lawyers. Michael's life is in danger due to a bad bet that cost him $75,000, and he's assigned to one of the most challenging cases of his career: His employer Marty Bach (Sydney Pollack) commands him to control the firm's top lawyer Arthur Eden (Tom Wilkinson), who had a public mental breakdown in the middle of a court proceeding. He learns that the counselor Karen Crowder (Tilda Swinton) also knows the reason for Arthur's public outcry; he gained access to secret documents that reveal the firm had knowledge of a carcinogen that claimed many lives.
1. Ocean's Eleven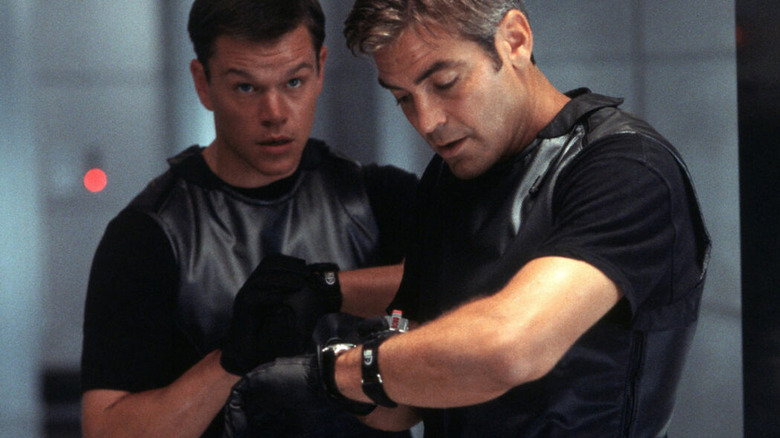 Warner Brothers
No role personifies Clooney's endearing charisma quite like Danny Ocean. While it's possible that Clooney is as slick and charming as his iconic character, Danny is a fully formed character who shows true depth. It's not obvious, but he's inherently vulnerable. Danny has made his career through charming everyone around him and uses dramatic irony as a humorous deflection from any concerns about his psyche. However, he's forced to be completely sincere as he vies for his ex-wife Tess (Julia Roberts).
"Ocean's Eleven" reunited Clooney and director Steven Soderbergh, and is a remake of the 1960 Rat Pack film of the same name. Ironically, the original film is a rather dull film that didn't develop a real story outside of the performances, but Soderbergh's version actually engages with the characters and takes time to set up its meticulous heist sequences. The film follows Danny, who has been recently released from prison but immediately returns to his old ways by planning the robbery of several Las Vegas casinos alongside his best friend, Rusty Ryan (Brad Pitt). They assemble nine heist experts who work to orchestrate the complex scheme, but Danny hides his true motivation, which is winning back Tess from the casino's owner, Terry Benedict (Andy Garcia). Danny bonds with his team early on, but they gradually begin to question his leadership.