Coen Brothers' Burn After Reading Gets Middling Early Reviews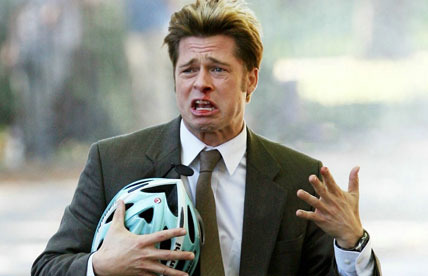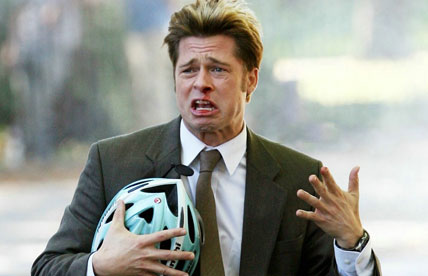 The balloon of blind faith gifted the Coen Brothers after No Country For Old Men (and many other great films) by critics and bloggers is beginning to sputter across the Netz. The bros' new CIA kneeslapper Burn After Reading starring George Clooney and Brad Pitt is receiving decidely mixed early word-of-mouth and reviews from the Venice Film Fest.
"Everything here, from the thesps' heavy mugging to the uncustomarily overbearing score by Carter Burwell and the artificially augmented vulgarities in the dialogue, has been dialed up to an almost grotesquely exaggerated extent, making for a film that feels misjudged. ...Nothing about the project's execution inspires the feeling that this was ever intended as anything more than a lark, which would be fine if it were a good one. As it is, audience teeth-grinding sets in early and never lets up." – Variety
"Joel and Ethan Coen clearly are in a prankish mood, knocking out a minor piece of silliness with all the trappings of an A-list studio movie. Those who relish this movie might treat it as the second coming of "The Big Lebowski"; those who don't might wonder at a story in which no character has a level head." – The Hollywood Reporter
Word of mouth...
"I've spoken to another critic who saw it and was asking himself as he watched the first two acts, 'Why am I not laughing?'" – Jeff Wells jus' sayin'
The Guardian was seemingly pleased with the film, but they also refer to it as an "afterthought"...
"Burn After Reading may also go down as arguably the Coens' happiest engagement with the demands of the Hollywood A-list – but this bit of career development may also be contributing to a diminishing of their particular film-making strengths. ...in comparison [to NCFOM], [the film is a] bit of a bantamweight: fast moving, lots of attitude, and uncorking a killer punch when it can."
Personally, I've seen Raising Arizona and The Big Lebowski countless times, but I casually walked out on both The Ladykillers and Intolerable Cruelty. When Clooney does cheeky comedy, it rarely gels—he often reminds me of a pillow trying to be funny, weird, right?—while the pics of Brad Pitt's hair are too overly stylized Beavis for my liking. And yet the cast undeniably slays: Tilda Swinton, John Malkovich, JK Simmons, Richard Jenkins and Frances McDormand. We'll be there, what about you?
via The Playlist
Discuss: Were any of our readers at the screening? Do you plan on seeing this? What's your favorite Coens comedy?