All Of Wes Anderson's Movies Ranked Worst To Best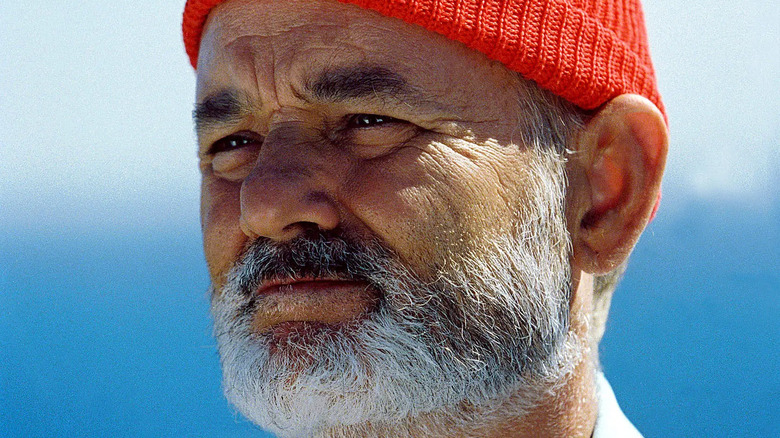 Shutterstock
Wes Anderson is a director whose name itself is its own genre. Although plenty of filmmakers have tried to imitate Anderson's symmetrical visuals, colorful environments, and quirky characters, there's no mistaking the look and feel of a genuine Wes Anderson film. Every one of his movies is immaculately designed and distinctly written. You can't mistake his gorgeous sets or oddball dialogue for the work of anyone else.
Design is a point of obsession for Anderson, who loads his backgrounds with visual details and recurring motifs that make each shot a form of visual poetry. His characters are often stuck in a prolonged state of arrested development, with his movies showing how they change, and grow, over long periods of time. While often melancholy, Anderson's films are usually classified as comedies due to his whip-smart humor.
Anderson's latest film, "The French Dispatch," debuted to the critical acclaim that the director usually receives, so there's never been a better time to look back at Anderson's work. Here is every single Wes Anderson film, ranked from worst to best.
10. The Darjeeling Limited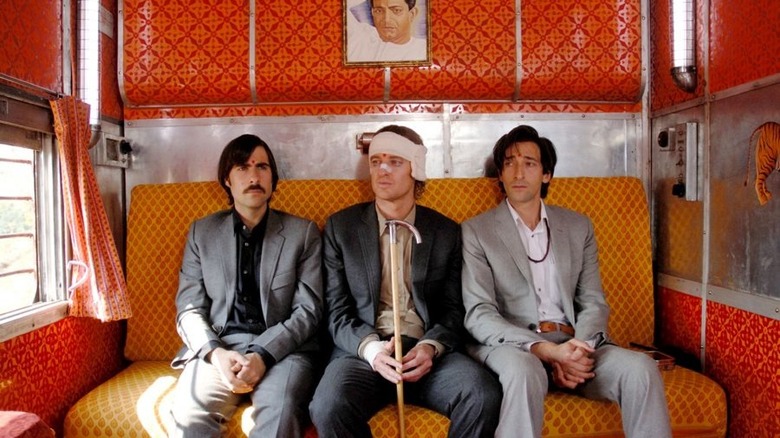 Fox Searchlight Pictures
"The Darjeeling Limited" is a visually enchanting yet thematically simple movie by Anderson. Visually, all of Anderson's films are overloaded with beautiful compositions, but his best work also approaches its characters' growth in nontraditional ways. By contrast, "The Darjeeling Limited" is more straightforward, with its story of three estranged brothers who reconnect in the aftermath of their father's death.
Recently scarred motorcyclist Francis (Owen Wilson), family man Peter (Adrien Brody), and writer Jack (Jason Schwartzman) take a train across India to undergo a spiritual journey. Packing the three brothers together in such a small space inevitably leads to bickering, as they've long since grown apart. While the performances are all great, particularly Wilson as an overbearing sibling who's secretly hoping to reunite with their mother, Anderson's writing is lacking. These are familiar archetypes, and the framing device, which deals with spiritual discovery, lacks subtlety.
Anderson's trademark humor also feels less natural here. The characters that the brothers meet on their journey are idiosyncratic, but not particularly memorable. Visual gags are also lesser; the moment when the brothers literally toss aside their luggage as they learn to loosen up feels particularly underwritten. "The Darjeeling Limited" isn't without merit — its satire of clueless American tourism is amusing, and there are heartfelt moments of reconnection once the brothers return home — but, for the most part, it feels like Anderson is just going through the motions.
9. Isle of Dogs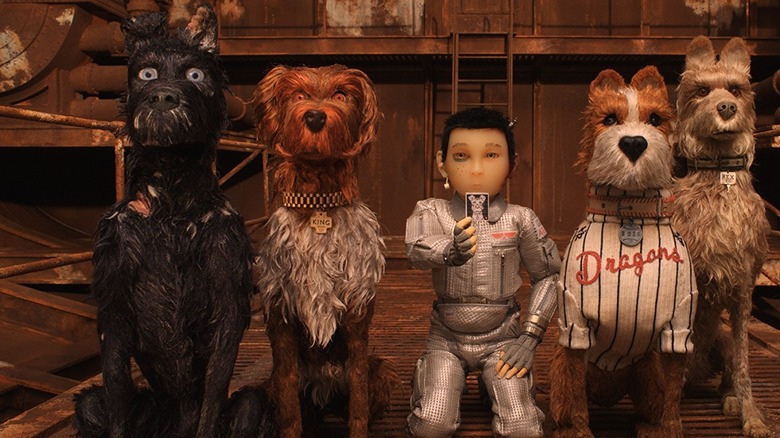 Fox Searchlight Pictures
Anderson's second animated movie strikes the same unique tone as "Fantastic Mr. Fox." Anderson's films typically feature crass humor and unexpected moments of extreme violence, but those are downplayed here in favor of a story about a boy and his dog. The transition isn't unnatural, as Anderson funnels his quirky stylistic impulses into a fairly mature adventure for children.
"Isle of Dogs" is the more thematically ambitious of Anderson's two animated projects, telling the story of young Atari Kobayashi (Koyu Rankin) and his lost dog Spots (Liev Schreiber), set against the backdrop of an uprising against the totalitarian regime of Mayor Kenji Kobayashi (Kunichi Nomura) by a group of student protestors led by Tracy Walker (Greta Gerwig). At the same time, a group of stray dogs, including Chief (Bryan Cranston), Rex (Edward Norton), King (Bob Balaban), Duke (Jeff Goldblum), and King (Bob Balaban), search through an island of trash remnants for Spots.
The two storylines occasionally conflict, and the student rebellion plot often distracts from the more heartfelt central narrative. The film is among Anderson's most controversial, as spotlighting American students in a story about Japanese regime change led to accusations of cultural appropriation. However, the dogs are simply adorable, and Anderson does a great job of giving them distinct personalities. "Isle of Dogs" is mostly charming, but its pacing makes it one of Anderson's lesser efforts.
8. The French Dispatch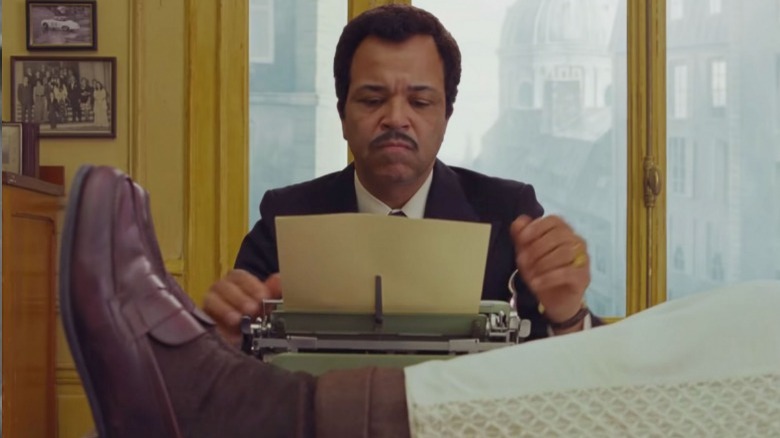 Fox Searchlight
With "The French Dispatch," Wes Anderson fans essentially get three Anderson films for the price of one. The anthology ensemble story focuses on the various investigations and adventures of the staff of an international news journal, and the film utilizes Anderson's chaptered structure to explore multiple storylines. As a result, it's a consistently exciting film, thanks to the many characters that appear, but doesn't reach the emotional depth of his best work. Anderson's most recent films, "Isle of Dogs" and "The Grand Budapest Hotel," were more blatant in their political subtext, although "The French Dispatch" does have a positive and timely message about the power of good journalism.
The first chapter, "The Concrete Masterpiece," focuses on the relationship between the imprisoned artist Moses Rosenthaler (Benicio del Toro) and his prison guard, Simone (Lea Seydoux). The pair have great chemistry and their romance is unusual, but the segment goes a little too long due to Anderson's insistence on exploring each side character's fate.
The second chapter, "Revisions to a Manifesto," follows the investigation by reporter Lucinda Krementz (Frances McDormand) into student resistance movements. It's interesting to see how Lucinda's personal feelings intertwine with her reporting, but the segment is very chaotic due to the conflicting messages about gender and the legitimacy of student protests.
Anderson closes with easily the strongest segment, "The Private Dining Room of the Police Commissioner." Jeffrey Wright delivers the strongest performance in the film as food critic Roebuck Wright, who reflects on his career.
7. The Life Aquatic with Steve Zissou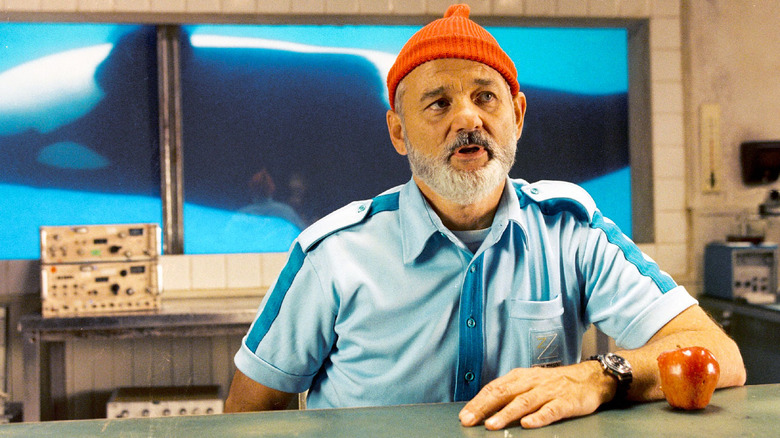 Buena Vista Pictures
Anderson has several regular collaborators, and his partnership with Bill Murray is among his most successful. Murray's blunt delivery and understated reactions are perfect fits for Anderson's style, and the filmmaker has gifted the veteran comedic actor with some of his most notable late-period roles. Although often cast as supporting characters, Murray takes the title role in "The Life Aquatic with Steve Zissou," playing an underwater adventurer who re-assembles his old crew in pursuit of a deadly jaguar shark that has eluded him for his entire career.
The wacky adventure is given heart through Zissou's biggest fan Ned (Owen Wilson), who joins the oceanic quest while suspecting that Zissou is his father. Through Ned, the audience learns more about Zissou's practices, and how his operations differ from how the public perceives them. Meanwhile, the ongoing mystery of Ned's parentage provides an emotional hook that keeps viewers invested during as the exciting underwater action unfolds.
Anderson balances the father-son bonding and the elaborate set pieces well, and his great supporting ensemble adds humor without detracting from the movie's overall themes of the narrative. Cate Blanchette in particular is very charming as Ned's love interest Jane, and Willem Dafoe is hilarious as the eccentric German crewman Klaus. "The Life Aquatic with Steve Zissou" also features one of Anderson's best soundtracks, thanks to the acoustic reimagining of several David Bowie classics. However, Anderson's stronger work tackles more complex characters, with emotional stakes that hit harder.
6. Moonrise Kingdom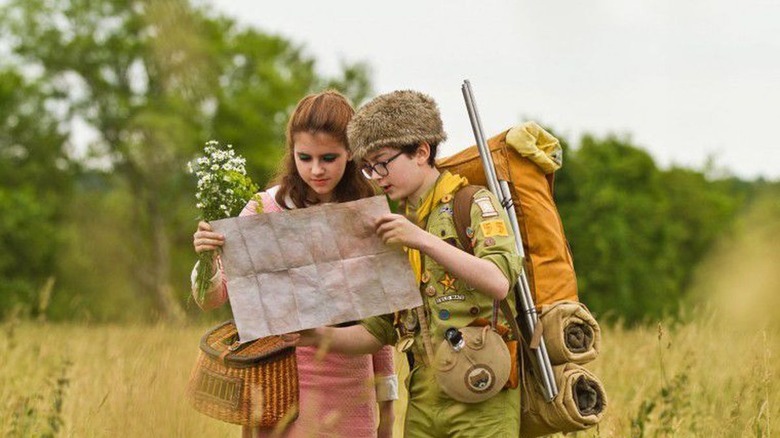 Focus Features
While Anderson had already tackled a coming-of-age story with "Rushmore," "Moonrise Kingdom" distinguishes itself as the filmmaker's only straight-up love story. Two twelve-year-old pen pals, the orphaned Sam (Jared Gillam) and the wealthy Suzy (Kara Hayward), become infatuated with each other over the course of a long summer. Each one understands the other in a way that the clueless adults in their lives simply don't, and when the threat of separation emerges, they run away together.
Both children are pursued by figures from their respective lives, adding tension to their relationship and allowing Anderson to pair established actors with the young newcomers. An island police captain (Bruce Willis) and Sam's Boy Scout leader (Edward Norton) pursue the runaway boy, while Suzy's parents Walt (Bill Murray) and Laura (Frances McDormand) launch their own investigation into their daughter's disappearance. However, these famous faces don't steal the spotlight from the breakout stars, and the film's strongest scenes are those featuring the two lovers getting to know each other.
The romance is delicately handled. Anderson lampoons the children's disillusionment, but he doesn't discount their feelings just because they're young and innocent. Sam and Suzy gradually learn about what adult responsibilities look like, and the older characters are forced to reflect on their own values, as well as how their ignorance led to this situation. "Moonrise Kingdom" is among Anderson's most sentimental films; generally, he does better with humor that's more biting. However, the patient approach makes "Moonrise Kingdom" a unique entry on his filmography.
5. Rushmore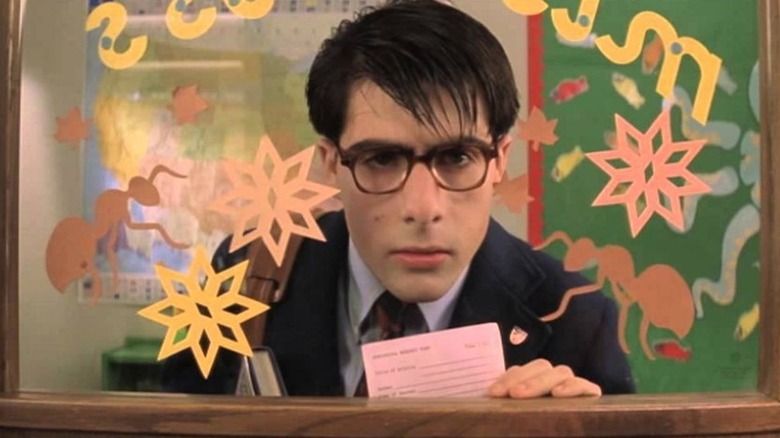 Buena Vista Pictures
In "Rushmore," the central character embodies all of Anderson's directorial tendencies. Teenage prodigy Max Fischer (Jason Schwartzman) is a lifelong overachiever who joins every club, partakes in every activity, and enters every competition at the highly selective Rushmore Academy. He is overwhelmingly energetic, surprisingly intelligent, and incredibly dedicated — and he doesn't realize how grating his personality can be.
It's remarkable that "Rushmore" was Anderson's second film, as it demonstrates a self-awareness that most directors don't find until later in their careers. Max is comfortable living in his own world, and Anderson understands how that can be charming, but also unsustainable. As he grows, Max learns to be more empathetic; as he gained more experience, Anderson showed he could tackle more mature stories.
Max Fischer is the signature role of frequent Anderson collaborator Schwartzman, who desperately wants to be taken seriously, putting him at odds with both his mentors and peers. "Rushmore" also marked Bill Murray's first collaboration with Anderson, and he's perfect as the disillusioned businessman Herman Blume. Both Max and Herman feel like outcasts, and they make a charming duo.
The flaws of "Rushmore" are inherent to its premise. Max can be quite annoying, and it's hard to relate to his struggles given how cynically he treats the people who give him guidance. Remarkably, Anderson is able to make Max's journey into a tragic comedy, asking the viewer to both empathize with and laugh at his growth. "Rushmore" is boldly reflective, and among Anderson's funniest movies.
4. Bottle Rocket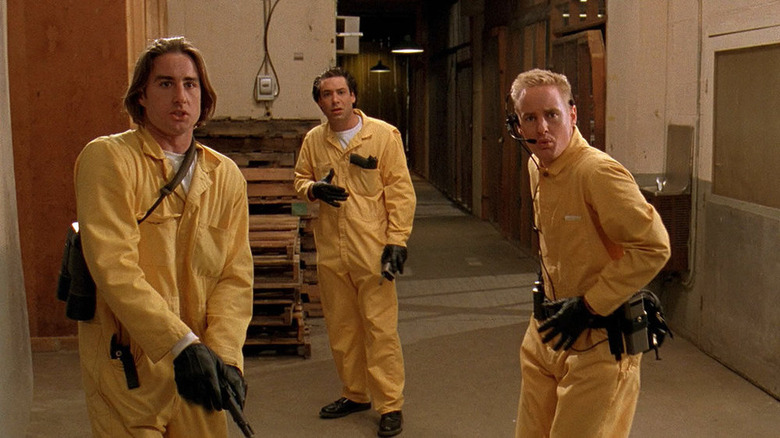 Sony Pictures
After the critically acclaimed short film "Bottle Rocket" marked Anderson as an emerging talent, he expanded the short into his directorial debut. While the low-budget comedic thriller doesn't boast the same elaborate sets that his more expensive films do, "Bottle Rocket" unmistakably showcases his unique abilities and sense of style. It's a tight caper layered with gags, but its stakes are very high.
Aspiring criminal mastermind Dignan (Owen Wilson) frees his troubled friend Anthony (Luke Wilson) from a voluntary self-help center and recruits him in a scheme to rob a storage facility. Dignan teaches Anthony the core tenants of thievery, and the two engage in several practice heists that mostly go awry. The unusual training and recruitment of their team of allies establishes the repertoire between Dignan and Anthony as they prepare for their doomed mission.
Although clueless, the growth of the central pair is compelling. Dignan is a compulsive planner who bets his entire future on a set of knowingly unattainable goals, presenting himself as an expert in order to hide from that truth. Anthony's mental health issues are very real, and Anderson does a terrific job balancing the humor of Anthony's reconnection with the outside world with the need to asking for help. The buildup to the heist is frantic, meaning the characters grow quickly, keeping the pace brisk. The film also has some pretty intense moments, showing a darker side to Anderson that mellowed out in his later work.
3. The Royal Tenenbaums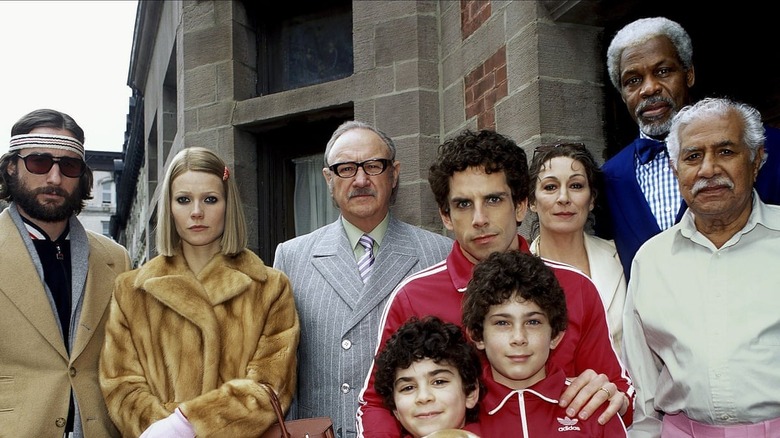 Buena Vista Pictures
Anderson often tells stories about dysfunctional families, and "The Royal Tenenbaums" puts sibling rivalry and parental crisis at the center. This is Anderson's most emotional piece, and while the characters are all wacky, their reconnection with one another isn't played solely for laughs. 
Royal (Gene Hackman) is an ambitious father whose interest in seeing his children succeed led each one to be successful, but troubled. Now adults, Chas (Ben Stiller) puts his own children through a similar rigorous schedule, Richie (Luke Wilson) is a successful tennis player who's grappling with insecurities about his romantic life, and adopted Margot (Gwyneth Paltrow) is still coasting on the success of a play she wrote as a high school student. The siblings are reunited when they discover their father has a terminal illness, and only has months left to live.
The impact of Royal's parenting is seen in his children's lives as adults, but Hackman doesn't make the character unlikeable. His efforts to reconnect with his children are quite humorous, and it's fascinating to see how each of the kids respond to his newfound openness. "The Royal Tenenbaums" is a story about connection, but it's also about loneliness, and Anderson slows the pace to let quieter moments of introspection thrive. While touching, "The Royal Tenenbaums" is never manipulative, and the central performances all feel specific to Anderson's writing. For "The Royal Tenenbaums," Anderson earned his first Academy Award nomination for best original screenplay; this hilarious tearjerker is among his most sharply-written work.
2. Fantastic Mr. Fox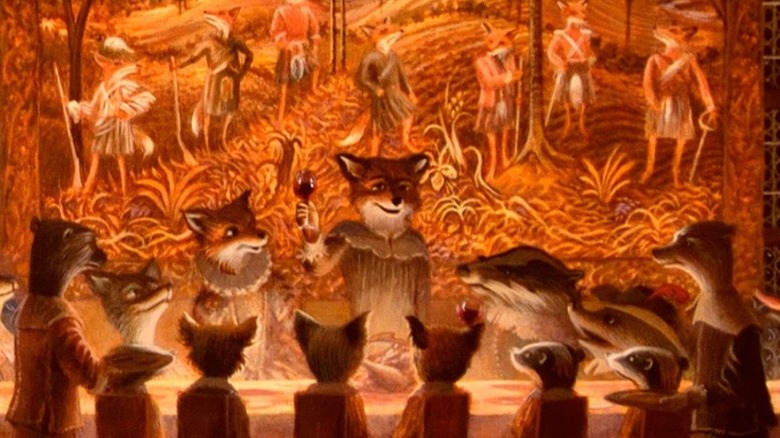 20th Century Studios
"Fantastic Mr. Fox" proves that Anderson's recurring themes and singular sense of style work just as well in an animated feature as they do in live-action. Anderson has long been interested in capers, and here he crafts the ultimate gentleman thief: the titular Mr. Fox, a former safecracker voiced by George Clooney who sets aside criminal activities in order to settle down with his wife Felicity (Meryl Streep) and their son Ash (Jason Schwartzman). But Fox can't resist the temptation of an exciting new scheme, and he recruits an eclectic band of allies in a plot targeting greedy local farmers.
The freedom of animation allows Anderson to create his wackiest and most entertaining heist sequences yet, and it takes several viewings to catch all the movie's subtle jokes. It's also Anderson's most exciting adventure, and it never feels as if the need to appeal to a younger audience robs him of his distinctive flourishes. If anything, it adds more humor, like the way the characters say "curse" instead of using actual profanity.
As thrilling as its robberies are, "Fantastic Mr. Fox" takes a nuanced approach to its dysfunctional family. While the characters aren't openly unhappy with each other, it's clear that Fox's hidden life weakens his relationships; Ash is particularly vexed when his father chooses to recruit Felicity's nephew Kristofferson Silverfox (Eric Anderson). Similarly, watching Fox's family come together as a band of thieves is emotionally satisfying. "Fantastic Mr. Fox" isn't just one of Anderson's best movies, but one of the greatest animated films of the 21st Century.
1. The Grand Budapest Hotel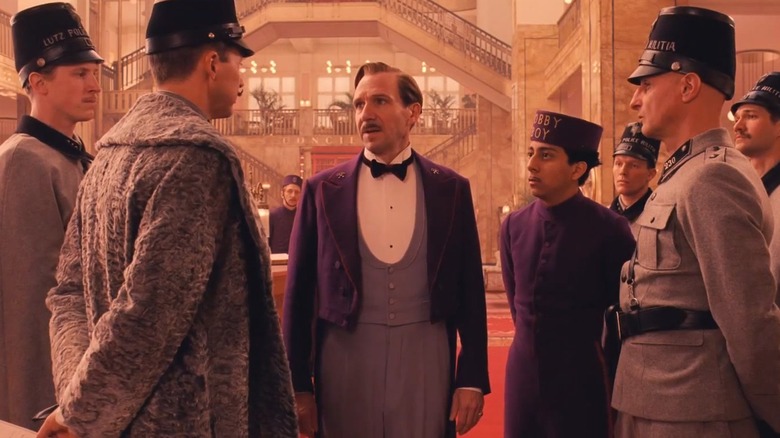 Fox Searchlight Pictures
"The Grand Budapest Hotel" is a profound look at how an era of opportunity was crushed by the forces of fascism. The loaded thematic material is heavy, yet, ironically, "The Grand Budapest Hotel" is Anderson's funniest film. Outside of the phenomenal writing, Ralph Fiennes deserves praise for his performance as Monsieur Gustave H., an old-fashioned concierge who becomes entangled in an international web of theft, espionage, and wartime conflict.
Gustave is a man out of time, and watching his generation fade away would be dourer if it wasn't for his consistently ludicrous misadventures with his protégé, Zero (Tony Revolri). Zero's romance with Agatha (Saoirse Ronan) is touching, and Adrien Brody's fearsome Dmitri is one of Anderson's strongest villains.
The real genius of "The Grand Budapest Hotel," though, is its framing. The film is presented as a story passed down by an older writer (Tom Wilkinson), who reflects on conversations his younger self (Jude Law) had with an aged Zero (F. Murray Abraham). Since "The Grand Budapest Hotel" is a story that's been retold several times, it makes sense that the narrative is heightened, the characters are exaggerated, and the sadder moments only briefly touched upon. A historical fable about the end of an era, "The Grand Budapest Hotel" doesn't downplay Anderson's signature qualities, but comes loaded with a timely message, giving it an urgency that his other films lack. It is, quite simply, Anderson's masterpiece.