Upcoming Matt Damon Movies To Keep On Your Radar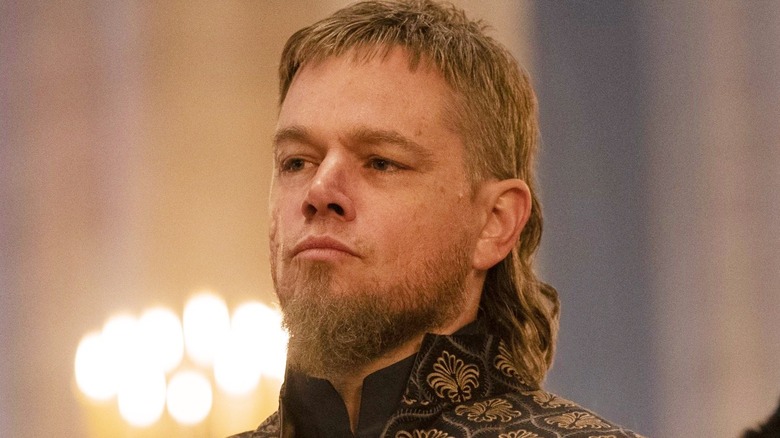 20th Century Studios
(Welcome to On Your Radar, a series where we take a look at what's next for the biggest actors and filmmakers, and why you should be excited...or not.)
An Oscar-winning writer, an action film star, some guy who bought a zoo — Matt Damon has been many things and worn many hats (literal and figurative) since he started acting in movies and television in the late 1980s. Much like his bestie, Ben Affleck, Damon has seen his ups and downs and, on more than one occasion, been guilty of putting his foot in his mouth. All the same, he continues to enjoy a creatively rewarding working relationship with filmmaker Steven Soderbergh that dates back two decades and is coming off back-to-back well received performances this year in the dramas "Stillwater" and "The Last Duel," the latter of which he also co-penned with Affleck and Nicole Holofcener.
So, what's next for Damon? Well, he sure does love to pop up unexpectedly in Soderbergh's movies, so he may yet cameo in the director's upcoming crime thriller "Kimi." Failing that, Damon has roles in not one but two big-time tentpoles on the way, and they couldn't be more different in terms of, basically, everything about them.
Thor: Love & Thunder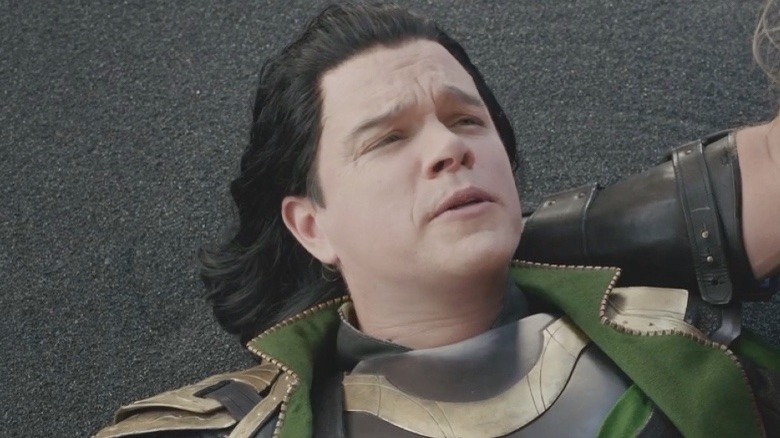 Marvel Studios
Among the many, many funny moments in "Thor: Ragnarok" was a scene where a group of nameless Asgardians recreated the events of "Thor: The Dark World," with Damon's Actor Loki portraying the God of Thunder's mischievous sibling. Director Taika Waititi is bringing the gag back for the sequel, "Thor: Love & Thunder," and going even bigger with the joke this time around, with Damon reprising his role as Actor Loki opposite Luke Hemsworth (back as Actor Thor), Sam Neill (back as Actor Odin), and two more stars whose identities are best kept secret for anyone who isn't already spoiled.
Waititi's decision to revisit the "Asgardians act out the 'Thor' movies" bit is emblematic of his general approach to "Thor: Love & Thunder," which is to repeat what he did in "Thor: Ragnarok" while being even more ridiculous and off-the-wall when it comes to the film's story, humor, and visuals. The movie itself is drawing from Jason Aaron's run on the "Mighty Thor" comic books, which (again, keeping things spoiler-free for those not in the know) is very much an arc that stands to benefit from being realized through Waititi's Happy Sad style of storytelling.
"Thor: Love & Thunder" is currently in post-production and is scheduled to open in theaters on July 8, 2022.
Oppenheimer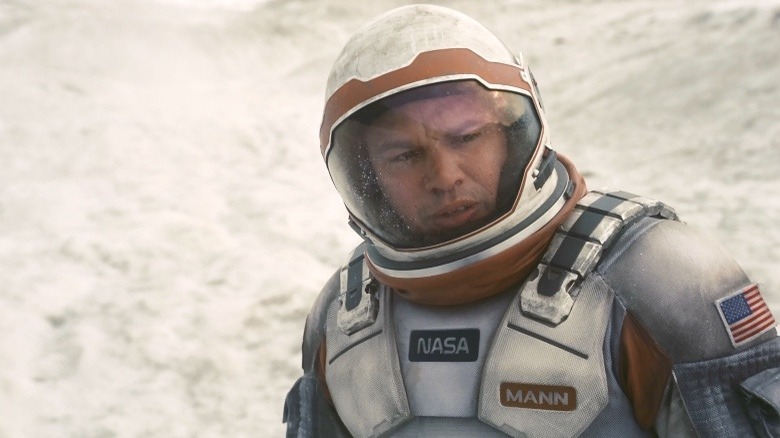 Warner Bros.
Coming off his James Bond-esque globe-trotting, time-inverting, sci-fi adventure "Tenet," Christopher Nolan is getting back into "Dunkirk" mode with another WWII-era historical drama in the form of "Oppenheimer." As its title suggests, the film revolves around J. Robert Oppenheimer and the creation of the atomic bomb, with Nolan's trusted collaborator Cillian Murphy portraying the conflicted theoretical physicist. Emily Blunt and Robert Downey Jr., neither of whom have worked with Nolan before, are also starring, with Damon rounding out the main cast so far.
Damon previously made a (curiously brief) appearance in Nolan's 2014 movie "Interstellar" as Dr. Mann, a NASA astronaut who, in a twist, turns out be a surprise antagonist for the film's heroes and gets killed off just as abruptly as he entered the story. The hope, in other words, is that "Oppenheimer" will give Damon a meatier role to sink his teeth into, especially in light of its heavy subject matter.
Production on "Oppenheimer" looks to get underway in early 2022. Universal is financing and distributing the film after Nolan parted ways with Warner Bros. — a studio he's partnered with on every movie he's directed since "Memento" — and plans to release it in theaters on July 21, 2023.