The Martian Script Was So Good That It Put Ridley Scott At Ease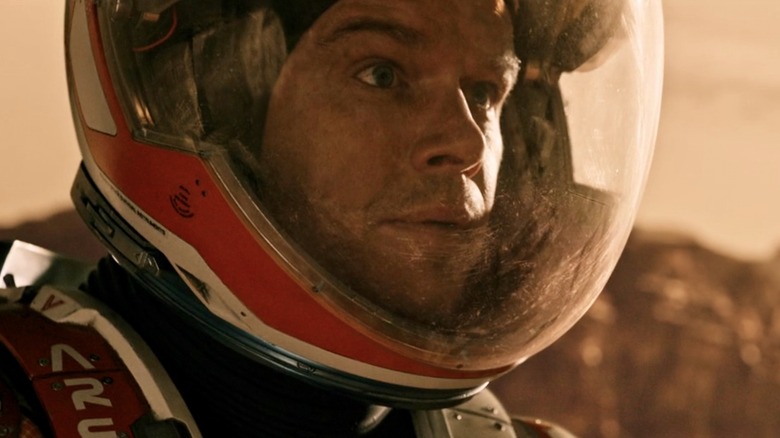 20th Century Fox
It took an especially strong script to lure Ridley Scott back to the world of science fiction. Two of Scott's earliest films, "Alien" and "Blade Runner," remain enduring sci-fi classics. However, after his "1984" TV commercial introducing Apple's Macintosh computer, he moved on from the genre and never looked back — until the script for "The Martian" landed on his desk some three decades later.
Written by Drew Goddard, the director of "The Cabin in the Woods" and "Bad Times at the El Royale," the script for "The Martian" adapted the Hugo Award-winning novel of the same name by Andy Weir. At the time, Matt Damon was on an 18-month acting break, and his last role — in Christopher Nolan's "Interstellar" — was similar to the one being offered in "The Martian," insofar as it would see him yet again playing an astronaut marooned on another planet.
In a sense, Damon had to be lured back, too, but the prospect of working with a filmmaker like Scott, who had left such an indelible mark on the genre, was too good to pass up. In an interview with NME prior to the release of "The Martian," Damon said:
"I was watching 'Alien' again recently and it's just incredible. It's not like 'cool space travel'; it's blue-collar — they're coming back from a salvage trip and these guys have s***** jobs ... it's about how to get people to connect to something that is so different from their own experiences but actually has something that's universal."
Sci-fi in the age of YouTube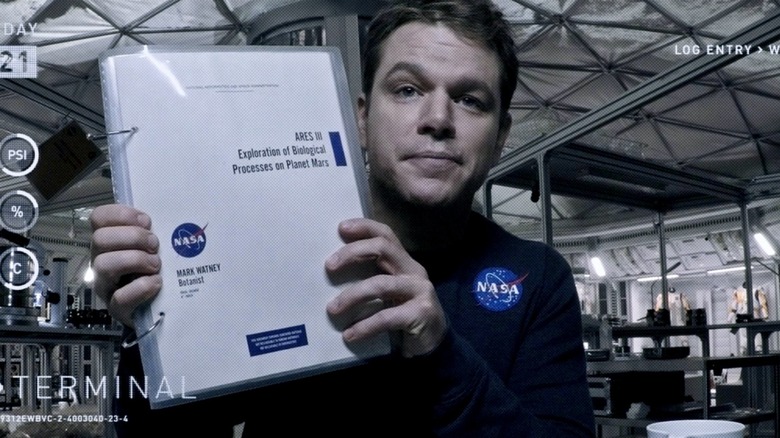 20th Century Fox
Although "The Martian" is set on Mars (and filmed the same place as "Rogue One: A Star Wars Story"), it plays like a series of YouTube monologues, which goes toward Matt Damon's point of getting viewers to find the universal in something different from their own experience. As his character, Mark Watney, tries to survive on Mars, he records a video diary, talking directly to the camera.
It's not so different from what you might see an earthbound vlogger doing. Watney's Mars rover even has a dashcam. Other scenes see him making the Mars equivalent of his first online friend and interpreting the emotions of text messages.
While Watney may wear a spacesuit, having his movie clothed in the recognizable trappings of online life — for earthlings — made it a crowd-pleaser and an easy sell for Ridley Scott, who told NME:
"The last script that landed on my desk that I didn't have to work like crazy on, until this, was 'Alien.' Everything else I've worked like stink on for months. This script by Drew Goddard was in great shape ... Any survival story is always fascinating."
Scott likened "The Martian" to "a 21st-century Robinson Crusoe," and for people living on Planet Remote Work during the pandemic, the life of an island castaway — in space — may have only grown more relatable. When we post things online, the spotlight effect tells us the world is watching, just as everyone in Times Square is watching Mark Watney in "The Martian."
No wonder Scott's return to sci-fi was such a resounding success, not just critically and commercially, but in terms of accolades like the seven Oscar nominations it received. Mark Watney is each and every of us, struggling to be heard across space and the internet.