Ben Affleck Saw Argo As His Chance To Break Out Of Boston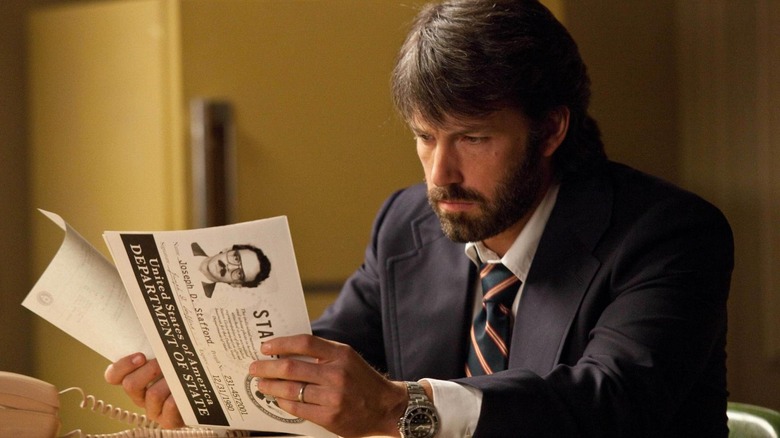 Warner Bros.
Ben Affleck is one of Hollywood's most accomplished actors and a proven writer, producer, and director. He began in low-budget indie films and worked his way up to some of Hollywood's biggest blockbusters. But that wasn't always the case. In fact, at one point it seemed like Affleck might be stuck in his hometown of Boston — at least when it came to making his films.
Affleck was a burgeoning young actor in the early 1990s, starring in Kevin Smith's "Mallrats" and "Chasing Amy" when he co-wrote and co-starred in the 1997 film "Good Will Hunting" with Matt Damon. After the success of the film, he began dabbling in more writing and producing. In 2007 he wrote, produced, and directed "Gone Baby Gone," a crime thriller set in Boston. The film was received well by critics and was a moderate success at the box office.
Affleck returned to the scene of the crime, so to speak, using the same formula in his next directorial effort. In 2010 he would write, produce, direct, and star in the crime thriller "The Town." Like before, the film was met with positive reviews, only this time it blew up at the box office. The film grossed more than $154 million worldwide according to Box Office Mojo.
Despite the successful formula, Affleck made it a priority to stay away from Boston for his next project. Affleck told Rolling Stone:
"I knew I had to get out of Boston and stop making movies there, at least for one movie, otherwise no one would ever consider me for a movie that took place south of Providence. I honestly felt like I would kind of end up being pigeonholed as Boston Crime Guy."
And move away, he did, to a film with multiple locations and major historical significance.
From Boston to Best Picture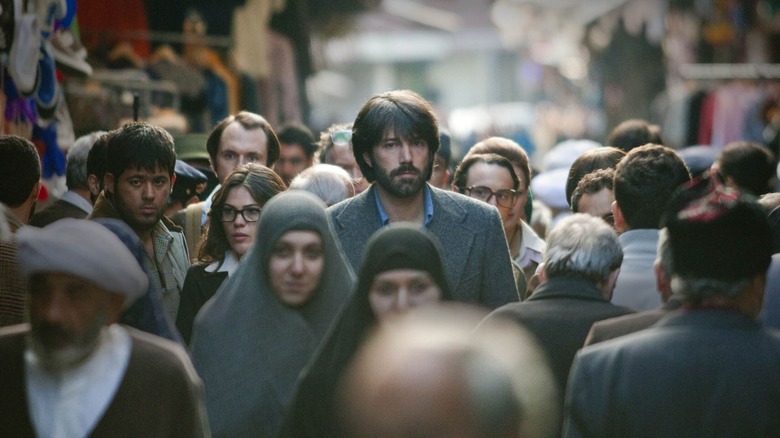 Warner Bros.
Affleck cemented his legacy as a director with the ambitious 2012 historical thriller "Argo." The film documents the true story of CIA operative Tony Mendez's plan to rescue six Americans hiding at the Canadian Ambassador's house in Tehran during the 1980 Iranian-U.S. hostage conflict. Mendez and the Canadian "house guests" posed as a film crew to fly out of the Tehran airport to safety. To extract the group, Mendez needed cooperation from multiple government agencies, several countries, and some real Hollywood players.
"Argo" magnificently captures the late '70 and early '80s from the opening seconds of the film, opening with a retro Warner Bros. logo. The costume and production design expertly re-creates the era, and the film pays homage to early science fiction films from the beginnings of Hollywood's blockbuster era.
Affleck offers a clinic in tension, with a slow-building rising action that features a rescue straight out of Hollywood – because that's what it is based on. The idea of posing as a film crew to escape the country was pitched by Mendez to the CIA as "the best bad idea." Unwitting audiences not familiar with the hostage crisis are treated to a fast-paced plan that Mendez wills to fruition. The look, feel, mood, and pacing of the film are all perfect, worthy of the film's many accolades.
Although "Argo" takes liberties with some truths in the name of building narrative conflict – which is true of any "based on a true story" Hollywood film – it remains mostly true to the spirit of the rescue. And even though the film won an Academy Award for Best Picture along with two additional Oscars and seven total nominations, Affleck was strangely absent from the Best Director nominations.
Despite the snub, the decision to move far from Boston for his next project paid huge dividends for Affleck.
He's returning to the director's chair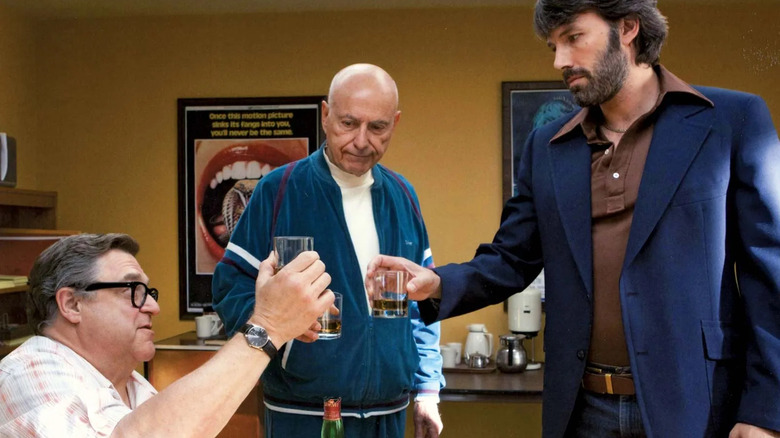 Warner Bros.
Since "Argo" Affleck curiously only has one film on his director's resume, the 2016 gangster period piece "Live by Night." Despite a talented cast headlined by Affleck and Elle Fanning and a large budget, the movie was met with mixed reviews and tanked at the box office, losing $75 million. But it seems after some time away from the director's chair, Affleck has gotten the itch again.
Affleck has several projects on the horizon. He is currently directing a Nike biopic about Sonny Vaccaro, the Nike executive responsible for signing Michael Jordan. The project reunites Affleck and Damon, who will play Vaccaro. He's also slated to direct the Agatha Christie adaptation and a remake of the 1957 Billy Wilder film "Witness for the Prosecution" as well as the Disney sci-fi film "Keeper of the Lost Cities."
Whether it's a successful long-term partnership with Damon or directing a Best Picture film on his own, Affleck proved that the decision to leave Boston to tell different stories was a wise decision. Despite his lengthy filmography as an actor, Affleck's upcoming schedule indicates that he's just getting started as a director. It's hard to imagine that happening had he stayed at home comfortable as the "Boston crime guy."