First Look: Ben Affleck In Odd Real-Life Hostage Thriller 'Argo'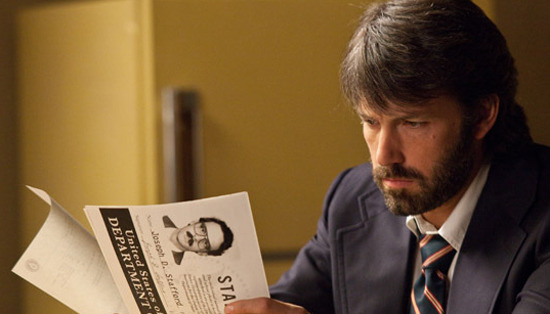 Germain's prepping his '10 most anticipated movies for 2012' list right now and I'll probably put one together as well just as soon as I get back from Texas. One movie I'm pretty sure will be on his list and I know would be on mine is Argo, the third film directed by Ben Affleck.
As we've mentioned a few times in the past while covering the casting for the film, this movie is based on a real situation in which a handful of CIA operatives posed as key members of a movie crew in order to extract diplomats who had been taken hostage in 1979 Tehran. They're not posing as just any film crew, but as guys scouting locations for a sci-fi film called, naturally, Argo.
Above, that's part of the first official image of Affleck as one of the primary members of that crew; see the whole thing below.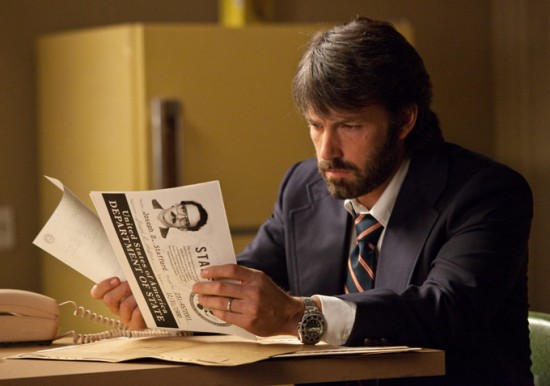 What a reversal of fortune we've seen for Affleck in the past few years. He was all but written off as an actor, thanks more to some unfortunate choices and the public spectacle of his marriage to Jennifer Lopez than to his actual ability or lack thereof. I don't think many people outside his inner circle expected his first film as a director, Gone Baby Gone, to be of any value. But it was a great debut, and his follow-up The Town earned praise and fans as well.
Suddenly, Affleck is a guy with power, especially at WB, where he was an option to direct Gangster Squad and the new Superman film, and now a deal to make The Stand after he's done with Argo. And Argo is no small risk, too, given that the film blends real politics with what might be a slightly weird, comedic tone.
In addition to Affleck, the film features Alan Arkin, Bryan Cranston, John Goodman, Kerry Bishé, Kyle Chandler, Rory Cochrane, Christopher Denham, Tate Donovan, Clea DuVall, Victor Garber, Zeljko Ivanek, Richard Kind, Scoot McNairy, Chris Messina, Michael Parks, and Taylor Schilling.
Argo should open on September 14, probably right after a premiere at either the Telluride or Toronto Film Festival.
Here's what WB has to offer as a description for Argo:
Based on true events, "Argo" chronicles the life-or-death covert operation to rescue six Americans, which unfolded behind the scenes of the Iran hostage crisis–the truth of which was unknown by the public for decades. On November 4, 1979, as the Iranian revolution reaches its boiling point, militants storm the U.S. embassy in Tehran, taking 52 Americans hostage. But, in the midst of the chaos, six Americans manage to slip away and find refuge in the home of the Canadian ambassador. Knowing it is only a matter of time before the six are found out and likely killed, a CIA "exfiltration" specialist named Tony Mendez (Affleck) comes up with a risky plan to get them safely out of the country. A plan so incredible, it could only happen in the movies.