Ben Affleck To Direct And Star In 'Witness For The Prosecution' While 'Live By Night' May Arrive This Year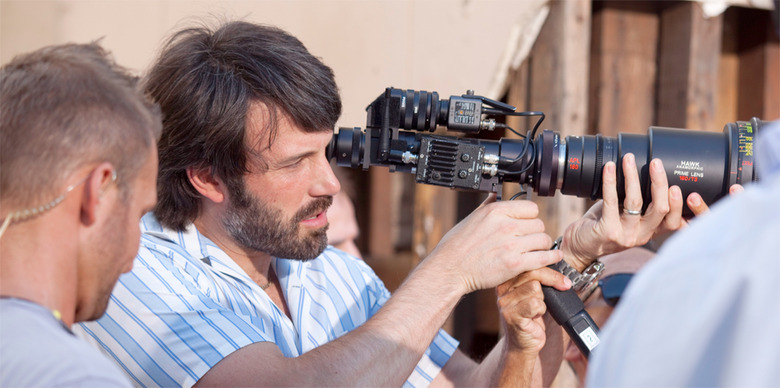 Ben Affleck has quite the busy schedule in the next couple years. The filmmaker is just coming off directing his adaptation of Dennis Lehane's novel Live By Night, and he's currently in production on Justice League. Then sometime down the road he's supposed to be at the helm of a solo Batman movie in which he'll obviously star as The Dark Knight. Now Ben Affleck has lined up yet another film to direct, and it's another one that he'll be starring in too.Witness for the Prosecution is an Agatha Christie novel that was turned into a movie by Billy Wilder in 1957, and now Ben Affleck is slated to direct a new adaptation that he will also produce with his longtime friend and collaborator Matt Damon, as well as Jennifer Todd and the Agatha Christie estate. Find out more about Witness for the Prosecution after the jump.The Wrap reveals that Affleck has closed his deal to direct and star in the new adaptation of the classic short story that was originally published in 1925. If you've never heard of the story or seen Billy Wilder's adaptation, here's the synopsis:
When wealthy spinster Emily French is found murdered, suspicion falls on Leonard Vole, the man to whom she hastily bequeathed her riches before she died. Leonard assures the investigators that his wife, Romaine Heilger, can provide them with an alibi. However, when questioned, Romaine informs the police that Vole returned home late that night covered in blood. During the trial, Ms. French's housekeeper, Janet, gives damning evidence against Vole, and, as Romaine's cross-examination begins, her motives come under scrutiny from the courtroom. One question remains, will justice prevail?
Ben Affleck hasn't directed a movie since 2012, and that resulted in the Best Picture winner Argo. Since then he's been trying to get Live By Night going, and after being delayed a few times, he finally got it in the can. In fact, co-star Elle Fanning recently revealed that the plan is for Live By Night to get a release in December, which is a little ahead of the previously set January 13, 2017 date. It sounds like Warner Bros. Pictures has enough confidence in the film to give it an awards qualifying run before a wider release in January, just like they did with American Sniper. Hopefully the studio makes an announcement about that soon.
In the meantime, we're waiting to see Ben Affleck with a job in front of the camera only in The Accountant. The thriller directed by Warrior director Gavin O'Connor arrives on October 14. We'll have updates on the rest of Ben Affleck's upcoming project as more information becomes available.