'Live By Night' Buzz: Does Ben Affleck's Gangster Drama Hit The Mark?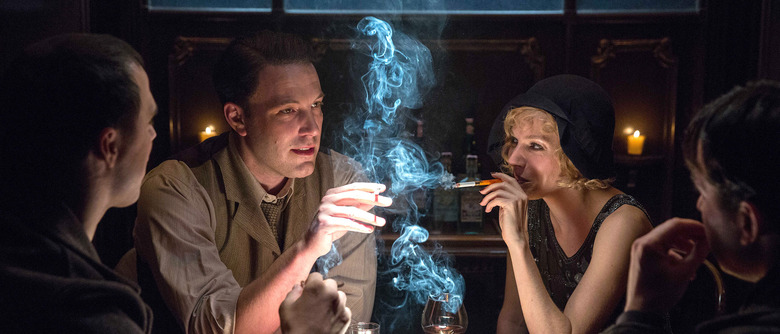 On paper, Live By Night has all the markings of an awards contender. It's directed by Ben Affleck, whose Gone Baby Gone, The Town, and Argo were all very well received, and it's based on a novel by Dennis Lehane, whose works have also inspired The Drop, Shutter Island, Mystic River, and the aformentioned Gone Baby Gone. But the buzz has been curiously muted on this one, even as we get right into the thick of prestige-pic season.
Until now, that is. The first reviews of Live By Night are in, days ahead of the film's Christmas Day rollout. Find out what the critics had to say about Live By Night below.
By most accounts, Live By Night isn't one of Affleck's finest. Compared to the absolutely scathing reviews for recent releases Passengers and Collateral Beauty, the reactions aren't that harsh, but still, this doesn't exactly sound like a must-see. And we can probably count it out of the running for the 2017 awards race. Warner Bros. is surely hoping his next pic will turn out better, especially since it just so happens to be The Batman.
Based on a 2012 novel by Dennis Lehane, the film is sharply written and crafted, lavishly photographed, impeccably acted, with lots of twists and turns — yet for all that, it somehow lacks zing. I say "somehow" because the flaw, or limitation, or whatever it is about "Live by Night" isn't obvious. It's like seeing the ghost of a terrific movie: All the pieces are in place, yet as you're watching it (or thinking back on it afterwards), there doesn't seem to be quite enough there there.
THR:
Originally optioned by Warner as a vehicle for Leonardo DiCaprio, who remains on board as a producer, this is Affleck's second screen adaptation of a Dennis Lehane novel, following Gone Baby Gone. But unlike that contemporary drama, the 1920s setting here only serves to point to how much more suited this kind of sprawling, granular crime narrative now seems to longform television, post-Boardwalk Empire. The movie is watchable enough but no nail-biter, particularly once two of the most compelling characters, played by Brendan Gleeson and Sienna Miller, are sidelined.
EW:
Live by Night is clearly Affleck's love letter to classic pulp, and almost no noir touchstone goes unturned in its two-hour-plus run: sharp-suited mafiosi, hip-swinging vixens, bloody shoot-outs, double crosses. Adapted (like his 2007 directorial debut, Gone Baby Gone) from a sprawling Dennis Lehane novel, the script, which Affleck also wrote, has a lot to chew through. It doesn't always succeed; Live often feels like 10 pounds of narrative puppy crammed in a five-pound bag, rushing its fine cast — which includes Chris Cooper as a conflicted sheriff, Elle Fanning as a fevered young evangelist, and Zoe Saldana as the requisite second dame — through some side plots and abruptly wrapping up others. It also plays the hard-boiled game so faithfully that the genre's guns-and-dolls tropes hardly get dusted. Instead, Affleck just films them real pretty, and gives us a story as comfortably worn and shady as an old fedora.
Ultimately, "Live By Night" doesn't suggest Affleck's lost his groove so much as that his groove has its limits. Saddled with derivative material, he can't seem to find a fresh approach. It's telling that the next project that finds him on both sides of the camera is "The Batman," a studio-produced blockbuster hardly expected to take big risks. Affleck may not be a total sellout, but he's the kind of steady-handed entertainer equally capable of making smart movies and forgettable ones depending on the task at hand. It remains to be seen if "Live By Night" is the anomaly or a regrettable new chapter in an otherwise satisfying career of intelligent escapism.
... Live By Night feels rushed – missing all the slow burn drama that Affleck showed he was so good at in his prior three films. Live by Night feels like a movie that just needed to be finished, as opposed to being done right. This feels like a high school assignment where it's obvious an intelligent kid didn't put the effort into this assignment as much as he or she had in the past. It's the kind of assignment that gets a, "You are not applying yourself," written on it next to the "C-" in the corner. I mean, it's not easy to direct movies and it's not easy to anchor a tentpole franchise for a huge studio – one has to give.
Cagney especially seems to be an influence here, with Affleck's good-bad guy not a far cry from the noble gangsters the icon played in two of my WB's faves, ANGELS WITH DIRTY FACES and THE ROARING TWENTIES. It fits in nicely with his body-of-work as a director, having the atmosphere of GONE BABY, GONE, the firepower of THE TOWN, and the scale/confidence of ARGO. It all adds up to a pretty nifty package, even if the final film, which comes in at over two hours, is still missing a little something that, had it been tacked-on, might have made LIVE BY NIGHT more of the epic it's trying to be rather than a very solid adult thriller.
That visual sincerity is sorely lacking in the storytelling, which plays as muddled and halting. There are three separate references to Joe's brother, a screenwriter in Hollywood, with almost no payoff; the IMDB page for "Live by Night" credits Scott Eastwood as having been cast as that brother, but he never appears in the film. In a tighter movie, such abrupt changes wouldn't be worth mentioning, but as it is, the brother's absence only raises the question of what else was left in the editing suite, and whether or not any of that footage might have helped this well-intentioned disappointment.
***
Live By Night is in theaters December 25.