Pro Wrestling Feuds That Are Just As Good As Any TV Show Or Movie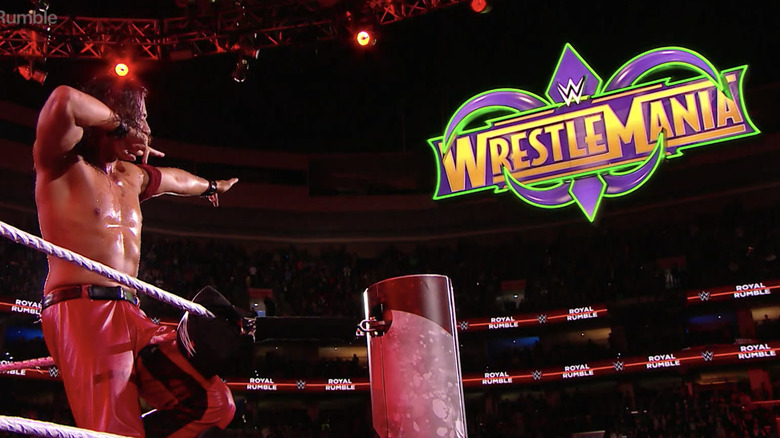 WWE
Since the dawn of time, the human race has found a number of ways to tell stories. From word of mouth around the fire to live stage productions to film and television to interactive virtual reality, there are countless ways to experience the joys of storytelling. Yet one form that typically gets overlooked and often looked down on is professional wrestling. 
Combining the live element of theater, the athleticism of sports, and the convenience of television, pro wrestling can still connect an audience with larger-than-life characters, evoke visceral emotions, and tell a wonderfully compelling story. But because it's been saddled with the label of being "fake," it's somehow a lesser form of entertainment to some people (even though everyone seems to love shows about pro wrestling like "GLOW" or "Heels"). Newsflash: Your favorite movies and TV shows are just as fake as wrestling. 
So this year, as we travel on the road to Wrestlemania weekend, we're taking a look at some of wrestling's greatest storylines that are just as good (if not better) than film and television.
Hulk Hogan and "Macho Man" Randy Savage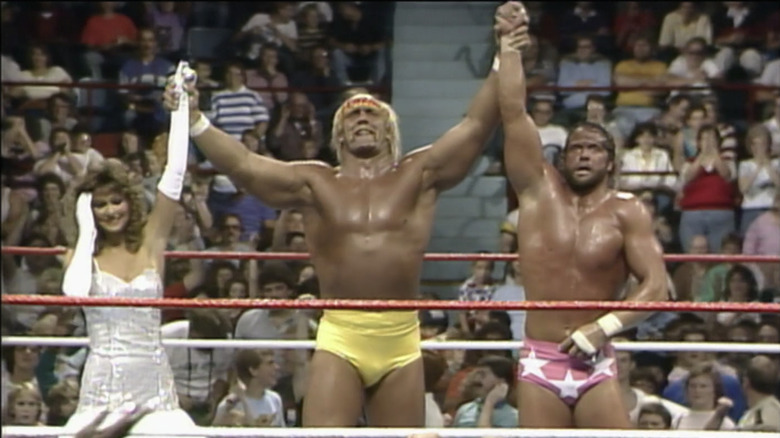 WWE
Arguably the longest and most memorable feud in WWE history, the Mega Powers of Hulk Hogan and "Macho Man" Randy Savage exploded in the 1980s, two friends torn apart by the championship belt, and the love of Miss Elizabeth. During the early years of WWE (formerly WWF), professional wrestling was the closest thing any of us got to witnessing real life superheroes defeating the forces of evil, and Hulk Hogan was the untouchable star. When Randy Savage showed up, he was an immediate heel force, and the clash of these two titans was inevitable. The two built up their story for years, with Hogan even assisting Savage to his first WWE World Championship title win. The duo joined forces as an unstoppable team, destroying competitors like The Million Dollar Man and Andre the Giant.
But as with any feuding '80s story, the two were pulled apart by something bigger than a championship belt: Love. Randy Savage loved Miss Elizabeth more than anything on the planet, and when it looked as if his partner in crime wanted to steal her away, the jealousy stewed, leading to their implosion. Even to this day, the lines between performance and pleasure are difficult to decipher, with Hulk Hogan noting that there were moments during their feud where he genuinely believed Randy Savage was going to beat his ass for how he treated Miss Elizabeth in the ring. One year after helping Savage win the title, the Hulkster challenged him for it, and won. (BJ Colangelo)
Matt Hardy, Edge, and Lita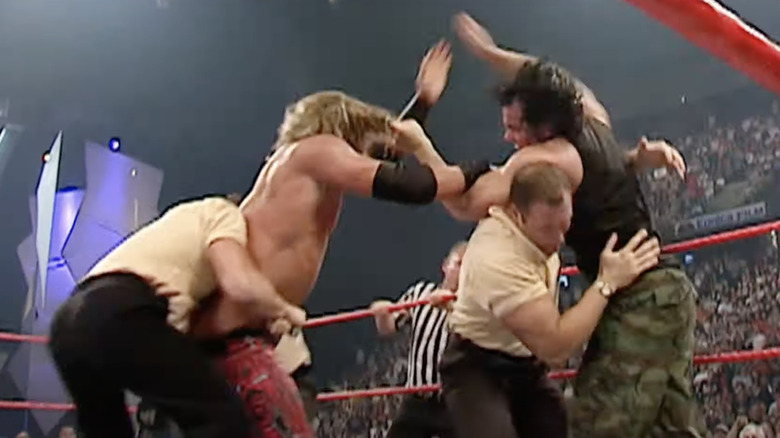 WWE
As reality television became more popular, viewers became enamored with "real life drama." Around the same time, WWE storylines seemed to blur the lines between fact and fiction more and more. The greatest example of this is the feud between Matt Hardy, Edge, and Lita.
In real life, Hardy and Amy Dumas, AKA Lita, had been dating since 1999. When the former WWE Tag Team Champion was injured in 2004 and was estimated to be out of action for over a year, Lita began traveling with their close friend Adam Copeland, AKA Edge. But the traveling buddies situation evolved into an affair while Copeland was still married and Dumas was still with Hardy. When Matt found out in 2005, he exposed the whole thing online for everyone in the WWE Universe and beyond to see. Due to his unprofessional conduct, he was let go from WWE.
Meanwhile, Lita was already paired up with Edge onscreen as an antagonistic duo feuding with Kane and Trish Stratus. But with the affair out in the open, fans began interrupting matches and segments with chants of "We want Matt!" and "You screwed Matt!" This made WWE pivot their plans to incorporate the real life heat being generated by the situation. As fans online rallied behind the Sensei of Mattitude, the Rated R Superstar and the death-defying Diva leaned into it and became some of the most hated heels in the company.
Things came to a head when Hardy made an unscripted and unannounced call to WWE.com's web show "Byte This" to address his ex-girlfriend publicly. Then on July 11, 2005, a still unsigned Hardy attacked Edge on WWE TV. He continued these surprise attacks until he was rehired and was able to properly retaliate in a series of matches that included a street fight, a cage match, and a Loser Leaves Town match.
Ultimately, Matt Hardy came out on the losing end of this feud, but for a little while, he and this love triangle was the most talked about thing in all of professional wrestling since viewers couldn't tell what was real and what was part of the show. (Ben F. Silverio) 
Trish Stratus and Mickie James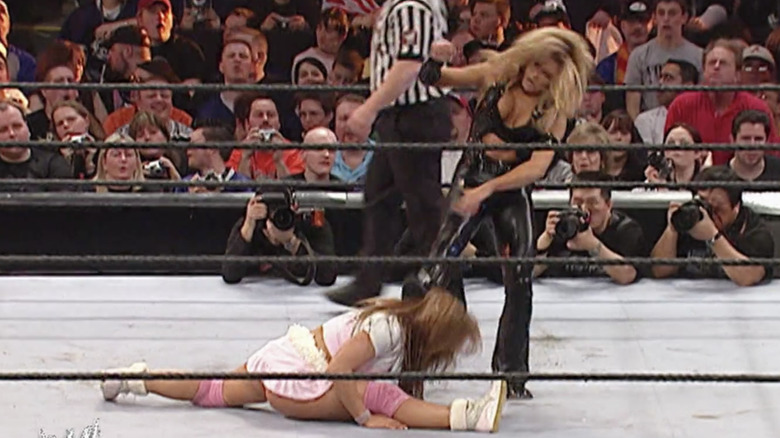 WWE
I know, I know, the fact that this isn't about Trish and Lita seems blasphemous, but when it comes to cinematic storytelling, it's all about Trish and Mickie. The rivalry began during a time when WWE, quite frankly, did not value their women's division. Trish Stratus was on top, and since WWE has a history of not having a fresh f****** clue of what to do with women's storylines, decided the best course of action was to cast Mickie James as Trish's superfan turned stalker. The storyline could have, and should have failed, but Trish and Mickie transformed it into something straight out of "Single White Female" or "Ingrid Goes West."
Mickie James had a wrestling background during a time when WWE was almost exclusively interested in fitness models, but Trish needed a new opponent and Mickie answered the call. WWE was smart and held back their matches throughout their long build toward Wrestlemania 22, with Trish losing patience with Mickie, and Mickie's sanity slipping. "Do you love me now, Trish Stratus? You broke my heart, but now I'm going to break you!" James screeched. Their Wrestlemania match was a chaotic explosion filled with violence and sexual tension (Mickie grabbed Trish between her legs and then licked her fingers — that moment has been cut by WWE) with the audience even cheering for Mickie despite her being the story's heel. However, a solid "Mick Kick" finisher did Stratus in, and Mickie James, the former obsessor of Trish Stratus, became the WWE Women's Champion. (BJ Colangelo)
Sasha Banks and Bayley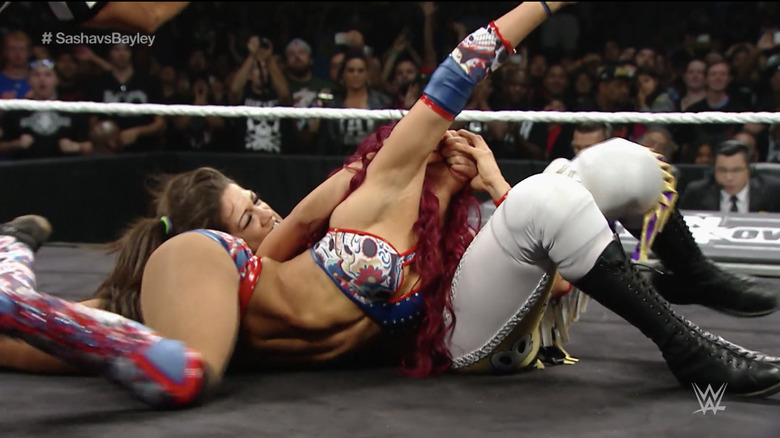 WWE
Inspired by the famous feud between Trish Stratus and Mickie James, Sasha Banks and Bayley spent years playing the best of friends and the worst of enemies. Both lifelong wrestling fans who were viewed as underdogs during their developmental years, the two rose to fame during the Four Horsewomen era of NXT alongside Charlotte Flair and Becky Lynch. Sasha Banks and Bayley were responsible for two of the greatest matches in NXT TakeOver history, when Bayley finally defeated Sasha at TakeOver: Brooklyn and their encore performance in the first ever WWE Women's Iron Man Match. Their on-again, off-again friendship has been going on for years and spanning across promotions, with their 2020 feud on the WWE main roster considered the best of the year.
When Bayley was brought up to the main roster, she and Sasha joined forces, becoming The Golden Role Models and the inaugural WWE Women's Tag Team Champions. When it became clear that the company wanted them to pivot back into singles competition, their tag team connection needed separating. Back in NXT, Bayley was posed as the ultimate white meat babyface, with the conflict between the two typically at the hand of Banks making a ruthless heel turn. But on the main roster, the unthinkable happened. Bayley turned heel and became the villain to Banks' babyface, and audiences couldn't get enough of it. From Joan Crawford and Bette Davis to Katy Perry and Taylor Swift, Sasha Banks and Bayley are wrestling's ultimate frenemies. (BJ Colangelo)
Johnny Gargano and Tomasso Ciampa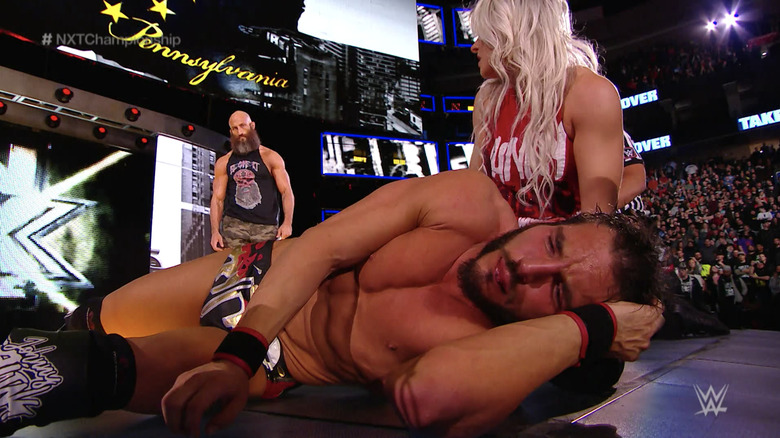 WWE
The tale of Johnny Gargano and Tomasso Ciampa is the closest thing to a mafia movie ever produced by WWE. It's one of deception, betrayal, love, loyalty, family, and intimate violence. The duo were brought together as a tag team known as #DIY, winning the NXT Tag Team Championship for the first time in what many consider to be one of (if not the) greatest tag team match in wrestling history. Nearly two years after their partnership began, the unthinkable happened. At NXT TakeOver: Chicago, Ciampa turned on Johnny, and so began one of wrestling's greatest feuds.
Johnny and Ciampa frequently incorporated their real-life friendship into their rivalry, Johnny referencing Ciampa standing beside him at his wedding to fellow wrestler Candice LeRae, only for Ciampa to weaponize it against him. Their rivalry was never about winning matches, it was about personal vindication and wanting the other one to hurt in a way that can only be achieved when it comes from family. Ciampa endured multiple injuries throughout their rivalry, allowing the story and character work to fester even when they weren't able to physically attack each other. When they finally faced off in the ring? Pure cinema. The ruthlessness and passion between every punch, every body slam, and every emotional scream was palpable. As Lefty in "Donnie Brasco" so famously said, "When they send for you, you go in alive, you come out dead, and it's your best friend that does it." (BJ Colangelo)
The Golden Lovers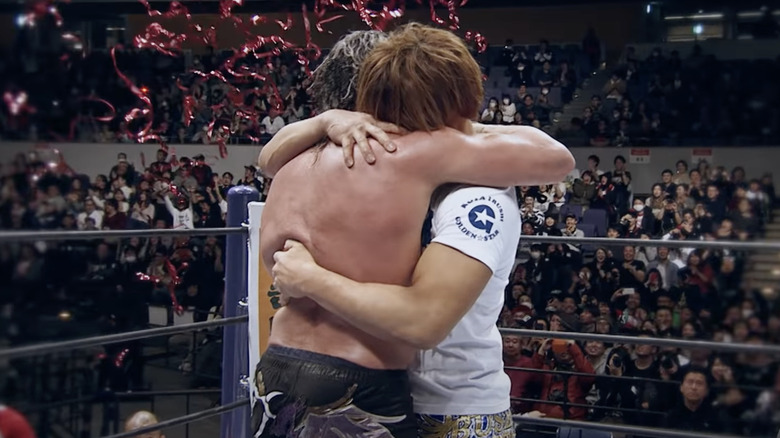 New Japan Pro Wrestling
Once upon a time, long before Kenny Omega stepped foot in an All Elite Wrestling ring and years before Kota Ibushi would show up for the WWE Cruiserweight Classic, the young Canadian Omega saw a video of the immortal Japanese Ibushi and believed it his destiny to fight him. And so, the two had their first match in Japan in the summer of 2008, tearing each other apart in the ring, in the audience, in parking lots, and even included a Phoenix Splash off of a vending machine. It was the first time Kenny Omega cried after a match, and Kota Ibushi declared, "I love Kenny Omega." Fans loved them together, and the duo became entranced with one another, Omega even moving to Japan so the two can be closer. The world wants to see them as rivals, but they want to work together as a tag-team. And so begins the legend of The Golden Lovers, the greatest Yaoi romance in all of professional wrestling.
For over a decade, every decision the two have made in the ring can be traced back to their love story. Even when they were forced to tag with other partners or compete solo, the love, heartbreak, and passion they have for each other is always visible, usually in the form of doing each other's signature moves or styling their ring gear after each other. Kota Ibushi once shot fireworks off of his chest before doing a standing moonsault (think a back-tuck, for you "Bring It On" fans) off a car, because he was filled with the confidence of invincibility that can only be possessed by a young man in love. Trying to encompass the depth and history of The Golden Lovers is an impossible task, unless Richard Linklater wants to spend another decade plus letting us witness the ups and downs of one of the greatest love stories ever told. (BJ Colangelo)
Bret Hart and Owen Hart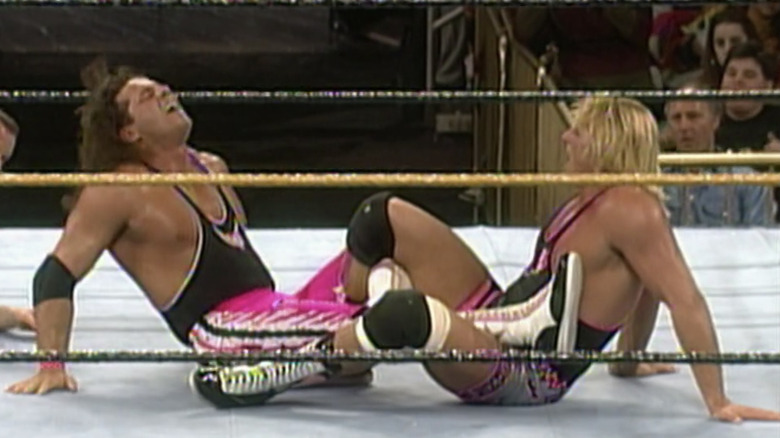 WWE
Brother versus brother is one of the oldest stories ever told. Countless movies and shows depict this sort of relationship. And though this story has been told a number of different ways in professional wrestling throughout the years as well, few have been as compelling as the saga between Bret and Owen Hart.
The Hart family is synonymous with wrestling in Canada. Legendary wrestler, promoter, and trainer Stu Hart and his wife Helen started the dynasty when all eight of their sons became wrestlers. But when it came to the World Wrestling Federation, Bret "Hitman" Hart emerged as the most successful. After winning tag team goal with brother-in-law Jim "The Anvil" Neidhart, the Excellence of Execution took what he learned from the Hart Family Dungeon and applied it to a successful singles career. At the same time, his younger brother Owen was taking a similar path. Known as "The Rocket," he also teamed with "The Anvil" in a successful tag team. But when it was his turn to break out, Owen was overshadowed by Bret's success. Anxious to establish himself as a top talent independent of his family, Owen turned on Bret at the 1994 Royal Rumble. Tired of his brother proclaiming to be "the best there was, the best there is, and the best there ever will be," Owen was determined to prove that he was just as good between the ropes.
At Wrestlemania X, Owen finally got his opportunity to do so. In the event's opening contest, the crowd was treated to an absolute wrestling clinic between the Hart brothers. Though Bret would go on to win the WWF Championship from Yokozuna later that night, fans in Madison Square Garden and around the world watched as Owen went hold for hold and blow for blow with Bret and emerged the victor. The feud would continue after that and Owen would continue to be varying degrees of a bratty little brother throughout their time together in the WWE. But on this night, Owen showed that he was talented beyond his years by wrestling a style that would become the foundation of many modern wrestlers we see in the ring today. (Ben F. Silverio) 
"Stone Cold" Steve Austin and Vince McMahon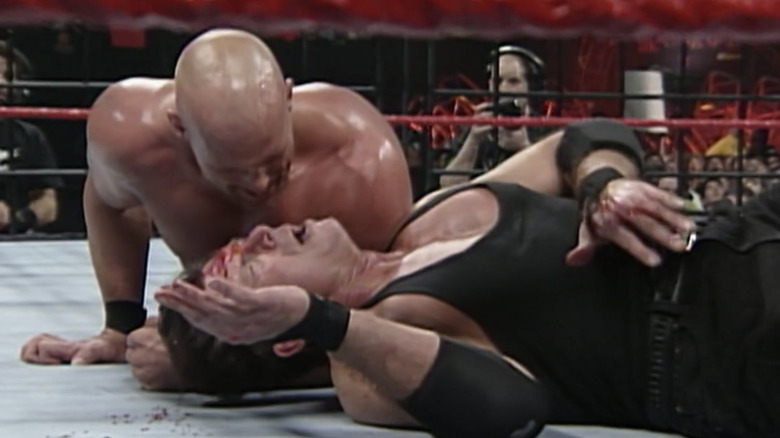 WWE
If you think that Gordon Gekko, Miranda Priestly, or Bill Lumbergh were horrible bosses, you should see some of the things that Vincent Kennedy McMahon did to his employees. The Chairman of World Wrestling Entertainment particularly had a problem with a beer-swilling blue collar renegade named "Stone Cold" Steve Austin.
Once Austin became the WWE Champion at the beginning of the Attitude Era, these two fundamentally disagreed on what a champion should be. While Mr. McMahon wanted the face of his company to be a right hand man who did whatever was best business, Stone Cold wasn't about to be a corporate shill and that was the bottom line.
If Austin wasn't going to join him, then McMahon was going to beat him with the help of every big name he could find. He and his faction The Corporation enlisted the likes of Mick Foley, The Undertaker, and The Rock to beat down Austin at every turn. Eventually, they were able to nefariously rob the Texas Rattlesnake of his title and prevent him from winning the 1999 Royal Rumble match, which would have given him a guaranteed title opportunity at Wrestlemania XV. That match ended up being won by none other than Vinnie Mac himself.
But after McMahon declined to use his title shot at Wrestlemania, Austin was given another opportunity to earn that main event match and get some revenge on his boss at the same time. At St. Valentine's Day Massacre, Austin faced McMahon in a Steel Cage Match with a spot at the Grandest Stage of them All on the line. Probably one of the most brutal and bloody affairs in WWE history, Austin secured the victory even after McMahon's insurance policy "The Big Show" Paul Wight interfered to do more damage. On that night, not only did Stone Cold achieve a dream by punching his ticket to Wrestlemania, but he fulfilled the dreams of many of his fans that would also like to punch their douchebag boss in the face. (Ben F. Silverio)
CM Punk and John Cena
WWE
As the saying goes, high school never ends. Although, the underdog can sometimes manage to score a victory over the tyrannical hierarchy of those looking to keep up the "normal" status quo. But unlike movies such as "Revenge of the Nerds" or "The New Guy" where those battles took place at school, CM Punk's arena was the squared circle.
A straight edge indie wrestling darling from Chicago with an affinity for comic books, punk rock, and horror movies wasn't Vince McMahon's idea of a WWE Superstar. However, the fans got behind Punk ever since he debuted on WWE television in 2006. And they stayed behind him after he won title after title over the years. But in 2011, he got frustrated with the way that WWE was getting behind homegrown talents like John Cena or Randy Orton. Despite being considered one of the best wrestlers in the world, Punk felt that he was being held back from grabbing the imaginary brass ring because he didn't fit McMahon's preferred squeaky clean and muscular "sports entertainer" mold for top talent. So when the Second City Saint became the number one contender to Cena's WWE Championship, he revealed that his WWE contract would be expiring immediately after the Money in the Bank event and he would be leaving the company with the title after defeating the Doctor of Thuganomics.
Much like "Stone Cold" Steve Austin before him, the fans got behind the anti-authoritarian Voice of the Voiceless as he pulled one over on the boss every chance he could. In an effort to keep the star from absconding with the championship, McMahon agreed to Punk's contractual demands for a private bus, the return of WWE ice cream bars, and a public apology from the chairman. But after Cena interfered, Punk ripped up the contract and marched forward to carry out his plan.
Once in the Allstate Arena in Chicago, it felt like Cena was entering enemy territory. The match with Punk was one for the ages. But as the referee counted to three, it was Punk who emerged victorious as the new WWE Champion and the newest free agent in professional wrestling. For once, Vince McMahon's will was not done and CM Punk was vindicated in front of a raucous hometown crowd by showing that sometimes you can fight against the status quo and win. (Ben F. Silverio)
Kofimania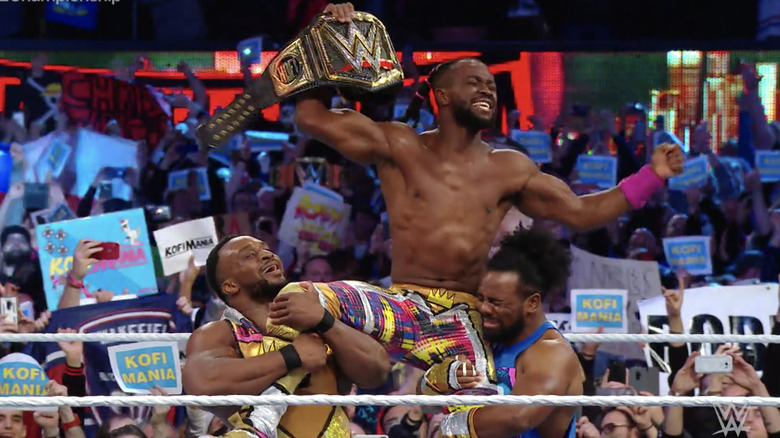 WWE
Kofi Kingston has established himself as one of the most decorated WWE Superstars of all time. Between four Intercontinental Championships, three United States Championships, 14 Tag Team Championships, and countless memorable moments as part of the fan-favorite faction The New Day, the Ghana, West Africa native has firmly solidified his place in the history books with those accolades alone. But in 2018, eleven years after his journey in WWE began, Kingston finally got the opportunity to vie for the top prize in the company: the WWE Championship.
On the road to Wrestlemania that year, Kingston stepped into the WWE Championship Elimination Chamber Match to replace an injured Mustafa Ali. In order to gain the advantage of entering the chamber last, he competed in a gauntlet match with the other competitors on the February 12, 2018 episode of "Smackdown Live." Though he ultimately lost the match, the Master of the Boom Drop gained massive support from the WWE Universe ahead of the Show of Shows. Move aside, Hulkamania. Kofimania was running wild all the way to Wrestlemania.
Of course, similar to "Rudy," "The Replacements," or "D2: The Mighty Ducks," Kingston had some major obstacles to overcome in order to make it to his WWE Championship match against Daniel Bryan. Thanks to Mr. McMahon, he suffered losses in grueling multi-man matches such as a handicap match against The Bar and yet another gauntlet match. Even his New Day cohorts Xavier Woods and Big E fought valiantly in a five-team gauntlet to try to secure Kofi's title opportunity.
When the day finally arrived, Kofi Kingston earned his title match and defeated the American Dragon at Wrestlemania 35 for his first WWE Championship. On the shoulders of his New Day brethren and in the arms of his children, Kingston overcame the odds and became one of only four Black WWE Champions in the nearly 60 years of the title's existence. (Ben F. Silverio)
David Arquette and Pro Wrestling
Thanks to roles in "Buffy the Vampire Slayer," "Airheads," "Never Been Kissed," and the "Scream" franchise, David Arquette became a beloved fixture of the silver screen. However, wrestling fans probably know him best for his role as Gordie Boggs in "Ready to Rumble" alongside Scott Caan, Oliver Platt, and the wrestlers of WCW. And to be clear, they knew him from this movie, but did not love him for it. This is because the actor made his way to World Championship Wrestling after the movie wrapped and actually won the WCW World Heavyweight Championship from Diamond Dallas Page. Despite Arquette being a fan himself and disagreeing with this 12 day title run that culminated in a Triple Cage Match at Slamboree 2000, many felt that head writer Vince Russo's decision to put the prestigious championship on an actor made a mockery of the art and the sport of professional wrestling.
Arquette spent years enduring the ire of wrestling fans, while simultaneously finding his acting career stalling out. Nearly two decades after wrestling changed his life forever, Arquette went on a journey to redeem himself in the eyes of wrestling fans around the world, and reclaim his own self-respect. He trained in Mexico with luchadors, he worked his way through the independent circuit, taking his bumps in backyard wrestling, starting a hilarious feud with RJ City, and even risked his life in a hardcore match against Nick Gage. Arquette documented his journey in the film "You Cannot Kill David Arquette," and managed to win over the hearts of wrestling fans the world over. He made an unscheduled appearances at Wrestling Pro Wrestling in Burbank, CA in 2021 as "Rob Boss," a pacifist painter who possessed control over anthropomorphic "Angry Little Trees" that could fight on his behalf, earning a standing ovation and "fight forever" chant from the crowd. Arquette is wrestling's ultimate redemption story, and the blurring of kayfabe and reality is what truly makes it too sweet, brother.