The Most Curious Thing About 'Single White Female 2: The Psycho' Is The Title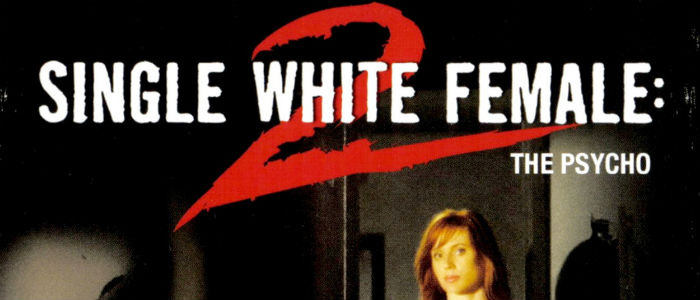 (Welcome to DTV Descent, a series that explores the weird and wild world of direct-to-video sequels to theatrically released movies. In this edition, we dye our hair, throw on something from our bff's closet, and get totally basic with the sequel to Single White Female.)
Single White Female opened in late summer of 1992 to become a modest hit – $48 million on a $16 million budget – and it went on to enter the pop culture lexicon as shorthand for a stalker, complete with a spoof on Saturday Night Live and a reference in the show Psych. It's a solid, sexy thriller that satisfies even if it doesn't wow, and if you've seen the film you know it's not exactly one begging for a sequel. Nothing about it needed to continue, but for some people, that itself is a reason to continue.
So 13 years later, it did just that in the form of a direct-to-video sequel in name only. It's only natural to wonder if the sequel tells a similar story about a female psycho obsessing over another woman, and I'm happy to report that it does indeed. There's no pesky original plot to worry about here, and the filmmakers double down on their commitment to the bit by calling it Single White Female 2: The Psycho. It's essentially the same as saying The Psycho 2: The Psycho, but hey, redundancy has its purposes.
The Beginning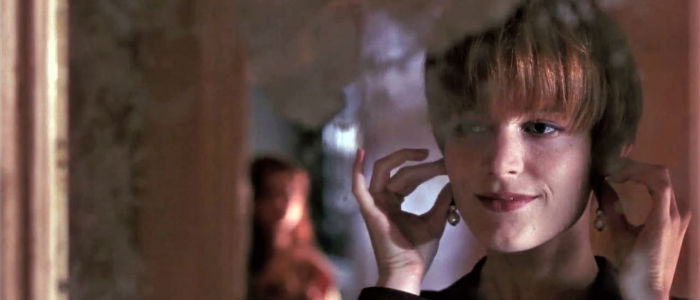 Allison (Bridget Fonda) is a single young woman trying to make it in New York City as a software designer. A recent split with her business partner has left her desperate for business, and issues are compounded when she discovers her boyfriend has cheated on her with his ex-wife. Allison is a bad judge of character. In search of simple companionship and help with the bills, she advertises for a roommate to split her large, rent-controlled apartment. Hedra (Jennifer Jason Leigh) seems like the perfect tenant as she's kind, clean, and quiet, but as the two become friendly Allison begins to notice some disturbing behavior. She's needy, clingy, and more than a little secretive. Not only does Hedra start pressing her way into Allison's life, but she also dresses like her and even has her hair dyed and styled to the point of looking identical to Allison. The obsession grows and eventually turns to violence leaving Allison's boyfriend, neighbor, and cute little puppy dog in the crosshairs of a deranged and dangerous woman. She also attacks Steven Tobolowsky's sleazy CEO, but come on, that guy deserves it.
The DTV Plot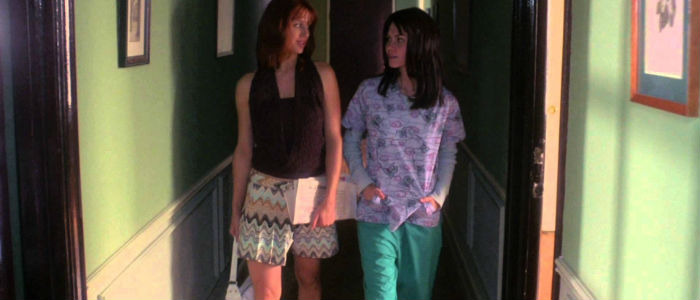 For a film that's intent on copying its predecessor this sequel spends a ridiculous amount of time upfront before even introducing "the psycho." Holly (Kristen Miller) and her roommate Jan (Brooke Burns) are friends and co-workers who refer to themselves as "young beautiful women" who men were put on this earth to make life easier for. They're currently competing for the same promotion, and Jan crosses a line by seducing Holly's boyfriend in the hopes of both psyching her out and nabbing the new job. David (Todd Babcock) didn't mean to fall for her seduction, but Holly's not having his excuses and decides it's time to wash her hands of both of them. She answers a "roommate wanted" ad and soon moves in with a nurse named Tess (Allison Lange) who seems perfectly normal aside from her terribly obvious wig seemingly in place to make it easier for the film's makeup department when she eventually decides to style and dye her hair like Holly's.
Cut to Tess styling and dyeing her hair like Holly's.
Tess becomes overly protective of Holly to the point of berating David, but she very quickly escalates that to physical violence aimed at him, Jan, a slow cop, and Holly herself. She also kills an elderly patient in his sleep for some reason. What a psycho!
Talent Shift
Director Barbet Schroeder's in something of a recent slump – okay fine, it's lasted two decades – but he came aboard Single White Female having just directed the one-two punch of Barfly (1987) and Reversal of Fortune (1990). The two films have nine Oscar/Golden Globe nominations and two wins between them, and that kind of cachet helped attract two strong leads in Bridget Fonda and Jennifer Jason Leigh. They both give compelling performances that ratchet up in intensity as the film moves forward, and supporting turns by Steven Weber, Peter Friedman, and Stephen Tobolowsky add to the film's character. Writer Don Roos made his feature debut with the film, but he went on to pen movies as diverse as Boys on the Side (1995), Diabolique (1996), Marley & Me (2008), and the ridiculously titled The Guernsey Literary and Potato Peel Pie Society (2018).
Single White Female 2: The Psycho stars the voice of Lisa from Team America: World Police (2004).
How the Sequel Respects the Original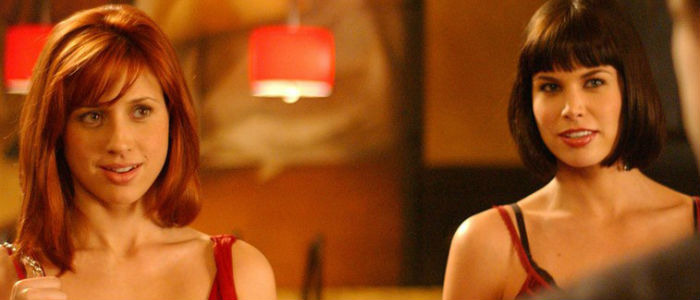 Sequels that don't carry over characters typically just re-hash the plot instead, and that's what happens here for better or worse. (It's worse.) A single white woman with serious mental issues obsesses over another single white woman, but what felt fresh in 1992 is unfortunately stale 13 years later without the presence of fresh ideas or explorations of its themes. In the interest of finding something nice to say, the film is at least an entry in the still too-small sub-genre of thrillers with female leads as both the protagonist and antagonist. Most have men targeting women, some have women targeting men, but few pit two women head-to-head. Think Black Widow (1987) and The Roommate (2011), the latter of which is actually just an unofficial knock-off of Single White Female, and... others I guess? So kudos to this sequel for that.
How the Sequel S***s on the Original
The sequel hits many of the same narrative beats – new roommates bonding over shopping, a cheating boyfriend, the normal one following the psycho into a sex club – but it lacks any kind of depth or context to the madness. The original benefits greatly from Leigh's performance as Hedra as she convinces at every stage from her early awkwardness to her later bouts of psychotic rage, and through it all we believe she'd walk away peacefully if only Allison would accept and reciprocate their friendship. A past trauma informs her actions without excusing them, and it leads to an ending that not only leaves Allison stronger than when the film started, but also with a better understanding of the painful weight of loneliness. That same framework is present in the sequel, but the talent isn't there to back it up on the screen or on the page. No one and nothing convinces, and it doesn't help that the script tries to play fast and loose early on with who the psycho of the title actually is.
The film opens with a girl finding her mother dead in the tub having sliced her own wrists. It doesn't reveal who the little girl is, but once it jumps to present day the safe assumption is that the girl is Tess. Not so fast my fellow prognosticators – what if it's Holly? Didn't think about that, did you?! Once she moves into Tess' place, the film works hard to convince viewers that Holly has some anger issues as she twice tells Jan that she's going to regret effing with her. We might have fallen for it too if it weren't for that damn wig. But no, Tess' dark side comes to light, ending that not very mysterious mystery.
But sure, it is actually Holly who found her dead mother in the beginning. Why? Solely so the film can end with her fingering a razor blade and suggesting that maybe she's a psycho too. Thus explaining the redundancy of the title...?
Conclusion
It's a tale as old as time at this point, but the direct-to-DVD sequel to Single White Female is a dull, personality-free dud. Thrills and suspense are non-existent, characters are flat, and it's the least interesting psycho redo since Psycho (1998).