10 Brendan Fraser Performances You Need To Revisit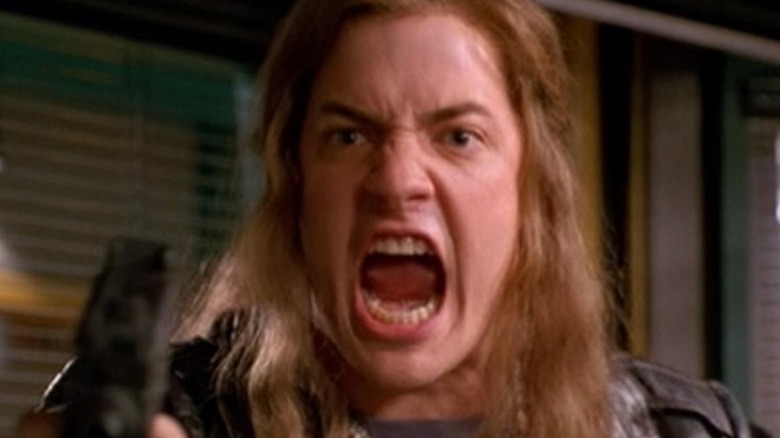 20th Century Fox
Remembered for his classic good looks and nostalgic charm, it is impossible not to love Brendan Fraser. Not only has he been a part of the most memorable movies of the last few decades, but Fraser continues to make an impact on generations of movie-goers. From his action-centric roles to his more kid-friendly performances, Fraser's body of work is truly something to admire. And as the Brendan Fraser renaissance continues to take shape thanks to the likes of "Doom Patrol," "No Sudden Move," and Martin Scorsese's upcoming "Killers of the Flower Moon," fans both young and young-at-heart are continually finding even more reasons to adore the actor.
Yet, with his endlessly long filmography, it can seem like a chore to pick which of Fraser's of movies to watch first. While it might be comforting to repeatedly stream his work in "The Mummy," "George of the Jungle," and "Bedazzled," Fraser is more than these few performances. Consider this list a guide to some of Fraser's most cherished — and underrated — work. Of all of Fraser's roles, these are the ones that most deserve another look.
Chazz — Airheads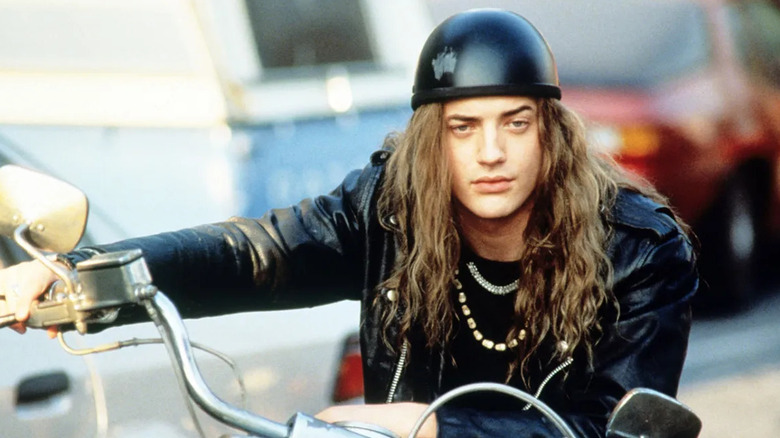 20th Century Fox
Perhaps Fraser's silliest role (and, simultaneously, his prettiest to look at) is Chazz in the 1994 comedy "Airheads." Starring alongside greats like Steve Buscemi and Adam Sandler, Fraser's character is part of a rock band with more misses than hits on its discography. In an attempt to get their demo played, the Lone Rangers break into their local rock n' roll radio station with water guns blazing, hijacking the airwaves in the hopes that they'll finally get signed. As one can guess, chaos ensues.
Evoking the long-haired bad boys of the past, Fraser's performance as Chazz is a delightfully entertaining tribute to the hard rock scene of the early '90s. But the best part of Fraser's performance is the faces he makes throughout the film, clearly proving that he did his homework by watching heavy metal's most iconic front men. Fraser channels a little bit of everyone from Axel Rose to Sebastian Bach while he's on screen. While "Airheads" is far from a flawless film, it's a great showcase for the talents that would make Fraser a movie star as his career continued.
David Gold — Twilight of the Golds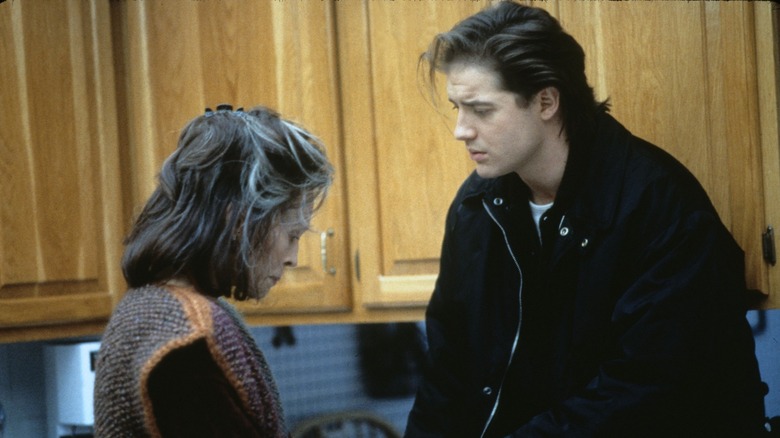 Sonar Entertainment
Based on the play by Jonathan Tolins, Ross Marks' "Twilight of the Golds" is a TV film that leaves a memorable impression. The story revolves around Suzanne Stein (Jennifer Beals), a woman who performs a genetic test on her unborn child and discovers that there is a chance that the baby boy will end up gay like her brother, David (played by, of course, Fraser). The film follows Susan and her family as she decides what to do with this knowledge, testing her relationship with David and everyone else around her.
Simultaneously dated and ahead of its time regarding LGBTQ+ topics, "Twilight of the Golds" is a fascinating slice-of-life drama anchored mainly by Fraser's earnest (though sometimes quite broad) performance. Not only is it a treat to see Fraser take on such an endearing character, but it's even more amazing to see him hold his own next to icons like Faye Dunaway and Gary Marshall, who play his parents. Though the cheesy music cues and various stereotypes steer "Twilight of the Golds" into awkward territory, Fraser's work here ultimately grounds the movie's believability and sincerity.
Fletcher McBracken — Still Breathing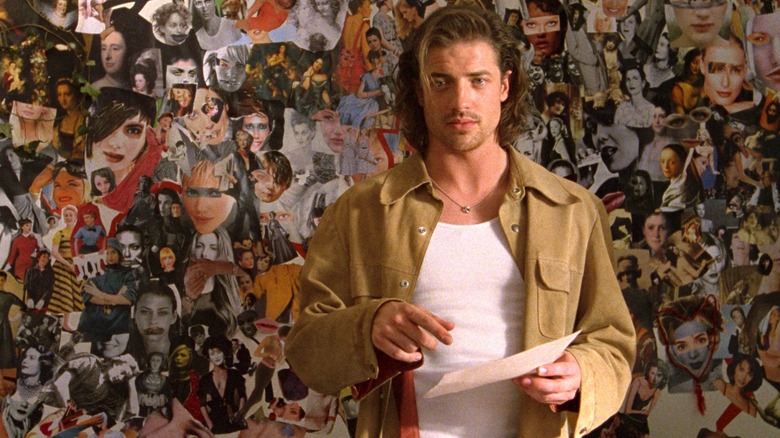 DEJ Productions
While not a flawless movie, "Still Breathing" is as quirky as '90s flicks get. Directed and written by James Ford Robinson, the film centers around Fraser's Fletcher McBracken, an offbeat puppeteer who's been having visions of his dream girl. After countless attempts to find her, he stumbles upon Rosalyn Willoughby (Joanna Going), a con artist who has been having similar dreams about a boy who resembles Fletcher. Though it seems like the stars are aligning for the pair, Rosalyn might not be ready to make the commitment that Fletcher hopes for.
With an awkward first act and some interesting dialog, "Still Breathing" might not be Fraser's most accessible movie, but his performance is the shining gem at the center of this silly yet adorable little love story. He perfectly embodies Fletcher's oddball yet loving nature in the most natural ways, especially during quieter moments with Going and co-star Celeste Holm, who plays Fletcher's grandmother, Ida. Overall, this is the kind of performance that solidified Fraser's reputation as not only a precious celluloid cinnamon bun, but also a compelling romantic lead.
Monty — With Honors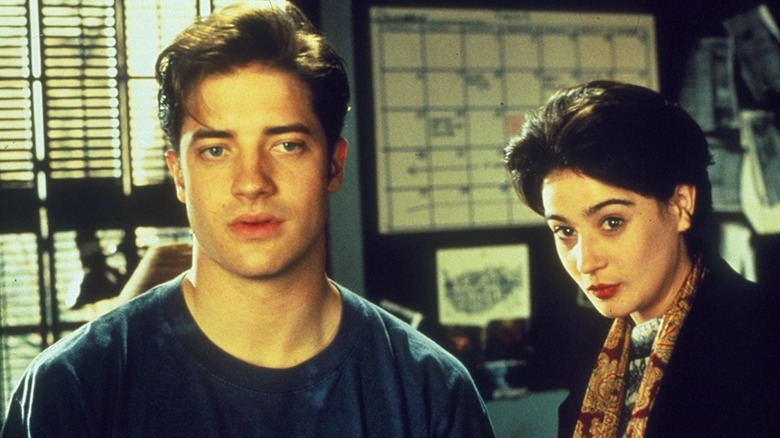 Warner Bros.
At one point, Hollywood was obsessed with casting Brendan Fraser in school-focused roles. One such example is "With Honors," in which Fraser plays Monty, a Harvard University student trying to finish his senior year. When attempting to print a backup copy of his thesis project, Monty's paper falls into the hands of Simon Wilder (Joe Pesci), a homeless man living in the boiler room of the campus library. This results in comedic shenanigans, a bit of romance, some life lessons, and, ultimately, a coming-of-age story with a unique twist.
With quotable and tear-jerking sequences from beginning to end, Fraser's take on Monty proved his dramatic chops early in his career. It's a beautiful example of how pairing the right actor with the right material can create something genuinely special. There are a few reasons why "With Honors" has a small yet ever-growing fanbase, and why the film continues to inspire viewers of any age to step outside their comfort zones and make new, lasting friendships, and Fraser is easily at the top of that list.
Mo — Inkheart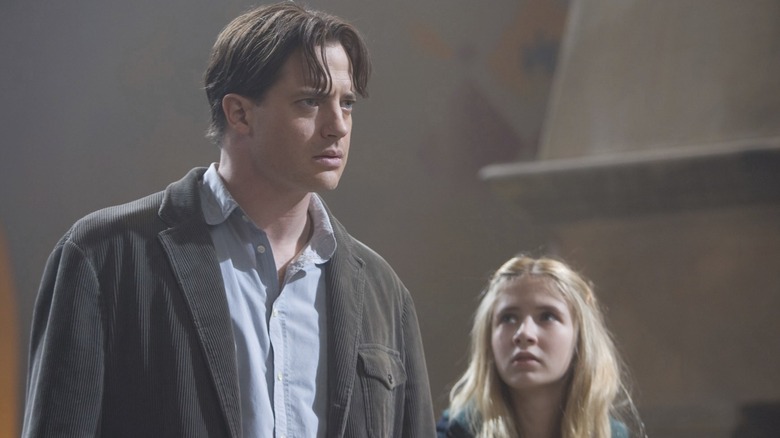 Warner Bros./New Line Cinema
Perhaps the most whimsical movie on this list, Iain Softley's "Inkheart" deserves a lot more love than it gets. Based on the young adult book series by Cornelia Funke, "Inkheart" follows the father-daughter team of Mo and Meggie Folchart (Fraser and Eliza Bennett, respectively). On the outside, they seem like your typical quirky family, but Mo has a magical skill: Whenever he reads books out loud, he brings the words to life. This leads Mo and Meggie to embark on a quest to protect the world from a group of evil fictional characters (they need to save Mo's wife, Resa, too).
The character of Mo was inspired by Fraser himself, and "Inkheart" is an excellent example of how Fraser knows precisely what kind of movie he's making and goes for it 100%. From his tender father-daughter sequences with Bennett to his sassy banter with co-star Paul Bettany, Fraser does a fantastic job of bringing out Mo's maturity without burying the role's hammier aspects. Other actors could have easily made this part forgettable, but Fraser brings a relatable yet enchanting quality to Mo, a part that he should have gotten the chance to play more than once. Alas. At least we have this adaptation to enjoy.
Adam — Blast from the Past
New Line Cinema
When it comes to under-appreciated Fraser performances, none of them are quite as wholesome as his work in the classic rom-com "Blast from the Past." The plot revolves around a '60s-era family that lives inside a locked bomb shelter for 35 years. Thinking that an atomic explosion has occurred above them, the father (Christopher Walken) and mother (Sissy Spacek) send their son, Adam (Fraser), to the surface get resources. Although Adam was taught how to be a proper gentleman, nothing could have prepared him for the modern world of 1997, especially after he falls for a very '90s girl, Eve (Alicia Silverstone).
With his adorable comedic timing, delightful chemistry with Silverstone, and some swoon-worthy dance moves, Fraser does a fantastic job bringing Adam to life. But the most remarkable aspect of his performance lies in his ability to be believably sincere. From his fish out of water moments in a hotel to some incredibly romantic sequences (including the famous knee kiss), you buy every single emotion that Fraser sells. While some aspects of "Blast from the Past" haven't aged gracefully, Fraser's performance continues to get better with time.
Bill and Hugh Winterbourne — Mrs. Winterbourne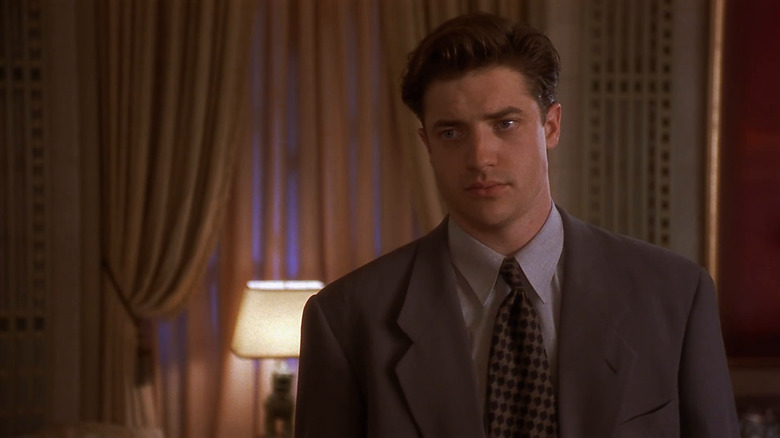 TriStar Pictures
Although he's starred in a handful of romantic comedies, "Mrs. Winterbourne" is undoubtedly the most interesting rom-com on Fraser's resume. The premise revolves around Connie (Ricki Lake), a pregnant girl who, while on a Connecticut-bound train, meets the charming Hugh Winterbourne (Fraser), a wealthy young man who is on his way to introduce his pregnant wife to his family. But then the train crashes, leaving Connie as the only survivor among the trio. Things turn awkward when Hugh's family (including his mother, played by Shirley MacLaine, and his twin brother, also Fraser) believe that Connie is Hugh's betrothed.
While far from a conventional love story, Fraser's performances as both Bill and Hugh Winterborne embody the aesthetics of other classic romantic movie heroes. There's a little bit of Jimmy Stewart, some Tony Curtis from "Some Like It Hot," and even a bit of Humphrey Bogart in "Sabrina" in his performance — Fraser is delightful while paying tribute to the memorable leading men of the past. Yet, the most charming aspect of Fraser's work is how well he acts against the ludicrous script at the center of "Mrs. Winterbourne," which asks him to jump through silly, sometimes ridiculous hoops from beginning to end. No matter what the story asks of him, Fraser pulls it off like a pro.
Vietnam Veteran — Now and Then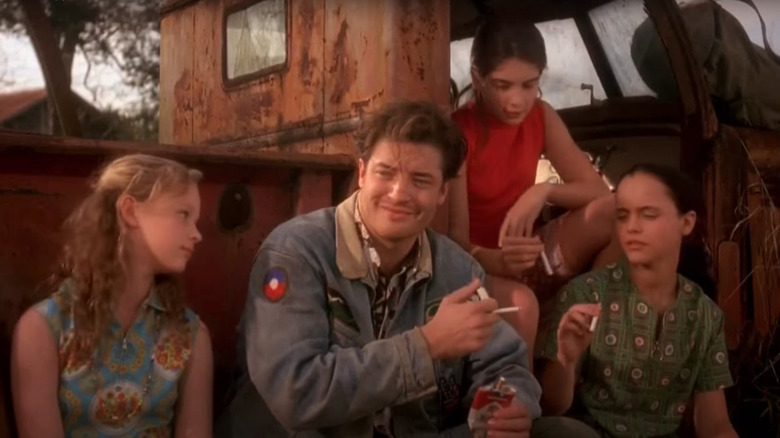 New Line Cinema
Though it's a minor role, Fraser makes a memorable mark in the coming-of-age story "Now and Then." The movie centers around the friendships of four women who spend time reminiscing about their unforgettable adventures in the summer of 1970. From riding bikes to first crushes and everything in between, "Now and Then" has gained a cult following that cherishes it for its successes, contrasting with the not-so-favorable critical response the film received upon its release.
Yet, with all of its remarkable qualities (including an A-list cast that features Christina Ricci, Thora Birch, Demi Moore, and Rosie O'Donnell), perhaps one of the most significant aspects is Brendan Fraser's tremendous performance as a roguish Vietnam vet. Though he only appears on screen for a little over four minutes, Fraser makes an impact not only on the young girls at the center of the film, but on many impressionable viewers as well. His nameless character embodies the seemingly magical first loves of many teenagers: a mysterious boy who is the perfect blend of bad and good, and who is honest to a fault. When combined with the real-world elements of his character, Fraser conjures up a layered portrayal through only a handful of lines, a magic trick that is truly a sight to behold.
David Greene — School Ties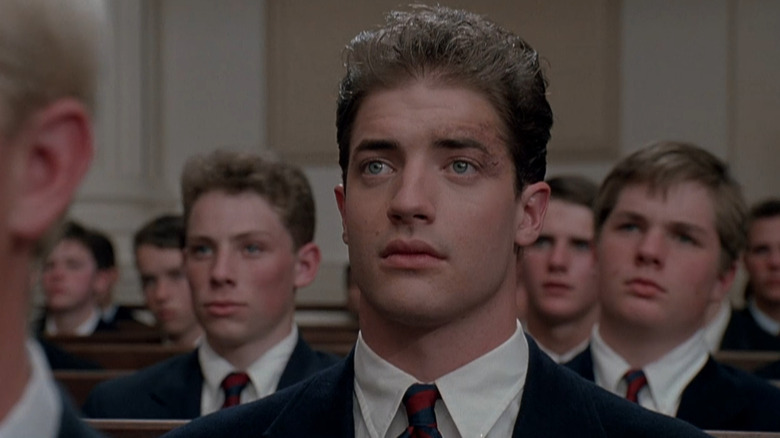 Paramount Pictures
Once again, Hollywood loved it when Fraser played a student, and no movie shows this better than the '90s-heartthrob-filled "School Ties." The movie centers around David Greene (Fraser), a promising high school football player who is awarded a scholarship to a prestigious prep school. Yet, when Greene's fellow students realize that he's Jewish, friendships, classroom dynamics, and everything in between are tested, forcing David to stand up to a culture that has been against him from the start.
Remembered for its young and promising cast, Fraser still stands out among future Hollywood heavy hitters like Matt Damon and Ben Affleck, as well as eventual Broadway star Anthony Rapp. Though all of his talented co-stars have memorable moments, Fraser brings a sensitive, humble, and vulnerable side to David, exhibiting that there's more to the actor than good looks. During the movie's more intense sequences, Fraser proves that he can show raw emotion without becoming overdramatic. It's a talent that few actors possess, but in "School Ties," Fraser shows that he had that ability from the get-go.
Clayton Boone — Gods and Monsters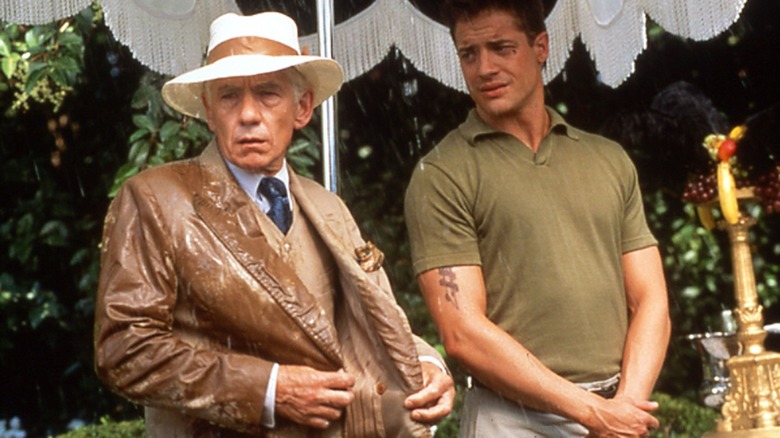 Lions Gate Films
Despite its award season bona fides, too many moviegoers have forgotten about Fraser's incredible performance in Bill Condon's "Gods and Monsters." Though billed as a supporting player next to the iconic Sir Ian McKellen, Fraser is really a co-leading man as Clayton Boone, the rugged gardener who works for McKellen's James Whales. The film revolves around the partly fictional reimagining of the final days of Whale's life, as he contemplates his successes as one of the pioneers of the horror film. Sprinkled throughout is his relationship with Boone, and the story of how their relationship changed both of their lives.
Bringing to life both the rough and gentle sides of the fictionalized Boone, Fraser seamlessly tackles the character's multi-layered journey. From Clayton's fascination with Whale's real-life career (Whale directed "Frankenstein," "The Invisible Man," "Bride of Frankenstein," and a number of other Universal features) to his complicated reactions to the openly gay director's sexual orientation, Fraser portrays the character with striking believability. When he acts against McKellen during the film's climactic ending, the results are the definition of thrilling. Overall, Fraser's performance in "Gods and Monsters" needs to not only be revisited, but, ultimately, cherished.