Meryl Streep's Devil Wears Prada Character Was Surprisingly Inspired By Two Legendary Hollywood Men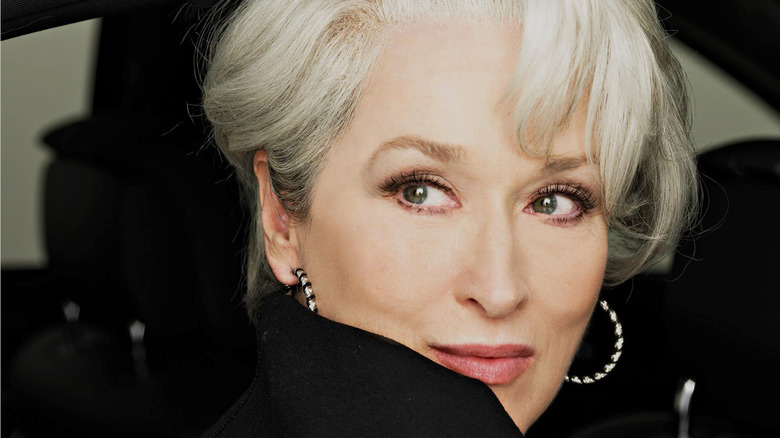 20th Century Fox
We may receive a commission on purchases made from links.
It's been over 15 years since "The Devil Wears Prada" first strutted into our lives as a fully-formed classic. The film is many things to many people: a sartorial coming-of-age story, a highbrow chick flick, a reckoning for the sacrifice that comes with climbing the ladder of success. The story is told through the eyes of Anne Hathaway's fashion-averse Andy, but in many ways, it is also about Meryl Streep — or Streep's now-iconic antihero Miranda Priestly.
"The Devil Wears Prada" is based on the Lauren Weisberger novel of the same name: an over-the-top, only partially fictionalized expose of what it's really like to work at Vogue. Even before Streep stepped into Miranda's shoes, it was pretty common knowledge that the character was a thinly-veiled stand-in for Anna Wintour, the Editor-in-Chief of Vogue in real life. In the source material — and in earlier drafts of the screenplay — the parallels between muse and movie character were clear, if not for a few less-than-flattering embellishments. "Miranda was a witch," recalled director David Frankel to Variety, and that caused major pains for everyone involved with the adaptation.
"I had enormous trouble finding anyone in the fashion world who'd talk to me," said Aline Brosh McKenna, the screenwriter who eventually turned "Prada" from a "Zoolander"-esque revenge fantasy into what we know (and love it for) today. "People were afraid of Anna and Vogue, not wanting to be blackballed." 
Both Frankel and McKenna worked overtime to ensure that Miranda Priestly was not the overweening, one-dimensional villain of their story, but it was Streep's performance that sealed "Prada" as an unequivocal departure from its source material. Her work has always been a bit undefinable — and by channeling two Hollywood heavyweights instead of Wintour herself, the actress helped to steer "Prada" firmly from the realm of parody.
How Meryl Streep Changed Miranda Priestly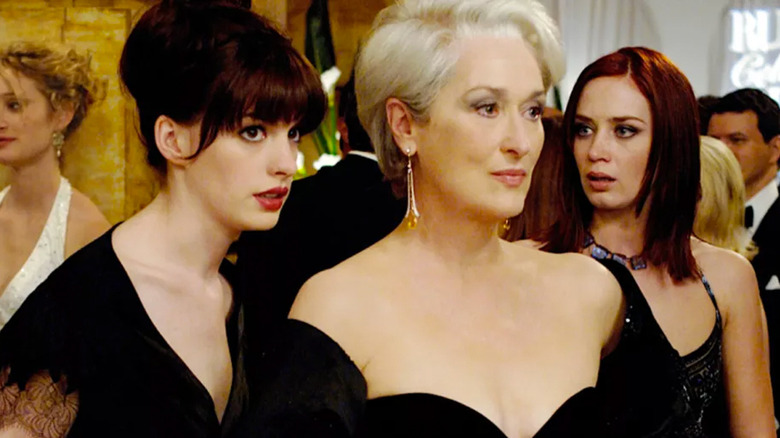 20th Century Fox
Back in 2003, before "Prada" had even filmed its first scene, everyone seemed sure of the kind of performance they could expect from Streep. "I'd read the script so many times, and I was expecting [Meryl] to come in imperious, loud, and barking orders," Hathaway told Entertainment Weekly. But Streep is never one to pull an obvious impersonation of anybody. What's so brilliant about the character is all the subtlety, stillness and nuance that Streep packs into each scene. She's neither imperious nor loud; she doesn't need to raise her voice to command a room or to read anyone for filth.
Streep told Variety that her soft-spoken approach was inspired by none other than Clint Eastwood, the legendary actor of "The Good, the Bad, and the Ugly" fame. "He never, ever, ever raises his voice and everyone has to lean in to listen, and he is automatically the most powerful person in the room." Unfortunately, Eastwood lacked the straight-laced humor needed to carry Miranda's jaw-dropping monologues. For that, Streep channeled Mike Nichols, who directed the actress in films like "Heartburn" and "Postcards from the Edge" and also had a storied background in improvisational comedy.
Nichols was known for his comedy: his most popular films — "Who's Afraid of Virginia Woolf?", "The Graduate," "Working Girl," and (my personal favorite) "Closer" — balanced his dead-on wit with sometimes-heartbreaking humanity. "The way the cruelest cutting remark, if it is delivered with a tiny self-amused curlicue of irony, is the most effective instruction, the most memorable correction, because everyone laughs, even the target."
...and How Miranda Defined The Devil Wears Prada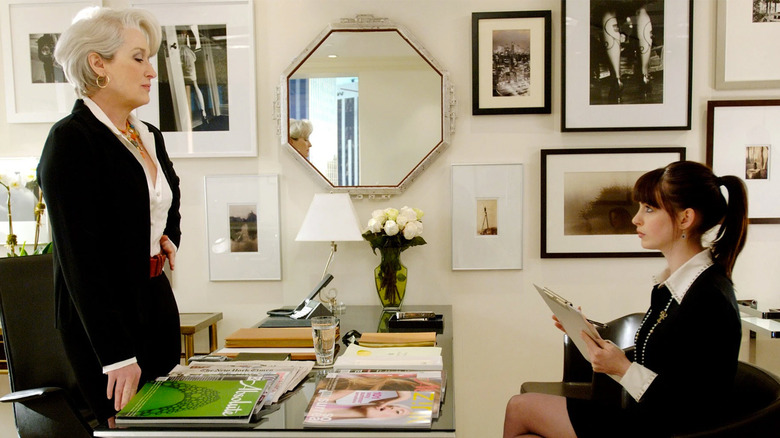 20th Century Fox
That Streep drew inspiration from Eastwood and Nichols — two successful men at the top of their game — put an honest, unapologetic woman at the heart of a man's world. It's clear that Miranda's success is due in part to her adoption of more masculine principles. She was never afraid of hurting anyone's feelings, a trait that Streep agrees comes easier to men than it does for women. "The real scary parts of her had to do with the fact that she didn't try to ingratiate, which is always the female emollient in any situation where you want your way."
While the film does draw heavily from Anna Wintour in other areas (like Wintour's office, which production designer Jess Gonchor recreated "so authentically" that she apparently redecorated "immediately after the movie came out"), at least no one could really say that Miranda was a carbon copy of the mogul. Streep's work was just one of the many elements that cemented "The Devil Wears Prada" as an instant classic when it first came out in 2006, earning Streep her 14th Oscar nomination, and helping to redefine her status as the icon we all still love to watch today.