Escape The Undertaker Trailer: Netflix's Latest Interactive Movie Is A Wrestling Horror Story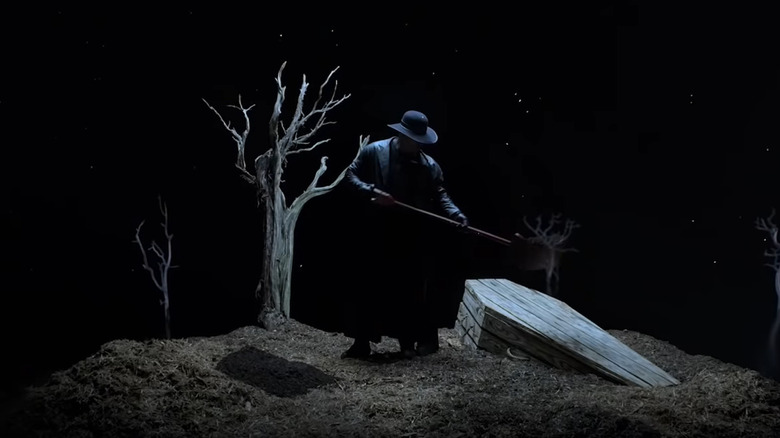 Netflix
Netflix has been vocal about their plan to have more interactive content, and now it's clear they're going to deliver. While they may not be releasing full-fledged video games on the streaming service just yet, they just announced a new interactive movie, "Escape The Undertaker." The interactive movie will star wrestling icon the Undertaker in a choose-your-own-adventure horror story, and you can watch the trailer below.
Escape The Undertaker Trailer
In "Escape The Undertaker," WWE Superstars and decorated tag team the New Day show up at the Undertaker's mansion, where the maniacal mortician has set a trap for them. The Undertaker's mansion is an extreme haunted house, packed to the brim with supernatural challenges. In the trailer, we see potentially fatal fog, some "Saw"-style traps with spiders, and a morgue full of bodies. The New Day are there to try to take the power of a supernatural urn that the Undertaker has found, because they believe adding its power to their "positivity power" will make them unstoppable. The Undertaker, however, plans on taking their positivity and their souls to further power the Urn. 
It doesn't look like there are any other major cast announcements or plot details, so it's likely that this will be a fairly straightforward haunted house adventure story starring only the guys from the New Day and, of course, the Undertaker. 
Can You Survive?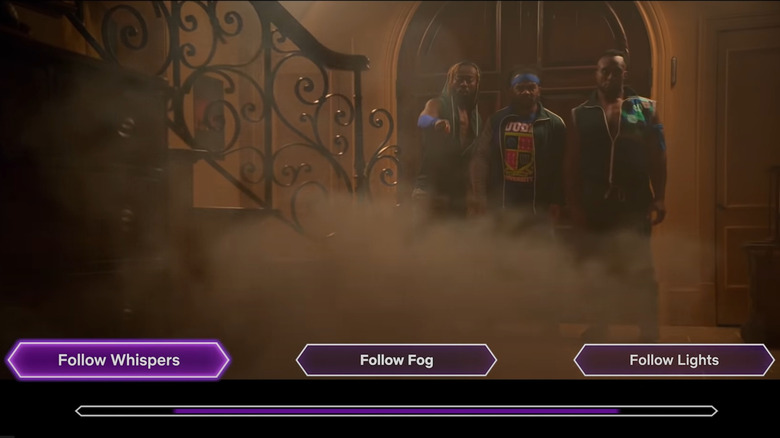 Netflix
This isn't Netflix's first interactive rodeo. Following the success of "Black Mirror: Bandersnatch," the streaming titan set out to create more "choose-your-own" style movies and specials. In fact, "Escape The Undertaker" director Ben Simms previously worked on Netflix's choose-your-own nature survival adventure, "You vs. Wild," starring Bear Grylls. The streamer is also working on their first interactive series, "Jigsaw," starring Giancarlo Esposito, which is currently filming in New York City. 
If you haven't experimented with one of Netflix's interactive stories before, it's pretty simple. Viewers watch the movie/show just like any other on Netflix until the story comes to a fork in the plot. The viewer gets to decide what choices the characters make, for better or (often) worse. Using their keyboard and mouse or television remote, viewers can click on whichever path they want the story to take. Each decision affects the rest of the story, as the plots split off into separate branches. It's a concept originally developed for printed books, but Netflix has updated it for the 21st century. 
"Escape The Undertaker" debuts on Netflix on October 5, 2021, just in time for Halloween.